May 13, 2022, I returned to Huntsville, Alabama's Goldsmith-Schiffman Wildlife Sanctuary with Bill Heslip, retired videographer, Margaret Anne Goldsmith, benefactor who donated the property to the City, and Marian Moore Lewis, author of Southern Sanctuary, a month-by-month almanac of the Nature of the Sanctuary. I'll take you along with photos, observations, and reflections on our late spring afternoon tour.
Our visit would serve as the capstone for compiling a video Land Legacy Tale for the Sanctuary, which we hope to release later this summer. Bill is the producer; I serve as his naturalist. Margaret Anne and Marian offer additional indispensable knowledge and perspective.
Here is my June 2021 Post introducing our vision for the video project: http://stevejonesgbh.com/2021/08/25/contemplating-a-video-of-the-goldsmith-schiffman-wildlife-sanctuary/
We four entered the Highway 431 (east) side of the Sanctuary at 4:08 PM, temperature in the mid-80s with mostly clear skies.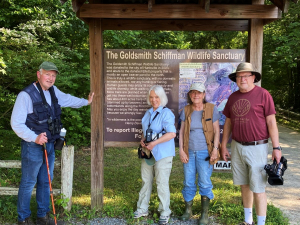 I'll lead us through our three-hour stroll in two different Posts, commenting on the highlights and offering observations. This first Post chronicles our passage through the riparian forest along the Flint River, and stop at our emergence into the meadows. I will report on the meadows and our visit to the tupelo swamp in the second Post.
Along the Woodland Trail
Honey locust's compound-forked thorns are always an attention-grabber…and can be a pants-grabber!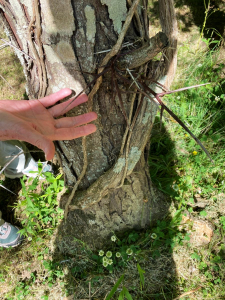 Over the course of my many visits to the Sanctuary, especially when accompanying Marian, the wooly pipevine draws my attention.
I like its heart-shaped leaves, but I simply love the vine's intimate relationship with the pipevine swallowtail butterfly.
Image from the internet
The butterfly's entire life revolves around the pipevine, a location for egg-laying; a site for adult butterfly romance (see stock photo above); the exclusive snack bar for the caterpillars, which we found in abundance. See the one on underside of a leaf (below left) and in Marian's hand.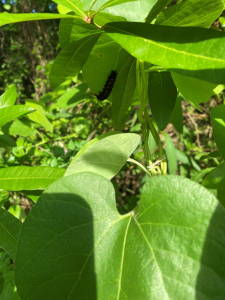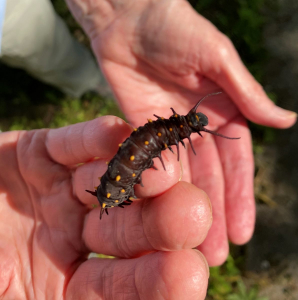 I don't recall previously seeing Indian pink. I like its textured deep green twin-leaves. We found it a couple of days prior to its full opening.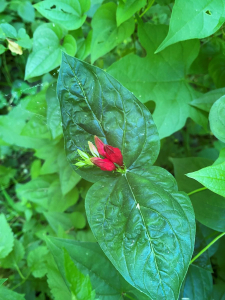 A fascinating plant, partridge berry produces twin white flowers that yield a single red berry. The US Forest Service offers an explanation online:
Both flowers must be pollinated to obtain a single scarlet berry. Each berry is the result of the fusion of each ovary of the pollinated pair of white flowers. As such, each berry has two bright red spots on its surface.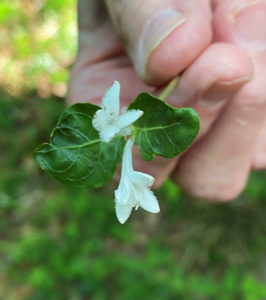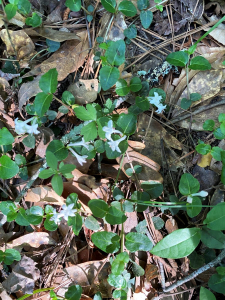 Look closely for what lies hidden in plain sight. Here's dog fennel's delicate foliage at our feet. Flimsy and feather-like, it drew our attention and appealed to our shutter-fingers. NC State Cooperative Extension has more to say about this common weed that often grows to three-feet plus:
The finely dissected leaves of the plant make it easy to identify, and when crushed, the leaves and stems have a very distinct odor that is slightly sour and musty. The stems of dogfennel are soft and easily broken when young, but become very tough and woody as it ages. In addition, the stems are very conspicuously hairy, especially when young, but leaves are always hairless.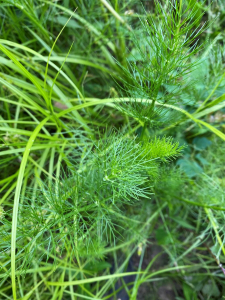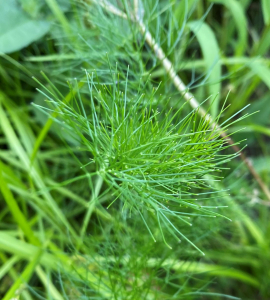 An invasive, Chinese yam shouted out to us with its exquisite foliage and distinct leaf venation.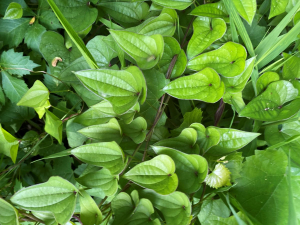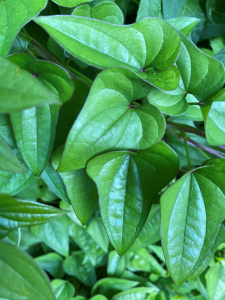 I wandered into the east-end riparian forest while Bill shot some footage with Margaret Anne and Marian. This dead eastern red cedar served as a magnet, inviting me to closer inspection. It tells the tale of a long ago abandoned agricultural field populated first by herbaceous plants, then pioneer tree species like red cedar and locust, and finally by the longer-lived hardwood species that now comprise the forest.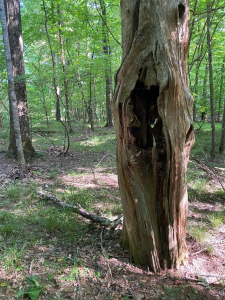 The still photo has merit, yet I felt the cedar warranted recording a video of it and its surroundings.
Emerging to the Meadows
Here is where I'll end this Post, as my three colleagues stand at the forest/meadow ecotone.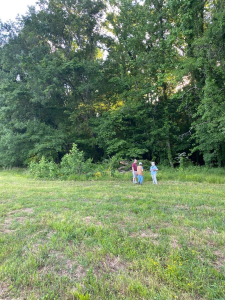 I first developed my return to the Sanctuary as a single Post, yet 24 photos and four videos far exceeded my own limit. Next week we'll enter the meadows and duck quickly to the tupelo swamp edge.
Thoughts and Reflections
I offer these observations:
The Sanctuary, and any wild place, reveals new secrets every time we visit.
There is magic in Nature's mundane objects, like the compound thorns of native honey locust.
I find deep healing and renewal in my wildness wanderings and their inspired wonderings!
Inhale and absorb Nature's elixir. May Nature Inspire, Inform, and Reward you!
Note: All blog post images created & photographed by Stephen B. Jones unless otherwise noted. Please circulate images with photo credit: "©2022 Steve Jones, Great Blue Heron LLC. All Rights Reserved."
Another Note: If you came to this post via a Facebook posting or by an another route, please sign up now (no cost… no obligation) to receive my Blog Post email alerts: http://eepurl.com/cKLJdL
And a Third: I am available for Nature-Inspired Speaking, Writing, and Consulting — contact me at steve.jones.0524@gmail.com
Reminder of my Personal and Professional Purpose, Passion, and Cause
If only more of us viewed our precious environment through the filters I employ. If only my mission and vision could be multiplied untold orders of magnitude:
Mission: Employ writing and speaking to educate, inspire, and enable readers and listeners to understand, appreciate, and enjoy Nature… and accept and practice Earth Stewardship.
Vision:
People of all ages will pay greater attention to and engage more regularly with Nature… and will accept and practice informed and responsible Earth Stewardship.
They will see their relationship to our natural world with new eyes… and will understand more clearly their Earth home.
Tagline/Motto: Steve (Great Blue Heron) encourages and seeks a better tomorrow through Nature-Inspired Living!
Steve's Three Books
I wrote my books Nature Based Leadership (2016), Nature-Inspired Learning and Leading (2017), and Weaned Seals and Snowy Summits: Stories of Passion for Place and Everyday Nature (2019; co-authored with Dr. Jennifer Wilhoit) to encourage all citizens to recognize and appreciate that every lesson for living, learning, serving, and leading is either written indelibly in or is powerfully inspired by Nature.
I began writing books and Posts for several reasons:
I love hiking and exploring in Nature
I see images I want to (and do) capture with my trusty iPhone camera
I enjoy explaining those images — an educator at heart
I don't play golf!
I actually do love writing — it's the hobby I never needed when my career consumed me
Judy suggested my writing is in large measure my legacy to our two kids, our five grand kids, and all the unborn generations beyond
And finally, perhaps my books and Blogs could reach beyond family and touch a few other lives… sow some seeds for the future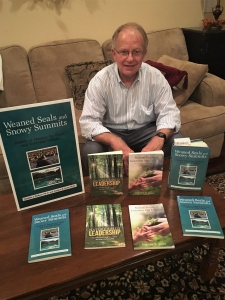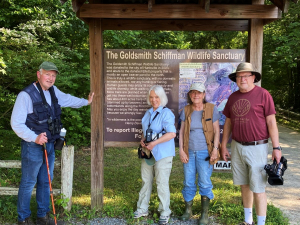 All three of my books (Nature Based Leadership; Nature-Inspired Learning and Leading; Weaned Seals and Snowy Summits) present compilations of personal experiences expressing my (and co-author Dr. Wilhoit for Weaned Seals and Snowy Summits) deep passion for Nature. All three books offer observations and reflections on my relationship to the natural world… and the broader implications for society. Order any and all from your local indie bookstore, or find them on IndieBound or other online sources such as Amazon and LifeRich.
http://stevejonesgbh.com/wp-content/uploads/2022/05/IMG_3624-2.jpg-05.13.22-5.43-PM-GSWS.jpg
1200
900
Steve Jones
http://stevejonesgbh.com/wp-content/uploads/2017/01/gbhweblogo.png
Steve Jones
2022-06-20 14:43:16
2022-06-20 14:43:16
Chapter One: Late Spring Return to The Sanctuary