I am pleased to offer the third of my new GBH Brief Form Post format to my website (Less than three-minutes to read! Not including viewing the short video). I tend to get a bit long-winded with my routine Posts. I don't want my enthusiasm for thoroughness and detail to discourage readers. So I will publish the brief Posts regularly on at least a trial basis.
Brief-Form Post on Some Horrendous Big Tree Crashes
March 16, 2023 I co-led a field trip as a supplement to the seven-week North Alabama State Parks course that Mike Ezell, Alabama State Park Naturalist Emeritus, and I taught at Huntsville LearningQuest this winter semester. We chose a spectacular spring day, unlike just two weeks prior when a ferocious squall line brought high winds across north Alabama. As I bushwhacked the Lake Wheeler bluff forests near Park headquarters after my saunter with the class, I discovered two large wind-downed trees worthy of photographing.
Snapped 40-inch Red Oak
Wind snapped the top at 25-feet above the stump from this massive northern red oak. The mass crashed to the ground with tremendous force. I stood in awe, feeling this day's fresh breeze from the lake, only imagining the crescendo of noise, vibration, and gust accompanying the fall.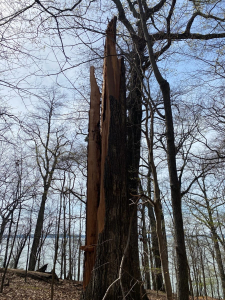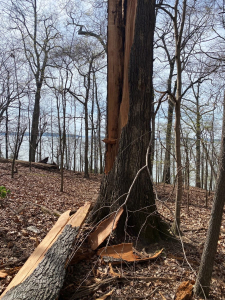 I'll include the 3:16 video of this shattered oak when I post my longer-form photo-essay. This giant left a void…one that Nature will fill. Tons of organic woody debris will inexorably recycle to soil and new life.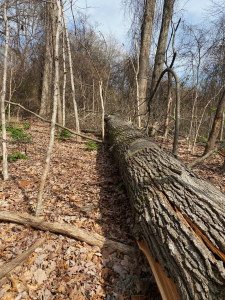 Uprooted Thirty-inch Hackberry!
I had seen few hackberry trees larger than this one. Securely rooted in a rich woodland draw…a perfect growing environment, blessed with ample moisture and abundant nutrients…this incredible living organism yielded to the gale, its roots wrenched from its fertile medium!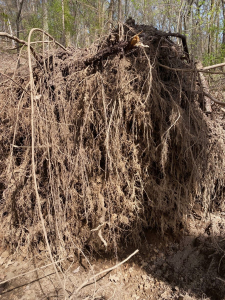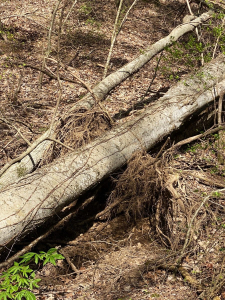 The hackberry giant acted as the first in a hackberry domino series. Wind combined with the multi-ton mass momentum of the pitching tree served as an irresistible force.
As I often note, a short video (this one 3:31) tells the tale better than my feeble prose.
I'm fascinated with Nature's brute force…and with her incomparable beauty, magic, wonder, and awe!
Nature's ferocity is one element of her magnificence.
Inhale and absorb Nature's elixir. May Nature Inspire, Inform, and Reward you!
https://stevejonesgbh.com/wp-content/uploads/2023/03/IMG_8111.jpg-03.16.23-JWSP-2.46-Shattered-30-inch-SRO.jpg
1200
900
Steve Jones
http://stevejonesgbh.com/wp-content/uploads/2017/01/gbhweblogo.png
Steve Jones
2023-03-28 08:13:31
2023-04-03 10:29:40
Brief-Form Post #3: Recent Big Tree Crashes at Joe Wheeler State Park (Winter 2023)!