I am excited to offer the second of my new GBH Brief Form Post format (Less than three-minutes to read!) to my website. I tend to get a bit long-winded with my routine Posts. I don't want my enthusiasm for thoroughness and detail to discourage readers. So I will publish the brief Posts regularly on at least a trial basis.
Brief-Form Post on Mysterious Loblolly Pine Tree Form Oddity
Two Loblolly Tree Form Oddities on Joe Wheeler State Park
March 16, 2023 I visited Alabama's Joe Wheeler State Park, encountering two loblolly pine tree form oddities. During the coming weeks I will publish my long-form photo-essay on the March Revelations of Mysterious Delights at Joe Wheeler State Park. In the meantime, here is the second trial employing my new GBH Brief Form Post format, this one on a single aspect of my March 16 visit.
I have not discovered a certain explanation for the cause of these circumferential ridges. Colleagues have suggested old fencing, but who would place a fence ten feet above the ground?! I reject that idea.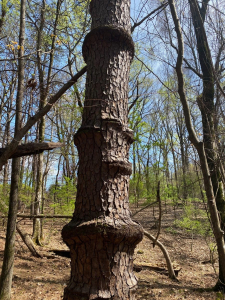 I recorded this 3:09 video at one of the two special trees:
My Speculation
Although I used the term "speculation" I am taking a step further…declaring that the only viable explanation is the tree's physiological reaction to horizontally linear sapsacker birdpeck. Perhaps the ridge-development is spurred by associated viral, fungal, or bacterial infection.
The close up suggests individual woodpecker bird wounds and apparent sap oozing to the surface.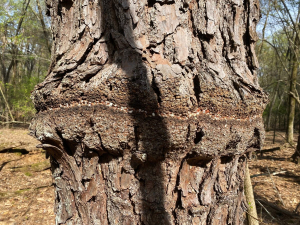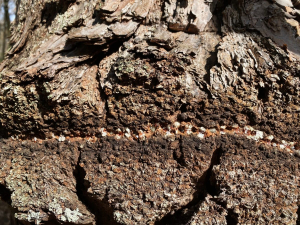 I'll continue to search for affirmation from anyone in the know. I would love to be able to query Dr. Alan Drew, a plant physiologist (deceased) who served long ago on my PhD committee.
Observation of note from Albert Einstein:
The most beautiful gift of nature is that it gives one pleasure to look around and try to comprehend what we see.
Inhale and absorb Nature's elixir. May Nature Inspire, Inform, and Reward you!
https://stevejonesgbh.com/wp-content/uploads/2023/03/IMG_8066.jpg-03.16.23-JWSP-1.56.jpg
1200
900
Steve Jones
http://stevejonesgbh.com/wp-content/uploads/2017/01/gbhweblogo.png
Steve Jones
2023-03-24 16:04:12
2023-04-03 10:30:23
Brief-Form Post #2: Loblolly Pine Tree-Form Curiosity at Joe Wheeler State Park!