April 28, 2022, five weeks following my March 24, 2022 stroke, I ventured into my favorite location on Alabama's Monte Sano State Park, the deep cove forest along the Wells Memorial Trail. I viewed this as a celebratory hike, treading carefully with the assist of a trekking pole in each hand.
Although I had missed the most rewarding five weeks of north Alabama's spring ephemeral forest wildflower season, I relished this chance to catch the end of the peak blooming.
And I felt grateful being able to capture spring footage for the Wells Memorial Trail video Land Legacy Tale that Bill Heslip and I are producing for distribution mid-summer. The video recounts Robert and Catherine Wells' selfless donation of the 40-core-acres to honor Robert's older brother, who worked on the Park as a CCC corpsman and subsequently died in WWII at the Battle of Leyte Gulf. See my Post highlighting how Bill and I contemplated such a project: http://stevejonesgbh.com/2021/10/05/contemplating-a-video-tale-of-the-william-arthur-wells-memorial-trail-monte-sano-state-park/
We began our recent journey at the John Scoble Memorial Pavilion entrance to the Sinks Trail, which eventually dropped us to the Wells Trailhead.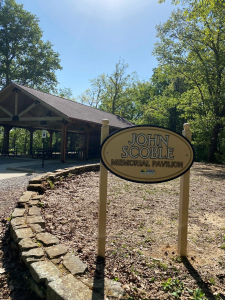 I felt a little frail, still weak and a little unsteady…unsteady enough to rely carefully upon two trekking poles. I see the weakness and frailty in my face, perhaps because that was my reality. My visage may not convey the same to you. I don't want it to be evident. I've never been one to show anything but strength, whether during my competitive running days, in my mid-thirties PhD studies, or across my career as I rose through the faculty ranks, and subsequently during 20+ years in higher education administration. Frailty and vulnerability are not in my nature. Yet, I've crossed beyond my seventieth birthday, entered my eighth decade, now have an artificial left hip (2002) and fully-replaced left shoulder (2021), and suffered a March 2022 emotionally and psychologically nearly insufferable stroke. Physically I have now recovered, yet the mental scar remains. Perhaps it is time to admit and accept an incipient feebleness.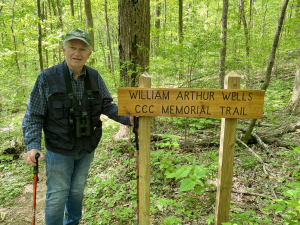 However, I refuse to go gentle into that good night. Dylan Thomas dedicated these lyrics to his father:
Do not go gentle into that good night,
Old age should burn and rave at close of day;
Rage, rage against the dying of the light.
And the last stanza:
And you, my father, there on the sad height,
Curse, bless, me now with your fierce tears, I pray.
Do not go gentle into that good night.
Rage, rage against the dying of the light.
A Reminder of the Trail's Namesake
I do not see my well-being setback as a final chapter, but as a reminder that there will be an ending episode. That I need to face this period with resolve and determination. I viewed returning to the Wells Trail, in part, as an act of defiance, a statement that I will recover lost ground and resume my explorations of Nature, physically and through my observations and reflections of all that I encounter.
I contrast my own situation with that of the trail's namesake, William Arthur Wells (below left in his Navy uniform), who died in the South Pacific in WWII early in his twenties. By comparison, mine barely meets the criteria for terming it a situation! I feel William Arthur's spirit and presence every time I hike the trail. Once again, I thank his younger brother Robert (below right) who along with his wife Catherine, donated the 40-acre parcel to Monte Sano State Park.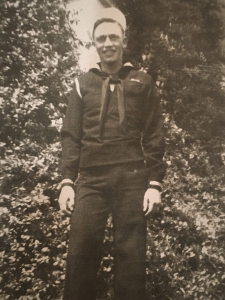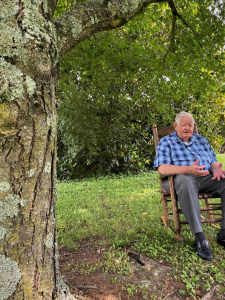 The gift of land and the naming of the trail stand as a legacy that will memorialize a young man who gave his last full measure of devotion, in service to his country.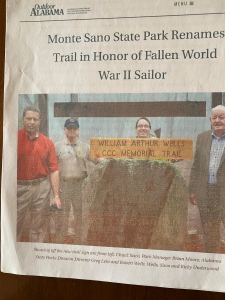 Capturing Spring Footage and Enjoying Nature
I focused on spring's wonder while Bill paused to focus his camera.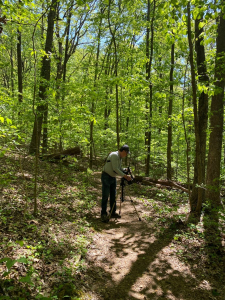 Everywhere I looked I saw Nature's beauty, magic, wonder, awe, and inspiration…her soft spring greens, towering hardwoods, and the tranquil setting.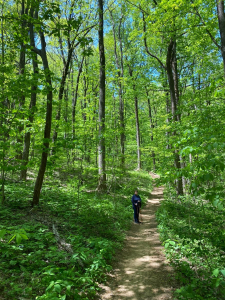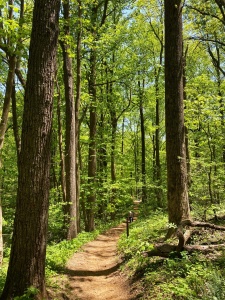 Our spouses (Becky Heslip left) and Judy pause at the intersection of Sinks and Wells Trails.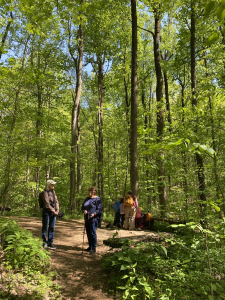 I am striving to include a brief video offering reflections and musings in each one of these photo-essays.
Wildflowers along the Way
I am addicted, and have been since taking systematic botany my freshman year (spring 1970), to spring ephemeral wildflowers. Although I neglected to photograph mayapple in flower, I found the spotted leaves of these individuals worthy of inclusion. Mayapple leaves burst forth in early spring with unfurling green umbrellas. Its yellow-white flowers appear mid-spring. We found several still in full flower. These individuals are showing the first spots of impending senescence. The spots will deepen and merge; within the next two weeks their season will end. Hence, spring ephemerals. Their seasonal cycle closes when the hardwood canopy emerging above returns the forest floor to full shade.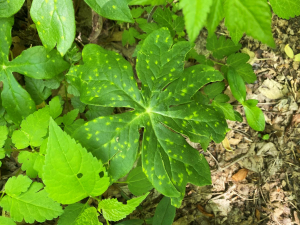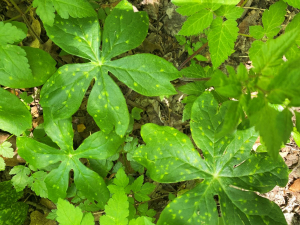 Sharp-lobed hepatica (left) is one of my favorite early spring bloomers. Long since flowered, its mottled leaves attracted my eye. Violet wood sorrel offered a hint of color below right.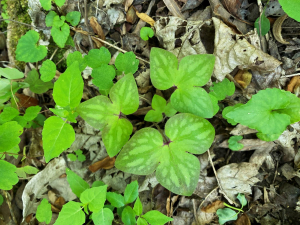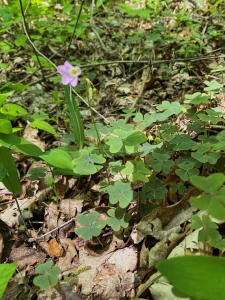 We also caught blue cohosh (left) and anise root (right) at peak bloom.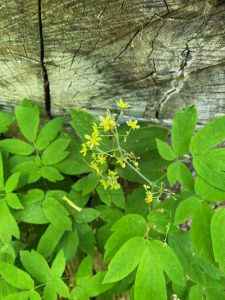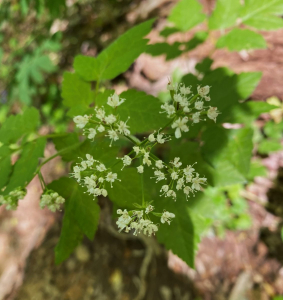 The same for wild geranium (left) and rue anemone (right). Although I missed five weeks of spring botanizing, I accepted with relish this venture into the forest, allowing me to embrace the tail end of this special season.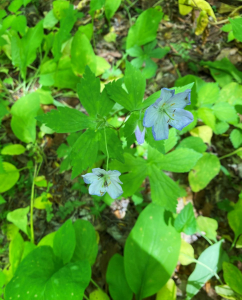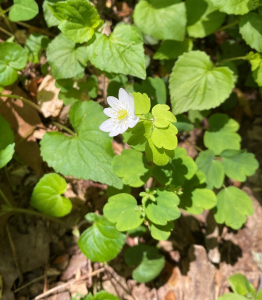 Goldenseal, another ephemeral of rich sites had likewise flowered during my absence. The top leaf below harbors a fly; the lower leaf sports a developing seed head, which will mature to scarlet.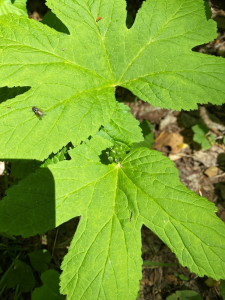 I'll return to the trailhead sign, where I entered eagerly, feeling the deep meaning of this place of legacy, deep healing, and spiritual connection. I want to return next spring and many years hence. My venture epitomized what I have come to term:
Nature-Inspired Life and Living, and
Nature-Inspired Aging and Healing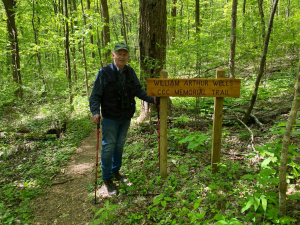 My third book (co-authored with Dr. Jennifer Wilhoit) Weaned Seals and Snowy Summits, carries the subheading: Stories of Passion for Place and Everyday Nature. The Wells Trail is one of the places for which I have deep passion. As long as I am able to navigate the moderate descent to this sign, hike the gentle Wells Trail, and return to the pavilion parking lot, I pledge to periodically inhale deep draughts of the elixir of this special place.
Alabama State Parks Foundation
Thoughts and Reflections
I offer these observations:
Nothing beats the healing power of a special wild place.
Nature can heal a wounded psyche and soothe a physical setback.
Nature's beauty, magic, wonder, and awe are ever at the ready to administer a mind, heart, body, soul, and spiritual regenerative elixir.
Inhale and absorb Nature's elixir. May Nature Inspire, Inform, and Reward you!
Note: All blog post images created & photographed by Stephen B. Jones unless otherwise noted. Please circulate images with photo credit: "©2022 Steve Jones, Great Blue Heron LLC. All Rights Reserved."
Another Note: If you came to this post via a Facebook posting or by an another route, please sign up now (no cost… no obligation) to receive my Blog Post email alerts: http://eepurl.com/cKLJdL
And a Third: I am available for Nature-Inspired Speaking, Writing, and Consulting — contact me at steve.jones.0524@gmail.com
Reminder of my Personal and Professional Purpose, Passion, and Cause
If only more of us viewed our precious environment through the filters I employ. If only my mission and vision could be multiplied untold orders of magnitude:
Mission: Employ writing and speaking to educate, inspire, and enable readers and listeners to understand, appreciate, and enjoy Nature… and accept and practice Earth Stewardship.
Vision:
People of all ages will pay greater attention to and engage more regularly with Nature… and will accept and practice informed and responsible Earth Stewardship.
They will see their relationship to our natural world with new eyes… and will understand more clearly their Earth home.
Tagline/Motto: Steve (Great Blue Heron) encourages and seeks a better tomorrow through Nature-Inspired Living!
Steve's Three Books
I wrote my books Nature Based Leadership (2016), Nature-Inspired Learning and Leading (2017), and Weaned Seals and Snowy Summits: Stories of Passion for Place and Everyday Nature (2019; co-authored with Dr. Jennifer Wilhoit) to encourage all citizens to recognize and appreciate that every lesson for living, learning, serving, and leading is either written indelibly in or is powerfully inspired by Nature.
I began writing books and Posts for several reasons:
I love hiking and exploring in Nature
I see images I want to (and do) capture with my trusty iPhone camera
I enjoy explaining those images — an educator at heart
I don't play golf!
I actually do love writing — it's the hobby I never needed when my career consumed me
Judy suggested my writing is in large measure my legacy to our two kids, our five grand kids, and all the unborn generations beyond
And finally, perhaps my books and Blogs could reach beyond family and touch a few other lives… sow some seeds for the future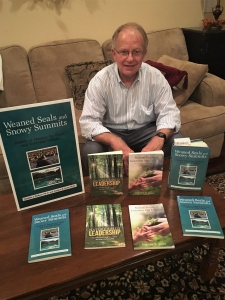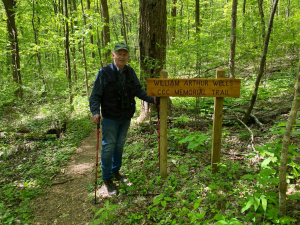 All three of my books (Nature Based Leadership; Nature-Inspired Learning and Leading; Weaned Seals and Snowy Summits) present compilations of personal experiences expressing my (and co-author Dr. Wilhoit for Weaned Seals and Snowy Summits) deep passion for Nature. All three books offer observations and reflections on my relationship to the natural world… and the broader implications for society. Order any and all from your local indie bookstore, or find them on IndieBound or other online sources such as Amazon and LifeRich.
http://stevejonesgbh.com/wp-content/uploads/2022/04/IMG_3471-1.jpg-Small.jpg
1200
900
Steve Jones
http://stevejonesgbh.com/wp-content/uploads/2017/01/gbhweblogo.png
Steve Jones
2022-06-14 11:21:50
2022-06-14 11:21:50
Wells Memorial Trail at Monte Sano State Park: Five Weeks after Stroke