Here's how I began this extended series of Great Blue Heron Blog Posts more than two months ago: July 12-24, 2019 Judy and I enjoyed a dream National Parks tour through Grand Tetons, Yellowstone, and Badlands… among other natural and historic features and monuments. Watch for 6-10 additional Blog Posts with photos and applicable observations and reflections. I won't know exactly what topics I'll address until I get into drafting. The first Post on the sojourn: http://stevejonesgbh.com/2019/07/26/previewing-a-series-of-blog-posts-july-2019-national-parks-journey/
I anticipated encountering crowds, especially at the better known features within Yellowstone. I knew that the National Parks we would be visiting encompassed vast acreages of wilderness punctuated by roadside natural attractions (e.g., Old Faithful; the Grand Canyon of Yellowstone; Mammoth Hot Springs). I will not attempt here to explain the management thrusts and practices among our National Parks, Federally-designated Wilderness, and National Forests. I will say simply that many of Yellowstone's two-plus million acres are managed as wilderness (even without the capital "W").
Aldo Leopold: Conservation of All Wildness is Self-Defeating
Conservation icon Aldo Leopold observed in A Sand County Almanac (1949): All conservation of wildness is self-defeating, for to cherish we must see and fondle, and when enough have seen and fondled, there is no wilderness left to cherish. 
Perhaps Leopold's declaration holds true for actual Wilderness, which according to The Wilderness Act of 1964 is thusly defined: A wilderness, in contrast with those areas where man and his works dominate the landscape, is hereby recognized as an area where the earth and its community of life are untrammeled by man, where man himself is a visitor who does not remain. An area of wilderness is further defined to mean in this Act an area of undeveloped Federal land retaining its primeval character and influence, without permanent improvements or human habitation, which is protected and managed so as to preserve its natural conditions and which (1) generally appears to have been affected primarily by the forces of nature, with the imprint of man's work substantially unnoticeable; (2) has outstanding opportunities for solitude or a primitive and unconfined type of recreation; (3) has at least five thousand acres of land or is of sufficient size as to make practicable its preservation and use in an unimpaired condition; and (4) may also contain ecological, geological, or other features of scientific, educational, scenic, or historical value.
Although Old Faithful lies within a vast wilderness, the Geyser, Yellowstone Inn, the Education Center, and the near-surroundings of the Old Faithful Geyser Basin are anything but Wilderness! The crowds surging around Old Faithful were about what I had expected from videos, literature, and visitor reports. Because reality matched my expectations I felt no disappointment. The Park Service, I felt, managed the crowds quite well. People observed the rules; bathrooms did not have excessive lines; and I never felt overwhelmed by people-noise or shuffling disinterested masses. I saw a few bits of litter, yet I did not expect to see none.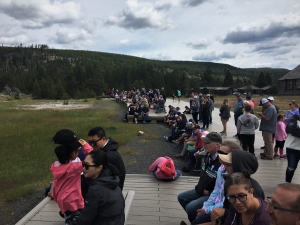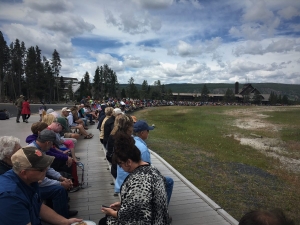 I can't imagine Old Faithful impressing me more were Judy and I the only observers. I suppose such a national treasure cannot be held in isolation. I cherished the two eruptions we witnessed. I used the term national treasure. I did not conduct an empirically sound survey, yet as I observed and monitored informally across the Park, I estimate that only half the conversations I overheard were in English. Yellowstone's hydrothermal features are global treasures. All the more reason to share… and do so in a managed and controlled manner, holding high fidelity to ensuring that future generations can see and sustainably fondle.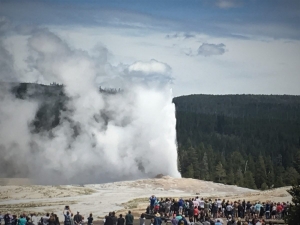 National Park visitation reached one million in 1920. Two million six years later; three million in 1929; and doubling to six million in 1934. And doubling again to 12 million by 1936. The National Park System reported 318.2 million visitors in 2018! Yellowstone alone welcomed four million visitors in 2018; Grand Tetons 3.5 million; and Great Smoky Mountains 11.4 million. Here's the crowd we joined at the Grand Canyon of the Yellowstone River. Our bus carried 42 individuals, well represented in this throng.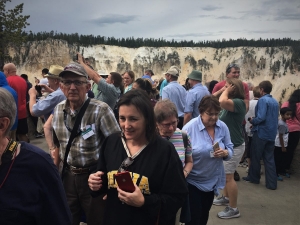 Despite the human herd, we still enjoyed a great view and captured memorable images (below right).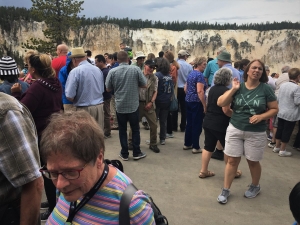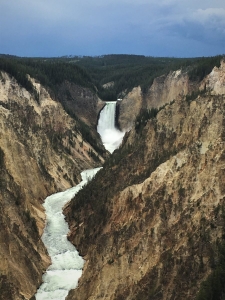 Managing wild places is an act of delicate balancing. The PBS six-episode series on The National Parks (Ken Burns and Dayton Duncan of Florentine Films) tells us, Stephen Mather was the first director of the National Park Service. He used his wealth and political connections to take the national park idea in important new directions… Mather took on staff, paying their salaries out of his own pocket, and began a public relations and political lobbying campaign to build awareness of the parks and increase their size and number. He raised funds from his wealthy friends to purchase new park lands, and he often purchased land himself and donated it to the National Park Service for protection. He joined forces with the budding automotive industry to "democratize" the parks by making them more accessible to a broader cross-section of Americans. He and his assistant, Horace Albright, professionalized the corps of superintendents and rangers in the parks.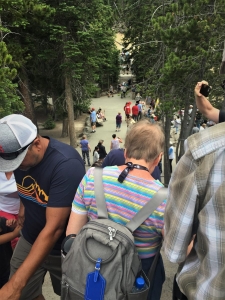 One can question whether without Mather's insistence on democratizing the Parks they would have become the treasures-for-perpetuity they are today. Without the tremendous number of visitors, elected officials may have yielded to the persistent pressures to mine, harvest timber, dam, and otherwise exploit natural resources within existing Park boundaries… or the strong lobbying to avoid adding new Parks or not expand extant units. The Burns series eloquently presents the tale. I urge you to borrow the series from your local library… or buy it. I've taught a university-level continuing education course based upon the series. I am scheduled to teach it yet again this coming winter/spring semester.
Overcoming Leopold's Lament
I had held Leopold's grim outlook firmly since first reading A Sand County Almanac in 1969 as a forestry student. Even though you may think from the paragraphs above that I have abandoned his premise, I have not. The Natural treasures highlighted and drawing appreciative crowds in this and preceding Posts are not Wilderness… certainly not the capital "W" of Federally-designated Wilderness. Instead, as in Mammoth Hot Springs below, these are protected, managed, and interpreted "wildness."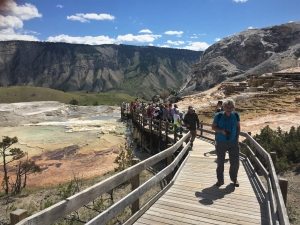 The many miles of boardwalk enable visitors to see without fondling, maintaining the wildness in a manner that future generations can continue to cherish. Sure, I saw an occasional bit of litter near the walkways and at several particularly windy spots visitors had lost their hats. Most disturbing to me were the cigarette butts, representing an intentional insult to the wildness and to other visitors. A spent butt does not blow out of the offender's hand. It's either dropped or tossed. Do you detect my personal distaste for this vile habit — I'm not attempting to hide how I feel!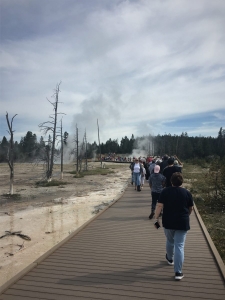 We trundled along to the boardwalk overlook at Tower-Roosevelt with lots of fellow visitors. Again, we were able to capture unobstructed images once we worked our way to the front (below right). I reasoned that without the visitor-demand prompting Park creation and annual appropriations, we may not have had a two-plus million acre Park, the fine roads that enabled our coach-bus access to places within Yellowstone like Tower-Roosevelt, and the ubiquitous boardwalks and decked overlooks.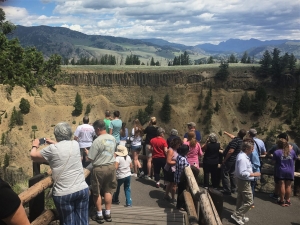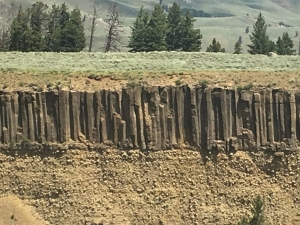 Although the photo below shows people scattered along the boardwalk at West Thumb Geyser Basin, I felt as one with the wildness around me. Judy and I are in our upper sixties; we did not sign up for the 12-day trip for a wilderness experience. This was wildness aplenty! We cherished most everything we saw. Were we inclined toward a back-country adventure we would not have been on this tour.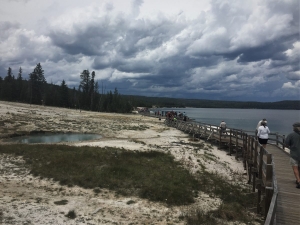 Without the boardwalks there is no way we would have seen these prismatic hydrothermal features. Again, without the justifying crowds, the Park Service could not have afforded constructing and maintaining the boardwalks. I view it as a positive feedback loop… a favorable Catch-22.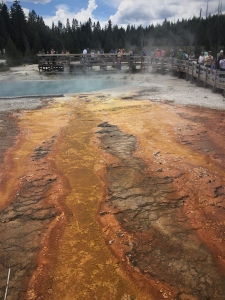 National Park System Mission
I am convinced that Aldo Leopold wasn't thinking about our National Parks when he penned his conservation of all wildness lament. He knew the Parks Mission served a broader purpose. A National Park Service website speaks to the rationale for creating our first National Park, Yellowstone: By the Act of March 1, 1872, Congress established Yellowstone National Park in the Territories of Montana and Wyoming "as a public park or pleasuring-ground for the benefit and enjoyment of the people." The current mission of the Park System is eloquent in its simplicity: The National Park Service preserves unimpaired the natural and cultural resources and values of the national park system for the enjoyment, education, and inspiration of this and future generations.
The iconic Roosevelt stone arch gateway welcoming visitors to Yellowstone's North Entrance says it all: For the benefit and Enjoyment of the People.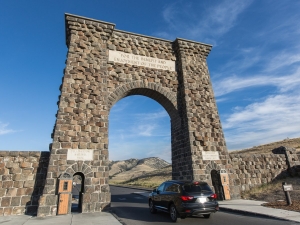 File Photo from a National Park Service website
That's our crowd below along the Snake River just south of the Grand Teton National Park. How hypocritical it would be of me to complain about crowding when I am sharing a bus (and three rafts) with 41 other visitors!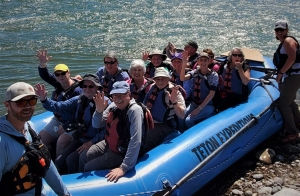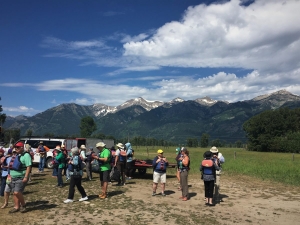 The wilderness of the Tetons towers above our group. I think most of us on the trip would agree that we are standing in the wildness of the greater Yellowstone ecosystem. Our touch is remarkably light… seeing with virtually no fondling. I took photographs of the magnificent Tetons without our group in the foreground. However, the one below serves as both reminder of the exquisite wildness and a remembrance of the great group of new friends who shared the journey with us.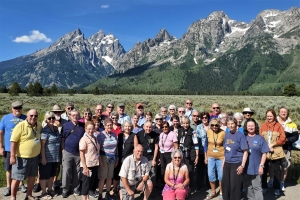 Sure, at Teton National Park I would have enjoyed hiking the loop trail around Jenny Lake and venturing more deeply into the hills and across the valley, but that was not the intent of our tour. At Badlands National Park, to the contrary, I had no desire to venture into the stark and harshly beautiful…and dangerous…canyons. I was happy to stay on the boardwalks, sharing them with many others who were just as content as I to see without fondling (or stumbling, falling, and tumbling)!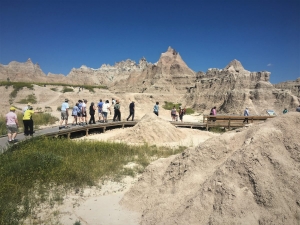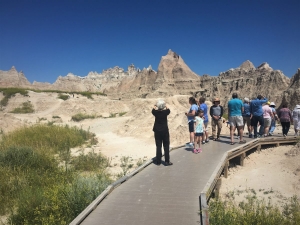 Likewise, I felt appreciation, admiration, and fulfillment sharing with many others the trail circuiting Devils Tower's base. I had absolutely no wish to join the dozen or so climbers we saw on the Tower… No Way!!!!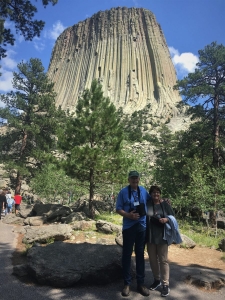 Mount Rushmore National Memorial was just as crowded as we knew it would be. The four presidents adorn a granite mountain amidst the wildness of northwestern South Dakota. It's a location of natural beauty, yet it is a man-made feature. The Memorial is certainly not, nor was it created to be, an area where the earth and its community of life are untrammeled by man, where man himself is a visitor who does not remain. In some ways, although remotely located, Mount Rushmore differs little in spirit and intent from our incredible National Memorials along the Mall in Washington D.C.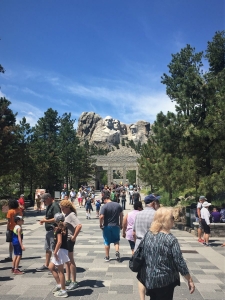 Again, For the Benefit and Enjoyment of the People! Nothing I might write could express our 12-day, five-state experience any more eloquently.
Thoughts and Reflections
I wrote my books Nature Based Leadership (2016), Nature-Inspired Learning and Leading (2017), and Weaned Seals and Snowy Summits: Stories of Passion for Place and Everyday Nature (2019; co-authored with Dr. Jennifer Wilhoit) to encourage all citizens to recognize and appreciate that every lesson for living, learning, serving, and leading is either written indelibly in or is powerfully inspired by Nature. All three are available on Amazon and other online sources.
Here are the three succinct truths I draw from this Blog Post:
Wilderness and wildness are complementary constructs… not synonyms.
Aldo Leopold's "All Conservation of Wildness is Self-defeating" lament does not apply well to our National Parks.
NPS Mission: "

The National Park Service preserves unimpaired the natural and cultural resources and values of the national park system for the enjoyment, education, and inspiration of this and future generations."
Inhale and absorb Nature's elixir. May Nature Inspire and Reward you!
Note: All blog post images created & photographed by Stephen B. Jones unless otherwise noted. Please circulate images with photo credit: "©2019 Steve Jones, Great Blue Heron LLC. All Rights Reserved."
Another Note: If you came to this post via a Facebook posting or by an another route, please sign up now (no cost… no obligation) to receive my Blog Post email alerts: http://stevejonesgbh.com/contact/
And a Third: I am available for Nature-Inspired Speaking, Writing, and Consulting — contact me at steve.jones.0524@gmail.com
Reminder of my Personal and Professional Purpose, Passion, and Cause
If only more of us viewed our precious environment through the filters I employ. If only my mission and vision could be multiplied untold orders of magnitude:
Mission: Employ writing and speaking to educate, inspire, and enable readers and listeners to understand, appreciate, and enjoy Nature… and accept and practice Earth Stewardship.
Vision:
People of all ages will pay greater attention to and engage more regularly with Nature… and will accept and practice informed and responsible Earth Stewardship.
They will see their relationship to our natural world with new eyes… and will understand more clearly their Earth home.
Tagline/Motto: Steve (Great Blue Heron) encourages and seeks a better tomorrow through Nature-Inspired Living!
Weaned Seals and Snowy Summits: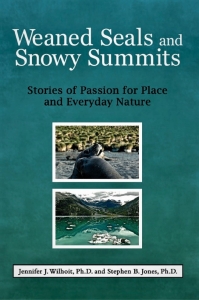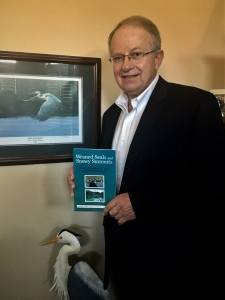 Jennifer and Steve: "We're so proud to announce the publication and release of our first co-authored book, Weaned Seals and Snowy Summits: Stories of Passion for Place and Everyday Nature. This book is a collection of nature stories seeking to inspire deeper relationship with and care for this beautiful Earth." Order your copy from your local indie bookstore, or find it on IndieBound: https://www.indiebound.org/book/9781489723529
http://stevejonesgbh.com/wp-content/uploads/2019/08/IMG_1299.jpg-07.17.19-Weds-Old-Faithful-.jpg
900
1200
Steve Jones
http://stevejonesgbh.com/wp-content/uploads/2017/01/gbhweblogo.png
Steve Jones
2019-10-24 04:38:05
2019-10-24 04:44:05
For to Cherish We Must See and Fondle