January 1, 2022, a cold-front-triggered tornado cut a quarter-mile swath across the east-central end of Alabama's Wheeler National Wildlife Refuge just 14 miles from my Madison, AL home. I share on-site photographs (from March 1 and 15, 2022) and reflections on Nature's fury and the renewal that will follow.
Here is my February 16, 2022 Blog Post on the strange and wild weather as the double-barreled storm system that dropped two Madison County tornadoes January first and nearly six inches of snow the next day: http://stevejonesgbh.com/2022/02/16/48-hours-from-tornado-warnings-to-winter-storm-warnings-trial/
A Violent Frontal Passage, Soothed by a Blanket of Snow
I snapped this photo at my home pre-dawn January 3.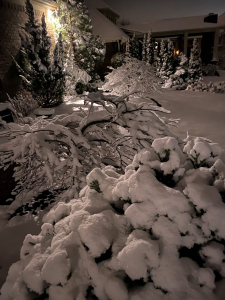 I've driven past the forest where the tornado struck dozens of times as I drove into the Refuge for my periodic mushroom foraging and Nature-exploration forays. This shot looks north from Jolly B. Rd. at its intersection with a gravel road that circuits Blackwell Swamp. From this point the road travels due north, eventually swings a 90-degree turn to the east, then heads due south along the opposite side of the swamp, which in some places is open water. The loop then comes around the south end of the swamp returning to this point. The full circuit covers 7.8 miles.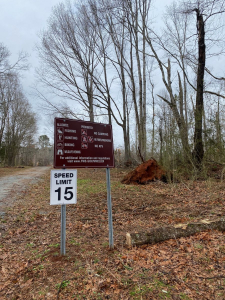 I made my first visit New Year (2022) visit to the Refuge January 8, when I noticed the damage, completely closing the road to the north with downed trees from the flattened mature forest of mixed pine and hardwood. Refuge crews spent weeks clearing the road with heavy equipment, finishing their arduous cleanup toward the end of February. I found the road cleared (the gate still locked) March first, enabling me to park and walk the quarter-mile to the far (north) side of the tornado's swath. All photos within this Post came from March 1 (clear blue skies) or from my subsequent visit March 15 (cloudy sky).
Biblical Fury and Power
The view below left is looking east over the open-water heart of the swamp some two miles south of the tornado swath. The narrowing upper end of the open water is visible through the tornado debris below right.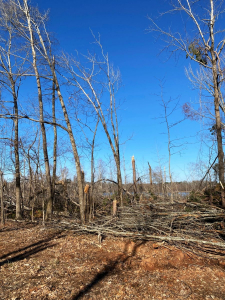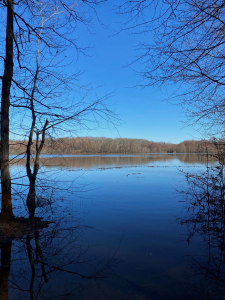 I visited the site March 1, 2022 with camera in hand, recording this four-minute video of images and my reflections:
Be merciful to me, O God, be merciful to me, for in You my soul takes refuge; in the shadow of your wings I will take refuge, till the storms of destruction pass by. Psalm 57:12
Some might view the swath through an interpretive lens that portrays destruction, devastation, and disaster. As I observed in the video through a differents lens, this violent natural force also acts as a mechanism for forest renewal. The forest was not destroyed, but instead was interupted. Many of the trees fell victim to the wind, yet under and within the jumbled debris, a forest remains albeit with an altered canopy. See my April 6, 2022 Blog Post reporting recovery from four tornadoes that hit Alabama State Parks since April 2011: http://stevejonesgbh.com/2022/04/06/a-25-month-retrospective-on-tornado-damage-at-joe-wheeler-state-park/
John Muir noted that to a forest or any of Nature's realms the human perception of beauty means little: None of Nature's landscapes are ugly so long as they are wild. The quarter-mile tornado swath at the Refuge remains wild. In fact, the disturbance in one measure has elevated the degree or scale of wildness. The tumbled debris renders the swath impenetrable to happy woodland ramblers like me. The swath will serve as wonderful habitat for non-humans: birds, small mammals, reptiles, among others. If I were to live another two decades, the swath's resurgent forest will rise to a height of 50 feet, yet the decaying jack-strawed tornado-downed trunks will still prevent my entry and passage. Imagine all of the mushrooms that will flourish beyond my reach!
I counted 65 rings where the clean-up crew cut this loblolly at 20 feet above what had been ground level.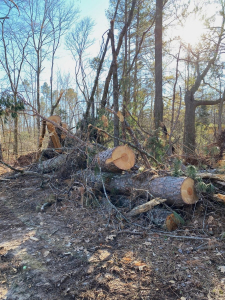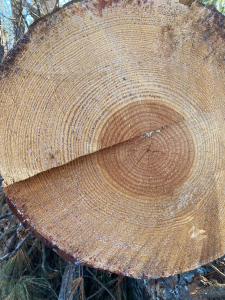 I see no need for detailed narrative. The eastward view below left shows the northern end of open water north of Blackwell Swamp beyond the swath. That's fellow Nature-enthusiast Jim Chamberlain below right to provide scale to the jumble of downed trees. The camera faces to the northwest; the tornado moved from left to right.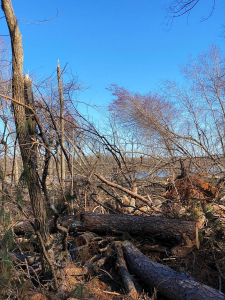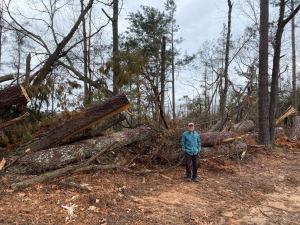 From where we parked at the cabled entrance (below left), the scene to the north could have been a clearcut, a common forest renewal practice to regenerate commercially important, shade intolerant loblolly pine. Upon inspection, the forest had not been clearcut, but had been blown flat by the howling tempest. Three-quarters of the way to the northern edge of the swath (below right), the relatively untouched forest ahead remains standing.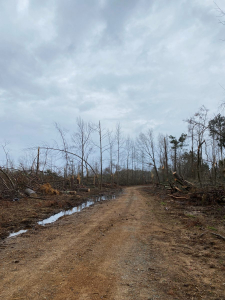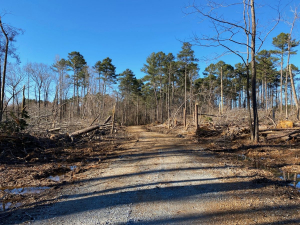 At the northern edge, the view below left looks southward into the swath. The perspective below right is to the east, showing the ragged edge of the swath where on the right side nothing remains standing.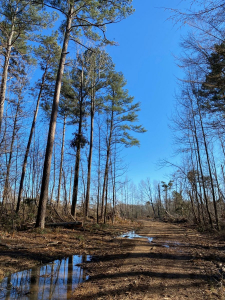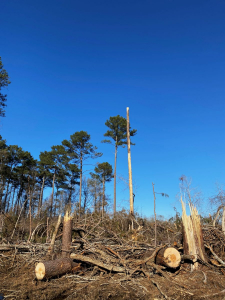 A closer look depicts how, when a twister hits a housing development, a destroyed home may sit within a few dozen feet of one relatively undamaged.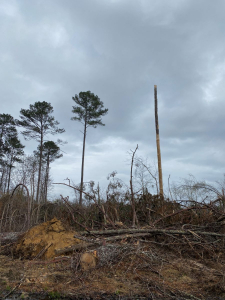 I tried to imagine the storm's unfathomable power and fury. Always impressed with Alfred Noyes's imagery in The Highwayman, I pondered whether he expressed what the storm represented. His words fell far short:
The wind was a torrent of darkness
Among the gusty trees
The moon was a ghostly galleon
Tossed upon cloudy seas
The romantic ballad was less about the weather, instead using the wind only as a mood-generating element for his tale of the two ill-fated lovers. Perhaps Gordon Lightfoot's The Wreck of the Edmund Fitzgerald came closer:
The wind in the wires made a tattle-tale sound
When the wave broke over the railing
And every man knew, as the captain did too
'Twas the witch of November come stealin'
The dawn came late and the breakfast had to wait
When the gales of November came slashin'
When afternoon came it was freezing rain
In the face of a hurricane west wind
The hurricane west wind certainly proved deadly and catastrophic for the good ship and crew (a bone to be chewed). 
Once again, I offer Jim Chamberlain as scale for the storm's fury.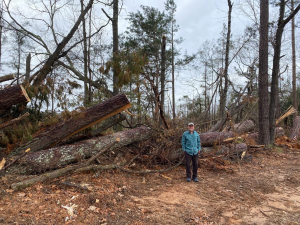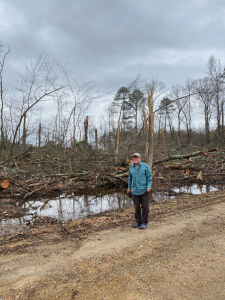 Despite our strongly felt kinship and oneness with nature, all the evidence suggests that nature doesn't care one whit about us. Tornadoes, hurricanes, floods, earthquakes and volcanic eruptions happen without the slightest consideration for human inhabitants. Alan Lightman
Sometimes the difference between life and death is the luck of the draw.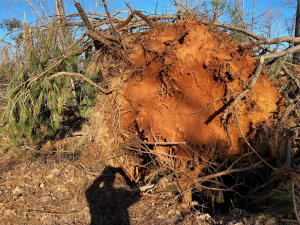 All poets adore explosions, thunderstorms, tornadoes, conflagrations, ruins, scenes of spectacular carnage. The poetic imagination is therefore not at all a desirable quality in a chief of state. W.H. Auden.
To the poet's liking, this loblolly shattered spectacularly, stands now as a tortured snag rather than a naked spar.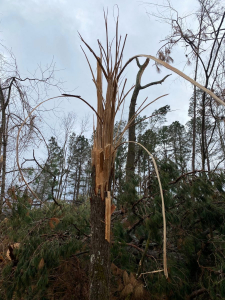 Be merciful to me, O God, be merciful to me, for in you my soul takes refuge; in the shadow of your wings I will take refuge, till the storms of destruction pass by. Psalm 57:1-2
Before I ventured into the tornado swath March 1, I found a recently fallen red oak that I believe was brought down by strong winds associated with the cell that spawned the tornado just three miles to the north. This oak weathered many prior winds, retaining its vertical main crown position even though supported by its thin rind of only 3-4-inches. The laws of gravity and physics prevailed — force exceeded strength. I found external evidence of internal decay and a hollow core only in form of the 4-5-inch opening a foot above the ground in the standing hollow trunk below right. Were I still in the timber-buying business of my early professional days, I trust my then keener-eye would have noticed the evidence of defect. Woe to the buyer who placed high value on the nonexistent lumber that this oak would have furnished. I've said frequently that nothing in Nature is static…and many aspects of Nature lie hidden in plain sight.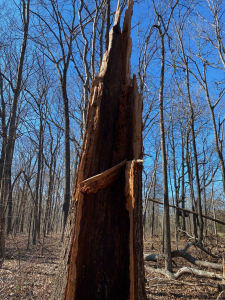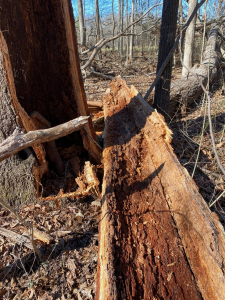 Borrowed from my April 6, 2022, Post on the four Alabama State Park tornadoes since 2011, this view of the healing Monte Sano State Park tornado swath from an EF-0 twister that hit November 2016 depicts significant vegetative recovery. The swath at the Refuge will likewise recover. Nature has been healing her own wounds since life first appeared, since the first winds blew, and since the first tree fell in the first forest.
Earth has no sorrow that earth cannot heal. John Muir
The universe is an infinite storm of beauty. John Muir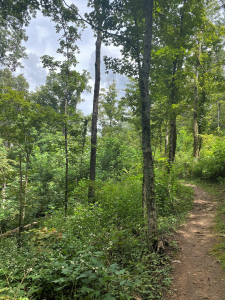 We understand tornadoes scientifically, but it still feels supernatural. The randomness makes it feel supernatural. Michael Koryta
Nature is ever at work building and pulling down, creating and destroying, keeping everything whirling and flowing, allowing no rest but in rhythmical motion, chasing everything in endless song out of one beautiful form into another. John Muir
Thoughts and Reflections
I offer these observations:
Nature's power and fury can reach beyond our imagination.
A fine line separates forest devastation from forest renewal.
Earth has no sorrow that earth cannot heal — John Muir
Inhale and absorb Nature's elixir. May Nature Inspire, Inform, and Reward you!
Note: All blog post images created & photographed by Stephen B. Jones unless otherwise noted. Please circulate images with photo credit: "©2022 Steve Jones, Great Blue Heron LLC. All Rights Reserved."
Another Note: If you came to this post via a Facebook posting or by an another route, please sign up now (no cost… no obligation) to receive my Blog Post email alerts: http://eepurl.com/cKLJdL
And a Third: I am available for Nature-Inspired Speaking, Writing, and Consulting — contact me at steve.jones.0524@gmail.com
Reminder of my Personal and Professional Purpose, Passion, and Cause
If only more of us viewed our precious environment through the filters I employ. If only my mission and vision could be multiplied untold orders of magnitude:
Mission: Employ writing and speaking to educate, inspire, and enable readers and listeners to understand, appreciate, and enjoy Nature… and accept and practice Earth Stewardship.
Vision:
People of all ages will pay greater attention to and engage more regularly with Nature… and will accept and practice informed and responsible Earth Stewardship.
They will see their relationship to our natural world with new eyes… and will understand more clearly their Earth home.
Tagline/Motto: Steve (Great Blue Heron) encourages and seeks a better tomorrow through Nature-Inspired Living!
Steve's Three Books
I wrote my books Nature Based Leadership (2016), Nature-Inspired Learning and Leading (2017), and Weaned Seals and Snowy Summits: Stories of Passion for Place and Everyday Nature (2019; co-authored with Dr. Jennifer Wilhoit) to encourage all citizens to recognize and appreciate that every lesson for living, learning, serving, and leading is either written indelibly in or is powerfully inspired by Nature.
I began writing books and Posts for several reasons:
I love hiking and exploring in Nature
I see images I want to (and do) capture with my trusty iPhone camera
I enjoy explaining those images — an educator at heart
I don't play golf!
I actually do love writing — it's the hobby I never needed when my career consumed me
Judy suggested my writing is in large measure my legacy to our two kids, our five grand kids, and all the unborn generations beyond
And finally, perhaps my books and Blogs could reach beyond family and touch a few other lives… sow some seeds for the future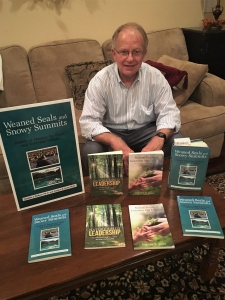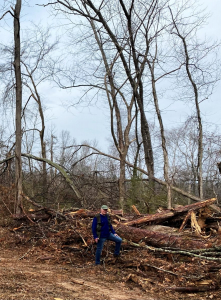 All three of my books (Nature Based Leadership; Nature-Inspired Learning and Leading; Weaned Seals and Snowy Summits) present compilations of personal experiences expressing my (and co-author Dr. Wilhoit for Weaned Seals and Snowy Summits) deep passion for Nature. All three books offer observations and reflections on my relationship to the natural world… and the broader implications for society. Order any and all from your local indie bookstore, or find them on IndieBound or other online sources such as Amazon and LifeRich.
http://stevejonesgbh.com/wp-content/uploads/2022/03/IMG_3019.jpg-03.15.22-Blackwell-Swamp-01.01.22-Tornado.jpg
1200
883
Steve Jones
http://stevejonesgbh.com/wp-content/uploads/2017/01/gbhweblogo.png
Steve Jones
2022-05-04 14:08:59
2022-05-04 14:08:59
Aftermath of January 1, 2022 Tornado at Wheeler National Wildlife Refuge