December 22, 2021, I wandered the riparian forest on the east end of Alabama's Wheeler National Wildlife (near Huntsville, Alabama) with my two Alabama grandsons (Jack and Sam). I take Sam and Jack into the wild for the enjoyment it gives me, the learning provided to the three of us, the seeds sown to enrich their lives, and the good they may do for the future of Earth and humanity.
I offer the following quotes from Richard Louv, well-known authority and best-selling author on the topic of re-orienting youth to the beauty, magic, wonder, and awe of Nature, and the value-added to life and living:
We cannot protect something we do not love, we cannot love what we do not know, and we cannot know what we do not see. Or hear. Or sense.
Nature-deficit disorder describes the human costs of alienation from nature, among them: diminished use of the senses, attention difficulties, and higher rates of physical and emotional illnesses. The disorder can be detected in individuals, families, and communities.
Passion is lifted from the earth itself by the muddy hands of the young; it travels along grass-stained sleeves to the heart. If we are going to save environmentalism and the environment, we must also save an endangered indicator species: the child in nature.
Children need nature for the healthy development of their senses, and therefore, for learning and creativity.
The children and nature movement is fueled by this fundamental idea: the child in nature is an endangered species, and the health of children and the health of the Earth are inseparable.
All spiritual life begins with a sense of wonder, and nature is a window into that wonder.
Reconnection to the natural world is fundamental to human health, well-being, spirit, and survival.
December 22, 2021, my two Alabama grandsons (Jack 14 and Sam 7) hiked HGH Road and visited Blackwell Swamp on the eastern end of the Wheeler National Wildlife Refuge near Huntsville, Alabama, just 15 miles from my Madison, AL residence. I measured a little over an inch of rain five days earlier. With blue sky and the temperature near 50, we enjoyed a spectacular afternoon. The winter riparian forest offered many treats for Pap and his two young outdoor enthusiasts: perfect weather; crackling leaves; visibility deep into the forest; no biting insects; active squirrels and woodpeckers; mushrooms galore; plentiful opportunites to explore curiosities and stimulate imagination; escape from digital screens; and tree form oddities along the way.
Here's looking west with hardwood-dominant riparian forest on both sides of HGH Road.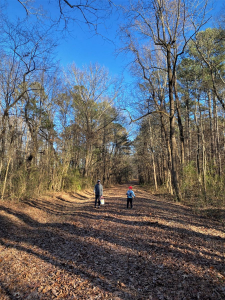 The Refuge boundary lies just 50 feet north of the road at this point, a cultivated field on private land beyond this ancient four-foot diameter oak.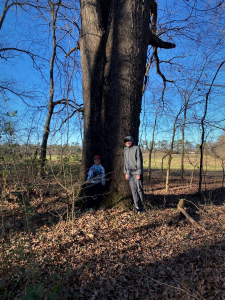 I will never tire of big trees, and I trust that the boys will carry the same passion for Nature into their old age. My role is to fan the flame of Nature appreciation. My email signature line quotes Robert Louis Stevenson (1850-1894):
Don't judge each day by the harvest you reap but by the seeds that you plant. 
Stevenson would have favorably judged my December 22!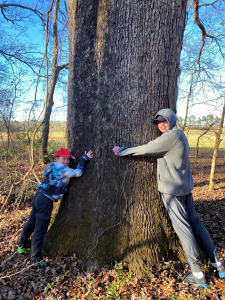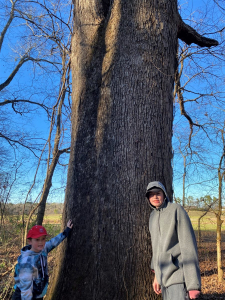 The tree's massive crown evidences its long and successful reign over this edge of the forest.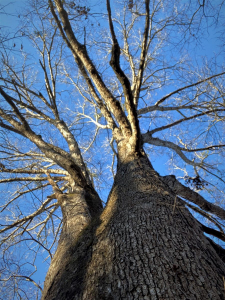 Since retiring, I have adopted a personal mission statement:
Employ writing and speaking to educate, inspire, and enable readers and listeners to understand, appreciate, and enjoy Nature… and accept and practice Earth Stewardship.
Because good mission statements are succinct, compact, and memorable, I deplore one that attempts to say all. What mine does not say (and doesn't need to say) is that active imagination is requisite to all educating, learning, and enjoying. One of the 20th Century's leading intellects, the remarkably mirthful and fun-loving Albert Einstein (1879-1955) recognized the essential role of imagination:
Imagination is more important than knowledge. Knowledge is limited. Imagination encircles the world.
Likewise, John Muir (1838-1914), one of the period's most influential naturalists, relied upon his own vivid imagination to better understand and appreciate Nature and wildness:
The power of imagination makes us infinite.
I stopped along the trail when abreast of a tree I had previously photographed, imploring the boys to find a creature not normally found in our forests. Prompted by a few hints, they spotted the elephant, "seeing" its eyes, trunk, and tusks. I subscribe to the notion that so much of Nature's wonder lies hidden in plain sight.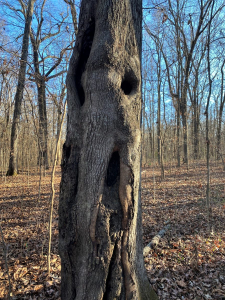 Carl Sagan (1934-96), world renowned astronomer, agreed with the power of imagination:
Imagination will often carry us to worlds that never were. But without it we go nowhere.
I implored the boys (as I do with all individuals and groups I lead on forest hikes) to follow my essential verbs for Nature examination:
Five Essential Verbs: Believe, Look, See, Feel, and Act.
I find Nature's Lessons because I know they lie hidden within view — belief enables me to look and see
Really look, with eyes open to your surroundings, external to electronic devices and the distractions of meaningless noise and data
Be alert to see deeply, beyond the superficial
See clearly, with comprehension, to find meaning and evoke feelings
Feel emphatically enough to spur action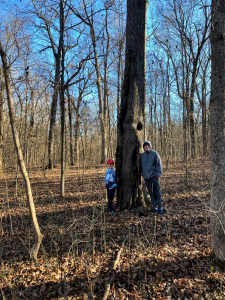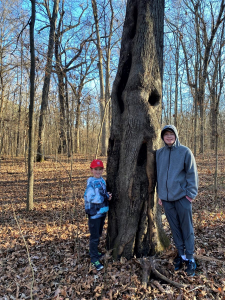 Those wise souls who have preceded us have already expressed the wisdom I embrace and attempt to pass forward:
Laughter is timeless, imagination has no age, and dreams are forever – Walt Disney (1901-66).
The man who has no imagination has no wings – Muhammad Ali (1942-2016).
Imagination is the only weapon in the war against reality – Lewis Carroll (1832-98).
Oak bracket fungus mushrooms at the base of this 28-inch living red oak evidence that this otherwise robust-appearing tree suffers decay within. The oak bracket mycelia are hard at work consuming wood within.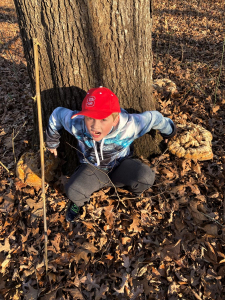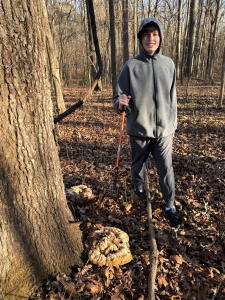 Oak bracket continues feeding upon dead wood once a host has succumbed. This large dead oak sports a fresh oak bracket mushroom. My hope is that our woods hikes will stir and inspire within Jack and Sam lifelong interest in our natural world.
Education is what remains after one has forgotten what one has learned in school — (Einstein).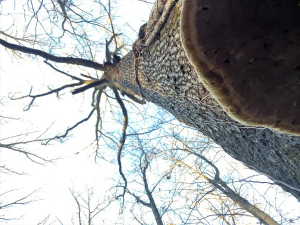 Sam knows and is impressed by knowing that these gnarly brackets are part of the rich dance of life and death in the forest.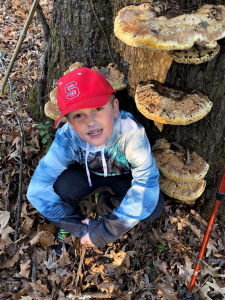 Here's a closer view of both the bottom (left) and top of these impressive mushrooms.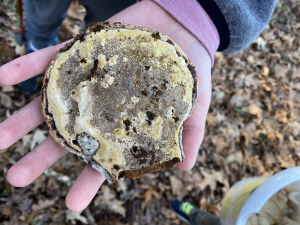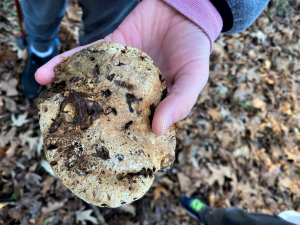 Learn from yesterday, live for today, hope for tomorrow. The important thing is not to stop questioning — (Einstein).
The boys know that I am a wild edible muchroom enthusiast; they witnessed first-hand my excitement when we found these oysters. The boys can now identify oysters.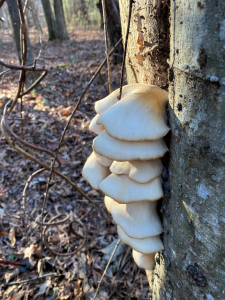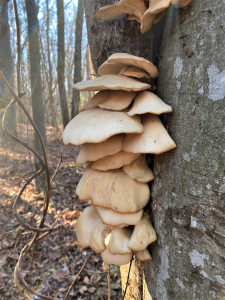 We observed the low sunlight and slanting shadows on this near-solstice winter afternoon. So good to be in the forest this time of year. Its as though it is ours to enjoy without dense aerial and understory foliage, insects, and other obstacles to full enjoyment and appreciation.
Nature does indeed abhor a vacuum. This four-inch diameter downed branch supports a vibrant community of moss.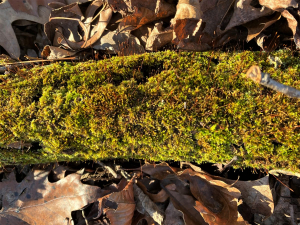 We left HGH road to explore the west shore of Blackweel Swamp as the sun dipped closer to the horizon, the sun kissing the upper canopy of the loblolly pine trees beyond the boys. I'm told that alligators inhabit the swamp. I have yet to see one. The fact that these primitive reptiles may be present adds a dimension of wildness and adventure to our experience.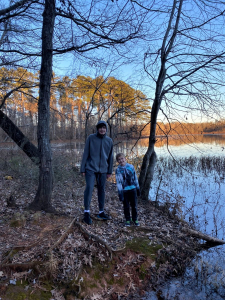 As we drove north, departing the Refuge, we stopped to view a barred owl bidding us farewell, a fitting end to a fine afternoon.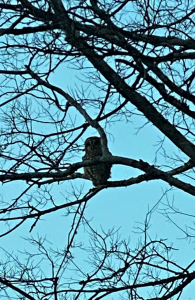 The noblest pleasure is the joy of understanding — Leonardo da Vinci (1452 – 1519).
Thoughts and Reflections
I offer these observations:
Our greatest duty as adults is to pass the spark of  Nature learning and imagination to the young.
Passion is lifted from the earth itself by the muddy hands of the young; it travels along grass-stained sleeves to the heart (Richard Louv).
Education is what remains after one has forgotten what one has learned in school (Einstein).

Inhale and absorb Nature's elixir. May Nature Inspire, Inform, and Reward you!
Note: All blog post images created & photographed by Stephen B. Jones unless otherwise noted. Please circulate images with photo credit: "©2022 Steve Jones, Great Blue Heron LLC. All Rights Reserved."
Another Note: If you came to this post via a Facebook posting or by an another route, please sign up now (no cost… no obligation) to receive my Blog Post email alerts: http://eepurl.com/cKLJdL
And a Third: I am available for Nature-Inspired Speaking, Writing, and Consulting — contact me at steve.jones.0524@gmail.com
Reminder of my Personal and Professional Purpose, Passion, and Cause
If only more of us viewed our precious environment through the filters I employ. If only my mission and vision could be multiplied untold orders of magnitude:
Mission: Employ writing and speaking to educate, inspire, and enable readers and listeners to understand, appreciate, and enjoy Nature… and accept and practice Earth Stewardship.
Vision:
People of all ages will pay greater attention to and engage more regularly with Nature… and will accept and practice informed and responsible Earth Stewardship.
They will see their relationship to our natural world with new eyes… and will understand more clearly their Earth home.
Tagline/Motto: Steve (Great Blue Heron) encourages and seeks a better tomorrow through Nature-Inspired Living!
Steve's Three Books
I wrote my books Nature Based Leadership (2016), Nature-Inspired Learning and Leading (2017), and Weaned Seals and Snowy Summits: Stories of Passion for Place and Everyday Nature (2019; co-authored with Dr. Jennifer Wilhoit) to encourage all citizens to recognize and appreciate that every lesson for living, learning, serving, and leading is either written indelibly in or is powerfully inspired by Nature.
I began writing books and Posts for several reasons:
I love hiking and exploring in Nature
I see images I want to (and do) capture with my trusty iPhone camera
I enjoy explaining those images — an educator at heart
I don't play golf!
I actually do love writing — it's the hobby I never needed when my career consumed me
Judy suggested my writing is in large measure my legacy to our two kids, our five grand kids, and all the unborn generations beyond
And finally, perhaps my books and Blogs could reach beyond family and touch a few other lives… sow some seeds for the future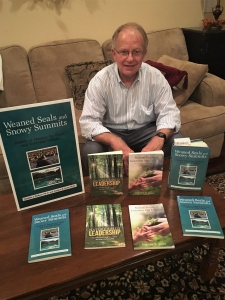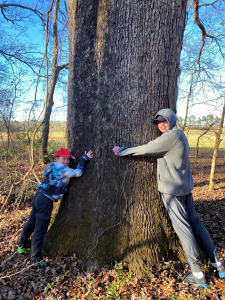 All three of my books (Nature Based Leadership; Nature-Inspired Learning and Leading; Weaned Seals and Snowy Summits) present compilations of personal experiences expressing my (and co-author Dr. Wilhoit for Weaned Seals and Snowy Summits) deep passion for Nature. All three books offer observations and reflections on my relationship to the natural world… and the broader implications for society. Order any and all from your local indie bookstore, or find them on IndieBound or other online sources such as Amazon and LifeRich.
http://stevejonesgbh.com/wp-content/uploads/2021/12/IMG_2015-1.jpg-12.22.21-WNWR-Dead-Oak-Oak-Bracket-Tree-Two.jpg
1200
900
Steve Jones
http://stevejonesgbh.com/wp-content/uploads/2017/01/gbhweblogo.png
Steve Jones
2022-02-22 08:11:15
2022-02-22 08:11:15
An Afternoon Exploring a Riparian Forest with My Two Alabama Grandsons