December 30, 2021, Judy and I visited the Jack Daniel's Distillery in Lynchburg, Tennessee. We did not anticipate the Nature-based lessons, revelations, and inspiration associated with distilling this golden elixir. Because the internet is flush with the story of this world famous distillery, I offer only that Jasper Newton "Jack" Daniel founded the Jack Daniel's Distillery in 1866 in his hometown of Lynchburg, Tennessee, where it still operates. His Old No. 7 earned a gold medal at the 1904 World's Fair.
Owing to serendipity and fortuity, Mr. Daniel chose a perfect birthplace for a would-be distiller. The region is underlain by limestone, which ensures that its waters are limestone-filtered, perfect for making whiskey. The limestone filtering removes iron, yielding a sweeter tasting mineral water. An article in Kentucky Bourbon Country states, Whiskey made from water containing iron would turn black, which is absolutely unappealing. As you will see later, the region is also blessed with forests stocked with two tree species essential to the Jack Daniel's recipe: white oak and sugar maple.
Streamside Location
A stream flows in front of the distillery visitors center, supplying ample water for essential tasks (cleaning and washing; not distilling) associated with the primary distilling process.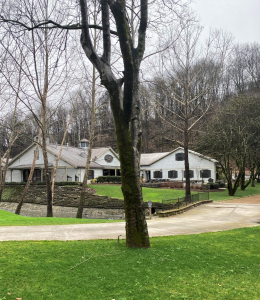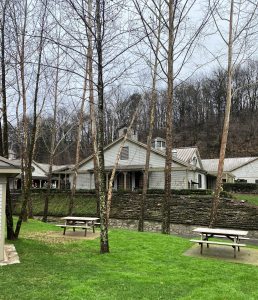 The stream also provides an aesthetic appeal and setting worthy of an international tourist destination. The primary pedestrian entrance crosses the waterway on a suitably attractive bridge.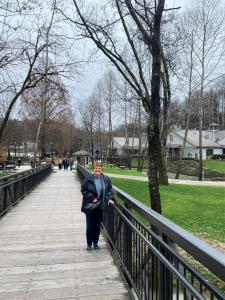 The upstream view (left) and downstream perspective reward the visitor with a touch of Nature demanding a stop on the bridge to absorb the magic of the place.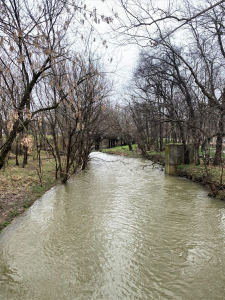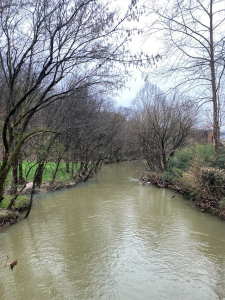 Although I did not see direct evidence, I am certain that legal professionals at the distillery demanded placing this warning to absolve the company of any visitors devoid of common sense foolishly venturing too close to the flowing water, which on the day we visited stood at bankful from recent heavy rains. However, note in the expanded view that the sign does not caution about the risks of falling into the water to be swept away and drowned. Einstein observed an underlying truth respecting those who may venture too close to the slippery banks:
The difference between stupidity and genius is that genius has its limits.
I suppose we might next see McDonald's placing warnings on coffee cups about the liquid within being hot! No, wait a minute, that's been in place for a decade or more.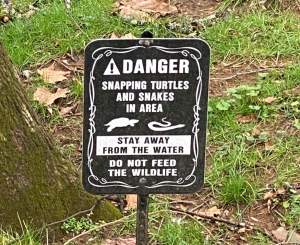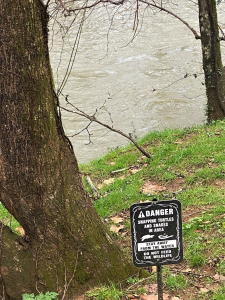 Pardon my interupting this Post with a personal awareness and responsibility side-rant.
Source of Pure Water
The surface stream is a supplemental attraction to the real water star — the sweet-water, limestone-filtered aqua that originates from a cave central to the JD Distillery site. The flow is reliable year-round. Lynchburg, Tennessee receives an average annual rainfall of 57 inches, evenly distributed across the seasons.
I find nothing any more remarkable in Nature than fresh springwater rising from the ground, sheltered by natural limestone walls on three sides, creating a welcoming mossy canyon, filled with the pleasant sound of gurgling release.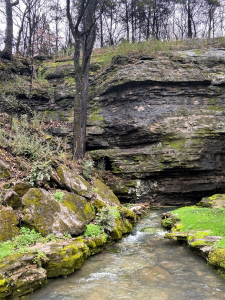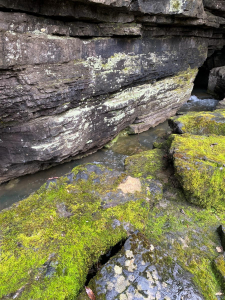 I see the winter landscape, enjoy the sense of life beginning, and imagine the comfort and coolness within on a mid-summer afternoon.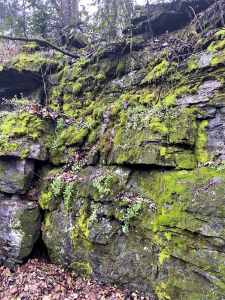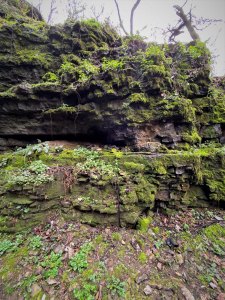 I relished experiencing the stream and the springhead.
Distillery Fungus
I had envisioned before our visit that we would find a stream and a spring. What I did not anticipate was a black fungus covering vegetation, rocks, and material infrastructure throughout the distillery proper and its grounds.
From the Indiana State Department of Health online:
What is Baudoinia compniacensis?
Baudoinia compniacensis, also known as Distillery Fungus, Whiskey Fungus, and Warehouse Staining Fungus, is a black fungus that is velvety or crust-like and can reach 1-2 cm in thickness. While it is black in color, this is not Stachybotrys, often referred to as black mold.
Where is Baudoinia compniacensis found?
Baudoinia compniacensis is found throughout North America, Europe, and Asia. It has the ability to withstand a large range of temperatures but requires high relative humidity and periodic rain. The fungus can grow on a variety of surfaces, including plants, brick, metal, stainless steel, concrete, and plastic.
The fungus thrives in places where fermentation occurs, such as bakeries and bogs. Distilleries for whiskey, scotch, vodka, brandy, and rum are affected by the fungus too because ethanol is off-gassed in the making of distilled spirits. Baudoinia compniacensis uses the ethanolic vapor to initiate germination and to express proteins in the fungus that allow the fungus to tolerate high temperatures. The fungus can be found at other places where ethanol can off-gas into the environment uncontrolled, including bakeries and bonded warehouses.
Are there human and animal health risks from Baudoinia compniacensis?
Research conducted by ISDH Environmental Public Health Division did not find any reports of
health risks from short or long term exposure to Baudoinia compniacensis.
That off-gassing occurs during the open-tank distilling process is not surprising. However, another important question might be: Why do the supposedly liquid-tight casks leak? The oak barrels are not equivalent to stainless steel vessels. The seams are solid, yet not without some slight permeability…enough for some molecules to escape, especially during the multi-year aging process in warehouses. Huge Star Wars size warehouse cluster dot the countryside around Lynchburg. They, too, are blackened, giving a cold stark, otherworldly feel to the sites.
The casks would leak beyond tolerable were it not for the God-given characteristic of the white oak tree group. The white oak group's wood pores and vessels clog with tyloses once the tree grows new conductive rings. That is, only the relatively recent rings transport water and nutrients up from the roots and sugars and carbohydrates down from the summer crowns to the roots. The tyloses block the transport mechanism, assuring relative impermeability. Oaks in the red oak group have open vessels from bark to the tree's core.
So, white oak is essential, whether the distillery is producing whiskey, bourbon, or Scotch. I learned also, that the JD process requires charcoal made from sugar maple to filter JD whiskey during the fermentation step. I won't attempt to explain the special taste and fragrance imparted by the sugar maple charcoal.
The combination of oak barrel aging and sugar maple charcoal filtration imbue JD with its unique taste and coloration, valued world-wide. I knew in advance that white oak was the species required for the casks, just as it is for wooden ships. I was not aware of the requirement for sugar maple charcoal.
Near the spring stand the blackened trunks of hackberry (left) and sugar maple, trees that aside from the coating seem healthy.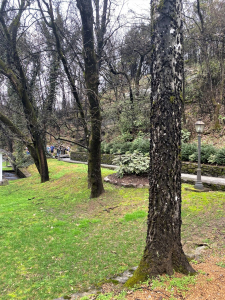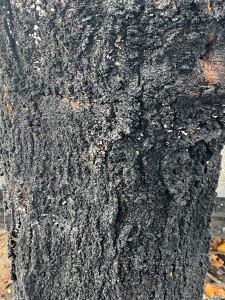 Our tour guide told us that the distillery fungus aided revenuers during prohibition in locating stills. Blackened tree trunks told the tale and revealed the location. These boxelders, along a walkway outside a building housing mix tanks, are likewise blackened.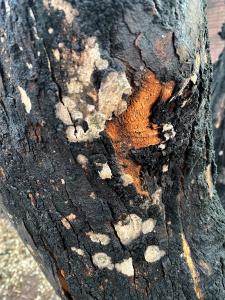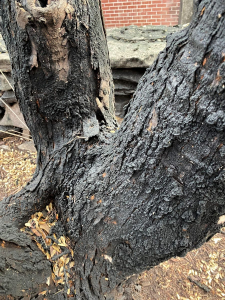 As are these ornamental hollies. The holly foliage is yellowed (chlorotic) and obviously suffering from the thick coating.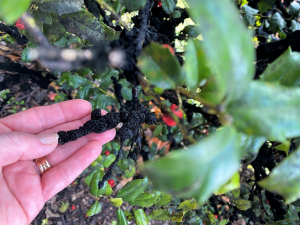 The black distillery buildings appear to be from a dystopian world arising after armegeddon! I felt like I was on the set of some disaster movie…until I reminded myself that this was nature at play.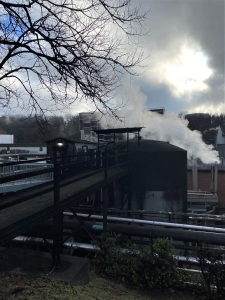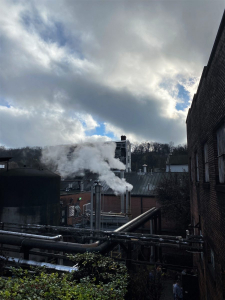 The loss of ethanol from out-gassing (ethanolic vapors), apparently an unavoidable result of distilling and aging, is referred to as the angels' share. I am hopeful that JD or some other distilled libation is, in fact, available when we reach the angel stage of our existence!
Holiday Spirits
Our visit between Christmas and New Year's coincided with the time of Holiday Spirit, in form here of a festive tree of JD casks.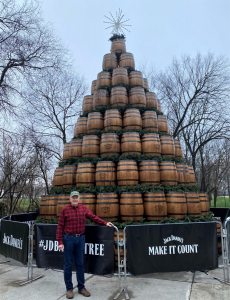 The antique JD delivery truck transported loads of Seasonal Spirits. The same cargo for the later model (right).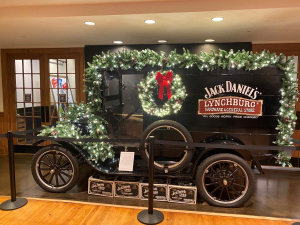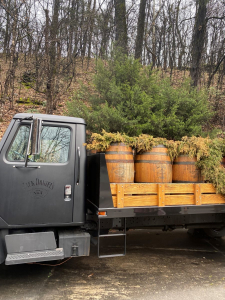 According to our guide, because Lynchburg is in a dry county, the distillery store sells souvenir JD bottles that just happen to be filled with the various JD products. I purchased several of the souvenir bottles, from which I have been occasionally sipping.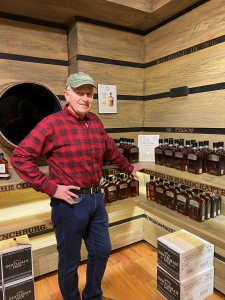 So much of what sustains and rewards us results from our wide partnership with Nature, whether agricultural production, energy generation, or seafood harvesting. We are often reminded that we are one with Nature. The JD Distillery tour opened my eyes to how inextricably we are linked with the natural world. I had not anticipated that my tour would result in a Post communicating another tale of Nature-Inspired Life and Living.
I'll close with a few apt quotations from notable persons, from Abe Lincoln to Johnny Carson, all with an abiding affection for liquid sunshine:
Mark Twain:
Too much of anything is bad, but too much of good whiskey is barely enough.
It was a place of sin, loose women, whiskey and gambling. It was no place for a good Presbyterian, and I did not long remain one.
Winston Churchhill:
The water was not fit to drink. To make it palatable, we had to add whisky. By diligent effort, I learned to like it.
Johnny Carson:
Happiness is having a rare steak, a bottle of whisky, and a dog to eat the rare steak.
Abraham Lincoln:
Tell me what brand of whiskey that Grant drinks. I would like to send a barrel of it to my other generals.
George Bernard Shaw:
Whisky is liquid sunshine.
W.C.Fields:
Drown in a cold vat of whiskey? Death, where is thy sting?
I wonder whether any of these gentlemen thought about the Nature of whiskey?
Thoughts and Reflections
I offer these observations:
I had not anticipated the Nature-based lessons, revelations, and inspiration associated with distilling this golden elixir.
Understanding Nature spirited me to see and learn far more than most visitors.
Knowing the Nature (and science) of whiskey distilling amplified my appreciation of the finished product!
Inhale and absorb Nature's elixir. May Nature Inspire, Inform, and Reward you!
Note: All blog post images created & photographed by Stephen B. Jones unless otherwise noted. Please circulate images with photo credit: "©2022 Steve Jones, Great Blue Heron LLC. All Rights Reserved."
Another Note: If you came to this post via a Facebook posting or by an another route, please sign up now (no cost… no obligation) to receive my Blog Post email alerts: http://eepurl.com/cKLJdL
And a Third: I am available for Nature-Inspired Speaking, Writing, and Consulting — contact me at steve.jones.0524@gmail.com
Reminder of my Personal and Professional Purpose, Passion, and Cause
If only more of us viewed our precious environment through the filters I employ. If only my mission and vision could be multiplied untold orders of magnitude:
Mission: Employ writing and speaking to educate, inspire, and enable readers and listeners to understand, appreciate, and enjoy Nature… and accept and practice Earth Stewardship.
Vision:
People of all ages will pay greater attention to and engage more regularly with Nature… and will accept and practice informed and responsible Earth Stewardship.
They will see their relationship to our natural world with new eyes… and will understand more clearly their Earth home.
Tagline/Motto: Steve (Great Blue Heron) encourages and seeks a better tomorrow through Nature-Inspired Living!
Steve's Three Books
I wrote my books Nature Based Leadership (2016), Nature-Inspired Learning and Leading (2017), and Weaned Seals and Snowy Summits: Stories of Passion for Place and Everyday Nature (2019; co-authored with Dr. Jennifer Wilhoit) to encourage all citizens to recognize and appreciate that every lesson for living, learning, serving, and leading is either written indelibly in or is powerfully inspired by Nature.
I began writing books and Posts for several reasons:
I love hiking and exploring in Nature
I see images I want to (and do) capture with my trusty iPhone camera
I enjoy explaining those images — an educator at heart
I don't play golf!
I actually do love writing — it's the hobby I never needed when my career consumed me
Judy suggested my writing is in large measure my legacy to our two kids, our five grand kids, and all the unborn generations beyond
And finally, perhaps my books and Blogs could reach beyond family and touch a few other lives… sow some seeds for the future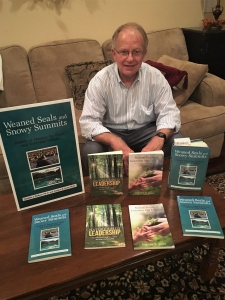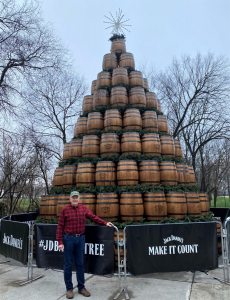 All three of my books (Nature Based Leadership; Nature-Inspired Learning and Leading; Weaned Seals and Snowy Summits) present compilations of personal experiences expressing my (and co-author Dr. Wilhoit for Weaned Seals and Snowy Summits) deep passion for Nature. All three books offer observations and reflections on my relationship to the natural world… and the broader implications for society. Order any and all from your local indie bookstore, or find them on IndieBound or other online sources such as Amazon and LifeRich.
https://stevejonesgbh.com/wp-content/uploads/2022/01/IMG_2123-1.jpg-12.30.21-Lynchburg-TN-JD-Distillery-Cave-and-Sooty-Mold.jpg
1200
900
Steve Jones
http://stevejonesgbh.com/wp-content/uploads/2017/01/gbhweblogo.png
Steve Jones
2022-03-01 11:06:23
2022-03-01 11:06:23
Nature Revelations at the Jack Daniel's Distillery in Lynchburg, TN