October 26, 2020, I visited TVA's Marbut Bend Trail, managed by the Tennessee Valley Authority (TVA) with fellow Nature enthusiast, Alabama State Parks Naturalist Emeritus Mike Ezell. From the Marbut Bend Trail website (https://www.tva.com/environment/recreation/tva-trails/tva-trails-detail-page/marbut-bend-trail):
Looking for a lovely, hand-holding stroll for two? You'll find it at TVA's newly opened Marbut Bend Trail. This easy, flat and A.D.A.-accessible 1.1-mile walk will take you across boardwalks through a wetland and a pond created by a beaver dam, along the shoreline of two embayments (or coves) of the Elk River and through an open field filled with hay bails. The combination of wetland and field draws a lively mix of wildlife; expect to see migratory shore birds, wood ducks, blue-winged teals, great blue herons, egrets, deer, raccoons—and, of course, beavers. Throw out a blanket on the farmland and snuggle in for a romantic picnic. The trail is about 12 miles northwest of Athens, Alabama, on Hwy. 99.
I could not have prepared a better description. Located near Elk River's entry to Wheeler Lake (the Tennessee River impoundment above TVA's Wheeler Dam), Elk River at this point assumes the same level as the Lake. I spent little time off-trail. I do not intend for this Post to offer deep insight, reflection, and discussion of this very family-friendly slice of the broad Tennessee Valley. I feel more like a Chamber advocate than a naturalist with this Post. However, my motive for presenting this rather Nature-shallow Post aligns with my retirement Mission:
Employ writing and speaking to educate, inspire, and enable readers and listeners to understand, appreciate, and enjoy Nature… and accept and practice Earth Stewardship.
Anything I can do (and write) to encourage fellow citizens to immerse themselves in Nature helps achieve that mission. I had not heard of Marbut Bend Trail until Mike suggested we visit. I know that many residents of the Huntsville metropolitan area are also likewise ignorant of this wonderful preserve just 30 miles from city center. Importantly, all Huntsville citizens (USA) hold joint title to Marbut Bend, just as we do for all federal Forests, Parks, Preserves, Memorials, and Monuments.
So, allow me a quick catalog of natural features and landscapes along Marbut Bend Trail. Wet meadows and marshes dominate this view from the entrance.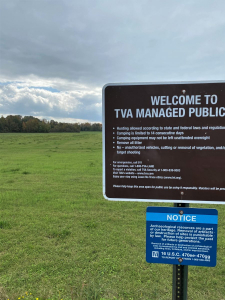 Diverse Wetland Habitats
I'm fascinated and inspired by wooden walkways across otherwise inaccessible ecotypes (below left). I snapped the lake image from a wooden deck later along the trail. Not visible in the photo are dozens of great egrets and a single great blue heron. Although a forester, I retain within me a closet meteorologist, obsessed with the firmament. The sky provides nuance and character to every Nature scene and viewscape, even as in and of itself the sky and its associated weather merit study and understanding. Perhaps this cloud deck presaged the October 28 deluge (I measured 3.25″) dumped by the remnants of hurricane Zeta. The lower right image confirms my memory of calmness, with not even a breeze to ripple its mirrored surface.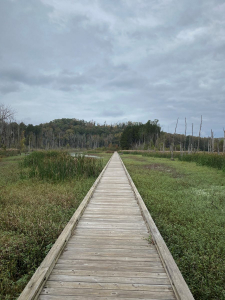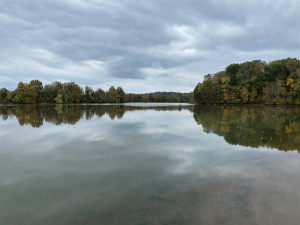 Excellent signage helps visitors understand, appreciate, and enjoy Nature.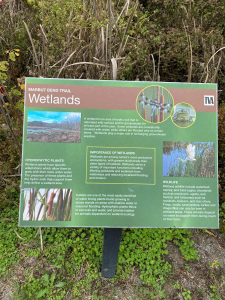 Cattails grow in abundance (below left). Duckweed covered the water adjacent to the boardwalk (below right).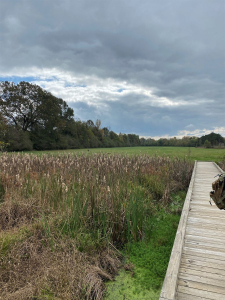 The cattails below left are releasing countless windborne seeds. The woolgrass is providing a feast for marauding birds. A fool for autumn, I cherish the signs, signals, and look of summer (hot, humid, persistent) in full retreat!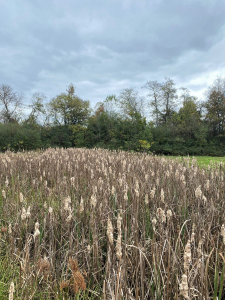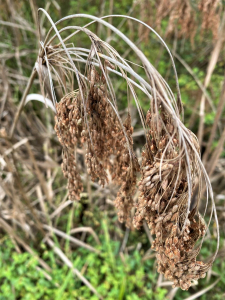 Once again, signage assists the casual observer (and the forest naturalist) in understanding and appreciating Nature's marsh-side wonder.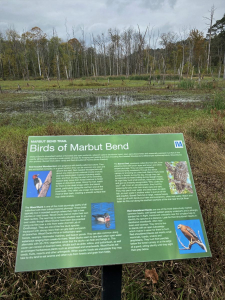 Marbut Bend's is a story of ecotones, one ecotype transitioning to another, including the forest edge with marsh (below left) and the forest edge to mudflat (below right). Wildlife of all manner capitalize on the panoply of habitats.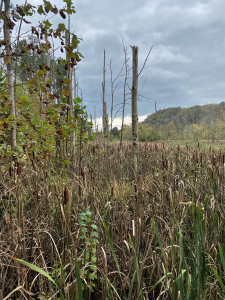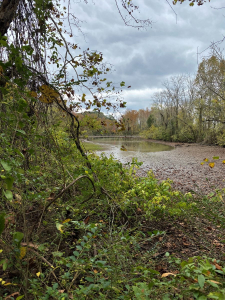 From upland forest to marsh to mudflat to open lake — a pure gift to biological diversity, all easily accessible along a well-maintained gravel path and boardwalk trail.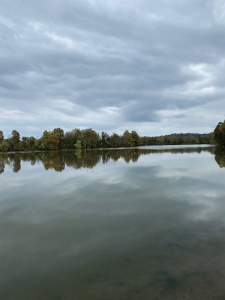 This set of photos reminds me that there is a world of Nature's inspiration close to home and within reach of a 1.1-mile easy stroll!
Upland Margins
Too dry for obligate wetland species, the transition zones support trees (shrubs) like black willow (Salix nigra; below left) and climbing hempvine (Mikania scandens; below right). Both species offered late October aesthetic value, the willow with its red twigs and the hempvine still in full flower.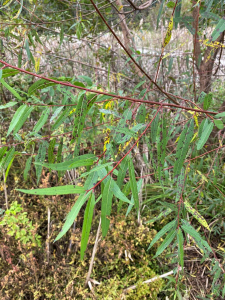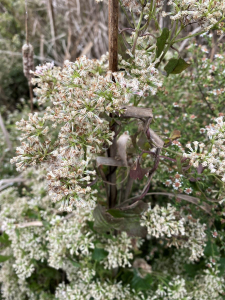 Roundleaf greenbrier (Smilax rotundifolia) likewise occupied the transition and upland sites. Various birds will appreciate its contribution of ripe berries.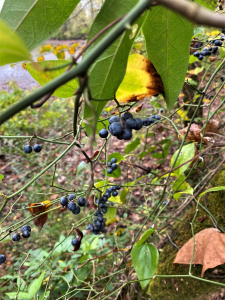 Sweetgum (Liquidambar styraciflua) verified the advance of autumn, providing a dash of fall color.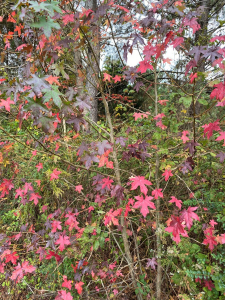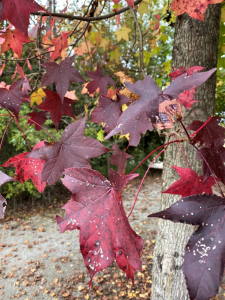 Tree of heaven (Ailanthus altissima), an aggressive invasive, and hickory (Carya sp.) likewise added seasonal color to the uplands.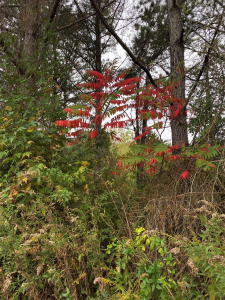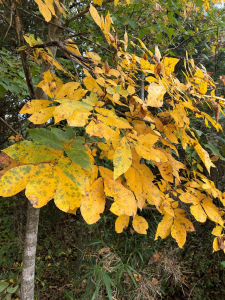 Same for pawpaw (Asimina triloba) and basswood (Tilia americana) matching the hickory's color.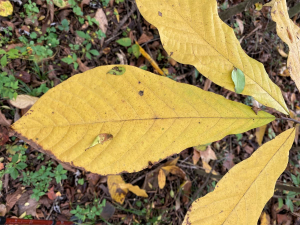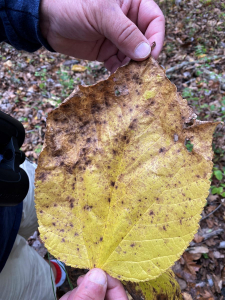 I find our common mosses attractive occupants of forest floor, windthrow soil mounds, lower tree trunks, and rocks and outcrops. This patch has colonized and decorated a windthrow soil mound.
I'll end with a photo of an abrupt transition, where loblolly pine meets marsh. Mike stands in full appreciation of the vivid demarcation.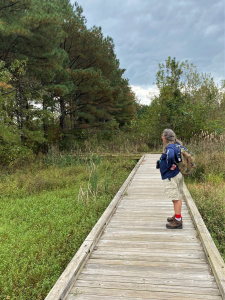 Thoughts and Reflections
A late October 1.1-mile hike at Marbut Bend Trail, a TVA property, afforded:
Diverse habitats
Rich biodiversity
Manifold fall indicators
Inhale and absorb Nature's elixir. May Nature Inspire, Inform, and Reward you!
Note: All blog post images created & photographed by Stephen B. Jones unless otherwise noted. Please circulate images with photo credit: "©2020 Steve Jones, Great Blue Heron LLC. All Rights Reserved."
Another Note: If you came to this post via a Facebook posting or by an another route, please sign up now (no cost… no obligation) to receive my Blog Post email alerts: http://eepurl.com/cKLJdL
And a Third: I am available for Nature-Inspired Speaking, Writing, and Consulting — contact me at steve.jones.0524@gmail.com
Reminder of my Personal and Professional Purpose, Passion, and Cause
If only more of us viewed our precious environment through the filters I employ. If only my mission and vision could be multiplied untold orders of magnitude:
Mission: Employ writing and speaking to educate, inspire, and enable readers and listeners to understand, appreciate, and enjoy Nature… and accept and practice Earth Stewardship.
Vision:
People of all ages will pay greater attention to and engage more regularly with Nature… and will accept and practice informed and responsible Earth Stewardship.
They will see their relationship to our natural world with new eyes… and will understand more clearly their Earth home.
Tagline/Motto: Steve (Great Blue Heron) encourages and seeks a better tomorrow through Nature-Inspired Living!
Steve's Three Books
I wrote my books Nature Based Leadership (2016), Nature-Inspired Learning and Leading (2017), and Weaned Seals and Snowy Summits: Stories of Passion for Place and Everyday Nature (2019; co-authored with Dr. Jennifer Wilhoit) to encourage all citizens to recognize and appreciate that every lesson for living, learning, serving, and leading is either written indelibly in or is powerfully inspired by Nature.
I began writing books and Posts for several reasons:
I love hiking and exploring in Nature
I see images I want to (and do) capture with my trusty iPhone camera
I enjoy explaining those images — an educator at heart
I don't play golf!
I actually do love writing — it's the hobby I never needed when my career consumed me
Judy suggested my writing is in large measure my legacy to our two kids, our five grand kids, and all the unborn generations beyond
And finally, perhaps my books and Blogs could reach beyond family and touch a few other lives… sow some seeds for the future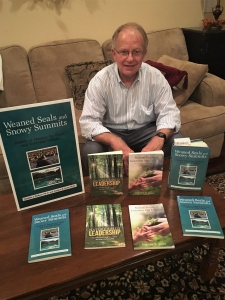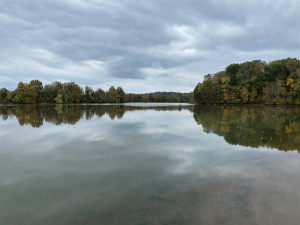 All three of my books (Nature Based Leadership; Nature-Inspired Learning and Leading; Weaned Seals and Snowy Summits) present compilations of personal experiences expressing my (and co-author Dr. Wilhoit for Weaned Seals and Snowy Summits) deep passion for Nature. All three books offer observations and reflections on my relationship to the natural world… and the broader implications for society. Order any and all from your local indie bookstore, or find them on IndieBound or other online sources such as Amazon and LifeRich.
http://stevejonesgbh.com/wp-content/uploads/2020/11/IMG_5236.jpg-10.26.20-Long-Boardwalk.jpg
1200
900
Steve Jones
http://stevejonesgbh.com/wp-content/uploads/2017/01/gbhweblogo.png
Steve Jones
2020-12-16 17:31:34
2020-12-16 17:31:34
TVA's Marbut Bend Nature Preserve