I've already published two Posts from my September 2020 hike at Maryland's Rocky Gap State Park, one offering photos and reflections on the trees and woody plants I encountered en route to the summit of Evitts Mountain, and the second on early fall flowers, fungi, and ferns:
I'm focusing this third Post on the implications and relevance of the intersection of human and natural history represented at the summit by the Mason-Dixon Line. The British Crown directive to undertake a formal survey predates the American Revolution: In 1760, tired of border violence between the colonies' settlers, the British crown demanded that the parties involved hold to an agreement reached in 1732. As part of Maryland and Pennsylvania's adherence to this royal command, Mason and Dixon were asked to determine the exact whereabouts of the boundary between the two colonies. Though both colonies claimed the area between the 39th and 40th parallel, what is now referred to as the Mason-Dixon line finally settled the boundary at a northern latitude of 39 degrees and 43 minutes. The line was marked using stones, with Pennsylvania's crest on one side and Maryland's on the other. On October 18, 1767, Charles Mason and Jeremiah Dixon completed their survey of the boundary between the colonies of Maryland and Pennsylvania (History.com).
I crossed the Line as the Summit Trail crested Evitts Mountain (2,296′ elevation).  The trail at that point followed an old ridgetop dirt road. Just 200 feet beyond, a power transmission line, complete with large metal towers, crossed Evitts east/west…perpendicular to the ridge.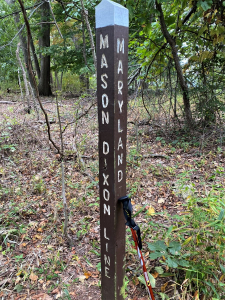 The Pennsylvania Center for the Book website (https://pabook.libraries.psu.edu/literary-cultural-heritage-map-pa/feature-articles/our-most-famous-border-mason-dixon-line) presents this West Virginia historical marker photo, with this caption: The text seems simple enough to understand. The marker stands to show where the North ends and the South starts. However, the story behind the boundary line is bitter, hostile and, at times, violent; and the story dates back to the mid-17th century.
Photo Credit: JimmyWayne22 – flickr.com
Unlike that long ago survey venture, my hike did not lead through uncharted wilderness nor did I worry about hostile Indians. I carried a good map, a handheld compass, and a cell phone. Danger did not accompany me. Much has changed over the intervening 254 years since Mason and Dixon first ventured forth. I paused at the concrete monument (placed in 1927) to contemplate what those intrepid surveyors faced. They and their crew carried their surveying equipment, camp gear, and provisions for weeks at a time. The above referenced website cites many sources for readers who want the whole story. As so often is the case during my Nature wanderings, I wanted to sit quietly, willing the past to surface…to appear before me.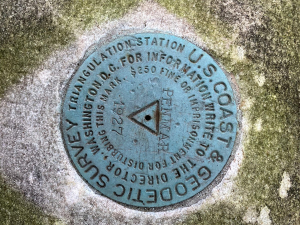 I admit to sitting long enough to catch my breath… and imagine the survey crew cresting the ridge in 1766. Because so-called civilization and more established modern habitation and communities existed well east of the Appalachians, I assumed that the crew had summited from the east. From the power line, I could see the Allegany Front 12-15 miles to the west, rising to nearly 2,900 feet. I wondered whether the intrepid surveyors dreaded those many more miles of wilderness, rugged terrain, and hostiles through which they must chart their never wavering progress. The brass plate above indicates that it marks a triangulation point — see the triangle. PENNMAR designates the state line and, hence, the Mason and Dixon line. The date (1927) is when the brass plate was scored and set.
Below left the concrete monument carries the date that Mason and Dixon surveyed across the ridge. I believe the 1902 date is when, 136 years later, crews set the monument.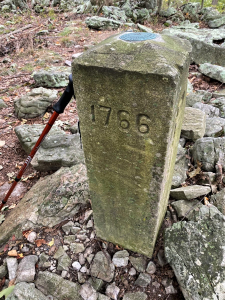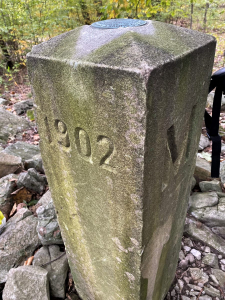 Obvious to even an old forester, "M" faces the Maryland side of the line; "P" faces north into Pennsylvania. I left Maryland for my junior undergraduate year after my initial nearly 20 years living in Maryland; I subsequently spent nine years (1987-96) in Pennsylvania. The two states account for 42 percent of my life to-date. Seven years is the longest single stretch I've lived anywhere since…in southeastern Virginia. I've tallied 11 years in Alabama (1981-84; 1996-2001; and 2018-20). As I sat near the monument, my heart beat a little faster, feeling the pulse of home coursing through the veins of my youth. I recognized the early fall forest scents. I heard the echoes of long ago memories. I recalled learning about Mason and Dixon, the French and Indian War, George Washington's western Maryland exploits, and other moments in history affecting these hills. I rested realizing the most pressing matter facing me was a slight worry that my knees would not appreciate the downhill trek ahead. These days, they are better at climbing than descending.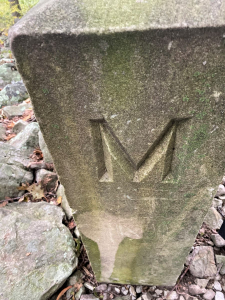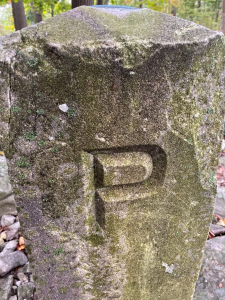 I also wondered how much more meaningful my sixth grade studies of local history might have been if we had made a day-journey up the trail to this very spot. Below left is the view to the west, the distant blue ridge marking the Allegany Front. Evitts Creek Valley lies below us where the fields are visible. I'm standing below right with the ridges of Green Ridge State Forest lying beyond to the east. The two surveyors had passed from the easternmost ridge, and then up and over the Allegany Front.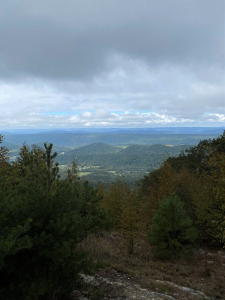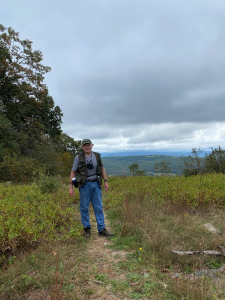 One of the joys of hiking and exploring Nature is meeting other folks who enjoy a full measure of Nature's healing and inspiring elixir. The young couple below joined me at the summit shortly after my respite at the monument. They hailed from southeastern Pennsylvania and were celebrating their first wedding anniversary. This was their first visit. I take comfort when I see young professionals drawing satisfaction and inspiration from Nature. I feel hope that the Nature bug is contagious, and that the Earth Stewardship ambition will extend far beyond my own brief tenure. I added their email address to my Blog Post distribution list. I hope they celebrate a bit more when they see their summit-contented faces!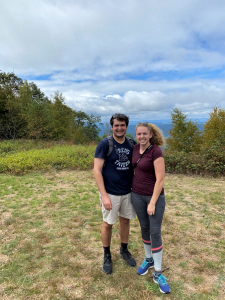 As I explored the powerline right of way, I found a memorial complete with wooden cross, a few stones, a miniature American flag, a pink-billed hat, and some artifacts in memory of an unnamed person. I have no way to confirm my conclusion that someone who frequented the trail had requested of family that ashes be placed overlooking the valley to the west. I concur that such permanent location could be viewed as a special spiritual place — a sacred perch around which their spirit might soar and loved ones can feel the presence of the departed one. I share the sentiment. My current wishes are that some portion of my own ashes be spread over Dolly Sods Wilderness in the central plateau region of West Virginia. I fell in love with that harsh, remote, wilderness sitting at roughly 4,000 feet elevation. My connection to it is truly sacred. I sensed that the person memorialized atop Evitts is likewise connected there.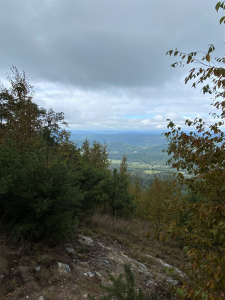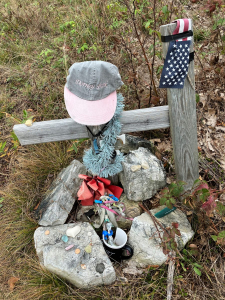 I made it back to Lake Habeeb without my knees failing, having recharged my Appalachian roots and renewed my heart, mind, body, soul, and spirit. Although John Muir wandered western mountains much younger and of greater grandeur than these old worn-down Appalachians, he captured a palpable sacred essence that coursed through my veins as I luxuriated in my hour atop Evitts:
Mountains throbbing and pulsing with the heartbeat of God.
Return to the Lake
No doubt in my mind, the lake is beautiful, yet nothing beats the quiet solitude and perspective from the summit. I'd like to revisit mid-winter, and enjoy an ice and snow covered panorama both lakeside and from the summit. Perhaps I can make that happen.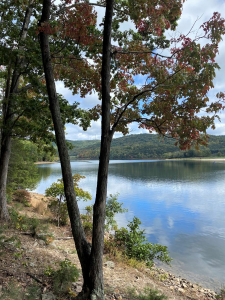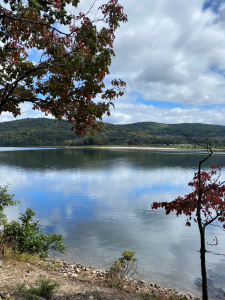 I could not have asked for a bluer sky… reflected from the lake surface… and serving as backdrop for a towering oak along the lake.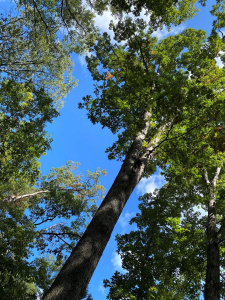 People often tell me they enjoy my photographs… as though I somehow manufacture the images from some otherwise barren spot. Truth is, Nature paints these magical scenes. All I do is enter Nature, transit a slice of wildness, seek and find Nature's beauty, magic, wonder, and awe, and snap a photo or two. Nature does the creative work. Because I know it is there, hidden in plain sight, my only task is to discover it, reveal it, and share it with readers.
I ponder what kind of images Mason and Dixon took home after their years-long surveying. Did they see the beauty, magic, wonder, and awe? Or was theirs an all-consuming ordeal, a terrifying-at-times venture, a treacherous expedition allowing little of the luxury afforded me as I hiked an old Jeep trail, then descended to my vehicle parked along a paved road, for my 20-minute drive back to family in Cumberland.
Mason and Dixon's adventure constituted a gamble with life and death consequences. Had I been so inclined, I could have returned to my car, driven a mile (within the Park) to the resort casino, and gambled recreationally with odds of winning no better than theirs, but not rising to the level of life and death!
Thoughts and Reflections
I offer two observations from my late September hike to the ridgetop Mason-Dixon Line… lessons applicable to many of my Nature wanderings:
Today's wild places intersect at the confluence of human and natural history
Like John Muir, I felt the "Mountains throbbing and pulsing with the heartbeat of God"
Inhale and absorb Nature's elixir. May Nature Inspire, Inform, and Reward you!
Note: All blog post images created & photographed by Stephen B. Jones unless otherwise noted. Please circulate images with photo credit: "©2020 Steve Jones, Great Blue Heron LLC. All Rights Reserved."
Another Note: If you came to this post via a Facebook posting or by an another route, please sign up now (no cost… no obligation) to receive my Blog Post email alerts: http://eepurl.com/cKLJdL
And a Third: I am available for Nature-Inspired Speaking, Writing, and Consulting — contact me at steve.jones.0524@gmail.com
Reminder of my Personal and Professional Purpose, Passion, and Cause
If only more of us viewed our precious environment through the filters I employ. If only my mission and vision could be multiplied untold orders of magnitude:
Mission: Employ writing and speaking to educate, inspire, and enable readers and listeners to understand, appreciate, and enjoy Nature… and accept and practice Earth Stewardship.
Vision:
People of all ages will pay greater attention to and engage more regularly with Nature… and will accept and practice informed and responsible Earth Stewardship.
They will see their relationship to our natural world with new eyes… and will understand more clearly their Earth home.
Tagline/Motto: Steve (Great Blue Heron) encourages and seeks a better tomorrow through Nature-Inspired Living!
Steve's Three Books
I wrote my books Nature Based Leadership (2016), Nature-Inspired Learning and Leading (2017), and Weaned Seals and Snowy Summits: Stories of Passion for Place and Everyday Nature (2019; co-authored with Dr. Jennifer Wilhoit) to encourage all citizens to recognize and appreciate that every lesson for living, learning, serving, and leading is either written indelibly in or is powerfully inspired by Nature.
I began writing books and Posts for several reasons:
I love hiking and exploring in Nature
I see images I want to (and do) capture with my trusty iPhone camera
I enjoy explaining those images — an educator at heart
I don't play golf!
I actually do love writing — it's the hobby I never needed when my career consumed me
Judy suggested my writing is in large measure my legacy to our two kids, our five grand kids, and all the unborn generations beyond
And finally, perhaps my books and Blogs could reach beyond family and touch a few other lives… sow some seeds for the future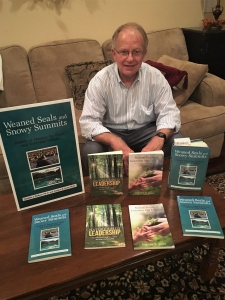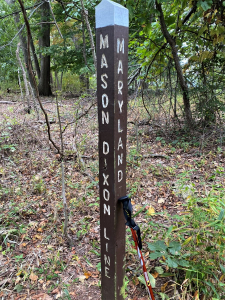 All three of my books (Nature Based Leadership; Nature-Inspired Learning and Leading; Weaned Seals and Snowy Summits) present compilations of personal experiences expressing my (and co-author Dr. Wilhoit for Weaned Seals and Snowy Summits) deep passion for Nature. All three books offer observations and reflections on my relationship to the natural world… and the broader implications for society. Order any and all from your local indie bookstore, or find them on IndieBound or other online sources such as Amazon and LifeRich.
http://stevejonesgbh.com/wp-content/uploads/2020/10/IMG_4794.jpg-09.26.20-View-East-from-Evitts-Mtn.jpg
1200
900
Steve Jones
http://stevejonesgbh.com/wp-content/uploads/2017/01/gbhweblogo.png
Steve Jones
2020-10-28 14:18:14
2020-10-28 14:18:14
The Intersection of Human and Natural History: A 1766 Survey Marker above Rocky Gap State Park