October 8, 2022, I co-led an OLLI (Osher Lifelong Learning Institute; University of Alabama at Huntsville) hike along the Flint Creek Trail, Wheeler National Wildlife Refuge near Decatur, Alabama. The day proved picture perfect with brilliant blue sky and unseasonably chilly. I enjoy leading these hikes; our OLLI members are mostly retirees, eager to learn and enthusiastic Nature enthusiasts.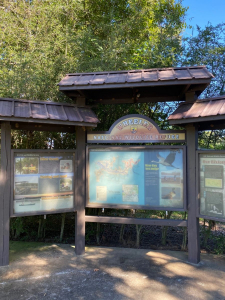 The trail begins at a newly rebuilt bridge crossing the Flint Creek arm of Lake Wheeler, the TVA impoundment created behind Wheeler Dam (~1938) at Rogersville, some 30 river miles downstream on the Tennessee River. The group is heading east across the bridge for the riparian forest trail. That's pond cypress on the left in both images. Most of our north Alabama cypress trees are bald cypress. Both species are deciduous needle-leaf trees.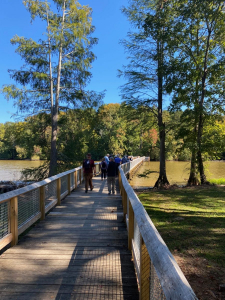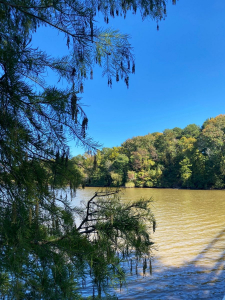 The boardwalk allows ample room for pausing to observe and enjoy the beauty and wonder of the Refuge. At right the hikers are entering the forest.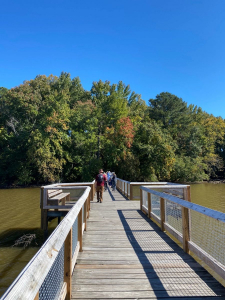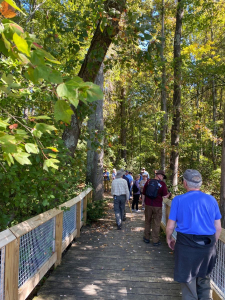 Courtesy of an Eagle Scout project, the trail sports a digital interactive tree ID walk. Scan the code at each specimen and learn what otherwise would require expensive and high-maintenance signage.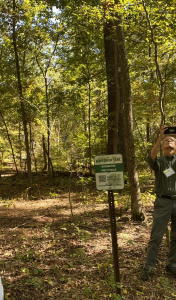 Now, cross the bridge walkway with me via this 3:09 video that I recorded a week earlier when Chris Stuhlinger and I made a dry run preparing for our OLLI hike:
Riparian hardwood Forest
I don't intend for this photo-essay to dive deeply into forest ecology, yet I will cover a few themes and highlights. This photo evidences the relaxing outing we enjoyed. The ecological lesson derives from the tree leaning at about 40 degrees from vertical. Our trees are overwhelmingly positively geotropic, that is, they grow in direct opposition to gravity. Some have a tendency to grow directly toward light (positively phototropic), yet that factor generally persuades branch tips to seek light. For example, trees along a woods edge grow toward the opening. There is no reason I can fathom for the subject leaning tree to grow at a 40 degree angle. Instead, some force shoved the tree from its original vertical posture…likely a toppling neighbor or falling branch or tree top. Out of view, the live crown growing shoots are orienting vertically.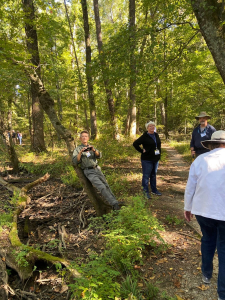 The forest we hiked provided ample evidence that nothing in Nature is static. The canopy view below left presents a large opening where a tree has exited within the past two growing seasons…a storm-toppled dominant or codominant occupant. The surrounding trees will expand their crowns to fill the void. Contrast that opening to the fully-occupied canopy below right.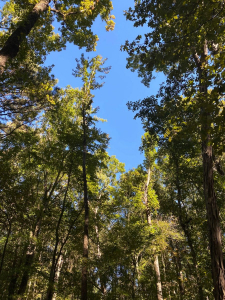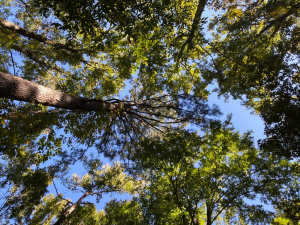 This canopy view shows some crown opening, but surrounding tree in the intervening several years have mostly filled the gap.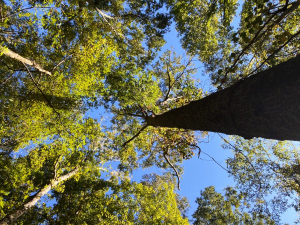 Tree canopies tell a compelling tale of competition and survival. Like so much in life and living, a one-dimensional examination reveals an incomplete picture.
A Dynamic Forest Where Life and Death Dance without End
The forest floor provides a second critical perspective in understanding forest dynamics. In both cases below a dominant living oak toppled within the past year, wrenching large mounds of root-held soil. Each will leave a micro-topography signature…pit and mound or hummock and hollow. Long after the fallen tree decays into the soil, the pit or hollow will remain as a clear depression; the mound or hummock will sustain, only sloughing into the terrain over centuries.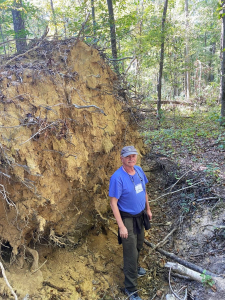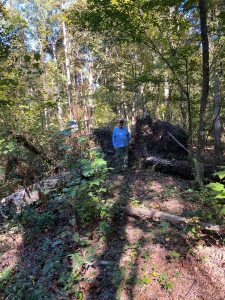 We found other examples of wind-toppled main canopy trees from a summer 2022 storm. Such is the continuing dance of life and death in our north Alabama forests. These maturing hardwood forests are gradually transitioning to a patchwork of dense forest and small openings, some large enough to encourage and enable regeneration of somewhat shade tolerant species. Of note, all three of these uprooted trees were living. Dead standing trees no longer cling to the soil when toppled. The roots are brittle and simply break of, without accompanying mound creation, when the tree falls.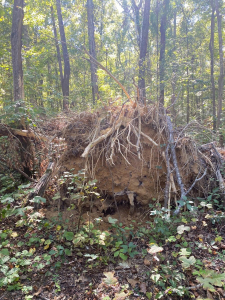 Here's an oak tree that died while upright. Rather than break at the base and fall, this one rotted standing in place until its mass exceeded its strength, failing at about ten feet above the stump, dropping its upper trunk and top.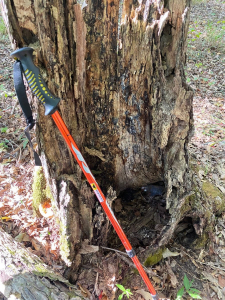 Based upon the degree of decomposition I estimate that death came 4-7 years ago. One of the only fresh mushrooms we encountered, this Ganaderma sessile, a lacquered shelf fungus, adorned the fallen trunk. The upper surface resembles varnished wood.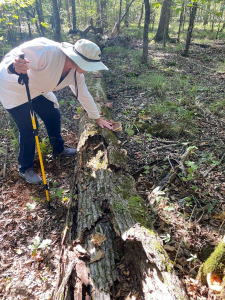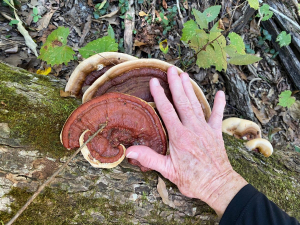 We enjoyed finding surprises everywhere we looked!
Tree Form Curiosities
I reminded the participants that Nature's magic and mysteries lie hidden in plain sight. I have collected a photograph portfolio of tree form oddities and curiosities from my wanderings, locally, nationally, and internationally. This main canopy oak suffered physical injuries decades ago, opening infection courts for decay fungi. It's tried valiantly to callous the wounds, successfully enough to permits wood increment sufficient to hold the tree upright. Eventually, the tree will lose its battle with gravity. Deep heart rot will continue its inexorable hollowing…and weakening.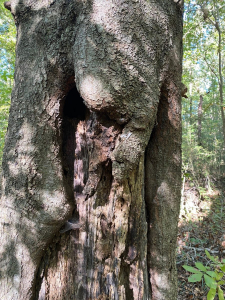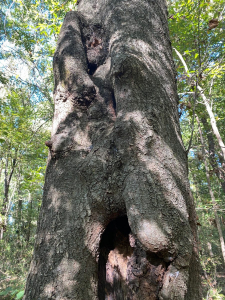 Meantime, the oak reaches solidly into full sunlight high overhead, and its vigor over the years has enable it to produce acorns, perhaps fulfilling its primary function to create a next generation of progeny.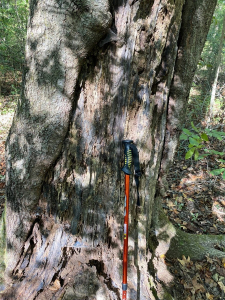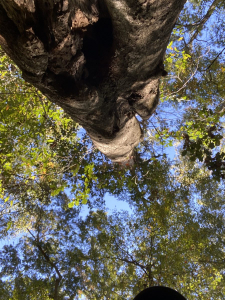 I shall continue to pursue my search for tree form oddities and curiosities.
Poison Ivy, Hearts-a-Bustin, and Happy Farewells
Even the most unpleasant forest denizens, poison ivy for those of us sensitive to its sap, convey an image of beauty and wonder, its air roots holding fast to the trunk.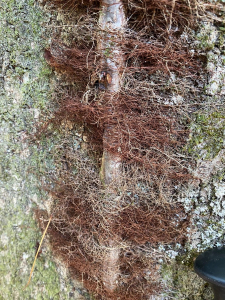 One of the most spectacular shrub seed heads greeted us as we entered the forest. From the online Nature Journal:
One scarcely notices hearts-a-bustin' (Euonymus americanus), which is also known as strawberry bush, from late April to early June, when its inconspicuous, small, greenish-purple flowers appear.
I personally celebrate that such an inconspicuous flower presents a truly mind-bustin seed display!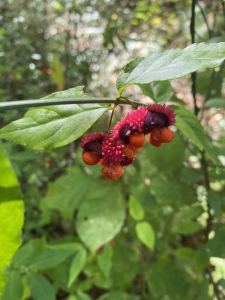 Chris and I celebrated that our hikers departed with happy farewells, fond memories, and a heightened sense of Nature appreciation!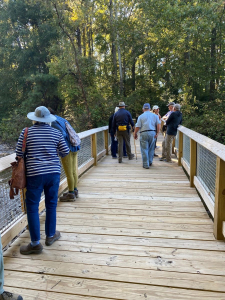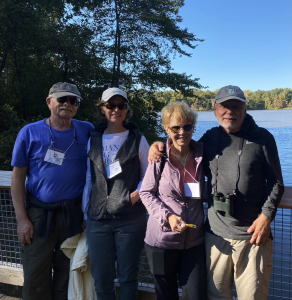 And Nature likewise sent us on our way with a gift of her beauty, magic, wonder, and awe!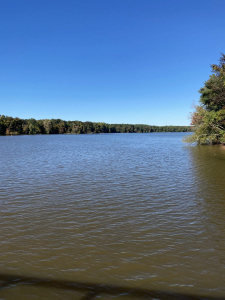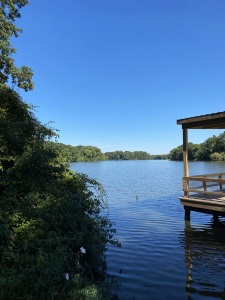 Leading a group of life-stage contemporaries lifts my spirit and satisfies my compulsion to sow the seeds of informed and responsible Earth stewardship.
Thoughts and Reflections
I offer these observations:
I find Nature's beauty, magic, wonder, and awe wherever I seek it.
I want to feel Nature's essence and taste and inhale her elixir…and share the magic with others!
Leading a group of life-stage contemporaries lifts my spirit and satisfies my compulsion to sow the seeds of informed and responsible Earth stewardship.
Inhale and absorb Nature's elixir. May Nature Inspire, Inform, and Reward you!
Note: All blog post images created & photographed by Stephen B. Jones unless otherwise noted. Please circulate images with photo credit: "©2022 Steve Jones, Great Blue Heron LLC. All Rights Reserved."
Another Note: If you came to this post via a Facebook posting or by an another route, please sign up now (no cost… no obligation) to receive my Blog Post email alerts: http://eepurl.com/cKLJdL
And a Third: I am available for Nature-Inspired Speaking, Writing, and Consulting — contact me at steve.jones.0524@gmail.com
Reminder of my Personal and Professional Purpose, Passion, and Cause
If only more of us viewed our precious environment through the filters I employ. If only my mission and vision could be multiplied untold orders of magnitude:
Mission: Employ writing and speaking to educate, inspire, and enable readers and listeners to understand, appreciate, and enjoy Nature… and accept and practice Earth Stewardship.
Vision:
People of all ages will pay greater attention to and engage more regularly with Nature… and will accept and practice informed and responsible Earth Stewardship.
They will see their relationship to our natural world with new eyes… and will understand more clearly their Earth home.
Tagline/Motto: Steve (Great Blue Heron) encourages and seeks a better tomorrow through Nature-Inspired Living!
Steve's Three Books
I wrote my books Nature Based Leadership (2016), Nature-Inspired Learning and Leading (2017), and Weaned Seals and Snowy Summits: Stories of Passion for Place and Everyday Nature (2019; co-authored with Dr. Jennifer Wilhoit) to encourage all citizens to recognize and appreciate that every lesson for living, learning, serving, and leading is either written indelibly in or is powerfully inspired by Nature.
I began writing books and Posts for several reasons:
I love hiking and exploring in Nature
I see images I want to (and do) capture with my trusty iPhone camera
I enjoy explaining those images — an educator at heart
I don't play golf!
I actually do love writing — it's the hobby I never needed when my career consumed me
Judy suggested my writing is in large measure my legacy to our two kids, our five grand kids, and all the unborn generations beyond
And finally, perhaps my books and Blogs could reach beyond family and touch a few other lives… sow some seeds for the future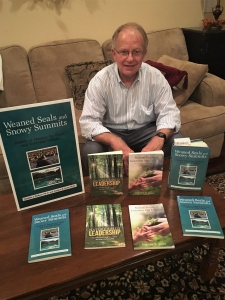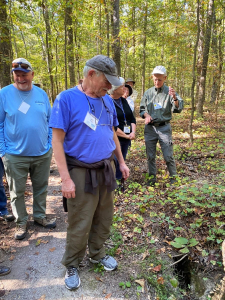 All three of my books (Nature Based Leadership; Nature-Inspired Learning and Leading; Weaned Seals and Snowy Summits) present compilations of personal experiences expressing my (and co-author Dr. Wilhoit for Weaned Seals and Snowy Summits) deep passion for Nature. All three books offer observations and reflections on my relationship to the natural world… and the broader implications for society. Order any and all from your local indie bookstore, or find them on IndieBound or other online sources such as Amazon and LifeRich.
https://stevejonesgbh.com/wp-content/uploads/2022/10/IMG_5531.jpg-10.08.22-Flint-Creek-Trail-WNWR-OLLI-Thru-Big-Trees.jpg
1200
900
Steve Jones
http://stevejonesgbh.com/wp-content/uploads/2017/01/gbhweblogo.png
Steve Jones
2022-11-30 08:51:25
2022-11-30 08:51:25
Flint Creek Trail at Wheeler National Wildlife Refuge