This post offers 44 minutes of sunrise inspiration at Alabama's Lakepoint State Park and Eufaula National Wildlife Refuge October 15, 2022.
An equinox stroke eliminated my planned March 2022 trip to Lakepoint State Park for a quarterly Alabama State Parks Foundation Board meeting. I vowed to visit the Park once I recovered and summer had passed into fall. I arrived Wednesday October 12, in time for lunch at the Lakepoint SP Lodge, met by my host Tasha Simon, Natural Resources Section Chief, Alabama State Parks. Tasha toured me through the Park that afternoon and through mid-afternoon Thursday, offering ideas for me to pursue until I departed early Saturday morning for Andalusia.
I focus this post on the truly spectacular sunrise I chronicled Saturday. Interestly, the Park is surrounded by the Eufaula National Wildlife Refuge. I ventured from the Lodge, walking the Lake Eufaula shoreline, my feet firmly planted on the State Park. However, every photo over Lake Eufaula, created by damming the Chattahoochee River downstream, captured images of the Eufaula NWR. The partnership and co-location stand as a story of interagency success: US Fish and Wildlife Service and Alabama Department of Conservation and Natural Resources.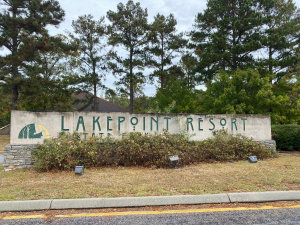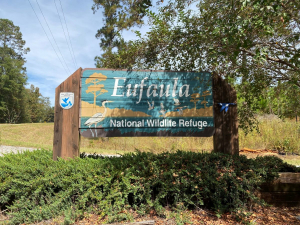 The sun rose by my watch at 6:55. Leaving my room at 6:30, I looked ESE to the lodge at 6:39 (left) and snapped the mist rising above the bay  at 6:40.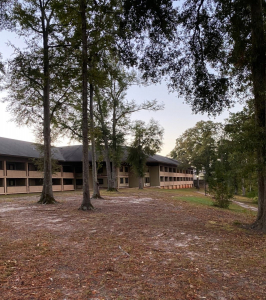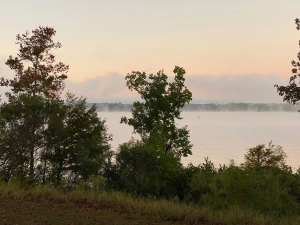 I don't see much need for my own narrative. The photos speak volumes; their beauty requires little interpretation. My more typical forest wanderings (and wonderings) warrant adding my observations, reflections, and ecological explanations.  These views at 6:42 and 6:48, quite simply reflect the absolute calm and serenity of an autumn dawn, air cool enough above the water to condense rising mists.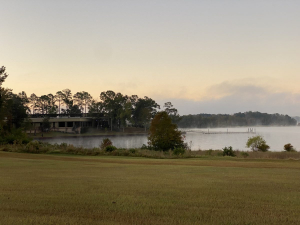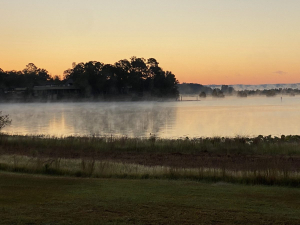 Some bands of mist created fog banks, adding elements of intrigue and mystery to the 6:51 and 6:57 waterscapes. Already, anticipating a mild and sunny day, fishermen are launching their craft. I wonder how many marveled at Nature's beauty, magic, wonder, and awe…a reach far beyond the allure of landing a big bass. Back in the days of my youthful fishing, I recall even then that catching was important, but really secondary to the joy and inspiration of being outdoors. I felt echoes of that youthful joy from early mornings shared with Dad and my older brother. In fact, Dad stood with me (really, in me) October 15. I sense his presence often in such special Nature moments. Occasionally, near-conversations flow, not audibly, yet seeming so very real. My eyes shared the morning mists.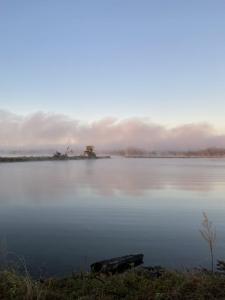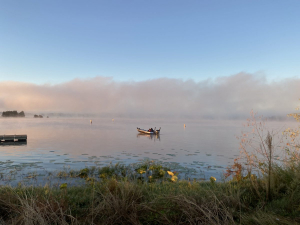 My 3:18 video depicts the peace, quiet, serenity, and beauty of that misty sunrise.
According to my iPhone photograph, the rising sun punctuated the dawn at 6:56 AM as I walked through the boat launch parking lot.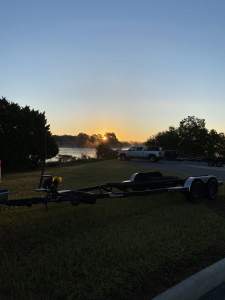 I cherish the impactful moment I captured with this 2:37 video. My videography is nothing special. It is my timing…my early morning wanderings at the right place…that are noteworthy. As my ardent angler friend often reminded me, "There is only one way to guarantee catching no fish." Each time I would ask, "And what is that." His consistent reply, "Never wet a line." I would never capture a good dawn photo or video if I never arose before dawn.
Like all of life and living, Nature enthusiasm requires showing up. I had driven more than four hours to spend three days at Lakepoint State Park and the Eufaula National Wildlife Refuge. I was not about to miss opportunities for experiencing the deep and varied Nature of the place!
I snapped my favorite image right after sunrise as two fishermen worked the shoreline backlit by the rising sun at 6:57 AM.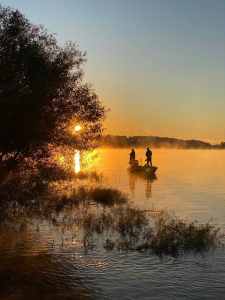 American lotus and vegetation across the water accepted the sun's slanting rays at 6:58 AM. I suppose the early morning anglers in every photo were eager for the sun's warmth.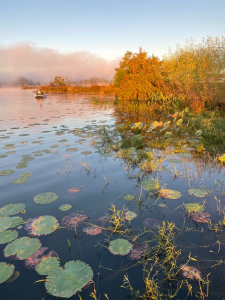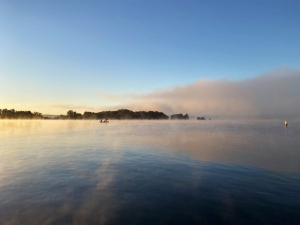 The two gentlemen in the backlit scene above soon fished their way from the bank heading into more open water, trolling across the piling dockside, at 7:00 and 7:01.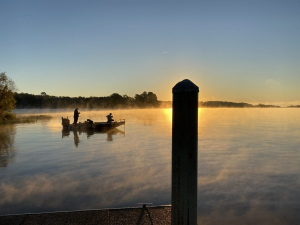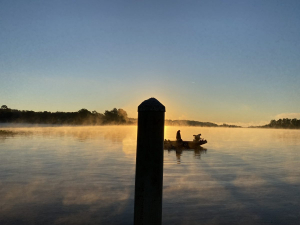 By 7:14 AM, daylight was in full swing as I trekked back to the lodge to head for Andalusia for the Longleaf Pine exploration leg of my journey.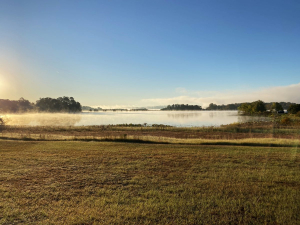 I captured this collection of photos, videos, observations, reflections, and memories across 44 minutes. I feel an urgency in sharing these remarkably soul-stirring and spirit-lifting 2,640 seconds with other Nature enthusiasts. My two-part retirement Vision is quite simple:
People of all ages will pay greater attention to and engage more regularly with Nature… and will accept and practice informed and responsible Earth Stewardship.
They will see their relationship to our natural world with new eyes… and will understand more clearly their Earth home.
I could write a lengthy treatise on my rationale for why I believe people should pay greater attention to and engage more with Nature…and modify their relationship to the natural world. Instead, I choose to condense my arguments into more such 44-minute distillations.
Alabama State Parks Foundation
Thoughts and Reflections
I offer these observations:
I find Nature's beauty, magic, wonder, and awe wherever I seek it, especially at dawn.
I want to feel Nature's essence and taste and inhale her sunrise elixir!
The land and water came to us out of eternity; I thank God for our collective wisdom to secure special places in perpetuity.
Inhale and absorb Nature's elixir. May Nature Inspire, Inform, and Reward you!
Note: All blog post images created & photographed by Stephen B. Jones unless otherwise noted. Please circulate images with photo credit: "©2022 Steve Jones, Great Blue Heron LLC. All Rights Reserved."
Another Note: If you came to this post via a Facebook posting or by an another route, please sign up now (no cost… no obligation) to receive my Blog Post email alerts: http://eepurl.com/cKLJdL
And a Third: I am available for Nature-Inspired Speaking, Writing, and Consulting — contact me at steve.jones.0524@gmail.com
Reminder of my Personal and Professional Purpose, Passion, and Cause
If only more of us viewed our precious environment through the filters I employ. If only my mission and vision could be multiplied untold orders of magnitude:
Mission: Employ writing and speaking to educate, inspire, and enable readers and listeners to understand, appreciate, and enjoy Nature… and accept and practice Earth Stewardship.
Vision:
People of all ages will pay greater attention to and engage more regularly with Nature… and will accept and practice informed and responsible Earth Stewardship.
They will see their relationship to our natural world with new eyes… and will understand more clearly their Earth home.
Tagline/Motto: Steve (Great Blue Heron) encourages and seeks a better tomorrow through Nature-Inspired Living!
Steve's Three Books
I wrote my books Nature Based Leadership (2016), Nature-Inspired Learning and Leading (2017), and Weaned Seals and Snowy Summits: Stories of Passion for Place and Everyday Nature (2019; co-authored with Dr. Jennifer Wilhoit) to encourage all citizens to recognize and appreciate that every lesson for living, learning, serving, and leading is either written indelibly in or is powerfully inspired by Nature.
I began writing books and Posts for several reasons:
I love hiking and exploring in Nature
I see images I want to (and do) capture with my trusty iPhone camera
I enjoy explaining those images — an educator at heart
I don't play golf!
I actually do love writing — it's the hobby I never needed when my career consumed me
Judy suggested my writing is in large measure my legacy to our two kids, our five grand kids, and all the unborn generations beyond
And finally, perhaps my books and Blogs could reach beyond family and touch a few other lives… sow some seeds for the future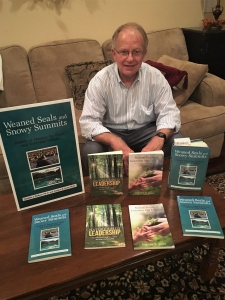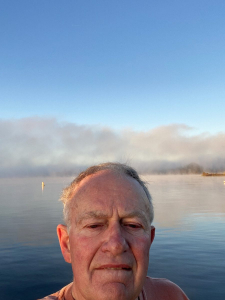 All three of my books (Nature Based Leadership; Nature-Inspired Learning and Leading; Weaned Seals and Snowy Summits) present compilations of personal experiences expressing my (and co-author Dr. Wilhoit for Weaned Seals and Snowy Summits) deep passion for Nature. All three books offer observations and reflections on my relationship to the natural world… and the broader implications for society. Order any and all from your local indie bookstore, or find them on IndieBound or other online sources such as Amazon and LifeRich.
https://stevejonesgbh.com/wp-content/uploads/2022/10/IMG_5939.jpg-10.15.22-6.57-AM-LPSP.jpg
1200
900
Steve Jones
http://stevejonesgbh.com/wp-content/uploads/2017/01/gbhweblogo.png
Steve Jones
2022-11-23 11:01:37
2022-11-23 11:01:37
A Spectacular Autumn Sunrise at Alabama's Lakepoint State Park and the Eufaula National Wildlife Refuge