April 3, 2021 I revisited Chapman Mountain Nature Preserve, just east of Huntsville, Alabama (USA). See my November 28, 2019 Great Blue Heron Blog Post for previous reflections: http://stevejonesgbh.com/2019/11/28/happy-thanksgiving-chapman-mountain-nature-preserves-terry-big-tree-trail/
And my June 16 Post about the fierce competition for canopy space within the Chapman Mountain forests: http://stevejonesgbh.com/2021/06/16/spring-visit-to-chapman-mountain-nature-preserve-the-intersection-of-human-and-natural-history/
From the Land Trust of North Alabama website: Chapman Mountain Nature Preserve is a 472 acre property located just to the east of Huntsville on HWY 72. While we have plans for 10 miles of trails, a little over 3 miles are currently open and ready to explore. Like all of our public preserves, Chapman Mountain is open dawn to dusk and access is free. These trails are not just for hiking though. Mountain bikers and horseback riders are also welcome and an 18-hole disc golf course is now open to play.
With this current Post, I offer reflections on the interplay of natural and human history on this, and nearly every forested property in northern Alabama. From an interpretive sign along the Terry Trail:
Along the trail you may notice an assortment of abandoned objects, from rusted metal waste, discarded household and farm items to an old car. We have chosen to leave these reminders of the history of this land, which was previously a working farm. Parts of the Terry Trail follow an old farm access road and the preserve includes remnants of an old homestead and barn. Use your imagination to visualize what this area may have looked like in the past and what it may look like in the future. Nature will continue to slowly change this site until one day these objects and this site's history will no longer be apparent.
Native Americans occupied (extensive impact) the entire eastern US for at least 12,000 years prior to European settlement. Over the past 200 years, the European newcomers left the mark of their intensive management and settlement. So, picture as recently as 50 years ago a working farm, on-site residents, tilled land, pasture, and woodlots.
Interaction of Human and Natural History
Across the parking lot from the trailheads, loblolly pine trees shelter the 18-hole disc golf course. The flat land had been tilled into the 1980s. Consulting forester Brian Bradley told me that a 1985 aerial photo shows the field still in crops. By the mid 1990s the field has seeded naturally to pine from adjoining mature loblolly. The pine captured the site effectively. There is very little understory of ground vegetation and brush, the effect enhanced by what Brian describes as a very good prescribed fire in 2018. There is no sub-canopy of hardwood saplings and poles. The stand is pure, even-aged loblolly pine. Some day I will extract an increment core to determine the exact year of establishment (i.e. age). Brian revealed that a reliable logger thinned the stand in 2014-15, giving it the current look of a well-tended planted stand with stems evenly distributed. Brian, when pressed to give me his best estimate for stand age, offered his answer of 32+/- years, an estimate I embrace wholeheartedly! We also agree that the main canopy averages 75 feet.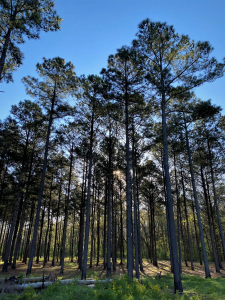 Within the current forest this stone wall perhaps served one or more of several purposes:
Separated adjoining pastures
Divided pasture from cropland or garden
Resulted from stacking field stones removed from tilled land or improved pasture
No matter its intended function, the wall will outlast all of us, and in the meantime serve to memorialize the coarse hands and hard labor of those who built the wall. For those of us today who labor at our keyboards, what will be the physical manifestation of our work? I doubt that we will develop calloused fingertips or even a sun-blistered neck!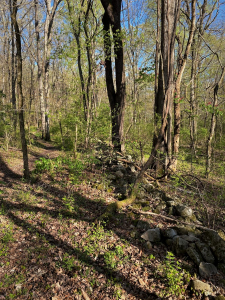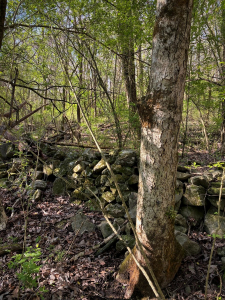 This now-massive American beech germinated from a beech nut that some squirrel, during the active days of the farm, cached among the stacked stones and failed to rediscover and consume. The beech grew for many years before the managed lands on either side of the wall reverted to forest cover. Its neighbors are younger by decades. The beech tree did not grow alone and without company. The huge spiral of dead grapevine grew tall with the beech, and has now reached beyond its terminal age, still weakly vertical and doomed within just a few years to finding home in decay on the forest floor. To every thing there is a season, whether grapevine or beech tree. A dead stem of unidentified hardwood species stands to the right of the beech in this image. I wonder how many Terry Trail hikers notice and appreciate the unique beauty of this trio? I see it as a sculpture, a work of art rich with its own legible historic context and story.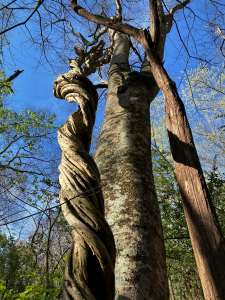 Below left the Terry Trail diverges to the left. An old farm access road extends straight from the photo point. Oh, the stories it might tell! I'm reminded of the jungle-covered Mayan cities, almost invisible to casual observers. I wonder were modern humans to disappear from our fine planet today, would the evidence of our existence be as hard to discern 1,300 years hence? Interstate 65 passes just 15 miles west of Huntsville. What could Nature accomplish with that 300-foot wide right of way over 13 centuries of abandonment? How long do asphalt, concrete, and steel persist without ongoing maintenance? How long before mowed shoulders and medium strips revert to deep forest? How long until Central Park consumes all of Manhattan Island? The narrow abandoned dirt road below is already nearly invisible to those who do not speak the language of reading the landscape.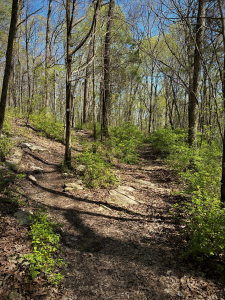 Marie Bostic, Executive Director of the Trust, tells me that nearly every Land Trust of North Alabama preserve carries a story of at least one on-site still. This side trail leads to a spring head where the old still is rumored to have provided the homestead residents with the vital natural medicine. Distillation has rewarded civilized humans for at least 1,000 years:
The origin of whiskey began over 1000 years ago when distillation made the migration from mainland Europe into Scotland and Ireland via traveling monks. The Scottish and Irish monasteries, lacking the vineyards and grapes of the continent, turned to fermenting grain mash, resulting in the first distillations of modern whisky (Online from Bottleneck Management).
Why should the homesteaders on Chapman Mountain be deprived of the golden elixir?!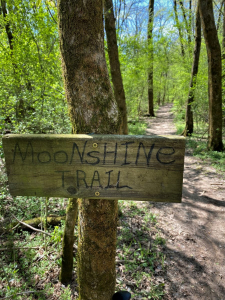 Trees have been eating barbed wired since the fencing breakthrough first received a patent in 1874. Nail or staple a wire to a living tree…and watch the tree inexorably consume the wire. This fence-eating oak is along an old fence line at the preserve. I frequently find long-abandoned wire fences across northern Alabama, cutting across what many would consider an undisturbed forest.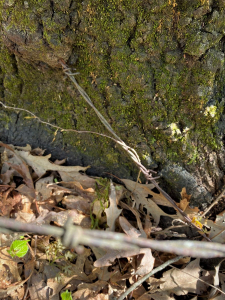 I normally like to see old trash removed from recreational land. However, I applaud the Land Trust for preserving the very real evidence of wildland domestication to tell the story of past land use. Nature is the ultimate healer. She will eventually erase the direct evidence. The old forest access road will meld into the forest. Even the old automobile will rust into oblivion. Only the rock fence will withstand centuries, (perhaps millennia) of weathering.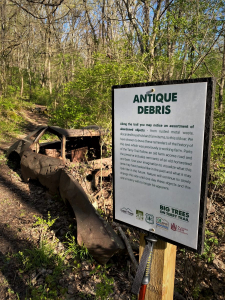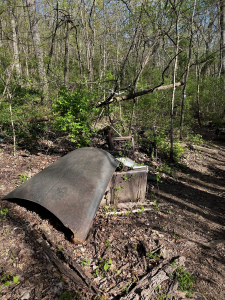 I have made reading the forested landscape one of my focal points for my wanderings and then writing these subsequent blog posts. I've said often that every tree, every forested parcel, and every landscape has a story to tell. I am intent upon learning more about the language Nature employs to leave her messages. Here I remind you of my five essential verbs.
Believe — I know the story is there; I believe that it is written in the forest.
Look — I cannot walk blindly and distractedly through the forest; I must look intently and deeply. The truth will not leap from the underbrush.
See — I must look deeply enough to see; to see the story Nature tells…and keeps hidden in plain sight.
Feel — I insist upon seeing clearly enough to evoke my own feelings of passion for place and everyday Nature.
Act — My passion needs to be intense enough to spur action: my writing, speaking, and doing what is necessary to promote informed and responsible Earth stewardship.
Thoughts and Reflections
I offer these reflections:
Rarely are our north Alabama forests untrammeled by the hand of man.
Today's forests tell the story of past use, particularly the influence of post-European attempts at domestication.
Understanding the forest past adds to my Nature inspiration and appreciation.
Inhale and absorb Nature's elixir. May Nature Inspire, Inform, and Reward you!
Note: All blog post images created & photographed by Stephen B. Jones unless otherwise noted. Please circulate images with photo credit: "©2021 Steve Jones, Great Blue Heron LLC. All Rights Reserved."
Another Note: If you came to this post via a Facebook posting or by an another route, please sign up now (no cost… no obligation) to receive my Blog Post email alerts: http://eepurl.com/cKLJdL
And a Third: I am available for Nature-Inspired Speaking, Writing, and Consulting — contact me at steve.jones.0524@gmail.com
Reminder of my Personal and Professional Purpose, Passion, and Cause
If only more of us viewed our precious environment through the filters I employ. If only my mission and vision could be multiplied untold orders of magnitude:
Mission: Employ writing and speaking to educate, inspire, and enable readers and listeners to understand, appreciate, and enjoy Nature… and accept and practice Earth Stewardship.
Vision:
People of all ages will pay greater attention to and engage more regularly with Nature… and will accept and practice informed and responsible Earth Stewardship.
They will see their relationship to our natural world with new eyes… and will understand more clearly their Earth home.
Tagline/Motto: Steve (Great Blue Heron) encourages and seeks a better tomorrow through Nature-Inspired Living!
Steve's Three Books
I wrote my books Nature Based Leadership (2016), Nature-Inspired Learning and Leading (2017), and Weaned Seals and Snowy Summits: Stories of Passion for Place and Everyday Nature (2019; co-authored with Dr. Jennifer Wilhoit) to encourage all citizens to recognize and appreciate that every lesson for living, learning, serving, and leading is either written indelibly in or is powerfully inspired by Nature.
I began writing books and Posts for several reasons:
I love hiking and exploring in Nature
I see images I want to (and do) capture with my trusty iPhone camera
I enjoy explaining those images — an educator at heart
I don't play golf!
I actually do love writing — it's the hobby I never needed when my career consumed me
Judy suggested my writing is in large measure my legacy to our two kids, our five grand kids, and all the unborn generations beyond
And finally, perhaps my books and Blogs could reach beyond family and touch a few other lives… sow some seeds for the future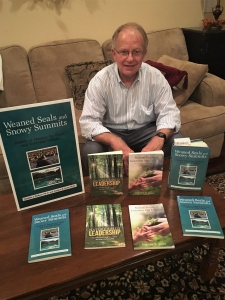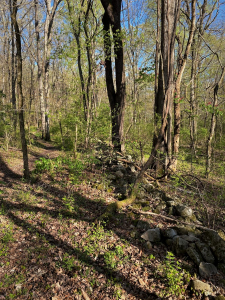 All three of my books (Nature Based Leadership; Nature-Inspired Learning and Leading; Weaned Seals and Snowy Summits) present compilations of personal experiences expressing my (and co-author Dr. Wilhoit for Weaned Seals and Snowy Summits) deep passion for Nature. All three books offer observations and reflections on my relationship to the natural world… and the broader implications for society. Order any and all from your local indie bookstore, or find them on IndieBound or other online sources such as Amazon and LifeRich.
https://stevejonesgbh.com/wp-content/uploads/2021/05/IMG_7119-2.jpg-04.03.21-Terry-Trail-Antique-Debris-and-Sign.jpg
1200
900
Steve Jones
http://stevejonesgbh.com/wp-content/uploads/2017/01/gbhweblogo.png
Steve Jones
2021-06-23 15:10:19
2022-09-22 08:51:54
Chapman Mountain Nature Preserve: The Intersection of Human and Natural History