September 7, 2021, I hiked both Heart's Content and Hickory Creek Wilderness on the Allegheny National Forest in northwest Pennsylvania, just 40 miles west of where I conducted my 1985-86 doctoral research on soil-site relationships for second-growth Allegheny hardwood forests. I published three Great Blue Heron Posts from that fulfilling day in the woods:
http://stevejonesgbh.com/2021/10/14/hearts-content-in-nw-pennsylvania-part-one/
http://stevejonesgbh.com/2021/11/04/hearts-content-in-nw-pennsylvania-part-two/
http://stevejonesgbh.com/2021/11/17/pennsylvanias-hickory-creek-wilderness/
September 8, 2021, I hiked the gorge at McConnell's Mill State Park, 50 miles north of Pittsburgh. I focus this Post on the wide variety of mushrooms I encountered at the three locations. Rather than offer deep discussion of species, their identification, classification, and specific role in the ecosystem, I present only a quick introduction to their beauty and variety.
Heart's Content
I found this lovely artist conk on a dead American beech. Interestingly, I often encounter what appears to be the same species on beech here in northern Alabama.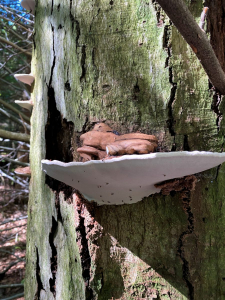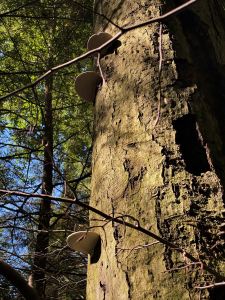 A totally different kind of mushroom, ravenel's stinkhorn is rather ghastly, fleshy, and quite ephemeral, suddenly emerging and within just afew days going to goo and disappearing.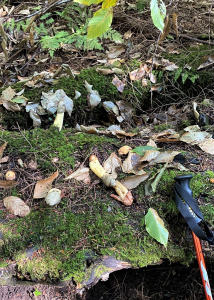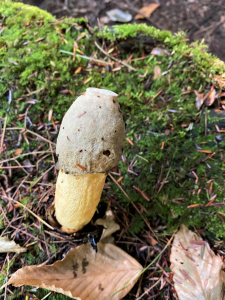 A brilliant vermillion waxcap brightened the forest floor. I am so grateful I wandered near enough to see this beauty. We tend to think of decay as an ugly process, a breaking down of vibrant living material to the dust of time. Not so, decay organisms can be glorious in their own essential life form…as important, essential, and vibrant in the forest ecosystem as the mighty oak or charismatic macrofauna (like deer and bear). From the online Fungi of Northern Maine: Hygrocybe miniata, commonly known as the vermilion waxcap, is a small, bright red, or red-orange mushroom of the waxcap genus Hygrocybe. It is a cosmopolitan species, which is found worldwide. In Europe, it is found in fields, on sandy heaths, or grassy commons in the autumn (fall). It is found in rainforest and eucalypt forest as well as heathland in Australia. I am fascinated to find such a novel, globally distributed, cosmopolitan species! I suppose a fungal spore can cross oceans (and remain viable in transit!).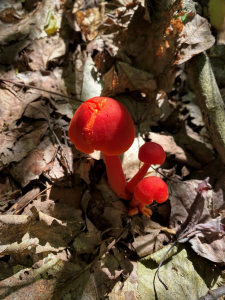 I admit failing to identify this small sulfur mushroom growing among a moss carpet on a well-decayed log.
Hickory Creek Wilderness
I found a few friends familiar to my Alabama foraging. A late season hanger-on, this chanterelle was one of only a half-dozen I spotted in the Wilderness.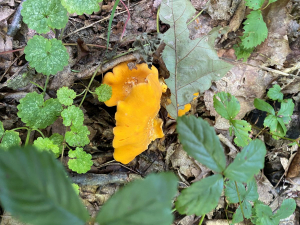 I also found a past-prime chicken of the woods.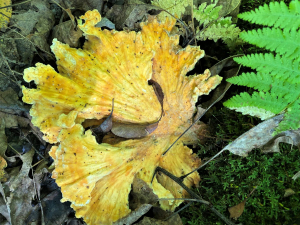 My iNaturalist identified this cluster as scarlet waxy cap (Hygrocybe coccinea), sometimes called the scarlet hood, scarlet waxcap, or righteous red waxy cap.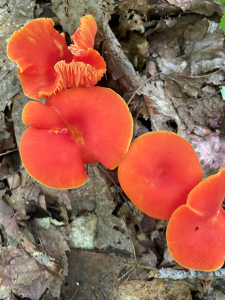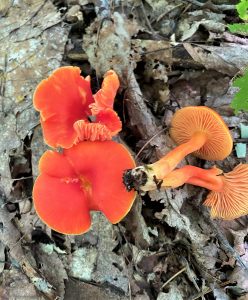 Another oddity, this is fairy wand club or handsome club, a coral mushroom.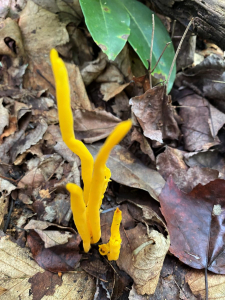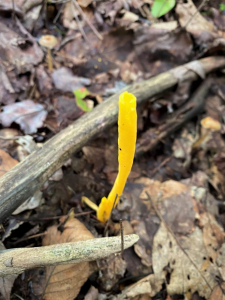 Fomitopsis ochracea evidenced serious brown rot within this chestnut oak. A foot wide, this conk showed a fresh, pure white underside.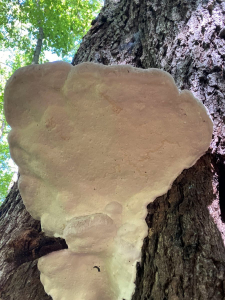 McConnell's Mill State Park
September 8, 2021, I hiked the gorge trails at McConnell's Mill State Park just 50 miles north of Pittsburgh. I previously published this Post from my day in the gorge: http://stevejonesgbh.com/2021/11/10/pennsylvanias-mcconnells-mill-state-park-2/
I found only one additional mushroom distinct from those reported above. Another of the species I forage in Alabama, this oyster greeted me along Slippery Rock Creek.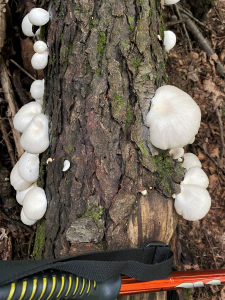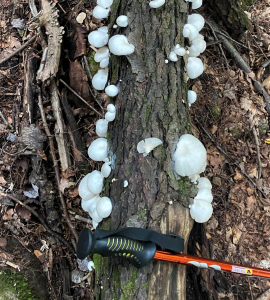 Thoughts and Reflections
I offer these observations:
For those who hike through the forest, intent upon rushing from point A to point B, much will lie hidden in plain sight.
For those of us who look closely, intent upon seeing Nature's wonders, magic will lie at our feet.
The forest ecosystem comprises far more than trees, which are no more important than the fungi that enable cycling and renewal.
Inhale and absorb Nature's elixir. May Nature Inspire, Inform, and Reward you!
Note: All blog post images created & photographed by Stephen B. Jones unless otherwise noted. Please circulate images with photo credit: "©2022 Steve Jones, Great Blue Heron LLC. All Rights Reserved."
Another Note: If you came to this post via a Facebook posting or by an another route, please sign up now (no cost… no obligation) to receive my Blog Post email alerts: http://eepurl.com/cKLJdL
And a Third: I am available for Nature-Inspired Speaking, Writing, and Consulting — contact me at steve.jones.0524@gmail.com
Reminder of my Personal and Professional Purpose, Passion, and Cause
If only more of us viewed our precious environment through the filters I employ. If only my mission and vision could be multiplied untold orders of magnitude:
Mission: Employ writing and speaking to educate, inspire, and enable readers and listeners to understand, appreciate, and enjoy Nature… and accept and practice Earth Stewardship.
Vision:
People of all ages will pay greater attention to and engage more regularly with Nature… and will accept and practice informed and responsible Earth Stewardship.
They will see their relationship to our natural world with new eyes… and will understand more clearly their Earth home.
Tagline/Motto: Steve (Great Blue Heron) encourages and seeks a better tomorrow through Nature-Inspired Living!
Steve's Three Books
I wrote my books Nature Based Leadership (2016), Nature-Inspired Learning and Leading (2017), and Weaned Seals and Snowy Summits: Stories of Passion for Place and Everyday Nature (2019; co-authored with Dr. Jennifer Wilhoit) to encourage all citizens to recognize and appreciate that every lesson for living, learning, serving, and leading is either written indelibly in or is powerfully inspired by Nature.
I began writing books and Posts for several reasons:
I love hiking and exploring in Nature
I see images I want to (and do) capture with my trusty iPhone camera
I enjoy explaining those images — an educator at heart
I don't play golf!
I actually do love writing — it's the hobby I never needed when my career consumed me
Judy suggested my writing is in large measure my legacy to our two kids, our five grand kids, and all the unborn generations beyond
And finally, perhaps my books and Blogs could reach beyond family and touch a few other lives… sow some seeds for the future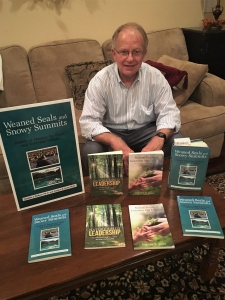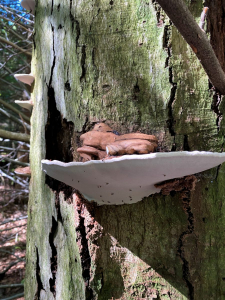 All three of my books (Nature Based Leadership; Nature-Inspired Learning and Leading; Weaned Seals and Snowy Summits) present compilations of personal experiences expressing my (and co-author Dr. Wilhoit for Weaned Seals and Snowy Summits) deep passion for Nature. All three books offer observations and reflections on my relationship to the natural world… and the broader implications for society. Order any and all from your local indie bookstore, or find them on IndieBound or other online sources such as Amazon and LifeRich.
http://stevejonesgbh.com/wp-content/uploads/2021/09/IMG_0194.jpg-09.07.21-HC-Wilderness-Scarlet-Waxy-Cap.jpg
1200
900
Steve Jones
http://stevejonesgbh.com/wp-content/uploads/2017/01/gbhweblogo.png
Steve Jones
2022-01-04 09:51:46
2022-01-04 09:51:46
Fungi from my September 2021 Ramblings in Pennsylvania's Allegheny National Forest