June 4, 2021, retired videographer Bill Heslip and I visited the Goldsmith Schiffman Wildlife Sanctuary with Margaret Anne Goldsmith and Marian Moore Lewis. Margaret Anne gifted the Sanctuary's core 300-acres to the City of Huntsville in 2003. Marian authored her seminal book on the Sanctuary, Southern Sanctuary: A Naturalist's Walk through through the Seasons (2015).
I'm standing at the entrance below with Marian (left) and Margaret Anne (right) on a prior visit.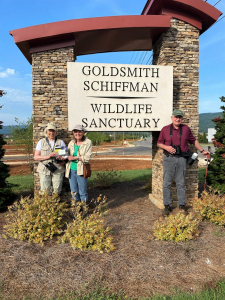 See my previous Posts on the Sanctuary and its rich story of informed and responsible Earth stewardship:
http://stevejonesgbh.com/2020/06/23/visiting-a-southern-sanctuary-my-orientation-visit/
http://stevejonesgbh.com/2020/06/30/visiting-a-southern-sanctuary-natures-insistence-upon-renewal/
http://stevejonesgbh.com/2020/12/23/late-fall-at-goldsmith-schiffman-wildlife-sanctuary/
http://stevejonesgbh.com/2021/02/25/early-february-spectacular-frosty-morning-sky-at-the-goldsmith-schiffman-wildlife-sanctuary/
Read at least one of them to realize how much I care! And I care deeply that the story of the Sanctuary be chronicled through my Blog Posts, which I believe are necessary…but far short of sufficient. Likewise, Marian's book is an extraordinary building block in the tale. Yet, it, too, falls short of completing the picture. The Huntsville City Archive of the Sanctuary includes a video of Margaret Anne relating the family's history leading to the gift. Another critical piece of the puzzle. Bill and I want to add another facet of the story.
A Land Legacy Tale at the Intersection of Human and Natural History
Bill and I seek more, an element to complement the Land Legacy Story. We envision a crisp, state of the art video (13-18 minutes) that integrates the human and natural history with the science and sentiment, and bridges to tomorrow in a manner that informs, enlightens, and inspires future citizens into the next century and beyond!
I met Bill when I premiered his similarly-intentioned 13-minutes video on the Rainbow Mountain Nature Preserve during my spring 2021 University of Alabama in Huntsville Osher Lifelong Learning Institute course on the Land Trust of North Alabama:  https://www.youtube.com/watch?v=G2HIq_ygJvY
Bill is discussing the video project with Margaret Anne and Marian below.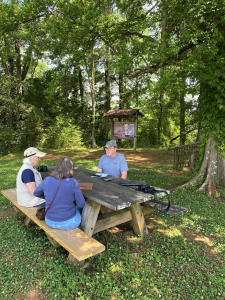 Glory Under the Firmament
Margaret Anne recently communicated her gift-motivation:
Philanthropy is a concept I learned from our ancestors who came to America as immigrants and worked hard and prospered.  They believed in the importance of giving back to the community that had welcomed them and did so through gifts of their assets and service.  I wanted to honor our ancestors and to continue our tradition of family philanthropy in Huntsville with a gift in their name.
The Sanctuary is a place of naturalized beauty and magic. I say naturalized because the pond below was a borrow pit, excavated for gravel and sand for nearby road construction 85 years ago. The reflected sky doesn't care whether the pond is natural or naturalized!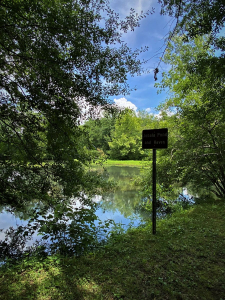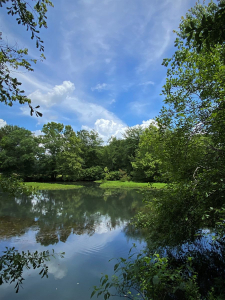 I find absolute fascination and reward in sky-gazing, with or without a pond surface to reflect it. Please ignore the blue dot, a phenomenon of my camera. I suppose there is a fix, but I have not pursued.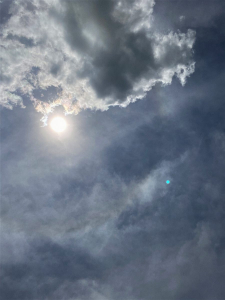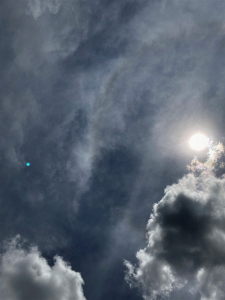 I've grown to accept (and celebrate) that wildness is wildness, whether in its raw natural state, or transformed, tamed, and domesticated land naturalized with protection, care, and stewardship over time. Margaret Anne has translated motivation to action in a way that will keep giving deep (perpetually) into the future:
In major cities around the world, it has been important to include urban oases, parks and green space as development occurs, well known is New York's Central Park. Setting aside parks can only be accomplished prior to development.  Waiting until development begins is too late. I believe that it is the responsibility of cities and urban planners to require developers to set aside parks and green space. If there are no city requirements, I believe it is the responsibility of developers to include public park areas in their developments.
With Margaret Anne's property donation, wildness is now assured and the future will bear the fruit of the Sanctuary gift long after Margaret Anne reunites with her ancestors:
As the years pass, the Sanctuary will continue to develop and provide an outdoor classroom for students from our schools and universities to explore and be inspired to write poetry and stories, create fine art and music, and conduct scientific research. The Sanctuary, never static, will be a place ever changing, transforming to the needs of the future. As for me, it is my hope that one day when I meet our ancestors, I will be able to thank them and say, "as you planted for others, I have continued our family tradition of planting for our community and its citizens of tomorrow."
I once wagered with friends who challenged me to incorporate a truism I often quoted into an interview I was about to have with a local TV news crew: People don't care how much you know…until they know how much you care. I won the small bet. I love the axiom because I believe in it so deeply, and have so often seen it in action. Margaret Anne (and her forebears) cares!
Animal Life Abounds
She expressed recently, Today, 18 years later, the Sanctuary has developed as I had originally envisioned as a wildlife oasis, a refreshing reprieve from city life and the subdivisions and commercial developments that now surround it.
Marian spotted three common water snakes on an old log under a concrete and steel footbridge, one heavy and sturdy enough to withstand the periodic rampages of the Flint River.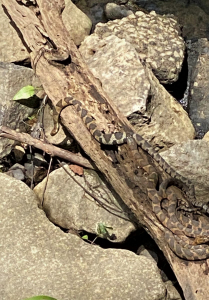 Marian photographed this black swallowtail as we hiked.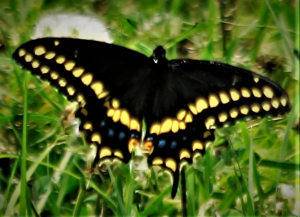 She's also credited with this blue dasher dragonfly (left) and jewelwing damselfly (right).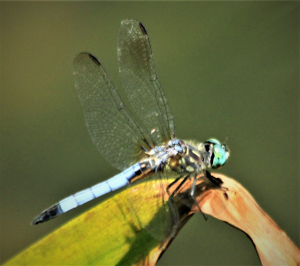 Likewise, Marian managed to bring this osprey in close with her telephoto lens. We watched the bird circle multiple times over the lake off-property near the Sanctuary entrance, stooping twice into the water. We could not discern whether the dives had been productive. We also viewed a great blue heron standing along the shoreline, then rising to fly into the Sanctuary.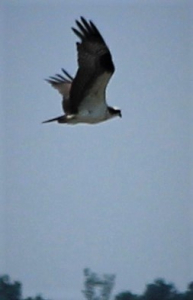 Tree Form Curiosities
I am always alert for odd tree forms. Many people unacquainted with Nature's ways picture our sylvan friends with vertical stems reaching skyward. Such vertical orientation may have been the germinating seed's intent, but Nature's various forces bend, distort, and break the growing shoot. The tree, hard-wired to contend variously with such stressors, assumes patterns of growth that I find worthy of contemplation, understanding, and appreciation. These two water oaks tell a story of life complicated by physical forces of one form or another.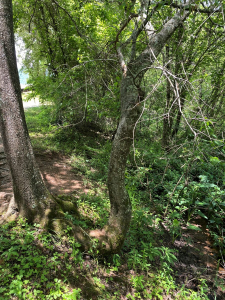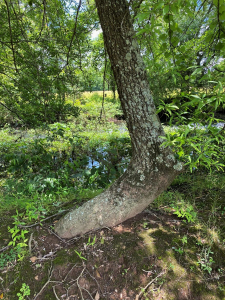 Bill is admiring this American beech that had at some point corrected its vertical course following an injury bending it at two-feet above ground. At the place of injury the beech launched a side shoot that now grows alongside the main stem. We marveled at the thick moss draping the trunk and its smaller moss-free side stem.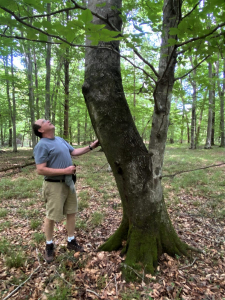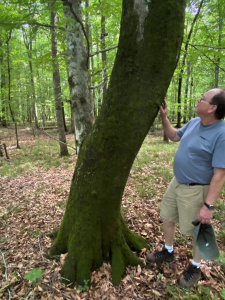 We likewise stopped to examine and photograph this three-pronged sweetgum, also draped with tree moss. There are those who would consider this an Indian marker tree. However, the sweetgum is growing in a forest stand that regenerated naturally on an abandoned agricultural field at least 75 years after Native American habitation. The tuning fork tree form is natural.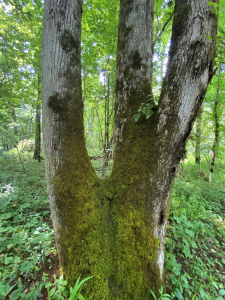 Special Magic of Flowers and Moss
I have been a spring (and early summer) wildflower enthusiast since my freshman-year-of-college systematic botany course with its spring semester field lab focusing on the spring ephemerals. We all enjoyed seeing this ruella wild petunia.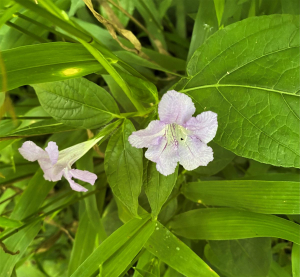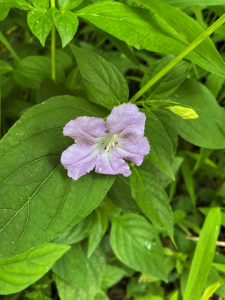 And as I've matured in retirement to learning more about our complex forest ecosystems, I've expanded my interests to pay much more attention to mosses, lichens, ferns, and fungi. This moss-adorned long-dead branch is worthy of art gallery enshrinement.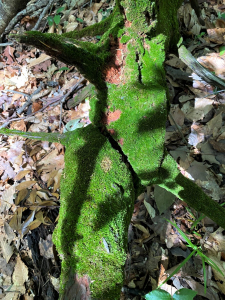 Closing Comments
June 26, 2021, Bill and I returned to the Sanctuary to video-interview Marian; weeks later we likewise interviewed Margaret Anne at her office in downtown Huntsville.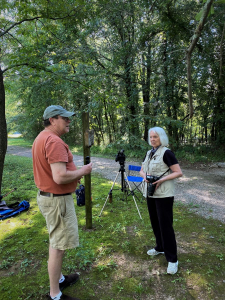 Bill and I are eager to create our video and contribute it to the archive that completes the Land Legacy Story that is the Goldsmith-Schiffman Wildlife Sanctuary. Our project may take another year of production. I plan to focus a Great Blue Heron Blog Post on its premier showing.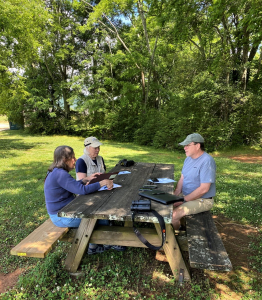 I love constructing these Land Legacy Tales that explore the intersection of human and natural history, developing the compelling case for informed and responsible Earth stewardship!
Thoughts and Reflections
I offer these observations:
Every parcel of land, including the Goldsmith-Schiffman Wildlife Sanctuary, has a legacy story to tell.
Such preserved natural places enrich citizens' lives.
I applaud all nature enthusiasts who practice informed and responsible Earth stewardship. 
Inhale and absorb Nature's elixir. May Nature Inspire, Inform, and Reward you!
Note: All blog post images created & photographed by Stephen B. Jones unless otherwise noted. Please circulate images with photo credit: "©2021 Steve Jones, Great Blue Heron LLC. All Rights Reserved."
Another Note: If you came to this post via a Facebook posting or by an another route, please sign up now (no cost… no obligation) to receive my Blog Post email alerts: http://eepurl.com/cKLJdL
And a Third: I am available for Nature-Inspired Speaking, Writing, and Consulting — contact me at steve.jones.0524@gmail.com
Reminder of my Personal and Professional Purpose, Passion, and Cause
If only more of us viewed our precious environment through the filters I employ. If only my mission and vision could be multiplied untold orders of magnitude:
Mission: Employ writing and speaking to educate, inspire, and enable readers and listeners to understand, appreciate, and enjoy Nature… and accept and practice Earth Stewardship.
Vision:
People of all ages will pay greater attention to and engage more regularly with Nature… and will accept and practice informed and responsible Earth Stewardship.
They will see their relationship to our natural world with new eyes… and will understand more clearly their Earth home.
Tagline/Motto: Steve (Great Blue Heron) encourages and seeks a better tomorrow through Nature-Inspired Living!
Steve's Three Books
I wrote my books Nature Based Leadership (2016), Nature-Inspired Learning and Leading (2017), and Weaned Seals and Snowy Summits: Stories of Passion for Place and Everyday Nature (2019; co-authored with Dr. Jennifer Wilhoit) to encourage all citizens to recognize and appreciate that every lesson for living, learning, serving, and leading is either written indelibly in or is powerfully inspired by Nature.
I began writing books and Posts for several reasons:
I love hiking and exploring in Nature
I see images I want to (and do) capture with my trusty iPhone camera
I enjoy explaining those images — an educator at heart
I don't play golf!
I actually do love writing — it's the hobby I never needed when my career consumed me
Judy suggested my writing is in large measure my legacy to our two kids, our five grand kids, and all the unborn generations beyond
And finally, perhaps my books and Blogs could reach beyond family and touch a few other lives… sow some seeds for the future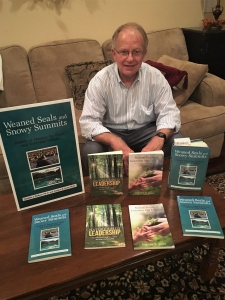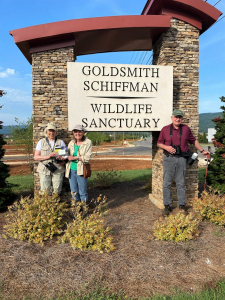 All three of my books (Nature Based Leadership; Nature-Inspired Learning and Leading; Weaned Seals and Snowy Summits) present compilations of personal experiences expressing my (and co-author Dr. Wilhoit for Weaned Seals and Snowy Summits) deep passion for Nature. All three books offer observations and reflections on my relationship to the natural world… and the broader implications for society. Order any and all from your local indie bookstore, or find them on IndieBound or other online sources such as Amazon and LifeRich.
http://stevejonesgbh.com/wp-content/uploads/2021/06/IMG_8591.jpg-06.04.21-Jobala-Pond.jpg
1200
900
Steve Jones
http://stevejonesgbh.com/wp-content/uploads/2017/01/gbhweblogo.png
Steve Jones
2021-08-25 09:47:59
2021-11-15 08:35:28
Contemplating a Video of the Goldsmith-Schiffman Wildlife Sanctuary