Over the course of my senior executive years (reporting directly to the CEO at three universities; serving as CEO at four) I subscribed to a belief that four levels of fitness are essential to effectively serving, leading, living, and learning. I hold firmly to my conclusion that human capacity, performance, fulfillment, and enjoyment correlate with individual health and well-being…that maintaining fitness across all four dimensions enhances our ability to live fully:
Mental – acuity and sharpness
Physical – health and vitality
Emotional – friends, families, colleagues
Spiritual – embrace of a presence larger than self
I've carried these core beliefs and life-guidelines into retirement. In what way does this GBH Post relate to my four levels of fitness theme? August 3, 2021, I began my day walking 45 minutes with Judy (spouse) in our neighborhood as dawn broke. Check boxes 1-4. I'm most alert (mental) to the world around me when I'm outside, especially in the morning. Physical is obvious; emotional is quality time with Judy; and, nothing is more spiritual than welcoming a new day's dawning.
After breakfast I loaded my bicycle, drove to Owens Cross Roads, parked at the trailhead just east of the Publix and began pedaling south at 7:30 AM (temperature ~67 degrees) on Big Cove Creek Greenway. I wanted to log at least 20 miles. The trail traces through mixed forest and meadow cover along Big Cove Creek on its journey toward the Flint River, which it enters in Hays Nature Preserve, a property of the Land Trust of North Alabama. The Greenway crosses the River on an elevated concrete and steel span. Once out of the Preserve the trail becomes the Flint River Greenway, continuing through meadows, forests, and part of the Hampton Cove Robert Trent Jones Golf Course, once again crossing the river before reaching the parking lot and trailhead at old highway 431.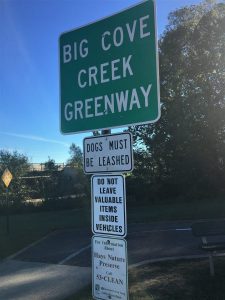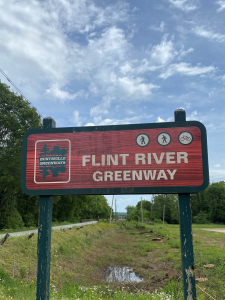 [Photos from Prior Visits]
I doubled back to the trailhead, then out and back to the Greenway's end north of Route 28, then east on the Little Cove Creek Greenway along the north side of the Eastern Bypass out of Owens Crossroads, taking me five miles to the end, a place of beauty framed by meadows, farm fields, and surrounding hills standing up to 500 feet above the valley floor.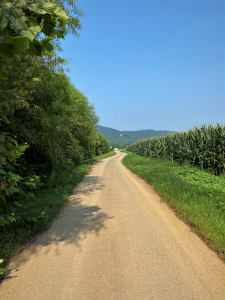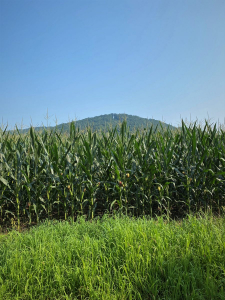 I returned to Publix, adding another out and back to the Hays Nature Preserve parking lot. Total mileage reached 22.3; riding goal accomplished!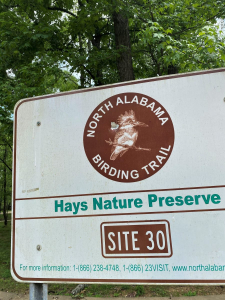 [Photo from Prior Visit]
I feel a bit guilty about including the detail, yet, I would love to have had these combined route possibilities presented to me three years ago when seeking options upon arriving at my Madison retirement destination. So, I risk boring you for the cause of informing those with similar interest.
I captured the next five images of the Flint River just off the Flint River Greenway. Still carrying a good early August flow following nearly seven inches of July rains, the River passed from left to right, entertaining me with gurgles and soft ripples. Wild potato vine's white flowers graced the shoreline, welcoming the morning sun.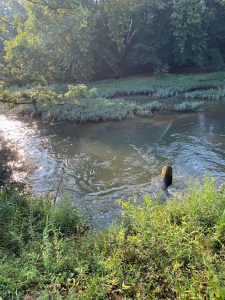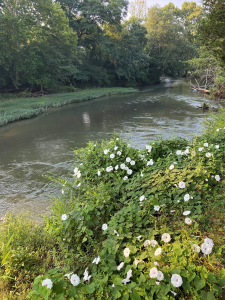 A few hundred feet upstream, the river flows (again left to right) beyond a marshy area. Look hard to the far bank mid-photo. Squint if necessary to see a great blue heron. Okay, I can't see it clearly either without telephoto help — scroll down.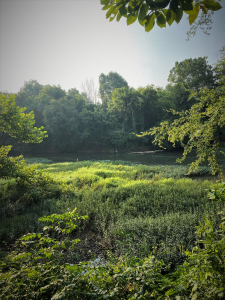 These are magnificent birds, avatar and totem for my Dad, who left me with a deep and abiding love and respect for Nature that has only grown stronger since his death 26 years ago. See this three-minute read for the story of my spiritual connection to the great blue heron: http://stevejonesgbh.com/reflections/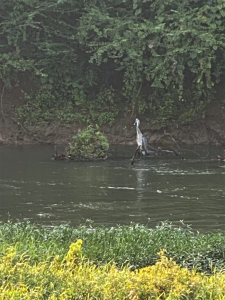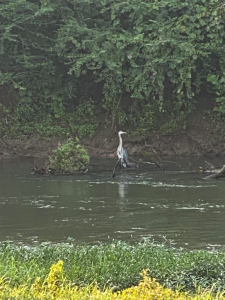 Exchanging my biking clothes for my woods gear at my daughter's nearby office restroom, I drove the three miles to the east entrance of the Goldsmith-Schiffman Wildlife Sanctuary, also bordering the Flint River. I wandered into the bottomland hardwood forest and adjacent tupelo swamp. I had no purpose in mind other than, because I was already on that side of Huntsville, to see what secrets the forest might reveal in early August. Our southern forests never disappoint!
Persistent rains have kept the lower areas still saturated with lots of standing water in the tupelo stands, justifying my extra effort trudging through the forest in nearly knee-high rubber boots. I saw lots of wildlife sign (deer and raccoon tracks), but no actual forest critters except for a single squirrel. Okay, I suppose mosquitoes are critters…plentiful voracious critters intent upon finding nourishment at my expense!
I also wanted to see what mushroom varieties were prevalent. I found a scattering of aging chanterelles completing their cycle and recycling back into the forest litter. I spotted one grouping of oyster mushrooms past peak on a fallen log. Some remnant peppery milkcap were also losing their pure white luster, along with one fading bolete. Other fungi species tantalized me, reminding me of my far-too-inadequate mushroom knowledge.
The average daily high and low temperatures for early August are 91 and 70, above my preferred range for deep woods exploration. Looking ahead to more favorable conditions, I shall endeavor to return for another round of biking and hiking by mid-October, when the average temperatures are 76 and 52! Now that sounds inviting for cycling and hiking. In the meantime, I will restrict most of my summer Nature ramblings to our more accommodating morning weather.
Tree Form Oddities and Curiosities
Always alert for tree form oddities and curiosities, I encountered several worthy subjects in the bottomland forest. This warty hickory posed nicely, not at all embarrassed by its blemishes… cankers which I believe are of viral or fungal origin. Given the hordes of mosquitoes buzzing me, I imagined my face undergoing a similar transfiguration! The hickory's dermal condition is clearly not fatal. The tree reaches high into the canopy and has a full crown. I wondered whether this individual is genetically predisposed to the culprit microorganism. Is this tree  particularly sensitive and reactive to infection? And, does the infection interfere in some way with the tree's fecundity. As with so much that I uncover through my forest wanderings, I need to learn more. Is there a forest pathologist in the house?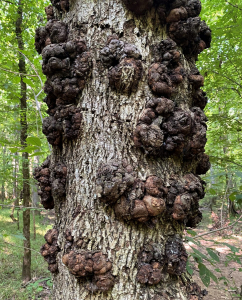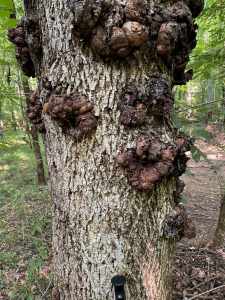 Not far away, here's another hickory with a single, and larger, canker.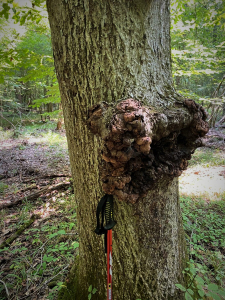 These Sanctuary bottomlands suffer frequent winter floods and periodic summer flash floods, when the Flint River overtops its banks and rushes through the forest. Perhaps a particularly savage flood snapped a twin from this now 3-foot diameter sycamore decades ago opening a decay fungi infection court, gradually hollowing the entire remaining trunk, even as the tree attempts to callous over the old wounds…a losing endeavor. Regardless, a tree of considerable character with a great story to tell! Such trees bring to mind the opening lines of Alfred Noyes' The Highwayman:
The wind was a torrent of darkness among the gusty trees
The moon was a ghostly galleon tossed upon the cloudy seas
I wonder what appearance this tree might project on such a harsh November night along the Flint River! What spirits inhabit these dark woods? Even if none are present, what might we imagine in the eerie darkness?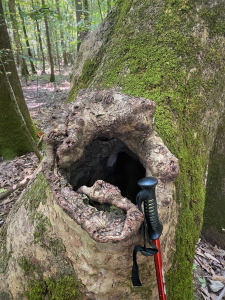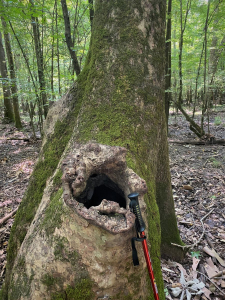 Could Ichabod Crane have experienced forests with trees such as these (What fearful shapes and shadows beset his path) when he spotted the headless horseman?
On mounting a rising ground, which brought the figure of his fellow-traveler in relief against the sky, gigantic in height, and muffled in a cloak, Ichabod was horror-struck on perceiving that he was headless! – but his horror was still more increased on observing that the head, which should have rested on his shoulders, was carried before him on the pommel of his saddle!
Perhaps Mr. Crane felt the nighttime invisible fingers of Vitis (grapevine) air roots as his horse plodded unsteadily forward, sending shivers of fear deep into his soul.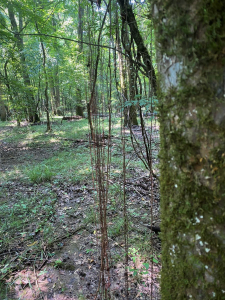 I was there in midday light, yet, even then, my mind had little trouble imagining the gloaming amidst a November wind howling a torrent of darkness. I long ago discovered that a vivid imagination enhances vision. I have learned to employ five essential verbs, leading me to see far more than what otherwise presents. So much in Nature lies hidden in plain sight, including lessons for living, learning, serving, and leading. The five verbs — Believe, Look, See, Feel, and Act:
I find Nature's Lessons because I know they lie hidden within view — belief prompts and enables me to look and see
Really look, with eyes open to my surroundings, external to electronic devices and the distractions of meaningless noise and data
Be alert to see deeply, beyond the superficial
See clearly, with comprehension, to find meaning and evoke feelings
Feel empathically enough to spur action… action manifesting informed and responsible Earth stewardship
Action for me may be as simple as drafting a relevant Blog Post to present a photo-narrative revealing and translating lessons from Nature to readers. Lessons that might further my retirement mission: Employ writing and speaking to educate, inspire, and enable readers and listeners to understand, appreciate, and enjoy Nature… and accept and practice Earth Stewardship.
Vegetative Elegance
A lifelong enthusiast for woodland spring wildflowers, I have grown to appreciate our summer beauties as well. I encountered abundant black-eyed Susans along Big Cove Creek Greenway. I could not resist photographing this wall of black, yellow, and green… an elegant border back-dropped by trees along the creek with old-field planted loblolly pine beyond. Would I have appreciated the scene without context…without knowing what lies immediately behind the elegant wall? I think not. Occasionally my leisure reading will take me to a location familiar to me, like Call of the Wild or White Fang. Anytime that I can personally authenticate content, the book more effectively draws me into its grasp. The trailside floral arrangement would still provide aesthetic reward, yet, knowing and understanding the integrated whole deepens my appreciation.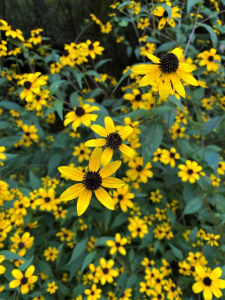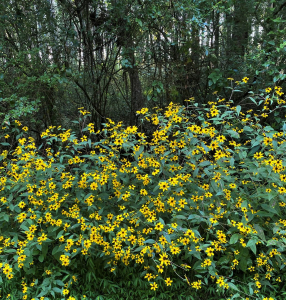 A  trailside wall of peppervine obscured what lay beyond in one spot near the Hays Preserve. I turned to iNaturalist for identification. From the Gardening Know How website: peppervine is a perennial climbing vine that is native to the lower 48 states and Puerto Rico. To some it may be known as "buckvine" and "cow itch" but to others it may be known as an expletive because it is very invasive due to its vigorous root system. Another source noted that many people confuse this ubiquitous vine with poison ivy — note the leaves-of-three arrangement.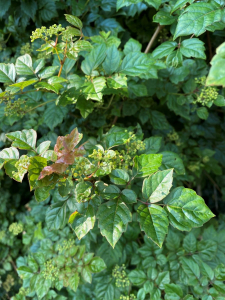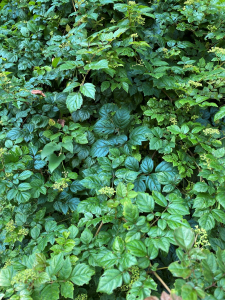 Cardinal flower, a particularly showy Lobelia, ranks among my summer favorites. The Missouri Botanical Garden website offers informative insight: native perennial which typically grows in moist locations along streams, sloughs, springs, swamps and in low wooded areas. A somewhat short-lived, clump-forming perennial which features erect, terminal spikes of large, cardinal red flowers on unbranched, alternate-leafed stalks rising typically to a height of 2-3′ (infrequently to 4′). Tubular flowers are 2-lipped, with the three lobes of the lower lip appearing more prominent than the two lobes of the upper lip. Finely-toothed, lance-shaped, dark green leaves (to 4″ long). Late summer bloom period. Flowers are very attractive to butterflies and hummingbirds, but not cardinals. 
I like the subtle humor of mentioning that the flower does not attract cardinals. The flower does not draw its name from the bird. Instead, both the bird and the flower owe their moniker to the exquisite red robes worn by members of the College of Cardinals within the Catholic Church. The Cardinals (princes of the blood) wear red to symbolize the blood of Christ.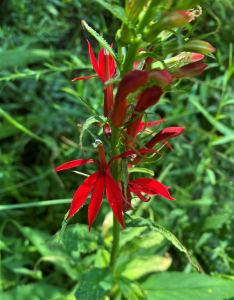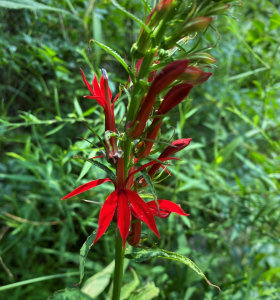 Rich summer flower colors magnify my appreciation of time spent in Nature, whether pedaling along a shaded greenway or hiking deep into a bottomland hardwood forest. The vivid colors provide sufficient counter weight to heat, humidity, and hungry mosquitoes. Far too many people choose not to venture into Nature during our southern summers. I take a different tack, refusing to succumb to one season or another. I live in the south where summers can be hot, humid, and long. I accept that reality and embrace the season. I restrict my mid-summer wanderings (biking or hiking) to mornings, a far more agreeable time of day. Just as I chose to experience Nature's beauty, magic, wonder, and awe throughout winters in Fairbanks, Alaska, I elect to embrace the heat and humidity of north Alabama summers.
There will come a day when my own seasons will come to an end. I don't intend to depart regretting that I accepted sitting on the sidelines for the sake of my own shallow comfort. As we used to say, Man Up!
Thoughts and Reflections
I offer these observations:
Nature wanderings enhance mental, physical, emotional, and spiritual well being.
Nature fuels mind, body, heart, soul, and spirit. 
Every season of the year provides unique rewards.
Inhale and absorb Nature's elixir. May Nature Inspire, Inform, and Reward you!
Note: All blog post images created & photographed by Stephen B. Jones unless otherwise noted. Please circulate images with photo credit: "©2021 Steve Jones, Great Blue Heron LLC. All Rights Reserved."
Another Note: If you came to this post via a Facebook posting or by an another route, please sign up now (no cost… no obligation) to receive my Blog Post email alerts: http://eepurl.com/cKLJdL
And a Third: I am available for Nature-Inspired Speaking, Writing, and Consulting — contact me at steve.jones.0524@gmail.com
Reminder of my Personal and Professional Purpose, Passion, and Cause
If only more of us viewed our precious environment through the filters I employ. If only my mission and vision could be multiplied untold orders of magnitude:
Mission: Employ writing and speaking to educate, inspire, and enable readers and listeners to understand, appreciate, and enjoy Nature… and accept and practice Earth Stewardship.
Vision:
People of all ages will pay greater attention to and engage more regularly with Nature… and will accept and practice informed and responsible Earth Stewardship.
They will see their relationship to our natural world with new eyes… and will understand more clearly their Earth home.
Tagline/Motto: Steve (Great Blue Heron) encourages and seeks a better tomorrow through Nature-Inspired Living!
Steve's Three Books
I wrote my books Nature Based Leadership (2016), Nature-Inspired Learning and Leading (2017), and Weaned Seals and Snowy Summits: Stories of Passion for Place and Everyday Nature (2019; co-authored with Dr. Jennifer Wilhoit) to encourage all citizens to recognize and appreciate that every lesson for living, learning, serving, and leading is either written indelibly in or is powerfully inspired by Nature.
I began writing books and Posts for several reasons:
I love hiking and exploring in Nature
I see images I want to (and do) capture with my trusty iPhone camera
I enjoy explaining those images — an educator at heart
I don't play golf!
I actually do love writing — it's the hobby I never needed when my career consumed me
Judy suggested my writing is in large measure my legacy to our two kids, our five grand kids, and all the unborn generations beyond
And finally, perhaps my books and Blogs could reach beyond family and touch a few other lives… sow some seeds for the future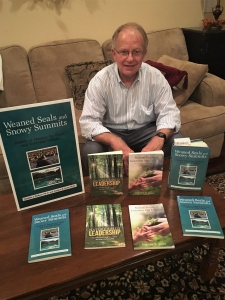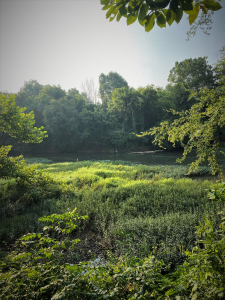 All three of my books (Nature Based Leadership; Nature-Inspired Learning and Leading; Weaned Seals and Snowy Summits) present compilations of personal experiences expressing my (and co-author Dr. Wilhoit for Weaned Seals and Snowy Summits) deep passion for Nature. All three books offer observations and reflections on my relationship to the natural world… and the broader implications for society. Order any and all from your local indie bookstore, or find them on IndieBound or other online sources such as Amazon and LifeRich.
http://stevejonesgbh.com/wp-content/uploads/2021/08/IMG_9578.jpg-08.03.21-Along-Flint-River-Greenway-Upstream-of-Hays-NP.jpg
1200
900
Steve Jones
http://stevejonesgbh.com/wp-content/uploads/2017/01/gbhweblogo.png
Steve Jones
2021-08-31 10:34:47
2021-08-31 10:34:47
Nature Notations from an Early August Day of Biking and Hiking