July 9, 2022, the State Champion shingle oak at Joe Wheeler State Park succumbed to the forces of age, decay, and gravity…gently in its sleep. This Post serves as a reflective obituary and memorial.
Nothing in Nature is static. Permanent is a human construct. Across my career I've held several interim or acting positions, wherein I assumed the duties and responsibilities while the organization bridged the temporal gap to appointing someone to fill the void on a longer term basis. If you will, a permanent appointment. I've held a number of such permanent positions. An odd turn of phrase as I sit here in retirement with other people occupying every one of those permanent posts that I held! Nothing in the world of business, government, and not-for-profits is permanent.
As I've said often in these Posts, the same is true in Nature. I recently offered photos, observations, and reflection from a July 2022 visit to DeSoto State Park, examining some of the changes since a prior visit:
This fall I am teaching a course I've titled Turn, Turn, Turn, presenting the constant changes in Nature over the passage of time, whether diurnal, weekly, seasonal, or far into the distant future. As a literal time traveler, I am captivated by time and its effect on everything. A time traveler you wonder? Sure, to date I have traveled across a little over 71 years! How about you? The changes are apparent in my surroundings…and most vividly in the mirror! Ah, if my knees could talk, they would share with you what they protest loudly to me as I hike rocky trails downhill!
Now let's turn to the topic at hand. I published an August 6, 2020 Post on the four Alabama State Champion trees on Joe Wheeler State Park: http://stevejonesgbh.com/2020/08/06/state-champion-trees-at-joe-wheeler-state-park/
Sadly, today's count is three. Here's an apt excerpt from that August 2020 Post:
The fourth of Joe Wheeler's champions is an open-growing shingle oak (Quercus imbricaria) near the cabins at Wheeler Dam. As one might expect from a tree not engaging in fierce site resource competition from adjacent forest trees, this champion has little need to fast-forward vertically (height only 68 feet); instead, it gathers additional sunlight by reaching outward (crown spread at 102-feet). Its 2004 diameter has increased from 48.36-inches to today's 51.22-inches. Were the tree vigorous and in good health the growth would have been far greater. Instead, the crown shows clear evidence of decline; branch dieback appears across the crown. Many decades of soil compaction take a toll on vigor. Eventually, like all living organisms, this tree will succumb to age and other factors. Another shingle oak will assume the champion mantle.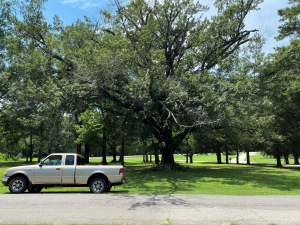 Photo Credit — Mike Ezell (Summer 2020)
Park manager David Barr, Assistant Superintendent at Joe Wheeler State Park, captured these photos of the living tree.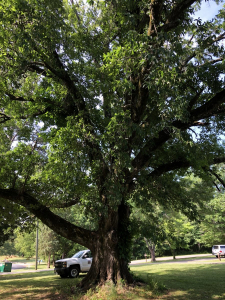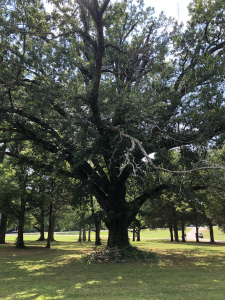 I suppose my August 2020 observations proved prescient: Eventually, like all living organisms, this tree will succumb to age and other factors. However, I erroneously assumed that some force of violence (gusty spring winds, strong thunderstorm, or winter ice) would be the final straw. David and Park Naturalist Sam Roof gave me the sad truth. The tree fell July 9, 2022, a relatively calm night with a little light rain. David remarked, "The tree was hollow at the trunk and very rotten inside. Sam and I believe the tree collapsed of its own weight."
How inglorious an end for a champion! I had hoped for a bit of rage, not a gentle passage into the good night.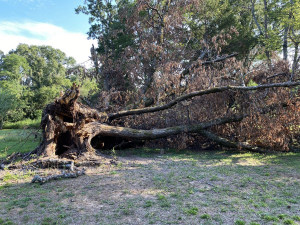 David Barr
Dylan Thomas had given me hope that a true champion would yield only to weather-fury:
Do not go gentle into that good night
Old age should burn and rage at close of day;
Rage, rage against the dying of the light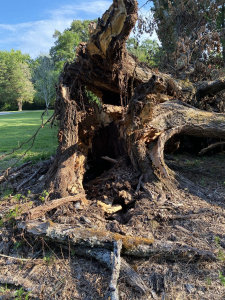 David Barr
Yet, I recognize that trees do not bend to the minds of sentimental old foresters, wanna-be poets, and amateur philosophers. In reality, this old sentinel had fought the good fight for decades. My 2020 Post said as much. We who had reached these golden years of senior citizenship often comment, with a sigh of contentment, that he or she went calmy in his or her sleep. I believe the old shingle oak did the same.
Alabama State Parks naturalist emeritus, Mike Ezell, memorialized the tree that he had known for decades, "This tree saw the infamous Muscle Shoals. It saw the floods, the logjams, the flatboats, steamboats and rapids that characterized this section of a wild and wooly historic river. The creation of Wheeler Lake in 1937 buried this landmark (the Shoals) beneath 50 ft of the calm, placid waters that drain the lower Appalachians."
Mike believes that the old oak served as a witness tree referenced to this nearby property placard. The oak is no more, except in old photos, deep memories, and a photo-essay issued by an old forester. Even the property marker concrete is pitted and is crumbling, the brass placard is also aging. Such is the fate all things. The once alpine Appalachians are now echoes of those early days of snow-capped jagged peaks rising heavenward.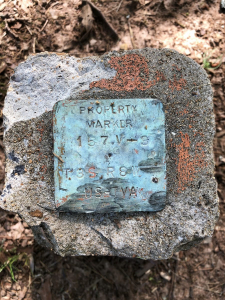 Reflecting upon the demise of this single tree, Mike offered these parting words of wisdom, "Since the settlement of our continent by our European ancestors, natural landscapes have disappeared quickly, and with them large populations of wild flora and fauna have become victims of the reduced carrying capacity of our land. Everyone should do their part to ensure future generations get to enjoy our natural resources by installing native plants in every nook and cranny of every yard, roadside, park, and subdivision we build. Our own species survival will eventually depend on this."
Mike is a consummate naturalist, interpreting Nature for kids of all ages and promoting Earth stewardship through related understanding and action. I thank him for introducing me to the fallen champion…and for lighting the fire of Alabama State Park Nature-passion within me.
Alabama State Parks Foundation
Thoughts and Reflections
I offer these observations:
Nothing in Nature is static.
Even state champion trees are subject to Nature's forces of time, gravity, and decay.
Like the old shingle oak, Queen Elizabeth recently passed gently into the good night, leaving deep memories and touching countless lives.
Inhale and absorb Nature's elixir. May Nature Inspire, Inform, and Reward you!
Note: All blog post images created & photographed by Stephen B. Jones unless otherwise noted. Please circulate images with photo credit: "©2022 Steve Jones, Great Blue Heron LLC. All Rights Reserved."
Another Note: If you came to this post via a Facebook posting or by an another route, please sign up now (no cost… no obligation) to receive my Blog Post email alerts: http://eepurl.com/cKLJdL
And a Third: I am available for Nature-Inspired Speaking, Writing, and Consulting — contact me at steve.jones.0524@gmail.com
Reminder of my Personal and Professional Purpose, Passion, and Cause
If only more of us viewed our precious environment through the filters I employ. If only my mission and vision could be multiplied untold orders of magnitude:
Mission: Employ writing and speaking to educate, inspire, and enable readers and listeners to understand, appreciate, and enjoy Nature… and accept and practice Earth Stewardship.
Vision:
People of all ages will pay greater attention to and engage more regularly with Nature… and will accept and practice informed and responsible Earth Stewardship.
They will see their relationship to our natural world with new eyes… and will understand more clearly their Earth home.
Tagline/Motto: Steve (Great Blue Heron) encourages and seeks a better tomorrow through Nature-Inspired Living!
Steve's Three Books
I wrote my books Nature Based Leadership (2016), Nature-Inspired Learning and Leading (2017), and Weaned Seals and Snowy Summits: Stories of Passion for Place and Everyday Nature (2019; co-authored with Dr. Jennifer Wilhoit) to encourage all citizens to recognize and appreciate that every lesson for living, learning, serving, and leading is either written indelibly in or is powerfully inspired by Nature.
I began writing books and Posts for several reasons:
I love hiking and exploring in Nature
I see images I want to (and do) capture with my trusty iPhone camera
I enjoy explaining those images — an educator at heart
I don't play golf!
I actually do love writing — it's the hobby I never needed when my career consumed me
Judy suggested my writing is in large measure my legacy to our two kids, our five grand kids, and all the unborn generations beyond
And finally, perhaps my books and Blogs could reach beyond family and touch a few other lives… sow some seeds for the future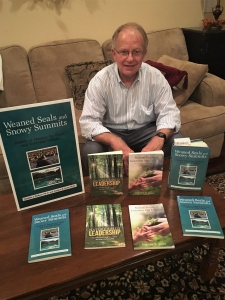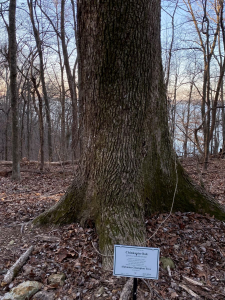 All three of my books (Nature Based Leadership; Nature-Inspired Learning and Leading; Weaned Seals and Snowy Summits) present compilations of personal experiences expressing my (and co-author Dr. Wilhoit for Weaned Seals and Snowy Summits) deep passion for Nature. All three books offer observations and reflections on my relationship to the natural world… and the broader implications for society. Order any and all from your local indie bookstore, or find them on IndieBound or other online sources such as Amazon and LifeRich.
http://stevejonesgbh.com/wp-content/uploads/2022/08/IMG_5582-7.JPG-Mike-Ezells-August-2022-of-Toppled-Shingle-oak.jpg
900
1200
Steve Jones
http://stevejonesgbh.com/wp-content/uploads/2017/01/gbhweblogo.png
Steve Jones
2022-10-19 09:33:52
2022-10-19 09:33:52
A State Champion Yields to Decay and Gravity