This Post launches the 14-minute land legacy video tale for the Goldsmith-Schiffman Wildlife Sanctuary in Huntsville, Alabama. The Post chronicles and presents the year-long video production. Bill Heslip, retired videographer, and I conceived and co-led the effort…Bill Directed; I Produced. Bill dubbed our two-person team Two Guys & A Camera. We enjoyed the project immensely. We consider our product a lasting tribute to Margaret Anne Goldsmith, a model for her selfless gift of land and Nature to perpetuity, and to Marian Moore Lewis, an author, dedicated naturalist, and Nature enthusiast extraordinaire.
Bill and I tried not to take ourselves too seriously, hence we had lots of fun, learned a great deal, and will never forget the rewarding experience. We were blessed by getting to know Marian and Margaret Anne, Two Remarkable Women. Allow me just a few photographs to introduce our 14-minute video tribute. Here are Marian (left), Margaret Anne, and I standing at the Taylor Road entrance in June, 2020, before Bill and I germinated the idea for a land legacy video: http://stevejonesgbh.com/2021/08/25/contemplating-a-video-of-the-goldsmith-schiffman-wildlife-sanctuary/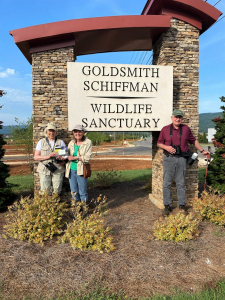 Marian and Margaret Anne are holding a copy of Marian's book, Southern Sanctuary, A Naturalist's Walk through the Seasons at the Goldsmith-Schiffman Wildlife Sanctuary.
The video idea quickly took root once we broached it with Marian and Margaret Anne. In fact, once we adopted the video notion, the project became ours collectively, with fully shared ownership. Simply, we four viewed it as ours. We four gathered on-site June 6, 2021 for the first time. We were hooked!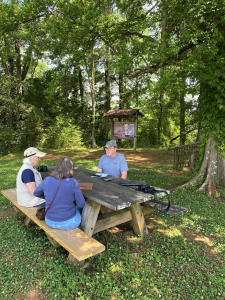 May 13, 2022 proved to be a day gifted from on high — a tupelo swamp with emergent spring leaves and firmament above the fields opening a window straight into heaven!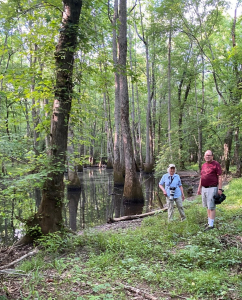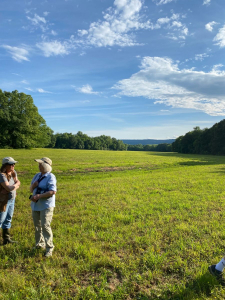 Ours was truly a labor of love, ultimately yielding a product bringing the emotional power of human belief, action, and passion to reason…the reason of telling a story to audiences now and deep into the future.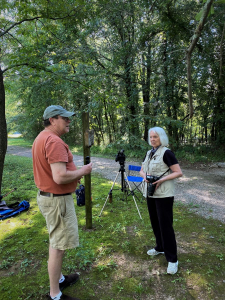 Here is A Tale of Two Extraordinary Women:
On this grand day in May 2022 we could only dream of the completed project. My friends and colleagues can now celebrate — we did it! We memorialized Margaret Anne's gift of land and vision to future generations. Louis Bromfield, mid 20th century author, playwright, and land steward, bought what he called his old worn out farm in north-central Ohio in the 1930s. He dedicated his life to rehabilitating the farm and its soils. He wrote in his non-fiction book, Pleasant Valley:
The adventure at Malabar is by no means finished… The land came to us out of eternity and when the youngest of us associated with it dies, it will still be here. The best we can hope to do is to leave the mark of our fleeting existence upon it, to die knowing that we have changed a small corner of this Earth for the better by wisdom, knowledge, and hard work…
We commend and thank Margaret Anne for donating the original 300 Sanctuary acres, thus changing some small corner of the Earth, gifting future generations with an incredibly Special Place!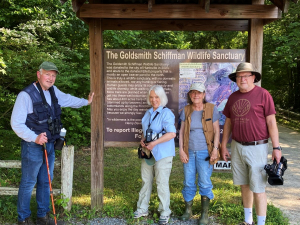 The video matched my fondest memories and images of this special place, whose moods shift and gift across time, whether a frosty winter morning…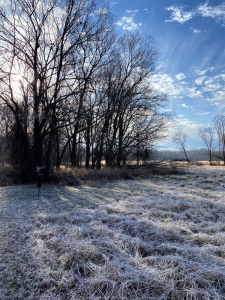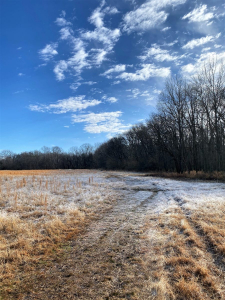 Or an autumn gaze into the canopy…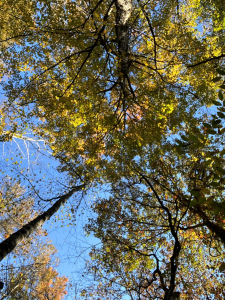 Or an early summer day of glory over a masterfully naturalized gravel pit. John Muir knew of Nature's healing ways: Earth has no sorrow that earth cannot heal.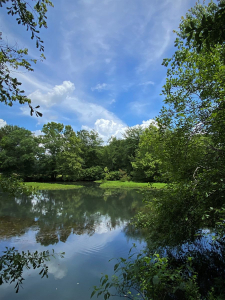 I co-authored (with Jennifer Wilhoit) my third book, Weaned Seals and Snowy Summits: Stories of Passion for Place and Everyday Nature, inspired by the deep relationships I've had with other special Nature places across life. Rest assured, the Sanctuary is one of my north Alabama Special Places. I will return often…to appreciate, learn, and grow from her ever-changing faces. I embrace without hesitation my belief that every lesson for living, learning, serving, and leading is written indelibly in or is powerfully inspired by Nature…and her special places.
Thoughts and Reflections
I offer these observations:
Every parcel of land, including the Goldsmith-Schiffman Wildlife Sanctuary, has a legacy story to tell.
Such preserved natural places enrich citizens' lives.
I applaud all nature enthusiasts who practice informed and responsible Earth stewardship. 
Inhale and absorb Nature's elixir. May Nature Inspire, Inform, and Reward you!
Note: All blog post images created & photographed by Stephen B. Jones unless otherwise noted. Please circulate images with photo credit: "©2021 Steve Jones, Great Blue Heron LLC. All Rights Reserved."
Another Note: If you came to this post via a Facebook posting or by an another route, please sign up now (no cost… no obligation) to receive my Blog Post email alerts: http://eepurl.com/cKLJdL
And a Third: I am available for Nature-Inspired Speaking, Writing, and Consulting — contact me at steve.jones.0524@gmail.com
Reminder of my Personal and Professional Purpose, Passion, and Cause
If only more of us viewed our precious environment through the filters I employ. If only my mission and vision could be multiplied untold orders of magnitude:
Mission: Employ writing and speaking to educate, inspire, and enable readers and listeners to understand, appreciate, and enjoy Nature… and accept and practice Earth Stewardship.
Vision:
People of all ages will pay greater attention to and engage more regularly with Nature… and will accept and practice informed and responsible Earth Stewardship.
They will see their relationship to our natural world with new eyes… and will understand more clearly their Earth home.
Tagline/Motto: Steve (Great Blue Heron) encourages and seeks a better tomorrow through Nature-Inspired Living!
Steve's Three Books
I wrote my books Nature Based Leadership (2016), Nature-Inspired Learning and Leading (2017), and Weaned Seals and Snowy Summits: Stories of Passion for Place and Everyday Nature (2019; co-authored with Dr. Jennifer Wilhoit) to encourage all citizens to recognize and appreciate that every lesson for living, learning, serving, and leading is either written indelibly in or is powerfully inspired by Nature.
I began writing books and Posts for several reasons:
I love hiking and exploring in Nature
I see images I want to (and do) capture with my trusty iPhone camera
I enjoy explaining those images — an educator at heart
I don't play golf!
I actually do love writing — it's the hobby I never needed when my career consumed me
Judy suggested my writing is in large measure my legacy to our two kids, our five grand kids, and all the unborn generations beyond
And finally, perhaps my books and Blogs could reach beyond family and touch a few other lives… sow some seeds for the future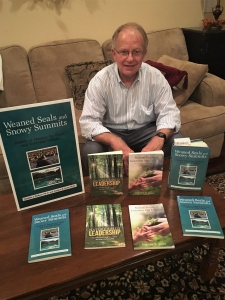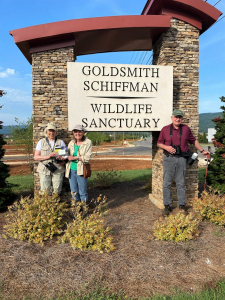 All three of my books (Nature Based Leadership; Nature-Inspired Learning and Leading; Weaned Seals and Snowy Summits) present compilations of personal experiences expressing my (and co-author Dr. Wilhoit for Weaned Seals and Snowy Summits) deep passion for Nature. All three books offer observations and reflections on my relationship to the natural world… and the broader implications for society. Order any and all from your local indie bookstore, or find them on IndieBound or other online sources such as Amazon and LifeRich.
https://stevejonesgbh.com/wp-content/uploads/2022/09/IMG_3563.jpg-May-13-2022-4.08-PM-GSWS.jpg
900
1200
Steve Jones
http://stevejonesgbh.com/wp-content/uploads/2017/01/gbhweblogo.png
Steve Jones
2022-10-11 07:40:13
2022-10-11 07:40:13
Goldsmith-Schiffman Wildlife Sanctuary: A Tale of Two Extraordinary Women