John Muir aptly observed, In every walk with Nature one receives far more than he seeks. So, too, every time I explore a new (for me) north Alabama natural area I receive far more than I seek.
Chris Stuhlinger, a fellow retired forester, and I co-lead a series of monthly hikes for the Osher Lifelong Learning Institute at the University of Alabama in Huntsville. September 2, 2022, we made a dry run on the Cold Spring Nature Trail, which passes through sections of both Monte Sano State Park and the Monte Sano Nature Preserve of the Land Trust of North Alabama. We led the OLLI group September 10. That's Chris below left, and one of the OLLI group below right.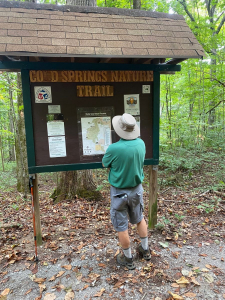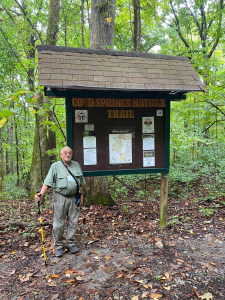 I won't burden you with indicating the respective dates for the photos within this Post. Suffice it to say that if you see more than just Chris or me, the image is from the OLLI hike. The trail transits a remarkable older-growth upland hardwood forest, much of it occupying a cove setting: concave lower slope facing east to northeast. Species composition includes: red and white oaks, yellow poplar, mockernut and shagbark hickories, sugar maple, yellow buckeye, sweetgum, American basswood and white basswood, and even a sycamore and black walnut. Several individuals exceeded three feet in diameter. The canopy reached up to 120 feet tall.
Although I have not discovered how to capture full depth of field nor vertical extent with my iPhone, these two photos do a passable job with both. Perhaps one day I will acquire and learn how to use a real SLR camera!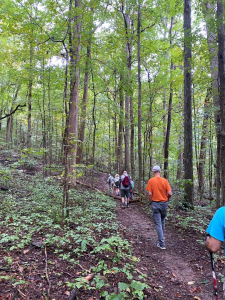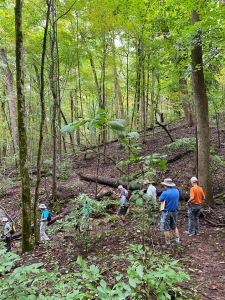 Here's a 2:16 video I recorded within the cove forest on the dry run date: https://www.youtube.com/watch?v=eSK1UYcE8uI
I like adding these short videos to my photo-essays. They add life to my sometimes stilted text and reduce the tedium of still photos.
State Champion Basswood Tree
The state champion basswood tree is a trailside highlight. This beauty at last measurement (July 2016) stood 113 tall, had a crown radial spread of 63 feet, and boasted a diameter at breast height of 41 inches. Its average crown spread of 63 feet from the trunk translates to the tree effectively occupying 0.29 acres! No wonder there are no other nearby large trees. This champion is a tough competitor, shouldering aside others who tried in vain to capture the upper canopy sunlight.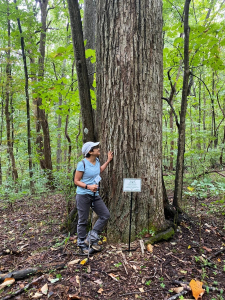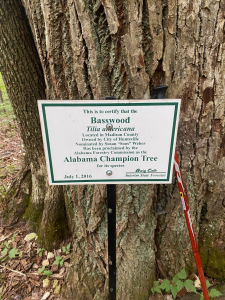 The tree is not without internal stressors. An old basal scar from a long-ago-broken-away stem (below left) signals heart rot eating away from within. Some day, forces yet to be determined will spell the end of this magnificent champion. However, I told the group that its chances of out-lasting this old forester are pretty good. The tree dwarfs our OLLI hike participants.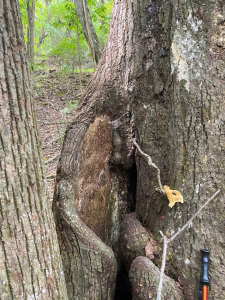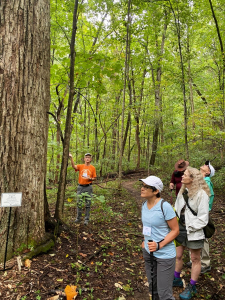 I always struggle with what to exclude in these Posts. This cathedral grove offered many individual trees worthy of profiling with photographs and observations, to name a few individuals: yellow poplar, yellow buckeye, shagbark hickory, and a handsome white basswood, among others. Chris and I plan to return during the winter to gather photographs, make measurements, and assemble material for a subsequent Post.
Cold Spring
Another reason for returning during the dormant season, when seasonal rainfall is more reliable, is to see the spring with greater flow. Here's Chris snapping a photo of the OLLI group standing at the rock face where the spring emerges.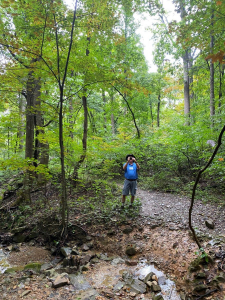 Here's the august group at the spring, courtesy of Chris' camera.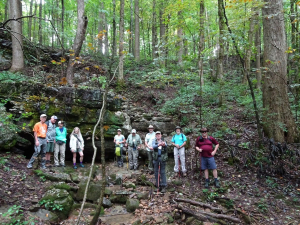 As we paused at the spring, I recorded this 2:23 video: https://www.youtube.com/watch?v=OaFmRSD6rtE&t=6s
Once again, a short video tells a far deeper tale.
Understory Plants and Flowers
I've long been a spring wildflower devotee, from my freshman systematic botany course that focused on the spring ephemerals of the central Appalachians, through my 13 interstate professional relocations across the country. After several years retired here in north Alabama I've evolved to more and more appreciate mid- and late-summer bloomers. Let's visit a few that caught my eye along the Cold Spring Loop Trail.
I'm a softy for blue flowers like this zigzag spiderwort. Note the slight stem direction change at each leaf node, thus the zig zag moniker.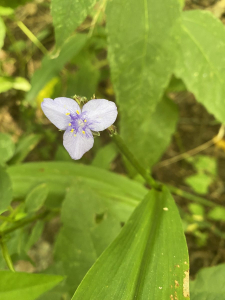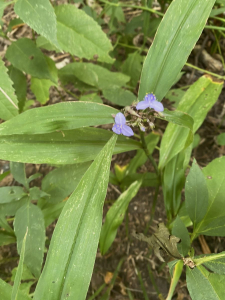 We found several specimens of fortune's spindle (AKA wintercreeper) an escaped euonymus cultivar from east Asia. Its dark evergreen foliage and climbing form make it a desirable arbor cover for home plantings. I saw no evidence that it is an aggressive invasive. The individuals we saw drew me closer, serving as a point of focus and contrast.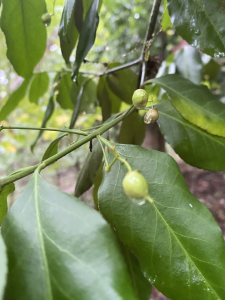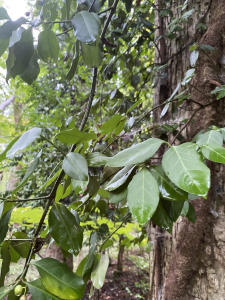 This particular cluster was growing on the trunk of a yellow buckeye (below), the larger of two vine stems well-camouflaged vertically along the bark, distinguished only by the moss clinging to it.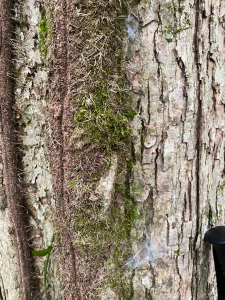 Great Indian plantain still retained a few non-showy flowers. Marking its beauty are large glossy deep green leaves.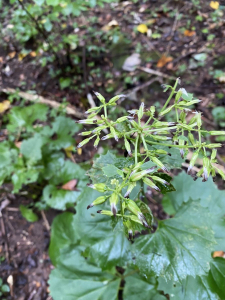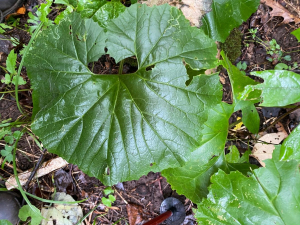 Bearing yet another blue flower, fall phox did not shout for attention, filling its reproductive end-of-season role as a seeming wallflower, yet lovely just the same.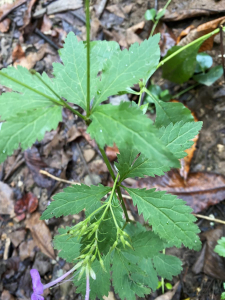 Unlike its wildly showy domesticated cousins, wild hydrangea offered more subtle beauty. However, because I am a big hydrangea enthusiast, I appreciated seeing this specimen offering welcome along the abandoned paved road leading to the trailhead.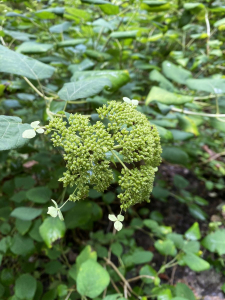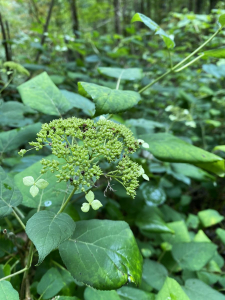 Nearby, along the same old road we found creeping cucumber in full flower, an understated intricate beauty, with fine tendrils assisting and enabling its annual climb.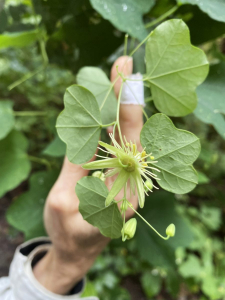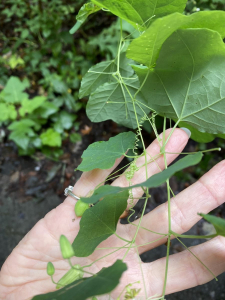 Fungi
I've become a fungi kingdom convert, more and more understanding and appreciating this life form, its manifold and diverse members, and their essential role in our forests. Turkey tail, the mushroom of a wood decay organism, is common across eastern America. The internet is rich with sources describing its medicinal benefits.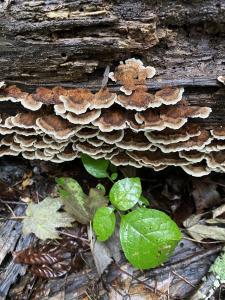 I photographed this oak mazegill mushroom on the end of a section of an oak bole cleared to open the trail. I regret that the old forester who doesn't kneel as well as he useta-did (southern expression), failed to capture a good image of the intricate maze-like underside.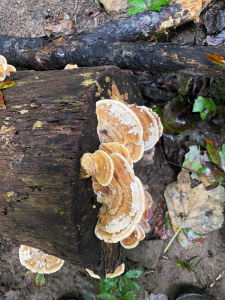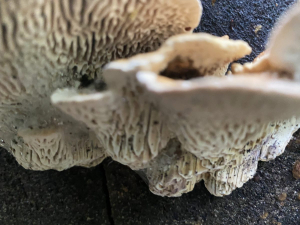 Here is an image from on online source:
Conclusion
My primary retirement mission is simple: Employ writing and speaking to educate, inspire, and enable readers and listeners to understand, appreciate, and enjoy Nature… and accept and practice Earth Stewardship.
All of my teaching, hike-leading, writing, and publishing fit the mission. I love what I do, whether co-leading a morning exploration in a local preserve with friends and fellow Nature-enthusiast seniors or bushwhacking alone through a mature riparian hardwood forest. Standing with the state champion basswood, I feel a spiritual/sacred connection to a forest elder. I em engaged entirely with all five personal portals: body, mind, heart, soul, and spirit!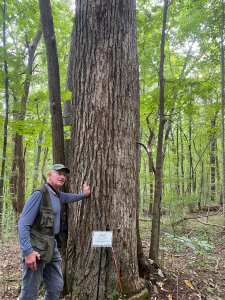 I want to feel Nature's essence and taste inhale her elixir…and share the magic with others! Learning, teaching, and inspiring are in my Nature.
Alabama State Parks Foundation
Thoughts and Reflections
I offer these observations:
Every time I explore a new (for me) north Alabama natural area I receive far more than I seek.
I want to feel Nature's essence and taste inhale her elixir…and share the magic with others!
And into the forest I go, to lose my mind and find my soul. John Muir
Inhale and absorb Nature's elixir. May Nature Inspire, Inform, and Reward you!
Note: All blog post images created & photographed by Stephen B. Jones unless otherwise noted. Please circulate images with photo credit: "©2022 Steve Jones, Great Blue Heron LLC. All Rights Reserved."
Another Note: If you came to this post via a Facebook posting or by an another route, please sign up now (no cost… no obligation) to receive my Blog Post email alerts: http://eepurl.com/cKLJdL
And a Third: I am available for Nature-Inspired Speaking, Writing, and Consulting — contact me at steve.jones.0524@gmail.com
Reminder of my Personal and Professional Purpose, Passion, and Cause
If only more of us viewed our precious environment through the filters I employ. If only my mission and vision could be multiplied untold orders of magnitude:
Mission: Employ writing and speaking to educate, inspire, and enable readers and listeners to understand, appreciate, and enjoy Nature… and accept and practice Earth Stewardship.
Vision:
People of all ages will pay greater attention to and engage more regularly with Nature… and will accept and practice informed and responsible Earth Stewardship.
They will see their relationship to our natural world with new eyes… and will understand more clearly their Earth home.
Tagline/Motto: Steve (Great Blue Heron) encourages and seeks a better tomorrow through Nature-Inspired Living!
Steve's Three Books
I wrote my books Nature Based Leadership (2016), Nature-Inspired Learning and Leading (2017), and Weaned Seals and Snowy Summits: Stories of Passion for Place and Everyday Nature (2019; co-authored with Dr. Jennifer Wilhoit) to encourage all citizens to recognize and appreciate that every lesson for living, learning, serving, and leading is either written indelibly in or is powerfully inspired by Nature.
I began writing books and Posts for several reasons:
I love hiking and exploring in Nature
I see images I want to (and do) capture with my trusty iPhone camera
I enjoy explaining those images — an educator at heart
I don't play golf!
I actually do love writing — it's the hobby I never needed when my career consumed me
Judy suggested my writing is in large measure my legacy to our two kids, our five grand kids, and all the unborn generations beyond
And finally, perhaps my books and Blogs could reach beyond family and touch a few other lives… sow some seeds for the future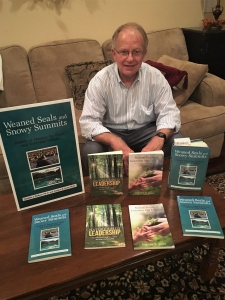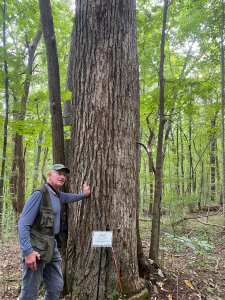 All three of my books (Nature Based Leadership; Nature-Inspired Learning and Leading; Weaned Seals and Snowy Summits) present compilations of personal experiences expressing my (and co-author Dr. Wilhoit for Weaned Seals and Snowy Summits) deep passion for Nature. All three books offer observations and reflections on my relationship to the natural world… and the broader implications for society. Order any and all from your local indie bookstore, or find them on IndieBound or other online sources such as Amazon and LifeRich.
https://stevejonesgbh.com/wp-content/uploads/2022/09/IMG_5412.jpg-09.10.22-11.31-OLLI-Hikers.jpg
1200
900
Steve Jones
http://stevejonesgbh.com/wp-content/uploads/2017/01/gbhweblogo.png
Steve Jones
2022-10-26 16:41:28
2022-10-26 16:41:28
Cold Spring Loop Trail