I offer this as a new Post, yet it encapsulates three previous Posts from my earlier wanderings on the Land Trust of North Alabama's Chapman Mountain Nature Preserve in Madison County Alabama. My reason for this break from my normal routine is simple — I will participate October in presenting a Project Learning Tree (PLT) workshop to self-selected area school teachers. Project Learning Tree is an award-winning environmental education program designed for teachers and other educators, parents, and community leaders working with youth from preschool through grade 12. PLT activities and resources enable teachers and engage children in learning about the environment through the lens of trees and forests. I love the PLT tagline: Learning is in Our Nature!
My co-presenters requested that I compile these prior photo-essays into a single Post…without my usual Great Blue Heron references…to share in advance with workshop registrants.
I begin with four photographs from the PLT planning team session on-site September 20, 2022.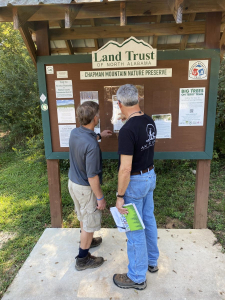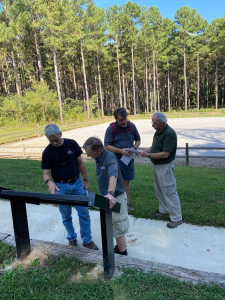 The shelter below left, with the adjacent hardwood forest and the old-field pine across the parking lot, offers a perfect location for the workshop come rain or shine!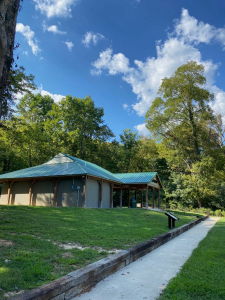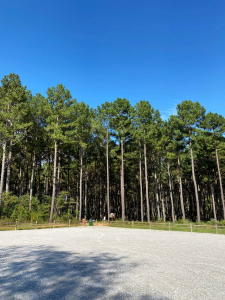 I am hoping for strong attendance and eager educators. I look forward to the learning that comes from the process of "teaching"!
The three prior photo-essays are, respectively, from:
June 23, 2021 reporting on my April 3, 2021 visit
June 16, 2021 also reporting on my April 3, 2021 visit
November 28, 2019 reporting on my November 6, 2019 visit
April 3, 2021 I revisited Chapman Mountain Nature Preserve, just east of Huntsville, Alabama (USA). See my November 28, 2019 Great Blue Heron Blog Post for previous reflections: http://stevejonesgbh.com/2019/11/28/happy-thanksgiving-chapman-mountain-nature-preserves-terry-big-tree-trail/
And my June 16 Post about the fierce competition for canopy space within the Chapman Mountain forests: http://stevejonesgbh.com/2021/06/16/spring-visit-to-chapman-mountain-nature-preserve-the-intersection-of-human-and-natural-history/
From the Land Trust of North Alabama website: Chapman Mountain Nature Preserve is a 472 acre property located just to the east of Huntsville on HWY 72. While we have plans for 10 miles of trails, a little over 3 miles are currently open and ready to explore. Like all of our public preserves, Chapman Mountain is open dawn to dusk and access is free. These trails are not just for hiking though. Mountain bikers and horseback riders are also welcome and an 18-hole disc golf course is now open to play.
With this current Post, I offer reflections on the interplay of natural and human history on this, and nearly every forested property in northern Alabama. From an interpretive sign along the Terry Trail:
Along the trail you may notice an assortment of abandoned objects, from rusted metal waste, discarded household and farm items to an old car. We have chosen to leave these reminders of the history of this land, which was previously a working farm. Parts of the Terry Trail follow an old farm access road and the preserve includes remnants of an old homestead and barn. Use your imagination to visualize what this area may have looked like in the past and what it may look like in the future. Nature will continue to slowly change this site until one day these objects and this site's history will no longer be apparent.
Native Americans occupied (extensive impact) the entire eastern US for at least 12,000 years prior to European settlement. Over the past 200 years, the European newcomers left the mark of their intensive management and settlement. So, picture as recently as 50 years ago a working farm, on-site residents, tilled land, pasture, and woodlots.
Interaction of Human and Natural History
Across the parking lot from the trailheads, loblolly pine trees shelter the 18-hole disc golf course. The flat land had been tilled into the 1980s. Consulting forester Brian Bradley told me that a 1985 aerial photo shows the field still in crops. By the mid 1990s the field has seeded naturally to pine from adjoining mature loblolly. The pine captured the site effectively. There is very little understory of ground vegetation and brush, the effect enhanced by what Brian describes as a very good prescribed fire in 2018. There is no sub-canopy of hardwood saplings and poles. The stand is pure, even-aged loblolly pine. Some day I will extract an increment core to determine the exact year of establishment (i.e. age). Brian revealed that a reliable logger thinned the stand in 2014-15, giving it the current look of a well-tended planted stand with stems evenly distributed. Brian, when pressed to give me his best estimate for stand age, offered his answer of 32+/- years, an estimate I embrace wholeheartedly! We also agree that the main canopy averages 75 feet.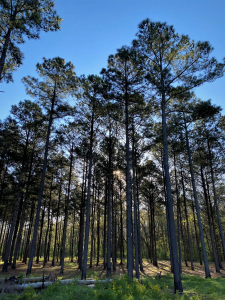 Within the current forest this stone wall perhaps served one or more of several purposes:
Separated adjoining pastures
Divided pasture from cropland or garden
Resulted from stacking field stones removed from tilled land or improved pasture
No matter its intended function, the wall will outlast all of us, and in the meantime serve to memorialize the coarse hands and hard labor of those who built the wall. For those of us today who labor at our keyboards, what will be the physical manifestation of our work? I doubt that we will develop calloused fingertips or even a sun-blistered neck!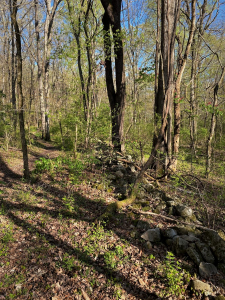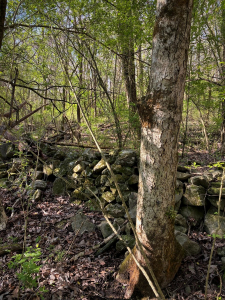 This now-massive American beech germinated from a beech nut that some squirrel, during the active days of the farm, cached among the stacked stones and failed to rediscover and consume. The beech grew for many years before the managed lands on either side of the wall reverted to forest cover. Its neighbors are younger by decades. The beech tree did not grow alone and without company. The huge spiral of dead grapevine grew tall with the beech, and has now reached beyond its terminal age, still weakly vertical and doomed within just a few years to finding home in decay on the forest floor. To every thing there is a season, whether grapevine or beech tree. A dead stem of unidentified hardwood species stands to the right of the beech in this image. I wonder how many Terry Trail hikers notice and appreciate the unique beauty of this trio? I see it as a sculpture, a work of art rich with its own legible historic context and story.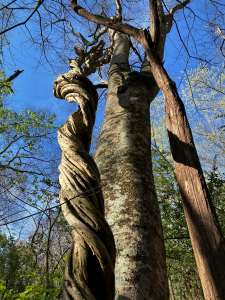 Below left the Terry Trail diverges to the left. An old farm access road extends straight from the photo point. Oh, the stories it might tell! I'm reminded of the jungle-covered Mayan cities, almost invisible to casual observers. I wonder were modern humans to disappear from our fine planet today, would the evidence of our existence be as hard to discern 1,300 years hence? Interstate 65 passes just 15 miles west of Huntsville. What could Nature accomplish with that 300-foot wide right of way over 13 centuries of abandonment? How long do asphalt, concrete, and steel persist without ongoing maintenance? How long before mowed shoulders and medium strips revert to deep forest? How long until Central Park consumes all of Manhattan Island? The narrow abandoned dirt road below is already nearly invisible to those who do not speak the language of reading the landscape.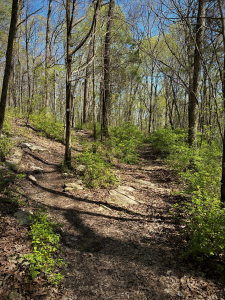 Marie Bostic, Executive Director of the Trust, tells me that nearly every Land Trust of North Alabama preserve carries a story of at least one on-site still. This side trail leads to a spring head where the old still is rumored to have provided the homestead residents with the vital natural medicine. Distillation has rewarded civilized humans for at least 1,000 years:
The origin of whiskey began over 1000 years ago when distillation made the migration from mainland Europe into Scotland and Ireland via traveling monks. The Scottish and Irish monasteries, lacking the vineyards and grapes of the continent, turned to fermenting grain mash, resulting in the first distillations of modern whisky (Online from Bottleneck Management).
Why should the homesteaders on Chapman Mountain be deprived of the golden elixir?!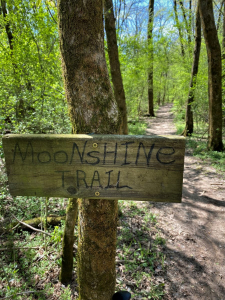 Trees have been eating barbed wired since the fencing breakthrough first received a patent in 1874. Nail or staple a wire to a living tree…and watch the tree inexorably consume the wire. This fence-eating oak is along an old fence line at the preserve. I frequently find long-abandoned wire fences across northern Alabama, cutting across what many would consider an undisturbed forest.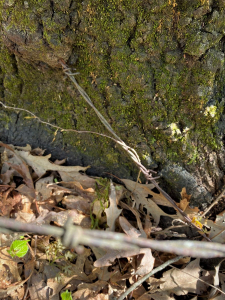 I normally like to see old trash removed from recreational land. However, I applaud the Land Trust for preserving the very real evidence of wildland domestication to tell the story of past land use. Nature is the ultimate healer. She will eventually erase the direct evidence. The old forest access road will meld into the forest. Even the old automobile will rust into oblivion. Only the rock fence will withstand centuries, (perhaps millennia) of weathering.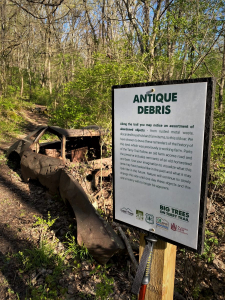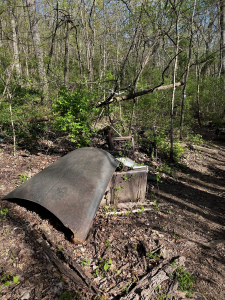 I have made reading the forested landscape one of my focal points for my wanderings and then writing these subsequent blog posts. I've said often that every tree, every forested parcel, and every landscape has a story to tell. I am intent upon learning more about the language Nature employs to leave her messages. Here I remind you of my five essential verbs.
Believe — I know the story is there; I believe that it is written in the forest.
Look — I cannot walk blindly and distractedly through the forest; I must look intently and deeply. The truth will not leap from the underbrush.
See — I must look deeply enough to see; to see the story Nature tells…and keeps hidden in plain sight.
Feel — I insist upon seeing clearly enough to evoke my own feelings of passion for place and everyday Nature.
Act — My passion needs to be intense enough to spur action: my writing, speaking, and doing what is necessary to promote informed and responsible Earth stewardship.
Thoughts and Reflections
I offer these reflections:
Rarely are our north Alabama forests untrammeled by the hand of man.
Today's forests tell the story of past use, particularly the influence of post-European attempts at domestication.
Understanding the forest past adds to my Nature inspiration and appreciation.
Inhale and absorb Nature's elixir. May Nature Inspire, Inform, and Reward you!
April 3, 2021 I revisited Chapman Mountain Nature Preserve, just east of Huntsville, Alabama. See my November 28, 2019 Great Blue Heron Blog Post for previous reflections: http://stevejonesgbh.com/2019/11/28/happy-thanksgiving-chapman-mountain-nature-preserves-terry-big-tree-trail/
From the Land Trust of North Alabama website: Chapman Mountain Nature Preserve is a 472 acre property located just to the east of Huntsville on HWY 72. While we have plans for 10 miles of trails, a little over 3 miles are currently open and ready to explore. Like all of our public preserves, Chapman Mountain is open dawn to dusk and access is free. These trails are not just for hiking though. Mountain bikers and horseback riders are also welcome and an 18-hole disc golf course is now open to play.
With this current Post, I offer reflections on the intense inter-tree competition for sunlight, and the consequences of that fierce struggle within the forest, and pose some observations about the interplay of natural and human history on this…and nearly every…forested property in northern Alabama. I'll begin by mentioning the forest diversity across the Nature Preserve.
Forest Diversity
Evergreen tree species on-site include loblolly pine (below left), eastern red cedar and shortleaf pine (further below). Hardwood forest  (typical stand below right) species include: yellow poplar; black, chestnut, northern red, white, and chinkapin oaks; shagbark and pignut hickories; green ash; black walnut; persimmon; American elm; osage orange; honey locust; red and Ohio buckeyes; and dogwood. The list may not be exhaustive.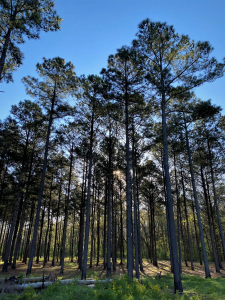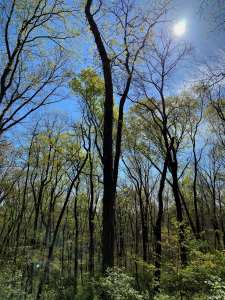 Eastern red cedar is another of our common evergreen species. This individual is one of the very few I saw thriving in the main canopy. The species is a pioneer. Birds disseminate the seeds widely by consuming the fruit and passing the hard inner-seed, scarified by digestive juices, as they forage for insects and seeds in areas disturbed by fire, timber harvesting, or grazing. Cedar often remains in maturing stands like the Chapman Mountain forests, but often as residuals under the topmost canopy.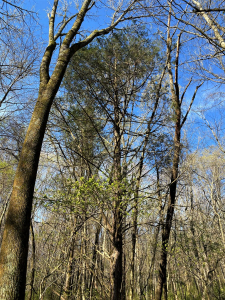 Although situated off-trail, I found this shortleaf pine, with its circumferential bird-peck-agitated bark deformity, reaching high into the hardwood canopy. Note its narrow crown relative to the adjacent hardwoods, especially the wide-spreading white oak at the lower left of the image. I will say more about relative density, a forestry term that indicates the variability of crown space demanded by species. For any given tree base diameter, shortleaf pine expresses a lower relative density than white oak. On identical sites, a fully stocked stand of 12-inch-diameter shortleaf will have more stems per acre than a stand of 12-inch white oak.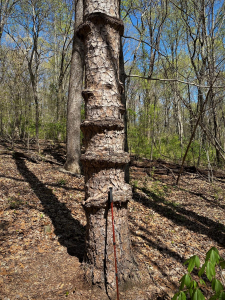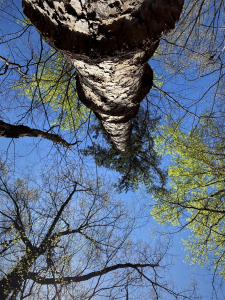 Battle for Canopy Space
The relative density discussion around the shortleaf pine above sets the stage for transitioning into the battle for canopy space. Think about the essential factors for tree growth and development:
Rooting volume (soil depth)
Soil moisture
Soil nutrients
Sunlight
Temperature (soil and air)
My doctoral dissertation evaluated the effects of these factors (and surrogates for them) for Allegheny Hardwood forests of NW Pennsylvania and SW New York. We can't see direct evidence of the fierce belowground competition for soil volume, moisture, and nutrients. I am beginning to focus greater attention on the upper canopy battle for sunlight.
We saw the very narrow shortleaf pine crown relative to the adjacent white oak. In contrast to the white oak, the green ash (below left) and southern red oak (below right) have narrow crowns.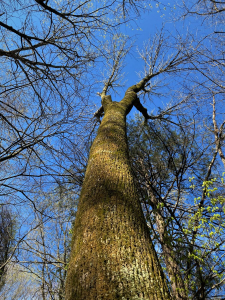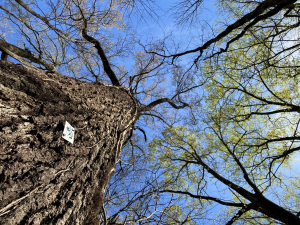 The white oak crowns below are massive. This species demands a lot of aerial space. Thus, its relative density is high.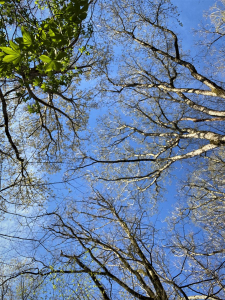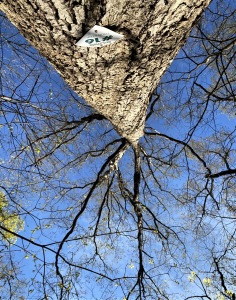 Below are adjacent white oak and red oak crowns, with white oak (lower half of frame) commanding far greater space. If I limited my examination to only eye level, I would see the two individuals at roughly the same diameter. Like the blind men and the elephant, we cannot limit our forest assessment to only one facet. I'm learning more and more. And, the more I learn, the less I realize that I know. That is a fact of life for the inquisitive…the student of life and living.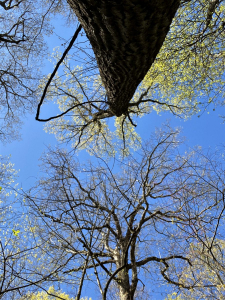 Black walnut stands adjacent to a white oak in the image below. Keep in mind that this stand is even-aged, regenerated following a disturbance, probably continuing fuelwood production up to the time of farm abandonment. All of the trees are likely within a 10-15 year age range. The walnut and white oak began their vertical development concurrently. Importantly, black walnut is shade intolerant. The USDA Agricultural handbook No. 271, Silvics of Forest Trees of the US: "In mixed forest stands, it must be in a dominant position to maintain itself." The black walnut below (left side of image) is in the main canopy, but the white oak has muscled the walnut, forcing its crown far to the left, struggling to maintain its main canopy position. I wonder how much longer the walnut will remain in the stand.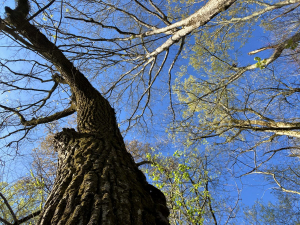 American beech, like white oak, demands lots of crown space. This 30-plus-inch diameter individual commands the canopy, keeping adjacent trees at bay.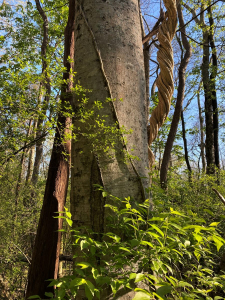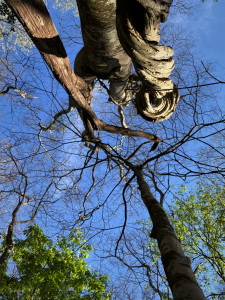 A dead, bark-stripped tree stands to the left (in both images) of the beech. Every battle for crown space yields casualties.
Every Battle Yields Casualties
This recently dead black oak still carries a Terry Big Tree Trail number. All of its fine branches have already fallen. The neighbor trees are closing the canopy void left by the black oak.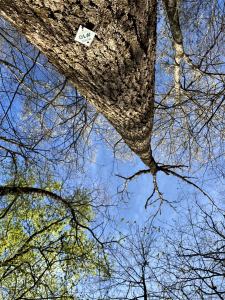 As I've observed repeatedly in these Posts, death is a real and continuing component in the life of a forest. This substantial oak snag bears testimony. I saw no outward evidence of physical trauma (lightning or wind) that may have resulted in death. Instead, I will presume that it failed in the competitive battlefield.
Here's another dead oak with its accompanying canopy void.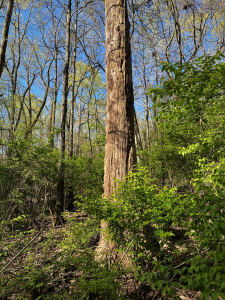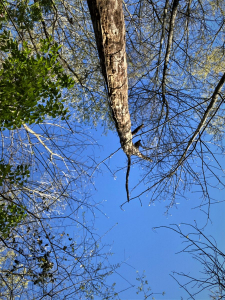 Often the evidence of physical trauma is apparent, whether windthrow (below left) or wind snapping the trunk at its base (below right).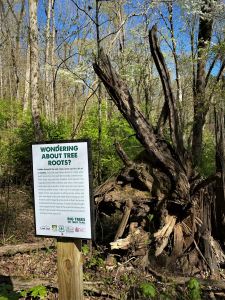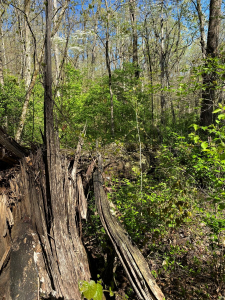 Site resources are finite. The competition for those fixed assets is a zero sum game. Some trees continue to grow and thrive at the expense of others.
To the Survivors Go the Spoils
Simply, to the victors go the spoils. Multiple windblown individual main canopy oak trees (below left) resulted in a large canopy opening (below right). A windfall (pardon the pun) of sunlight for the survivors. Adjacent trees will vie for the bounty of sunlight. Until the void closes, sunlight reaching the forest floor will generate a flush of vigor for herbaceous and woody growth in plants who patiently await just such disturbance. The entire ecosystem knows perturbance and sustains itself on the process of life, death, stability, and disturbance. The forest changes and persists.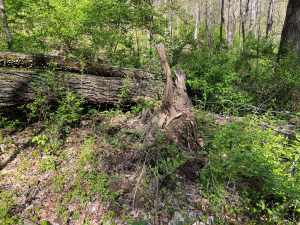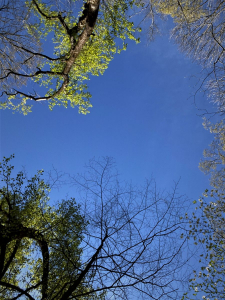 Disturbance yields more than sunlight. Downed trees and branches decay quite rapidly in our warm and moist climate. Moss drapes the log below left. Fungi sprouting the devil's urn mushrooms (below right) are just one of the innumerable species of decay fungi returning organic matter and nutrients to the soil.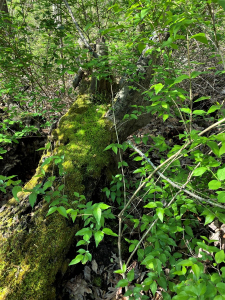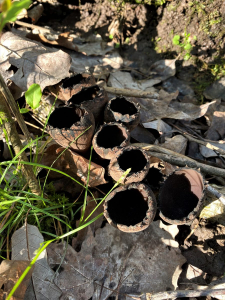 The decay process is certain and predictable. The downed log below left will eventually decay to the more advanced condition below right and, in time, will incorporate fully into the soil organic matter.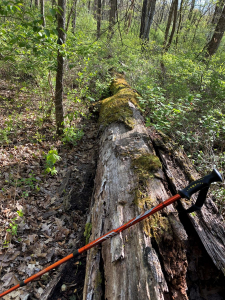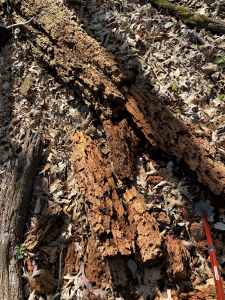 Thoughts and Reflections
I offer these reflections:
Forest diversity offers a richness worth noticing.
Life and death dance without end in our forests.
To the victor go the spoils.
Inhale and absorb Nature's elixir. May Nature Inspire, Inform, and Reward you!
It's Thanksgiving 2019. I am thankful… for Nature's beauty, magic, wonder, and awe right here in my backyard; the neighborhood; the County; across the southeast US; nationally; and globally. Take a quick peek at my roughly 50 2019 Great Blue Heron Blog Posts (http://stevejonesgbh.com/blog/). Nature abounds and rewards, whether it's the three National Parks I visited and wrote about in southeastern Kazakhstan, or our own Yellowstone and Teton National Parks. Or our magnificent Alabama State Parks.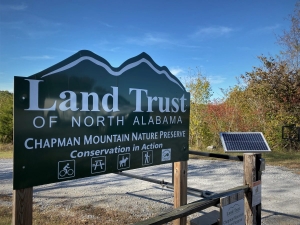 Or one of the natural treasures preserved and managed locally by the Land Trust of North Alabama (https://www.landtrustnal.org/). November 6, 2019 I visited a new trail on one of the Land Trust's tracts (https://www.landtrustnal.org/properties/chapman-mountain-preserve/):
Chapman Mountain Nature Preserve, our 7th public preserve, is a 371 acre property located just to the east of Huntsville on HWY 72. While we have plans for 10 miles of trails, a little over 3 miles are currently open and ready to explore. Like all of our public preserves, Chapman Mountain is open dawn to dusk. These trails are not just for hiking though. Mountain bikers and horseback riders are also welcome.​
My companions and I walked the Terry Big Tree Trail: Named for the family who donated the property, this one mile journey takes you to the northern end of the property and back again. Along the way you'll see large hardwoods, mossy rocks, and an old roadway.
Allow me to introduce you to the Terry Trail with photos and reflections.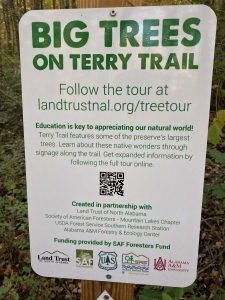 I love the Land Trust's tagline: Conservation in Action! As a former four-time university president, I hold that application adds value to knowledge. Applying knowledge (driven by dedication and passion) brings action to bear. Without applying action to conservation, humanity, communities, and individuals practice only a shallow and meaningless conservation inaction. Amazing how removing that one space changes the entire essence. Talking alone can amount merely to conservation virtue-signaling. The Land Trust gets it done! I applaud its action, guided by a succinct and noble mission: The Land Trust preserves land and its legacies for conservation, public recreation, and environmental education to enhance quality of life in North Alabama now and for the future.
Environmental Action
Good to see that education is an explicit underpinning of the mission. I've long held that understanding Nature enhances our appreciation and deepens our commitment to stewardship and action. Knowledge enables and inspires action. The Tree Big Tree Trail masterfully incorporates education in a way that enhances the experience without "burdening" the hiker with learning. Who can resist Fun Facts!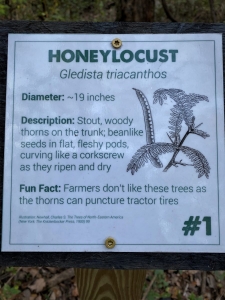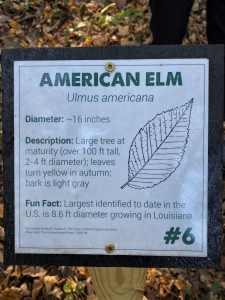 I am addicted to many facets of Nature, including tree bark. Ah, to be ant-size and explore these green ash (Fraxinus pennsylvanica) furrows! In this case, feeling is a major component of seeing. Reach out and touch a tree!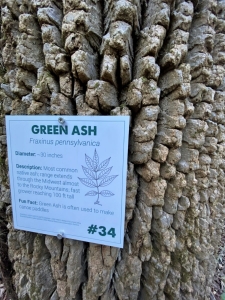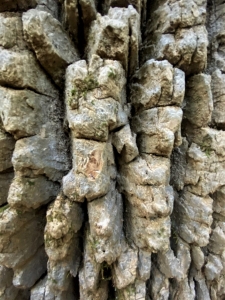 My intent with this Post is not to offer an exhaustive documentary of the Terry Trail. Instead, in this time of Thanksgiving, I want to introduce you to one example of the Land Trust's efforts and results, urge you to visit, applaud the dedicated staff and volunteers, and urge your involvement. I am grateful for my fellow citizens who practice Conservation In Action!
I'm a maple syrup purist — don't expect me to eat a pancake or waffle without the real stuff! And while I seldom find persimmons that are just the right ripeness, I do love the tree's distinctive blocky bark. Again, a feature hard not to touch.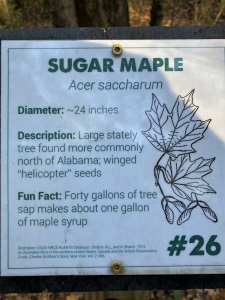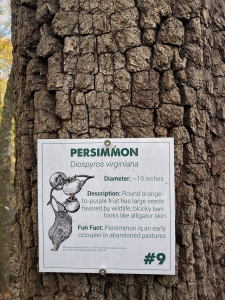 Some Magic Along the Way
I accepted Dr. Callie Schweitzer (US Forest Service Research Scientist) and US FS Research Forester Ryan Sisk's invitation to hike the trail with them. They are both located here in the Forest Service's Huntsville office. They know the tract (and their craft) quite well. We marveled at the size of the twin white oaks (Quercus alba) below… and appreciated the yellow-tinted fall forest. Recall Robert Frost's words in The Road Not Taken:
Two roads diverged in a yellow wood,
And sorry I could not travel both
And be one traveler, long I stood
And looked down one as far as I could
To where it bent in the undergrowth;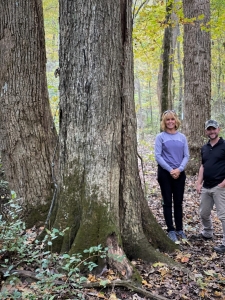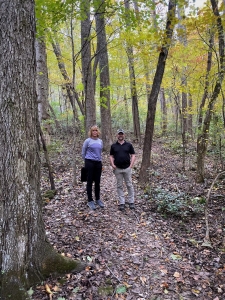 I am not sure whether these paths represent the complex metaphor Frost contemplated in his epic poem: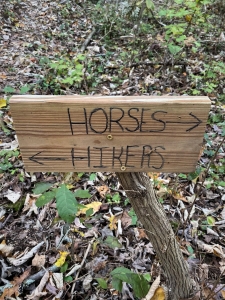 I always appreciate imaginative place names. Although absent water, the jumble and tumble of mossy boulders in seeming cascade certainly evoked the moniker.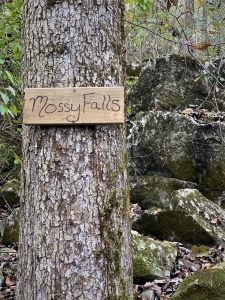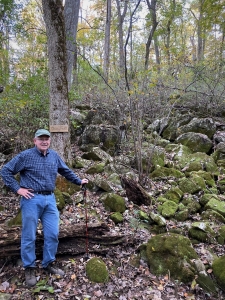 We found several junctures where two roads in fact diverged in a yellow wood. I liked the notion of a Whole Planet Trail. Where does it start? End? Better pack lots of food and water for such a trek! I think I'd prefer the Moonshine Trail, which brings to mind a warm still-fire in a secluded cove, a lookout with eyes peeled for revenuers, a strong toast or two, and lots of colorful stories of dark woods and narrow escapes.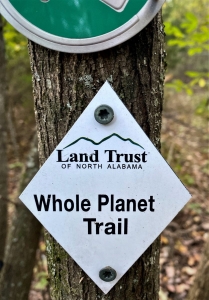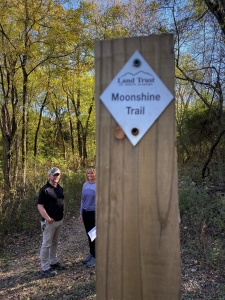 The Magic of Nature's Tree Form Oddities
Below left is the Terry Trail's official representative black oak (Quercus velutina), meeting the requisite size and regal criteria. However, I found greater satisfaction and appreciation for the black oak specimen below right, raising its arms in glorious praise of Nature's magic. It brought joy to my heart — Hallelujah!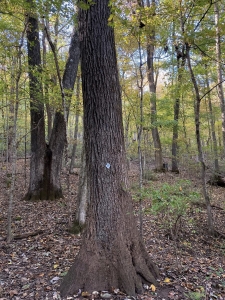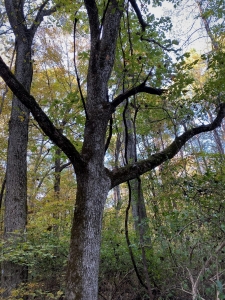 Seeing the expressive oak transported me back 50 years, when Neil Diamond released Brother Loves Traveling Salvation Show:
The room gets suddenly still
And when you'd almost bet
You could hear yourself sweat, he walks in
Eyes black as coal
And when he lifts his face
Every ear in the place is on him
Starting soft and slow
Like a small earthquake
And when he lets go
Half the valley shakes
It's love, Brother Love say
Brother Love's Traveling Salvation Show
Pack up the babies
And grab the old ladies
And everyone goes
'Cause everyone knows
'Bout Brother Love's show
From this day forward, I will know this oak as Brother Love!
And how about the substantial hickory (Carya sp.) burl below left. Think of it as a kind of tumor. And the wonderful circumferential welts stimulated by yellow belied sapsucker bird pecks. I suspect both unusual growth patterns involve fungal and/or viral agents.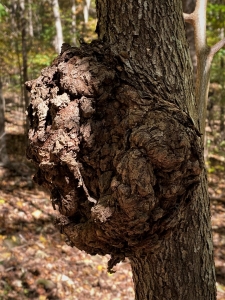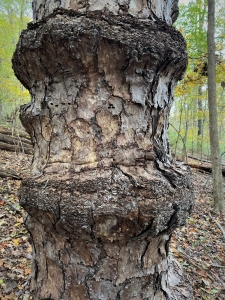 Look closely at the twin white oak. The two stems have grown closed, except for a thin strip of separation remaining below the seamed callous where they are conjoined. No healing for the large hickory wind-throw along the trail. The blow-down will bring full sunlight to the forest floor where the tree has left a sizable canopy gap. Although I won't offer an in-depth discussion now, I am concerned about how a certain ubiquitous invasive will impact succession on this tract. Shrub honeysuckle (Lonicera sp.) is already capturing much of the understory, for example the green shrubs beyond the downed hickory.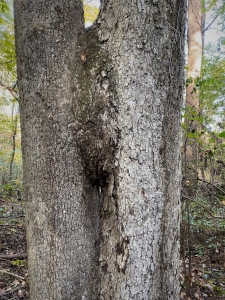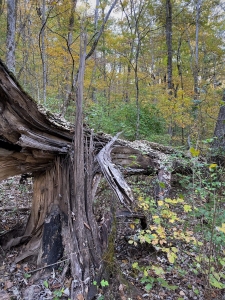 A fall woodland scene on the Chapman Forest Preserve appears so peacefully serene in the photo below, yet in truth a fierce battle is at play. The understory green is the invader, slowly capturing the site, consuming all dappled sunlight that would otherwise sustain spring and summer ephemerals and forest regeneration. For now, focus on the beauty of the scene below. I'll save deeper discussion of this invasive here in northern Alabama for a future Post… a broader examination of a serious threat.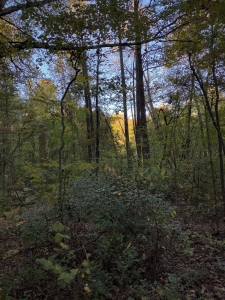 And it's easy to leave you with the positive. The yellow wood sets the mood for a fitting end to my first hike on the Terry Trail. The lowering sun offers promise, inspiration, and a soon-to-settle season of rest and renewal. It signals the generosity of those who donated the land, and the selfless dedication of Land Trust volunteers and staff.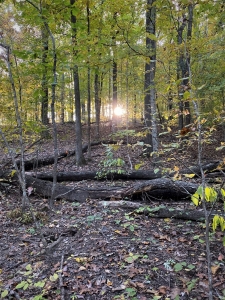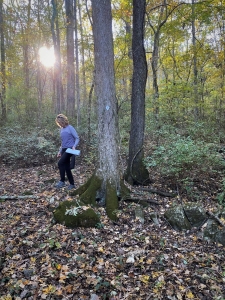 The Trail evidences that Conservation In Action is essential to creating a brighter tomorrow.  Visit the web page. Get involved. Act!
Thoughts and Reflections
I wrote my books Nature Based Leadership (2016), Nature-Inspired Learning and Leading (2017), and Weaned Seals and Snowy Summits: Stories of Passion for Place and Everyday Nature (2019; co-authored with Dr. Jennifer Wilhoit) to encourage all citizens to recognize and appreciate that every lesson for living, learning, serving, and leading is either written indelibly in or is powerfully inspired by Nature. All three are available on Amazon and other online sources.
Here are the four succinct truths I draw from this Blog Post:
Conservation In Action can…and will…change the world, one special place at a time

Conservation of all wildness is an act of selfless resolve and harnessed passion

We can dedicate ourselves one step at a time… progress is normally incremental

Be thankful for every small step… celebrate every victory
Inhale and absorb Nature's elixir. May Nature Inspire and Reward you!
http://stevejonesgbh.com/wp-content/uploads/2022/09/IMG_5442-1.jpg-09.21.22-Chapman-Mtn-NP-PLT-Brian-Bob.jpg
1200
900
Steve Jones
http://stevejonesgbh.com/wp-content/uploads/2017/01/gbhweblogo.png
Steve Jones
2022-09-22 08:50:10
2022-09-22 08:50:10
Special Post for October 2022 PLT Training