August 16, 2022, I hiked the Racetrack Trail at Wade Mountain Nature Preserve just north of Huntsville, Alabama. Jim Chamberlain, friend and fellow nature enthusiast (below left), led the way on our early morning venture. He had hiked the preserve multiple times; this was my first visit to Wade Mountain. Like all of the Land Trust of North Alabama preserves, Wade Mountain is a cooperative venture (below right).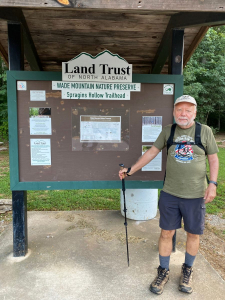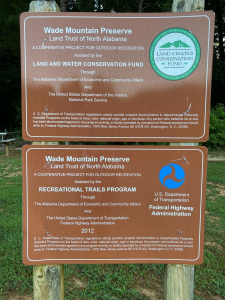 I've photographed two other Land Trust of North Alabama Hug Me trees on two other Land Trust of North Alabama properties (Bradford Creek Greenway and Rainbow Mountain Nature Preserve). I appreciate the welcome to reach out, touch, and toast a fellow forest denizen.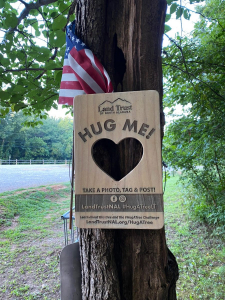 Although we spent just a single morning on the preserve, I view the hike as two distinct segments. This Post encompasses what we saw on the more typical forest we hiked on our trek to the actual ridgetop racetrack, which circuits a limestone glade, a unique floristic community.  I'll offer separate reflections, observations, and photographs on the glade for the subsequent Wade Mountain Post.
Pleasant Forest Trail
The early, lower slope trail transits an old field forest of loblolly pine and mixed hardwoods. I've learned that much of northern Alabama forestland saw attempted agricultural domestication during the 19th and early 20th centuries. Virtually every acre of original (at time of European settlement) forest experienced at least one round of timber harvesting, often leading to cropland or pasture. The cropped non-bottomland acreage fell victim to erosion, loss of fertility, bankruptcy, or other causal abandonment. Nature effectively regenerated the failed agricultural land to successional pine and hardwood. Some of the pine in the photos below may have been planted; most lands regenerated naturally.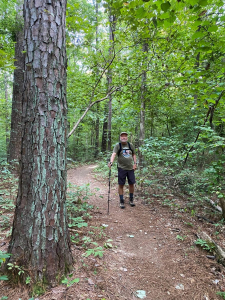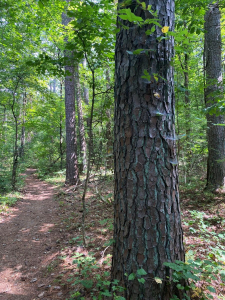 The ash below stands tall and straight. I've been a big fan of ash since my forestry undergraduate days and well into my early forestry career. Both green and white ash (both native here) prefer more fertile sites, reaching vertically with clear bole, competing effectively for space in the upper crown. Its wood is highly prized for furniture. I've used it with preference for firewood. It splits ever-so-easily and burns with high BTU generation. This individual measured about 18 inches DBH and reached branch-free 50 feet.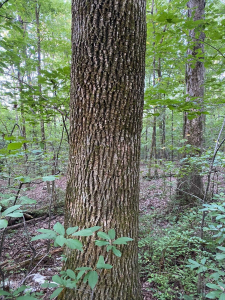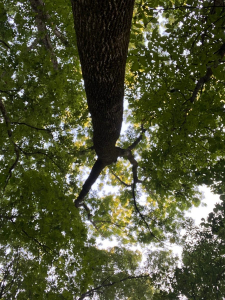 Like all public access Land Trust of North Alabama preserves, the trails are clearly marked, well-maintained, and have occasional benches.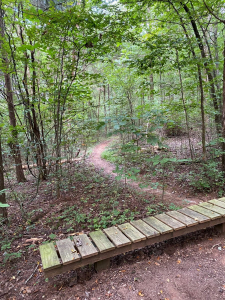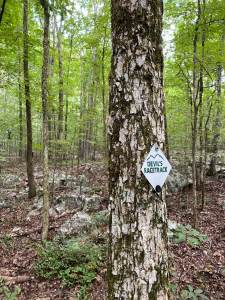 Here's the 2:45 video I recorded midway to the ridgetop limestone glade:
The video provides a nice example of what is a gentle hike through a forest typical of upland northern Alabama.
Special Features
Many special features caught our eye, most of it hidden in plain sight. This mockernut hickory, a species common along our route, evidenced continuing yellow bellied sapsucker bird-peck. Bird peck generally does not reduce tree vigor. Sources indicate that wounds occasionally serve as infection courts for wood decay fungi.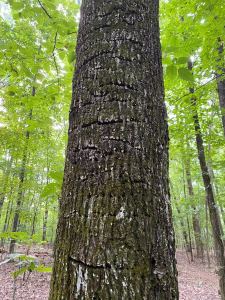 While in most cases not harming the tree, bird peck results in lessening the commercial value for wood products. My first exposure to bird peck as a lumber defect came in undergraduate forestry studies. Here's a photo of bird peck as a lumber grade defect from an online Mississippi State Cooperative Extension publication.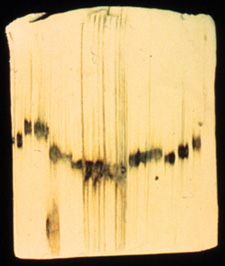 The defect took on much greater significance during my early career when I purchased standing sawtimber to supply my employer's hardwood sawmill in Waverly, Virginia (Union Camp Corporation) early in my forestry career.
I've mentioned repeatedly in these Posts that life and death operate in tandem within our forests…and that nothing in Nature is static. This 15″ DBH (diameter breast height) red oak toppled across the trail within the past 2-5 years. I know it was living when wind (most likely) brought it to the ground. How do I know? See the root ball, evidencing that pliant roots were still grasping the soil, obviously wrenched free by the violent action.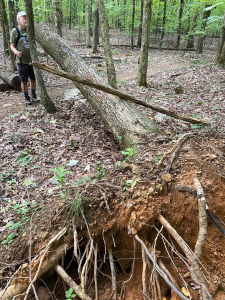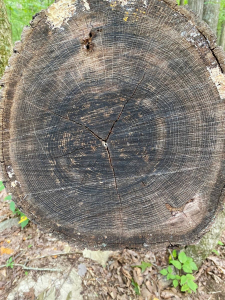 How do I know that the leafless tree is a red oak? The chainsawed cross-section has open pores; white oaks have closed pores, filled with tyloses. Thank heavens for closed white oak pores; without them, barrels would leak, which for example would not be good for Jack Daniels or for those of us who enjoy such fermented and aged libations!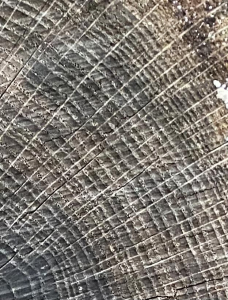 This oak died standing. When physics brought the tree to its horizontal resting place, its roots had already decayed. Roots had long since become brittle and weak, no longer able to hold the tree against even gentle forces of wind and gravity. Nature has many secrets to share with those who have learned her ways.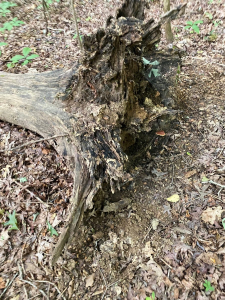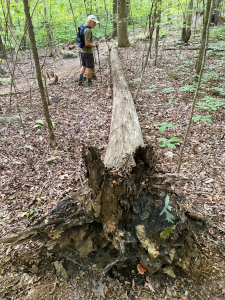 Jim stands beside a hollow white oak. My forensic forestry observations tell me that this tree began life as a twin. At some point decades ago the twin on this side crashed toward the photo point in a storm, leaving a gaping wound welcoming decay fungi that have since hollowed the trunk. Note in the closer look (below right) a mushroom within the hollow. I suppose it is associated with the decay fungi or other fungi working on jettisoned organic matter within the cavity.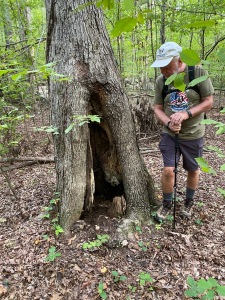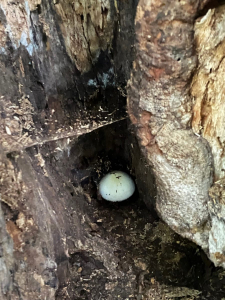 I use that white mushroom to segue from special features of the forest to special finds within the forest's fungi kingdom.
Special Fungi Kingdom Finds
I grow increasingly fascinated with fungi, owing in part to my retirement pursuit of wild edible mushrooms and, in large measure, to now having time for learning more about all facets of our forests.
This is Coker's amanita, a spiked globe when just emerging (left). The top flattens considerably as it spreads, and the spikes appear as scales. Our visit coincided with a particularly showy time for this species.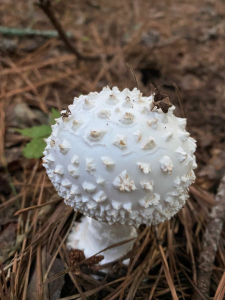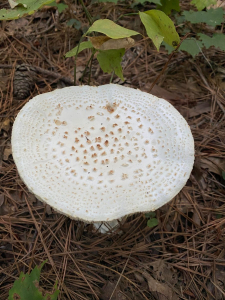 Jim Chamberlain's photo below shows me taking the image above left, providing a sense of scale…and giving proof that I can still get on my knees in pursuit of mushroom close-ups.
Jim Chamberlain Photo
This pallid bolete likewise presented as newly emerged and fresh. My bookshelf and online references are not in full agreement on its edibility. Therefore, I have not ventured into testing. I plan next season to pay greater attention to the local boletes, learning to distinguish those that are table-worthy.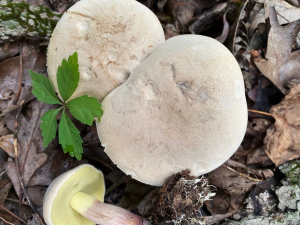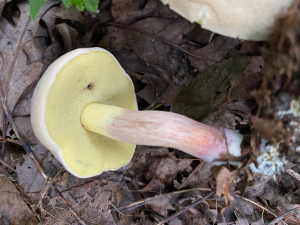 In contrast, I have full confidence in collecting and consuming summer oysters. However, I do not collect on Land Trust Nature Preserves. I simply collected the images.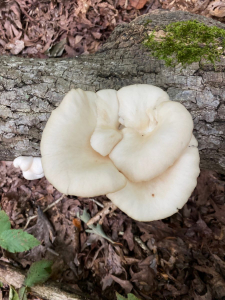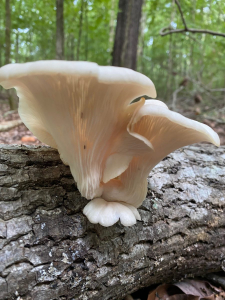 I've found this to be a spartan season for mushroom observation and collection. The weather? The natural cyclical nature of mushroom reproduction? I don't know. The mushrooming internet sites I occasionally visit have likewise reported a generally disappointing summer.
Rock Features
Nature does indeed abhor a vacuum, this lichen-covered rock serving as a prime example. However, I must offer a caveat. In our human terms, the rock offers a most hostile environment. In contrast, the evidence, a dense crustose lichen colony, carries the day. Obviously, the lichen is quite happy with the surface. I've observed before in these Posts that lichen requires little, and the rock offers quite a bit of just that!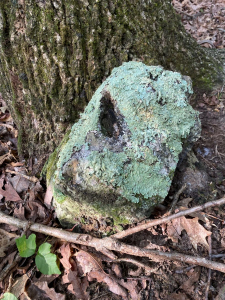 The lichen-crusted rock offers much to the dedicated and observant Nature enthusiast — a gift of beauty and marvel!
Water can be very creative and artistic with limestones, working its magic with physical and chemical weathering. I wondered what special forces aligned to create this perfectly cylindrical hole. We had a little fun with it, but could not offer an explanation for its formation. I've learned that reward in exploring Nature sometimes derives from not having all the answers. The universe…and the forest…is replete with phenomena beyond our understanding. I've observed often that the more I learn the less I know.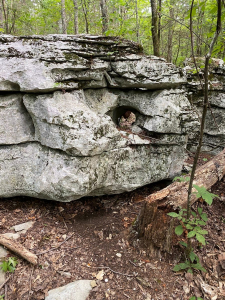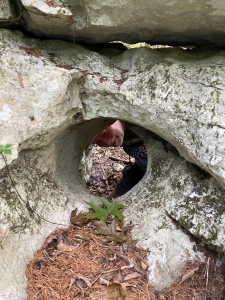 The forests I wander are home to countless such special features.
Way Down Yonder in the Paw Paw Patch
I grew up in western Maryland just 30 miles from Paw Paw, West Virginia. Paw paw trees (lower and mid-canopy) were common in the central Appalachian forests. I had not anticipated seeing the species here in northern Alabama, yet I see them frequently, usually as an understory shrub. I just liked the notion of sharing these photos of Way Down Yonder in the Wade Mountain Nature Preserve Paw Paw Patch!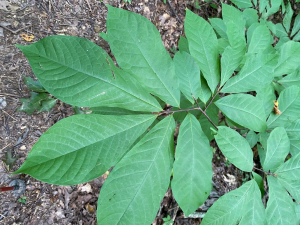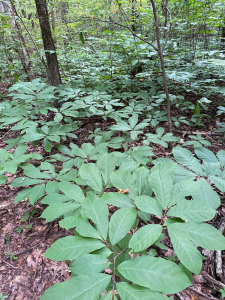 Every place in Nature has a unique character and special features. Learn to be ever-vigilant in your search for both. You will never be disappointed in what you discover, often hidden in plain sight.
Thoughts and Reflections
I offer these thoughts:
First visits to a new Nature Preserve offer special rewards.
Each place in Nature has a unique character and tells its own story.
Inhale and absorb Nature's elixir, whether on an initial exploration or during each return visit!
Note: All blog post images created & photographed by Stephen B. Jones unless otherwise noted. Please circulate images with photo credit: "©2022 Steve Jones, Great Blue Heron LLC. All Rights Reserved."
Another Note: If you came to this post via a Facebook posting or by an another route, please sign up now (no cost… no obligation) to receive my Blog Post email alerts: http://eepurl.com/cKLJdL
And a Third: I am available for Nature-Inspired Speaking, Writing, and Consulting — contact me at steve.jones.0524@gmail.com
Reminder of my Personal and Professional Purpose, Passion, and Cause
If only more of us viewed our precious environment through the filters I employ. If only my mission and vision could be multiplied untold orders of magnitude:
Mission: Employ writing and speaking to educate, inspire, and enable readers and listeners to understand, appreciate, and enjoy Nature… and accept and practice Earth Stewardship.
Vision:
People of all ages will pay greater attention to and engage more regularly with Nature… and will accept and practice informed and responsible Earth Stewardship.
They will see their relationship to our natural world with new eyes… and will understand more clearly their Earth home.
Tagline/Motto: Steve (Great Blue Heron) encourages and seeks a better tomorrow through Nature-Inspired Living!
Steve's Three Books
I wrote my books Nature Based Leadership (2016), Nature-Inspired Learning and Leading (2017), and Weaned Seals and Snowy Summits: Stories of Passion for Place and Everyday Nature (2019; co-authored with Dr. Jennifer Wilhoit) to encourage all citizens to recognize and appreciate that every lesson for living, learning, serving, and leading is either written indelibly in or is powerfully inspired by Nature.
I began writing books and Posts for several reasons:
I love hiking and exploring in Nature
I see images I want to (and do) capture with my trusty iPhone camera
I enjoy explaining those images — an educator at heart
I don't play golf!
I actually do love writing — it's the hobby I never needed when my career consumed me
Judy suggested my writing is in large measure my legacy to our two kids, our five grandkids, and all the unborn generations beyond
And finally, perhaps my books and Blogs could reach beyond family and touch a few other lives… sow some seeds for the future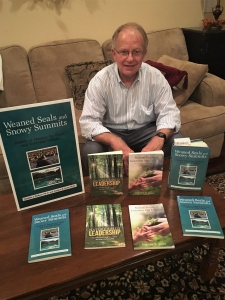 Jim Chamberlain's Photo
All three of my books (Nature Based Leadership; Nature-Inspired Learning and Leading; Weaned Seals and Snowy Summits) present compilations of personal experiences expressing my (and co-author Dr. Wilhoit for Weaned Seals and Snowy Summits) deep passion for Nature. All three books offer observations and reflections on my relationship to the natural world… and the broader implications for society. Order any and all from your local indie bookstore, or find them on IndieBound or other online sources such as Amazon and LifeRich.
https://stevejonesgbh.com/wp-content/uploads/2022/08/IMG_5154.jpg-Wade-Mountain-NP-08.16.22-Near-Trailhead.jpg
1200
900
Steve Jones
http://stevejonesgbh.com/wp-content/uploads/2017/01/gbhweblogo.png
Steve Jones
2022-09-21 13:12:52
2022-09-21 13:12:52
Mid-August Hike -- My First Visit to Wade Mountain Nature Preserve