January 28-29, 2022, I participated in Alabama's Joe Wheeler State Park's Focus on Nature Weekend, a workshop on Nature Photography. I co-led a half-day field excursion on the Park. One element of the outing involved accompanying falconer Matt Whitfield as he worked his three Harris hawks in pursuit of the Park's ubiquitous grey squirrels. I offer relevant observations, reflections, and photographs from the hour we accompanied Matt before our group ventured elsewhere in the Park.
Matt brought Wesson, the lone male among his three Harris hawks, to his demonstration after dinner that evening. Wesson (and Matt) behaved well, showing little sign of agitation or unruliness.
Wikipedia offers a succinct introduction to Harris hawks:
The Harris's hawk (Parabuteo unicinctus), formerly known as the bay-winged hawk or dusky hawk, and known in Latin America as peuco, is a medium-large bird of prey that is a popular species in falconry.
The name is derived from the Greek para, meaning beside, near or like, and the Latin buteo, referring to a kind of buzzard; uni meaning once; and cinctus meaning girdled, referring to the white band at the tip of the tail. John James Audubon gave this bird its English name in honor of his ornithological companion, financial supporter, and friend Edward Harris.
The Harris's hawk is notable for its behavior of hunting cooperatively in packs consisting of tolerant groups, while other raptors often hunt alone. Harris hawks' social nature has been attributed to their intelligence, which makes them easy to train and have made them a popular bird for use in falconry.
Matt and daughter Mattie complemented each other, operating as a team even as the hawks coordinated their activities, Wesson staying high, while the females stayed in the lower and mid canopies. Our Focus on Nature pack trundled along just behind Matt, Mattie, and the hawks.We could not have chosen a better day to surge, pause, surge, pause, repeatedly in pursuit of hawks and squirrels. Note below left that Mattie holds a maul over her shoulder. The hawks flushed two squirrels over a fifteen minute period, chasing them into canopy vine thickets and tree cavities. Mattie whacked the trees' base to prompt the squirrel to make a run for it. In both cases, the respective squirrel eventually found safe harbor.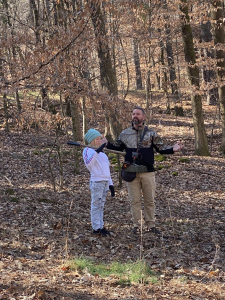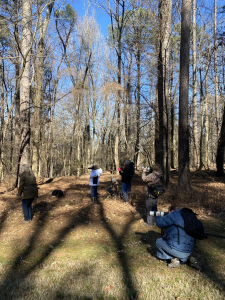 I can see how a nature enthusiast could be attracted to this ancient sport, hobby, and hunting necessity. Leonardo da Vinci observed, Inaction saps the vigor of the mind. There is nothing inactive about falconry, except perhaps the brief rest the females enjoyed as they posed for photos.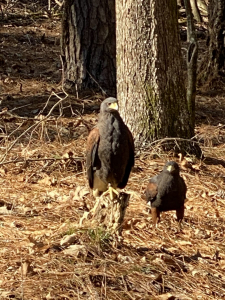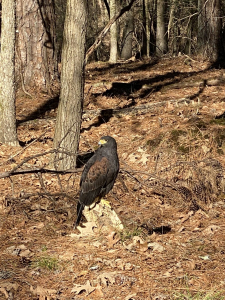 The group's adulation of the birds and their coordinated hunting reminded me of a statement by Richard Louv:
We cannot protect something we do not love, we cannot love what we do not know, and we cannot know what we do not see. Or hear. Or sense. The Nature Principle: Reconnecting with Life in a Virtual Age (2012)
I watched our group during our 60 minutes with Matt, Mattie, and the birds…and heard our expressions of awe, joy, and appreciation. With apologies to Louv, I offer my own applicable modification to Lou's observation:
We cannot effectively photograph something in Nature that we do not love, we cannot love what we do not know, and we cannot know what we do not see. Or hear. Or sense.
Modifying my essential verbs for truly enjoying Nature-wanderings, here are my essential steps for Nature photography:
Learn as much as you can beforehand about the object of your intended photography.
Believe in full measure that Nature's beauty, magic, wonder, and awe lie hidden in plain sight
Look with intensity, not superficially, but deeply enough to see.
Add to your knowledge base with each successive journey into Nature.
As we learn more, our understanding deepens, our love intensifies, our focus sharpens, our eyes (and camera lens) see what had been hidden in plain sight.
Most other workshop participants carried expensive digital cameras with a collection of lenses; I use only my iPhone. I wondered often whether I could improve my photographs and these photo-essay Blog Posts with an investment in camera gear, in effect graduating to "real" photographer. Since the workshop, I'm wavering, but I am not convinced that the resulting improvements would warrant the upgrade. What I am sure of is this:
My iPhone takes good photographs of most elements within Nature that I seek (i.e. landscapes, trees, tree canopies, sky and cloud, grandkids).
I am not happy with my own macro shots — close-up details of flowers, insects, mushrooms, mosses, lichens, etc.
I frequently long for a telephoto lens far stronger than the simple and limited telephoto iPhone function.
I will continue to evaluate the adequacy of my camera gear. I am certain that I reached and perhaps exceeded the limits of my iPhone in capturing Wesson's image in the mid-canopy. The photos I attempted when he perched in the upper canopy showed only a blurry image.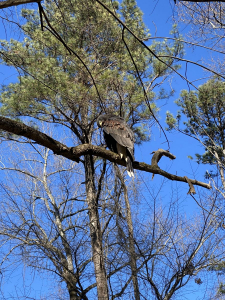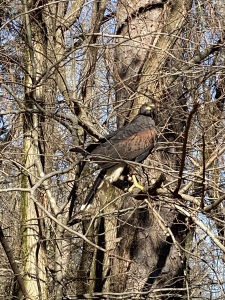 I imagined the life-pressure felt by a hungry wild falcon, perched in the mid-canopy, eyes searching for prey, as Wesson appears to be doing above. Louv once again offered an apt observation:
The pleasure of being alive is brought into sharper focus when you need to pay attention to staying alive ― Richard Louv, The Nature Principle: Human Restoration and the End of Nature-Deficit Disorder.
The sentiment applies to my own Nature-wanderings and the sense of purpose I bring to developing these Great Blue Heron Blog Posts. I want to bring sharper focus to my observations, photography, and reflections. And yes, these endeavors do indeed enhance my pleasure in being alive. Would better camera gear expand or intensify that pleasure? I will ruminate for the time being.
Although I cannot attribute this statement to a particular soure, I often say that whatever the endeavor, I am committed to employing the power of purpose and the passion of my beliefs to the service of reason. I view my purpose as my Retirement Mission:
Employ writing and speaking to educate, inspire, and enable readers and listeners to understand, appreciate, and enjoy Nature… and accept and practice Earth Stewardship.
My passion derives from seventy years as a Nature enthusiast, a devotee of Nature-Inspired Life and Living. I contend that every lesson for living, learning, serving, and leading is either written indelibly in or is powerfully inspired by Nature.
Alabama State Parks Foundation
Thoughts and Reflections
I offer these observations:
Inaction saps the vigor of the mind — Leonardo da Vinci. Action prevailed as we scurried through the forest.
Nature is inexhaustible in its myriad fascinating interrelationships such as among hawk, squirrel, and forest.
Nature photography rests in knowing, understanding, and appreciating the nature of the subject. 
Inhale and absorb Nature's elixir. May Nature Inspire, Inform, and Reward you!
Note: All blog post images created & photographed by Stephen B. Jones unless otherwise noted. Please circulate images with photo credit: "©2022 Steve Jones, Great Blue Heron LLC. All Rights Reserved."
Another Note: If you came to this post via a Facebook posting or by an another route, please sign up now (no cost… no obligation) to receive my Blog Post email alerts: http://eepurl.com/cKLJdL
And a Third: I am available for Nature-Inspired Speaking, Writing, and Consulting — contact me at steve.jones.0524@gmail.com
Reminder of my Personal and Professional Purpose, Passion, and Cause
If only more of us viewed our precious environment through the filters I employ. If only my mission and vision could be multiplied untold orders of magnitude:
Mission: Employ writing and speaking to educate, inspire, and enable readers and listeners to understand, appreciate, and enjoy Nature… and accept and practice Earth Stewardship.
Vision:
People of all ages will pay greater attention to and engage more regularly with Nature… and will accept and practice informed and responsible Earth Stewardship.
They will see their relationship to our natural world with new eyes… and will understand more clearly their Earth home.
Tagline/Motto: Steve (Great Blue Heron) encourages and seeks a better tomorrow through Nature-Inspired Living!
Steve's Three Books
I wrote my books Nature Based Leadership (2016), Nature-Inspired Learning and Leading (2017), and Weaned Seals and Snowy Summits: Stories of Passion for Place and Everyday Nature (2019; co-authored with Dr. Jennifer Wilhoit) to encourage all citizens to recognize and appreciate that every lesson for living, learning, serving, and leading is either written indelibly in or is powerfully inspired by Nature.
I began writing books and Posts for several reasons:
I love hiking and exploring in Nature
I see images I want to (and do) capture with my trusty iPhone camera
I enjoy explaining those images — an educator at heart
I don't play golf!
I actually do love writing — it's the hobby I never needed when my career consumed me
Judy suggested my writing is in large measure my legacy to our two kids, our five grand kids, and all the unborn generations beyond
And finally, perhaps my books and Blogs could reach beyond family and touch a few other lives… sow some seeds for the future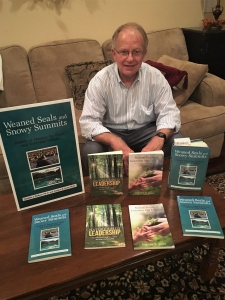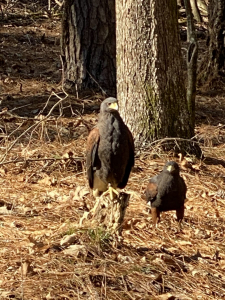 All three of my books (Nature Based Leadership; Nature-Inspired Learning and Leading; Weaned Seals and Snowy Summits) present compilations of personal experiences expressing my (and co-author Dr. Wilhoit for Weaned Seals and Snowy Summits) deep passion for Nature. All three books offer observations and reflections on my relationship to the natural world… and the broader implications for society. Order any and all from your local indie bookstore, or find them on IndieBound or other online sources such as Amazon and LifeRich.
http://stevejonesgbh.com/wp-content/uploads/2022/02/IMG_2518.jpg-01.29.22-Focus-on-Nature-Falconry-Field.jpg
1200
900
Steve Jones
http://stevejonesgbh.com/wp-content/uploads/2017/01/gbhweblogo.png
Steve Jones
2022-04-18 18:18:58
2022-04-18 18:18:58
Falconry at Joe Wheeler State Park