January 28-30, 2022, I participated in the Focus on Nature (Nature Photography) Workshop at Joe Wheeler State Park. I offer photographs and reflections from my solitary hike beginning at dawn January 30. This Post highlights a 180-degree early morning perspective on the Awesome Trail and some tree form oddities from the entire weekend. I write these Posts to learn, understand, and cherish.
The noblest pleasure is the joy of understanding — Leonardo da Vinci
Awesome Trail 180-Degree Perspective
I entered the Awesome Trail (see map below, or online: https://www.alapark.com/sites/default/files/2020-04/JWSP%20-%20Trail%20Map.pdf) from its First Creek Boat Ramp Trailhead.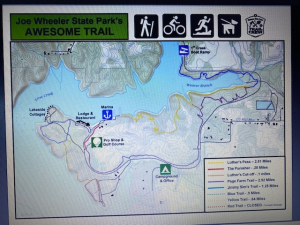 Because of time constraints I ventured only 0.75 miles before turning. Except for dropping south from the trailhead, most of my trek took me eastbound. Both views below are to the east from roughly where I turned around. Lake Wheeler's Weaver Branch Inlet (see map) is to the right. The early morning sun is casting longs shadows behind me over my shoulders. With this series of 180-degree photos I will pan clockwise.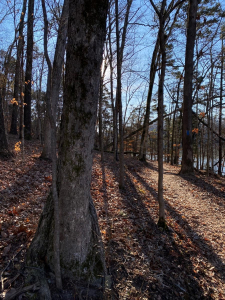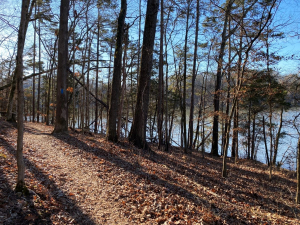 The view is now to the southeast, across the Weaver Branch arm. The Park Lodge and Marina lie to the right beyond sight. The absence of hardwood foliage makes this my favorite season to hike all trails along the water.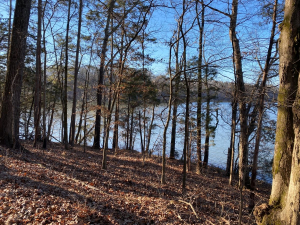 I've swung to the southwest looking across First Creek at the far shore.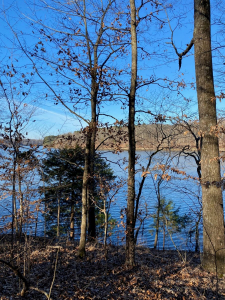 The photo below swings beyond due west toward the trail head and the shallow end of the First Creek Inlet. I'm taken with the variations of image, impact, and beauty derived from standing in-place and pivoting the camera view. The effects are particularly strong at either end of winter days, when shadows are long and prominent. During the growing season, sunlight reaches the forest floor only as flecks and dapples.
The sun-striped forest floor reminds me that change is a constant in Nature, whether diurnal, seasonal, or decadal, and beyond. Sometimes, as in this case, time means little. I simply pivoted in-place, creating change by shifting my position of view relative to sunlight and shadow.
Tree Form Oddities and Curiosities
I seek intellectual and creative stimulation by finding and photographing tree form curiosities and oddities, speculating on the cause of the peculiar shapes and forms, and communicating what I've ascertained to readers of these Posts.
Wisdom is timeless. Leonardo da Vinci wrote 500 years ago statements that are as true today as they were then:
It's not enough that you believe what you see. You must also understand what you see.
This vertical pole-sized yellow poplar grows from a base previously laid to just 30 degrees from horizontal by a fallen tree or large branch. The force responsible shattered, crushed, or snapped the sapling's top at that point. The wound served as an infection court for wood decay fungi that have actively decayed and hollowed the severely leaning trunk. I should have felt within the vertical stem to see whether decay is extending vertically as well. I suspect that it is.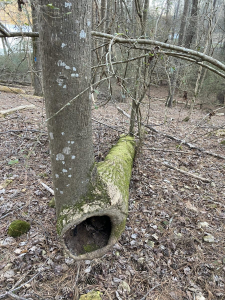 Some would see this survivor as an Indian marker tree, manipulated by Native Americans to point to something of importance. However, I reject the idea with certainty. Native Americans have not occupied this area for 150 years. The yellow poplar suffered its physical indignity just a few decades ago. Natural forces pointed this tree in the direction acheived by random forces.
Not technically a tree, this large woody grapevine (a species of the genus Vitis) is typical of the seeming random shapes and forms I see wherever I've encountered large main canopy aerial wanderers. Reaching well into the main canopy, these vines grow with the tree. This one is rooted at least ten feet beyond the oak. Picture it sprouting and beginning its life at about the same time that the acorn germinated. The growing young vine found the young oak, grasped it, and proceeded to grow vertically with the oak. The oak performs the hard work of reaching for sunlight, providing the strong and rigid trunk and branchwork. The vine clings tightly to the growing tree, reaching with the tree to maximize its own sunlight capture.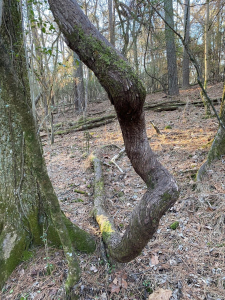 I've mentioned previously in these Posts that I am still seeking to identify the mutual benefit to the tree of having the vine co-occupy the canopy courtesy of the tree. I shall continue my quest for answers. There may be no benefit. Perhaps the vine is an unavoidable pest/competitor and that the evolutionary advantage goes to oak genotypes better able to tolerate the grape-nuisance. I've also wondered whether the grapevine-infested trees encourage the acorn-gatherer/cacher (e.g., squirrels and jays) populations to more effectively place acorns every fall into suitable germination sites. I shall continue to seek answers through my own observations…and keeping an eye for relevant scientific literature.
Nature is the source of all true knowledge. She has her own logic, her own laws, she has no effect without cause nor invention without necessity — da Vinci
Like the yellow poplar, this hackberry suffered physical injury. A falling tree or another large object hit a major side branch or fork of the hackberry. The broken stub offered entry to a decay fungus that continues to decompose wood within the trunk, assuring that life ahead will be hollow, empty, and likely abbreviated!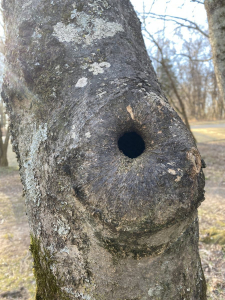 Learning is the only thing the mind never exhausts, never fears, and never regrets — da Vinci
Similar circumstances led to this black cherry with a hollowed stem.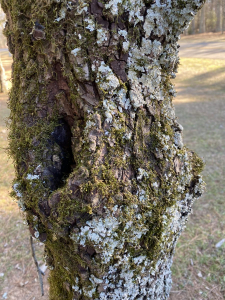 These two black cherry trees also suffered physical damage from above. Both are retaining life by contorting to reach available sunlight, in each case by reaching beyond their forest edge location. Black cherry is shade intolerant. Had they been located within a closed forest and suffered similarly, they could not have survived. Life within our forests is tough and demanding. The rule of survival of the fittest (best adapted) applies. Importantly, these individuals, while not thriving, have reached the seed-production stage. Their contorted shape is injury-induced…not attributable to a genetic, inheritable weakness. If even a single progeny survives, they have achieved a measure of success in the goal of extending life into next generations.
The average human looks without seeing, listens without hearing, touches without feeling, eats without tasting, moves without physical awareness, inhales without awareness of odour or fragrance, and talks without thinking — da Vinci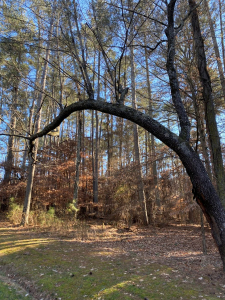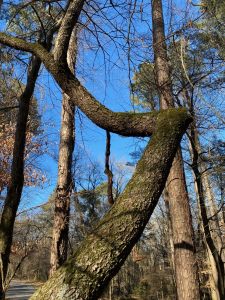 I learn more from seeking answers raised by my Nature wanderings, ponderings, and writings than I do by venturing with the mindset that I already have the answers. Learning is a contact sport.
The greatest deception men suffer is from their own opinions — da Vinci
If you find from your own experience that something is a fact and it contradicts what some authority has written down, then you must abandon the authority and base your reasoning on your own findings — da Vinci
Self-immersion in Nature is one means to my self-fullfillment, and the vehicle through which I learn, enjoy, and satisfy my quest to understand and share my passion for informed and responsible Earth stewardship.
The noblest pleasure is the joy of understanding — da Vinci
Learning is the only thing that never disappoints us — da Vinci
We must experience Nature to develop our perceptions of what she is and how she performs.
All our knowledge has its origins in our perceptions — da Vinci
Alabama State Parks Foundation
Thoughts and Reflections
I offer these observations:
The wisest and noblest teacher is nature itself — da Vinci
What we see in Nature depends upon how we look…and at what depth.
It's not enough that you believe what you see. You must also understand what you see — da Vinci
Inhale and absorb Nature's elixir. May Nature Inspire, Inform, and Reward you!
Note: All blog post images created & photographed by Stephen B. Jones unless otherwise noted. Please circulate images with photo credit: "©2022 Steve Jones, Great Blue Heron LLC. All Rights Reserved."
Another Note: If you came to this post via a Facebook posting or by an another route, please sign up now (no cost… no obligation) to receive my Blog Post email alerts: http://eepurl.com/cKLJdL
And a Third: I am available for Nature-Inspired Speaking, Writing, and Consulting — contact me at steve.jones.0524@gmail.com
Reminder of my Personal and Professional Purpose, Passion, and Cause
If only more of us viewed our precious environment through the filters I employ. If only my mission and vision could be multiplied untold orders of magnitude:
Mission: Employ writing and speaking to educate, inspire, and enable readers and listeners to understand, appreciate, and enjoy Nature… and accept and practice Earth Stewardship.
Vision:
People of all ages will pay greater attention to and engage more regularly with Nature… and will accept and practice informed and responsible Earth Stewardship.
They will see their relationship to our natural world with new eyes… and will understand more clearly their Earth home.
Tagline/Motto: Steve (Great Blue Heron) encourages and seeks a better tomorrow through Nature-Inspired Living!
Steve's Three Books
I wrote my books Nature Based Leadership (2016), Nature-Inspired Learning and Leading (2017), and Weaned Seals and Snowy Summits: Stories of Passion for Place and Everyday Nature (2019; co-authored with Dr. Jennifer Wilhoit) to encourage all citizens to recognize and appreciate that every lesson for living, learning, serving, and leading is either written indelibly in or is powerfully inspired by Nature.
I began writing books and Posts for several reasons:
I love hiking and exploring in Nature
I see images I want to (and do) capture with my trusty iPhone camera
I enjoy explaining those images — an educator at heart
I don't play golf!
I actually do love writing — it's the hobby I never needed when my career consumed me
Judy suggested my writing is in large measure my legacy to our two kids, our five grand kids, and all the unborn generations beyond
And finally, perhaps my books and Blogs could reach beyond family and touch a few other lives… sow some seeds for the future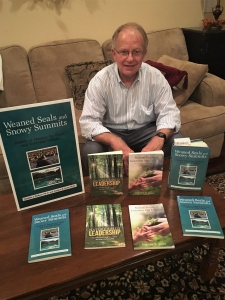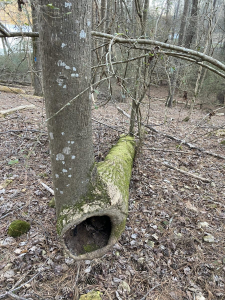 All three of my books (Nature Based Leadership; Nature-Inspired Learning and Leading; Weaned Seals and Snowy Summits) present compilations of personal experiences expressing my (and co-author Dr. Wilhoit for Weaned Seals and Snowy Summits) deep passion for Nature. All three books offer observations and reflections on my relationship to the natural world… and the broader implications for society. Order any and all from your local indie bookstore, or find them on IndieBound or other online sources such as Amazon and LifeRich.
http://stevejonesgbh.com/wp-content/uploads/2022/02/IMG_2636-2.jpg-JWSP-Small.jpg
1200
900
Steve Jones
http://stevejonesgbh.com/wp-content/uploads/2017/01/gbhweblogo.png
Steve Jones
2022-04-12 13:39:18
2022-04-12 13:39:18
Early Morning Perspective at Joe Wheeler State Park