January 8, 2022, I enjoyed a perfect mid-day winter ramble in a hardwood bottomland forest on the eastern end of Wheeler National Wildlife Refuge near Huntsville, Alabama. This Post illustrates how keen observations as well as directed and informed curiosity can make a routine woods stroll something truly special.
Riparian Saturated Forests
Nightime temperatures froze some of the standing water on these saturated sites. I found intrigue in the subtle reflective properties of ice and water.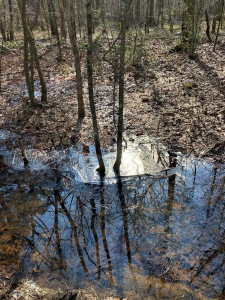 Innundated forests are likewise places for reflecting, both literal and mental. Nothing like the soul-soothing Nature of our southern winter forests.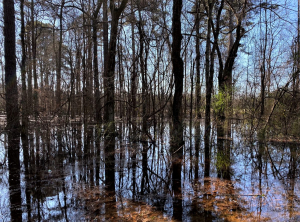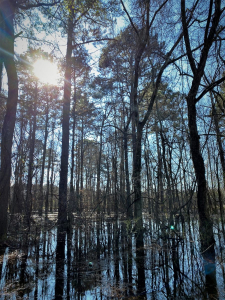 Riparian Upland Forests
The upland, which is generally just 5-10 feet higher than the wetter sites with standing water, offers better footing and old logs for resting to contemplate the deep beauty of the naked forest and the sparkling sky above.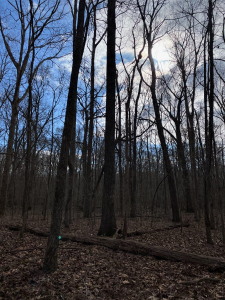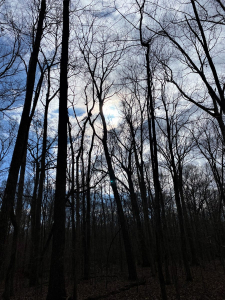 Turn the camera 90-degrees to vertical and we get another perspective, one that enables us to see the magnificent firmament unobstructed by the leafless canopy. Summer's foliage eliminates the view into the heavens.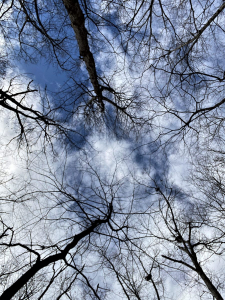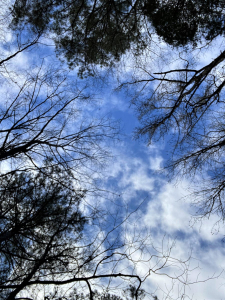 Death and Fungal Consumers in the Riparian Forest
Death is ever-present in even these extraordinarily fertile and vibrant bottomland forests. Decay fungi and other decomposers ensure that the carbon cycle continues unabated.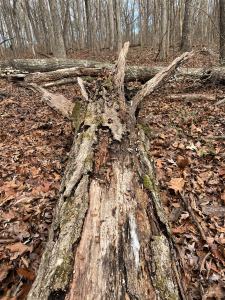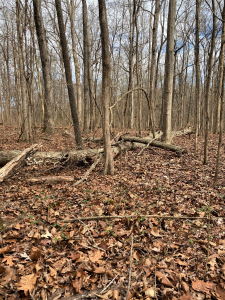 This seeming heathy and vibrant oak evidences the decay occuring within its trunk in form of the robust oak bracket mushrooms "blossoming" from the tree's base. So much in our forests is hidden within plain site.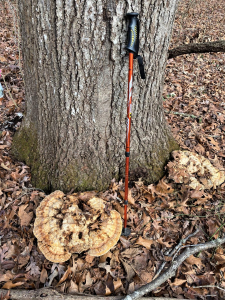 Closer inspection reveals the shape, texture, and characteristics of these 5-8 pound annual mushrooms. The spore producing underside is to the left. Imagine this behemouth emitting billions of spores. Any wound in a standing oak will prove fertile ground to the fortunate spore that finds it. Then the big battle begins. Can that microscopic spore overcome that potential host tree's complex biochemical defense mechanisims?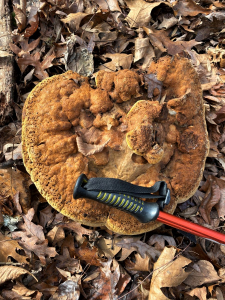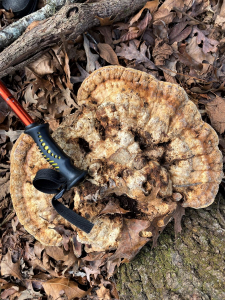 As the infected living oak above signifies, the oak bracket fungus is an effective parasite. The several-years-dead oak tree below still hosts the fungus, which as we see is also a saprophyte, consuming dead wood.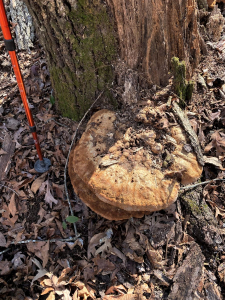 The huge oak brackets are far from being on my culinary list. They are coarse, woody, and, even if edible, not palatable. These oyster mushrooms, to the contrary, are culinary delights when fresh! These are just marginally fresh, now turning tan and brown.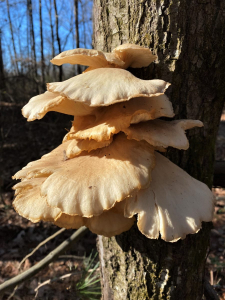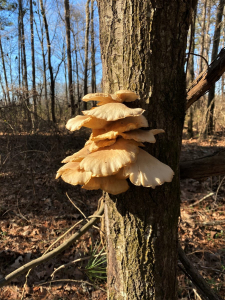 This plate-size elm mushroom drew my attention both because of its size and its potential edibility. I could not unequivacably come up with a field-site positive identification. When home, I identified it, but not with full confidence. From the Edible Wild Food website: "The elm oyster mushroom is an excellent edible mushroom which is also grown for commercial purposes. It is an excellent source of protein and vitamins (especially the B-complex). They must be cooked before consuming." Even had I been certain, this specimen was aged beyond freshness.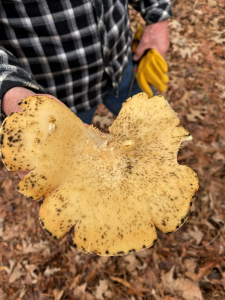 When fresh, this species is nearly pure white. I will keep my eyes open in future foraging ventures.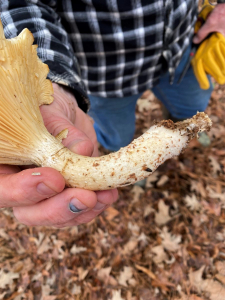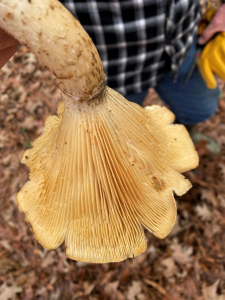 A single winter afternoon riparian forest ramble can reveal the subtle beauty, magic, wonder, and awe hidden in plain site! Make sure you take time to seek what is otherwise invisable to those who rush through the woods, and simply out of reach to those who avoid our magnificent riparian forests that are wet-season-saturated and growing-season-infested with insects, snakes, and poison ivy. I am fine with others keeping their distance. I view these forests as year-round paradises. Via these Posts, I will treat the unwilling-to-venture to my own photos, reflections, and observations!
Get into the outdoors, even if vicariously through these Great Blue Heron Posts!
Thoughts and Reflections
I offer these observations:
Beauty, magic, wonder, and awe await those willing to enter our riparian forests in winter (as well as summer).
Both saturated and upland riparian forests offer unique gifts across the seasons.
Fungi enhance my treks into Nature.
Inhale and absorb Nature's elixir. May Nature Inspire, Inform, and Reward you!
Note: All blog post images created & photographed by Stephen B. Jones unless otherwise noted. Please circulate images with photo credit: "©2022 Steve Jones, Great Blue Heron LLC. All Rights Reserved."
Another Note: If you came to this post via a Facebook posting or by an another route, please sign up now (no cost… no obligation) to receive my Blog Post email alerts: http://eepurl.com/cKLJdL
And a Third: I am available for Nature-Inspired Speaking, Writing, and Consulting — contact me at steve.jones.0524@gmail.com
Reminder of my Personal and Professional Purpose, Passion, and Cause
If only more of us viewed our precious environment through the filters I employ. If only my mission and vision could be multiplied untold orders of magnitude:
Mission: Employ writing and speaking to educate, inspire, and enable readers and listeners to understand, appreciate, and enjoy Nature… and accept and practice Earth Stewardship.
Vision:
People of all ages will pay greater attention to and engage more regularly with Nature… and will accept and practice informed and responsible Earth Stewardship.
They will see their relationship to our natural world with new eyes… and will understand more clearly their Earth home.
Tagline/Motto: Steve (Great Blue Heron) encourages and seeks a better tomorrow through Nature-Inspired Living!
Steve's Three Books
I wrote my books Nature Based Leadership (2016), Nature-Inspired Learning and Leading (2017), and Weaned Seals and Snowy Summits: Stories of Passion for Place and Everyday Nature (2019; co-authored with Dr. Jennifer Wilhoit) to encourage all citizens to recognize and appreciate that every lesson for living, learning, serving, and leading is either written indelibly in or is powerfully inspired by Nature.
I began writing books and Posts for several reasons:
I love hiking and exploring in Nature
I see images I want to (and do) capture with my trusty iPhone camera
I enjoy explaining those images — an educator at heart
I don't play golf!
I actually do love writing — it's the hobby I never needed when my career consumed me
Judy suggested my writing is in large measure my legacy to our two kids, our five grand kids, and all the unborn generations beyond
And finally, perhaps my books and Blogs could reach beyond family and touch a few other lives… sow some seeds for the future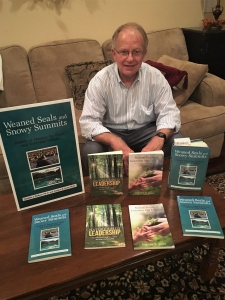 All three of my books (Nature Based Leadership; Nature-Inspired Learning and Leading; Weaned Seals and Snowy Summits) present compilations of personal experiences expressing my (and co-author Dr. Wilhoit for Weaned Seals and Snowy Summits) deep passion for Nature. All three books offer observations and reflections on my relationship to the natural world… and the broader implications for society. Order any and all from your local indie bookstore, or find them on IndieBound or other online sources such as Amazon and LifeRich.
http://stevejonesgbh.com/wp-content/uploads/2022/01/IMG_2278.jpg-01.08.22-Noon-WNWR-HGH-Road.jpg
1200
900
Steve Jones
http://stevejonesgbh.com/wp-content/uploads/2017/01/gbhweblogo.png
Steve Jones
2022-03-16 10:21:59
2022-03-16 10:21:59
January 8, 2022 Mid-Day Wanderings in a Bottomland Forest