January 29 and 30, 2022, I participated in the Focus on Nature Weekend at Alabama's Joe Wheeler State Park as a volunteer staff member, co-leading one of the three Saturday field trips. I focus this Post on a sampling of mosses, lichens, and mushrooms I encountered during my wanderings.
The world is a skyscraper! Don't always stay on the same floor! Go upstairs, go downstairs; visit the lives of other tenants! Visit eagles; visit mushrooms!
― Mehmet Murat ildan
Trees are the forest's skyscrapers. The moss on this long-dead eastern red cedar is downstairs, residing silently on the forest floor.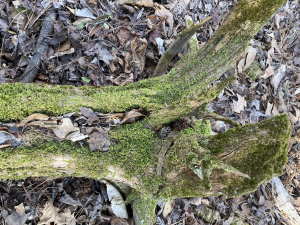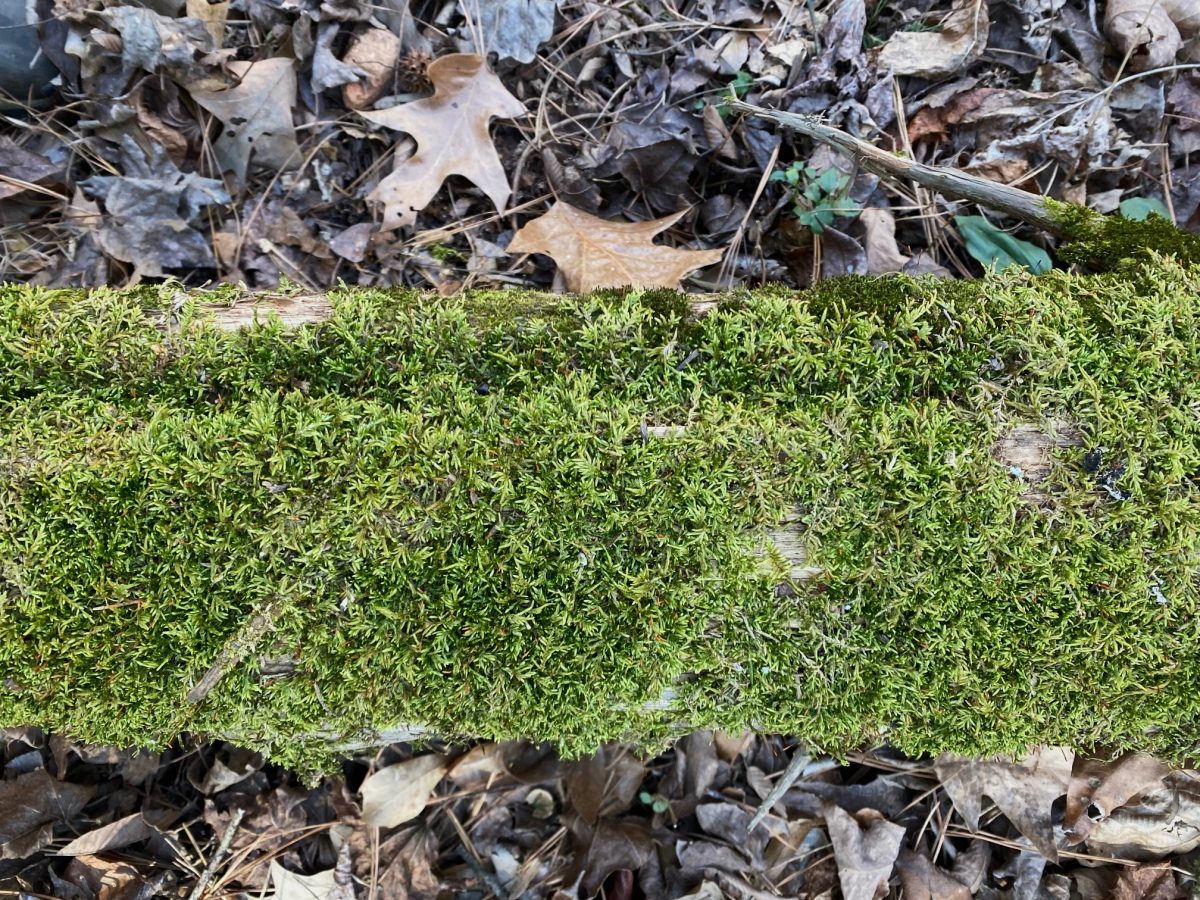 This moss carpets the State Park road shoulder, adding color to the otherwise drab winter forest. Blue sky beyond complements the green moss and the copper marcescent leaves of understory beech.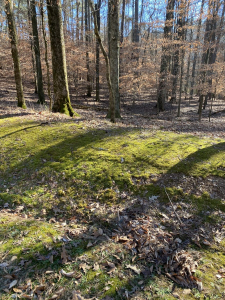 Moss likewise covers scattered forest floor surface stones. As we all know, Nature abhors a vacuum.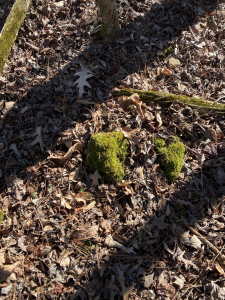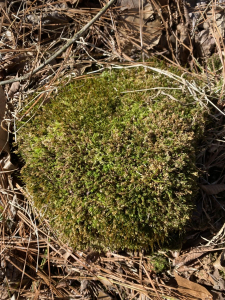 A leaning deceased black cherry sports mushrooms whose mycelia are consuming the dead wood. Moss and a few pale spots of lichen seem to flourish on the bark surface. A nearby vigorous loblolly pine bears a lush moss basal skirt; lichen extends up the trunk, providing a canvas rich with Nature's artwork.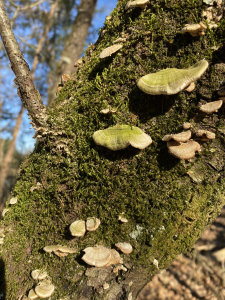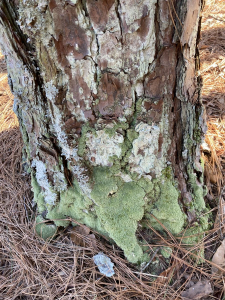 Lichens and mosses find fruitful purchase on black cherry bark. Both individual trees evidence internal decay with holes that provide entry to decay-swollen stem abnormalities that signal significant decay within the stem.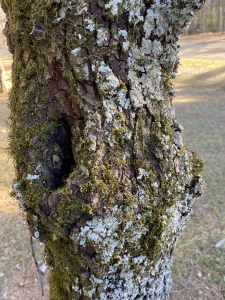 Bark-resident lichens (and mosses) are ubiquitous in this stunted black cherry stand near the Park's water treatment plant.
One could speculate that lichens would be among the last inhabitants to succumb on a dying earth at some distant point in the future.
― Steven L. Stephenson The Kingdom of Fungi: The Biology of Mushrooms, Molds, and Lichens.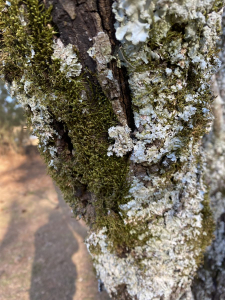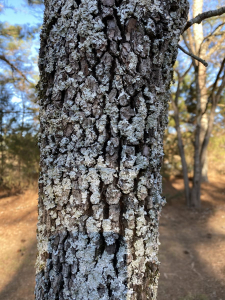 I recall the magnificent black cherry forests of Pennsylvania's Allegheny Plateau, where I conducted my doctoral research in the heart of black cherry's core range. Rapid growth on those fertile soils with optimum climate discouraged the lichen vigor I encountered at Joe Wheeler.
The black rock was sharp-edged, hot, and hard as corundum; it seemed not merely alien but impervious to life. Yet on the southern face of almost every rock the lichens grew, yellow, rusty-brown, yellow-green, like patches of dirty paint daubed on the stone.
— Edward Abbey The Brave Cowboy: An Old Tale in a New Time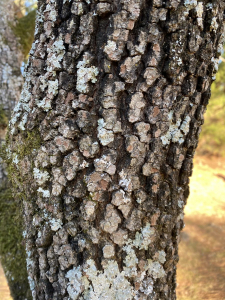 There is a low mist in the woods—
It is a good day to study lichens.
― Henry David Thoreau A Year in Thoreau's Journal: 1851
Life abounds in and among our forest skyscrapers, whether the tree is a towering white oak or a stunted black cherry. Thousands of trees do not a forest make. Mosses, lichens, fungi and all manner of organisms constitute the forest's intricate web of life. Think how much the rote forest wanderer misses, whose sole intent is to pass through (instead of within) the forest, oblivious to the magic that lies hidden in plain sight.
Alabama State Parks Foundation
Thoughts and Reflections
I offer these observations:
Forests are far more than trees and shrubs.
We all know that Nature abhors a vacuum — mosses and lichens cover virtually every surface within our forests.
Fungi, as evidenced by their mushrooms, are actively decomposing all dead and most dying plants, including the largest of our forest trees. 
Inhale and absorb Nature's elixir. May Nature Inspire, Inform, and Reward you!
Note: All blog post images created & photographed by Stephen B. Jones unless otherwise noted. Please circulate images with photo credit: "©2022 Steve Jones, Great Blue Heron LLC. All Rights Reserved."
Another Note: If you came to this post via a Facebook posting or by an another route, please sign up now (no cost… no obligation) to receive my Blog Post email alerts: http://eepurl.com/cKLJdL
And a Third: I am available for Nature-Inspired Speaking, Writing, and Consulting — contact me at steve.jones.0524@gmail.com
Reminder of my Personal and Professional Purpose, Passion, and Cause
If only more of us viewed our precious environment through the filters I employ. If only my mission and vision could be multiplied untold orders of magnitude:
Mission: Employ writing and speaking to educate, inspire, and enable readers and listeners to understand, appreciate, and enjoy Nature… and accept and practice Earth Stewardship.
Vision:
People of all ages will pay greater attention to and engage more regularly with Nature… and will accept and practice informed and responsible Earth Stewardship.
They will see their relationship to our natural world with new eyes… and will understand more clearly their Earth home.
Tagline/Motto: Steve (Great Blue Heron) encourages and seeks a better tomorrow through Nature-Inspired Living!
Steve's Three Books
I wrote my books Nature Based Leadership (2016), Nature-Inspired Learning and Leading (2017), and Weaned Seals and Snowy Summits: Stories of Passion for Place and Everyday Nature (2019; co-authored with Dr. Jennifer Wilhoit) to encourage all citizens to recognize and appreciate that every lesson for living, learning, serving, and leading is either written indelibly in or is powerfully inspired by Nature.
I began writing books and Posts for several reasons:
I love hiking and exploring in Nature
I see images I want to (and do) capture with my trusty iPhone camera
I enjoy explaining those images — an educator at heart
I don't play golf!
I actually do love writing — it's the hobby I never needed when my career consumed me
Judy suggested my writing is in large measure my legacy to our two kids, our five grand kids, and all the unborn generations beyond
And finally, perhaps my books and Blogs could reach beyond family and touch a few other lives… sow some seeds for the future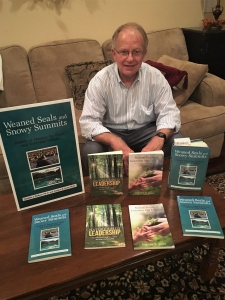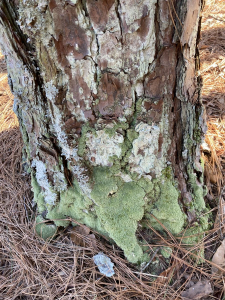 All three of my books (Nature Based Leadership; Nature-Inspired Learning and Leading; Weaned Seals and Snowy Summits) present compilations of personal experiences expressing my (and co-author Dr. Wilhoit for Weaned Seals and Snowy Summits) deep passion for Nature. All three books offer observations and reflections on my relationship to the natural world… and the broader implications for society. Order any and all from your local indie bookstore, or find them on IndieBound or other online sources such as Amazon and LifeRich.
http://stevejonesgbh.com/wp-content/uploads/2022/02/IMG_2499-4.jpg-01.29.22-Moss-on-Cedar-small.jpg
900
1200
Steve Jones
http://stevejonesgbh.com/wp-content/uploads/2017/01/gbhweblogo.png
Steve Jones
2022-03-08 09:12:47
2022-03-08 09:15:50
January Mosses, Lichens, Mushrooms at Joe Wheeler State Park