National Natural Landmark
October 27, 2021, Mike Ezell, Alabama State Park Naturalist Emeritus, and I visited Beaverdam Swamp Boardwalk National Natural Landmark in eastern Limestone County Alabama near Huntsville. Co-teaching a course on Virtual Nature Hikes for Huntsville's LearingQuest, an informal, adult continuing education program for mostly retired residents, we hiked the Boardwalk to develop a 20-minute video for our course. The Boardwalk Trail is on the eastern end of the 38,000-acre Wheeler National Wildlife Refuge. I focus this Post on the subtle beauty of fall in the tupelo forest.
The Swamp is the largest water tupelo forest in north Alabama. I have been to the trail dozens of times since our daughter moved to Madison, Alabama 20 years ago, and we retired nearby in 2018. Here is a Great Blue Heron Post from February 2018: http://stevejonesgbh.com/2018/02/07/beaverdam-swamp-wheeler-nwr-dormant-season-beauty/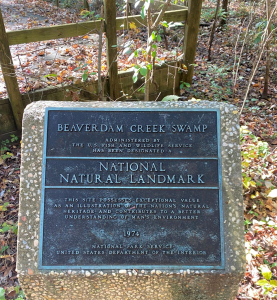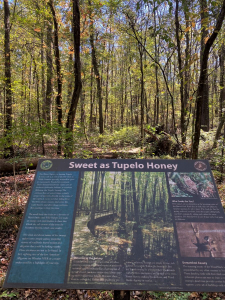 I won't dig deeply into describing and examining this unique forest ecosystem. Instead, let's take a stroll, pause now and again to reflect, and present a one-day portfolio of Nature's tupelo forest magic.
Mike and I set a date on which serendipity gave us a gorgeous fall afternoon, sunlight striking the forest floor. Already the tupelo had shed 70 percent of foliage. Leaves covered the boardwalk. Sun filtered through the high crowns.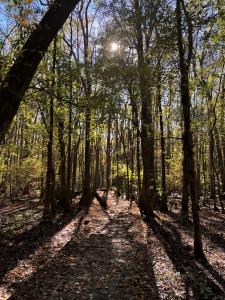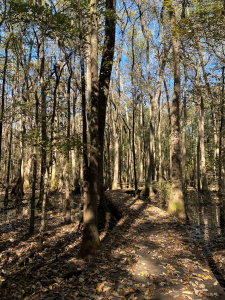 Mike shunted ahead for our next video spot to highlight some element of the swamp for our virtual hike. The Nature of the place on this languid afternoon suggested leisure and a relaxed pace. We felt calmed, secure, and soothed…not even a hint of urgency.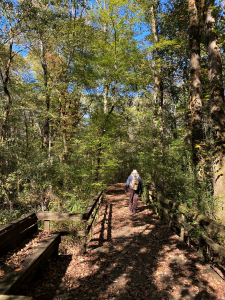 The day both demonstrated and urged deep reflection, literally and virtually. The tupelo are one with the water and with the firmament above. These views await a poet's verse. The magic of the swamp is irresistable. I've tried to write poetry…but have repeatedly fallen short.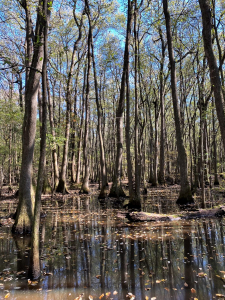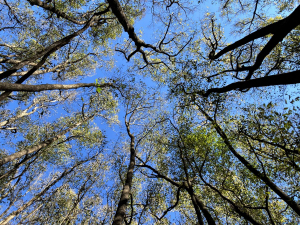 A Nightime Flashback
November 8, 2020 I took our two Alabama grandsons into the swamp at dusk, hoping to hear owls at play. A lone barred owl hooted, yet the  swamp paid mighty dividends as dusk transitioned to gloaming and then to full darkness. I snapped a few full-darkness photos with three-second exposure as we departed. The effect is too special not to include in this year-later Post.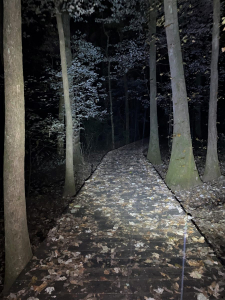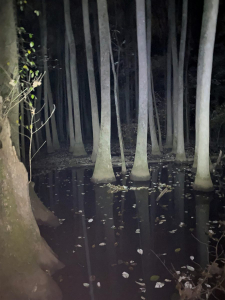 Fall's Subtle and Tranquil Beauty
Mike paused at Beaverdam Creek, the boardwalk terminus. The creek flows away from the photo-point toward the Tennessee River. I need not repeat that we chose a perfect afternoon…more accurately, the perfect afternoon chose us!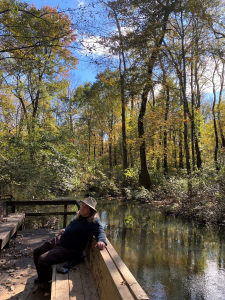 The creek flows toward the camera below left; from right to left below right.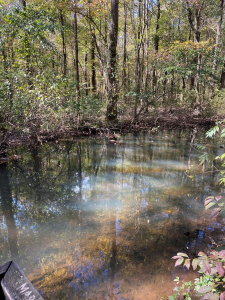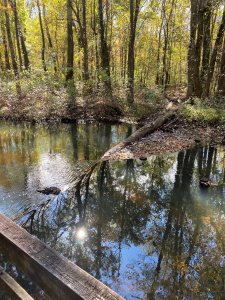 Were I to suggest ideal conditions for our video-mission visit I could not have chosen better. Cerulean sky; yellowing canopy; placid waters!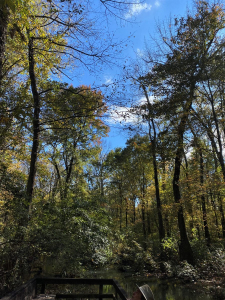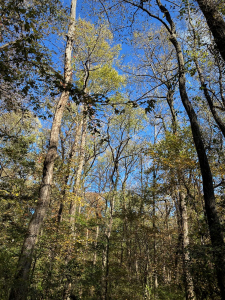 Edible Wild Mushroom Sidebar
During the Covid months I've grown increasingly interested in foraging wild edible mushrooms. Forestry school focused my fungal attention to tree disease-causing fungi. Such organisms still hold my interest, yet now in retirement I have shifted to culinary implications. Although still an edible wild mushroom novice, I am confident in harvesting and consuming 5-6 species. While I do not forage in protected preserves such as this National Natural Landmark, I did photograph two of my favorite edibles: oyster mushrooms and lion's mane.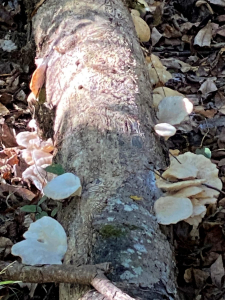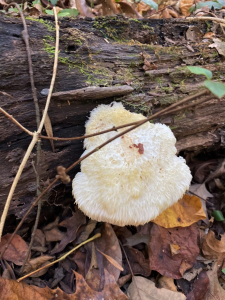 I hope never to tire of visiting special places across the seasons. Surprises and treats await each journey.
Thoughts and Reflections
I offer these observations:
Fall arrives with subtle, understated beauty in our tupelo forests.
I find sacred connection to this mystical old growth forest, trees buttressed and hollow, crowns reaching for the heavens.
Some special places merit long, quiet contemplation to fully nourish mind, heart, body, soul, and spirit.
Inhale and absorb Nature's elixir. May Nature Inspire, Inform, and Reward you!
Note: All blog post images created & photographed by Stephen B. Jones unless otherwise noted. Please circulate images with photo credit: "©2021 Steve Jones, Great Blue Heron LLC. All Rights Reserved."
Another Note: If you came to this post via a Facebook posting or by another route, please sign up now (no cost… no obligation) to receive my Blog Post email alerts: http://eepurl.com/cKLJdL
And a Third: I am available for Nature-Inspired Speaking, Writing, and Consulting — contact me at steve.jones.0524@gmail.com
Reminder of my Personal and Professional Purpose, Passion, and Cause
If only more of us viewed our precious environment through the filters I employ. If only my mission and vision could be multiplied untold orders of magnitude:
Mission: Employ writing and speaking to educate, inspire, and enable readers and listeners to understand, appreciate, and enjoy Nature… and accept and practice Earth Stewardship.
Vision:
People of all ages will pay greater attention to and engage more regularly with Nature… and will accept and practice informed and responsible Earth Stewardship.
They will see their relationship to our natural world with new eyes… and will understand more clearly their Earth home.
Tagline/Motto: Steve (Great Blue Heron) encourages and seeks a better tomorrow through Nature-Inspired Living!
Steve's Three Books
I wrote my books Nature Based Leadership (2016), Nature-Inspired Learning and Leading (2017), and Weaned Seals and Snowy Summits: Stories of Passion for Place and Everyday Nature (2019; co-authored with Dr. Jennifer Wilhoit) to encourage all citizens to recognize and appreciate that every lesson for living, learning, serving, and leading is either written indelibly in or is powerfully inspired by Nature.
I began authoring books and Posts for several reasons:
I love hiking and exploring in Nature
I see images I want to (and do) capture with my trusty iPhone camera
I enjoy explaining those images — an educator at heart
I don't play golf!
I do love writing — it's the hobby I never needed when my career consumed me
Judy suggested my writing is in large measure my legacy to our two kids, our five grand kids, and all the unborn generations beyond
And finally, perhaps my books and Blogs could reach beyond family and touch a few other lives… sow some seeds for the future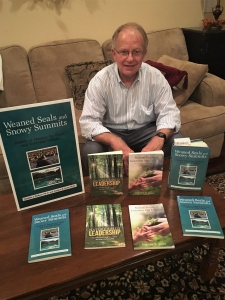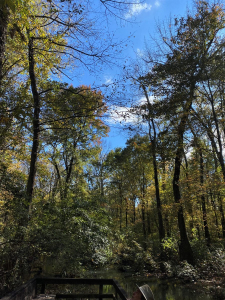 All three of my books (Nature Based Leadership; Nature-Inspired Learning and Leading; Weaned Seals and Snowy Summits) present compilations of firsthand experiences expressing my (and co-author Dr. Wilhoit for Weaned Seals and Snowy Summits) deep passion for Nature. All three books offer observations and reflections on my relationship to the natural world… and the broader implications for society. Order from your local indie bookstore, or find them on IndieBound or other online sources such as Amazon and LifeRich.
http://stevejonesgbh.com/wp-content/uploads/2021/11/IMG_1262.jpg-10.27.21.jpg
1200
900
Steve Jones
http://stevejonesgbh.com/wp-content/uploads/2017/01/gbhweblogo.png
Steve Jones
2021-12-30 09:48:14
2021-12-30 09:48:14
Late October along Beaverdam Swamp Boardwalk