During my freshman/sophomore and sophomore/junior undergraduate summers I worked for the State of Maryland Forest Service performing forest inventory on the Savage River State Forest. Forest Supervisor Warren Groves had arranged housing in a still-functional CCC-constructed cabin at New Germany State Park, a stunning recreation setting surrounded by the State Forest. The Forest's 55,000 acres reside in Garrett County, at Maryland's western tip. New Germany stands at 2,500 feet elevation atop the Allegany divide separating the Chesapeake Bay watershed to the east from the Ohio/Mississippi basin to the west. I spent those two inventory summers in forestry student heaven, learning as much under Warren's applied-science tutelage as I did in those first four semesters in classrooms and labs.
September 9, 2021, I hiked once again in the park, investing a glorious afternoon in woods I had not entered in 51 years. Take a nostalgic virtual hike with me via my photographs and reflections.
Mill and Lake
My hometown of Cumberland, MD lies one county to the east (Allegany) at 700 feet elevation along the Potomac River. I embraced those summers in the noticeably cooler climate afforded by the 1,800 feet vertical difference. My return trip gifted me with the incredibly clear and comforting afternoon (below right). The Swauger mill is long since gone. The interpretive sign and the footer outline of its foundation (just as it was in 1970) remain.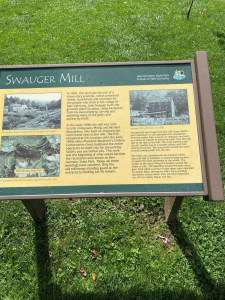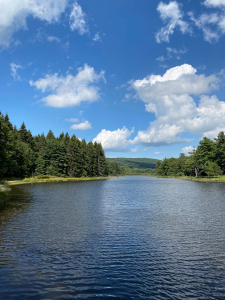 New Germany Lake now seems much smaller, although I am sure it is not, one-half century since those great summers of forestry indoctrination and learning. Funny how time and experience alter scale.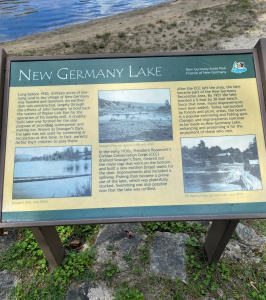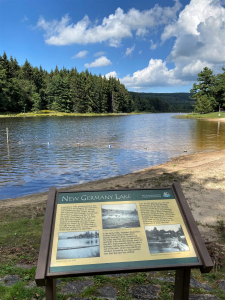 I normally leap right into Nature with these Posts, yet I could not resist the special nostalgic look back, nor could I ignore the intersection of human and natural history that defines the Park. The view below looks north (upstream) to the dam.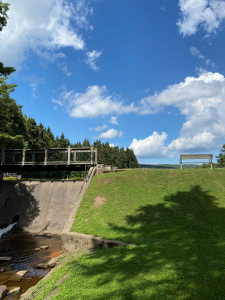 Atop the dam (below left), the bridge crosses the spillway. View is east to the Martin House, where in 1970 the superintendent resided (my recollection). From the east end of the foot bridge, the recreation hall sits to the west of the spillway. The recreation building may or may not have been part of long-range planning in 1970.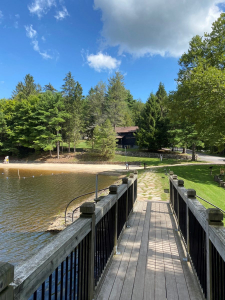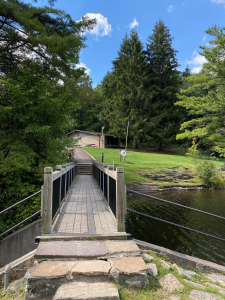 The physical facility in its current manifestation is impressive, having changed a great deal since those long-ago summers.
The Forest
Like virtually every acre of Maryland forestland (or for that matter, the vast majority of eastern US forestland), the Park's forests are heavily influenced by European settlement and attempted domestication. I emphasize attempted…so much of the more rugged land, long since abandoned, has re-wilded, erasing the scars of intense human activity (including careless agriculture on vulnerable, erosion-prone sites) and today appearing to most people as wilderness. I recall several features of Savage River State Forest within which the Park is located:
Eighty-six square miles of State Forest wildness then seemed large beyond my comprehension.
Occasionally our forest inventory transects crossed old, barbed wire fences and remnants of stone walls, suggesting past agriculture on the more gently rolling lands.
We frequently passed through white, red, and Scotch pine and Norway spruce plantations established by the Civilian Conservation Corps in the 1930s or during the USDA Soil Bank program of the 1950s. Both programs planted trees on old worn-out farmland.
Daily, it seems, we observed old American chestnut stumps from salvage logging when the blight, introduced to America from Asia in 1904, raced across the central Appalachians, devastating forests dominated by chestnut.
What is now the dam site and Park core, Broadwater's farm along Swauger Mill Lake, looked like many other farmsteads in the 1930s. Served by the Village of New Germany Post Office (1883), the farmscape shows rolling pasture, fenceline trees, and on the distant hilltop, a woodlot that evidences frequent cutting for fenceposts, firewood, and other products.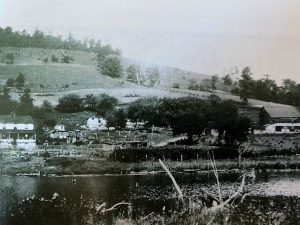 Photo from the New Germany Past and Present self-guided walking tour pamphlet.
Try to imagine the imminent transformation that this then-marginal farmland was about to undergo. From the same pamphlet:
One of the nation's CCC camps was located in the area that is now New Germany State Park. In the spring of 1933, approximately 125 "CCC boys" arrived at the camp, ready for work. For the first year, the "boys" lived in army tents, while they worked constructing the barracks, mess hall, and other buildings for the camp… Once they finished building the camp, the "boys" went to work on a number of projects at New Germany and the surrounding area.
Among many other projects, they swarmed the immediate adjacent fields planting the conifers I observed scattered across the State Forest. They likely planted the white pine below.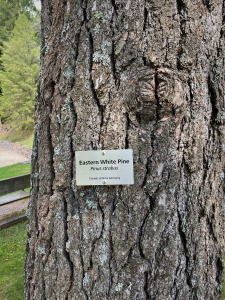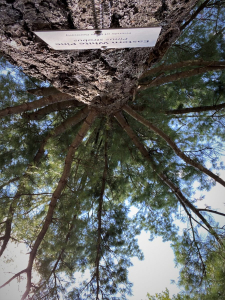 Swauger Creek flows from the mill dam through the hemlock forest. I walked southwest on Turnpike Trail, remembering creekside hemlocks much larger than those standing before me. However, that cannot be. The trees today were there 51 years ago and, because I know they have consistently added annual growth rings, they are actually larger now. I wondered whether my then inflated sense of the magic of this special place, within the context of a dream-summer forestry experience, had etched a memory of greater scope and scale than the real stand along the creek in 1970-71. My own now-matured and deeply experienced forest-assessment knowledge and skills are better honed and less influenced by perceived associated aura (the distinctive atmosphere or quality that seems to surround and be generated by a person, thing, or place). Regardless, the deep shade, the handsome rhododendrons, and the gurgling stream lifted me back to those halcyon days of focused learning, new adventure, and the thrill of becoming a young adult.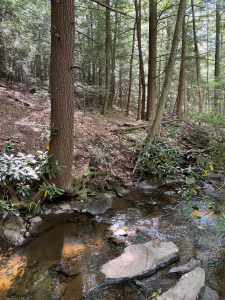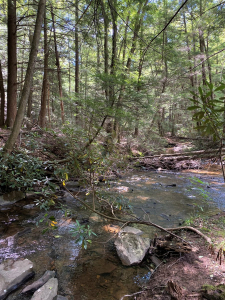 I thought of an apt Leonardo da Vinci quote: In rivers, the water that you touch is the last of what has passed and the first of that which comes; so, with present time. The creek itself had not changed, yet I had traveled 51 years, and here I stood again. Fifty-one years hence the stream will still appear unchanged. My journey will have ended, and yet the stream flows seaward, endlessly. Even the forest will ebb and flow, some trees dying, others replacing them, yet the forest will sustain.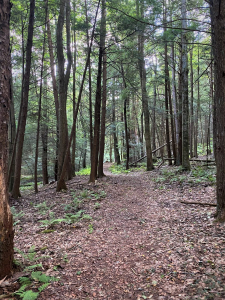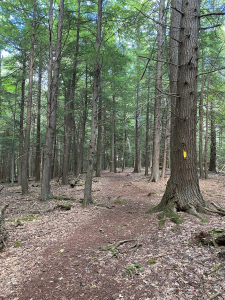 Downstream of where I turned to the right toward Hemlock Trail, I spotted a trail bridge crossing Swauger Creek, yet another element of the Park's charm.
Hemlock Trail is aptly named, the trail passing through an unusual upland hemlock stand (below left). Black cherry (my trekking pole leaning against it below right) also occasionally shared the main canopy with the hemlock.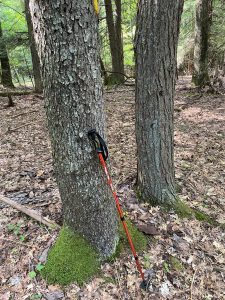 Because nothing in Nature is static or permanent, individual trees are dying. The standing well-decayed snag below left, and the taller dead spar below right are now bird, mammal, and insect hotels, staying erect until the decay fungi reduce the structural integrity beyond a threshold, when they will crash or slump to the forest floor.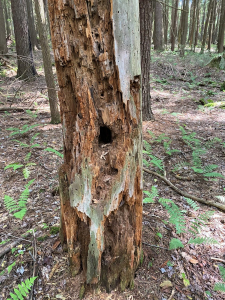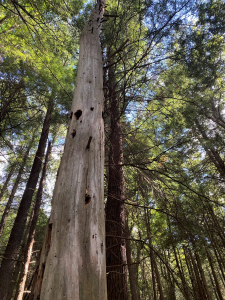 Below left a cluster of windthrown trees create a crown opening sufficient to allow sunlight to reach the ground, stimulating a thicket of birch regeneration. Below right a more recent windthrow opening will spark another patch of reproduction. Over time, the forest will shift to a mosaic of small stands.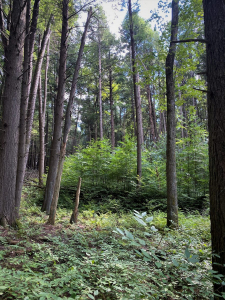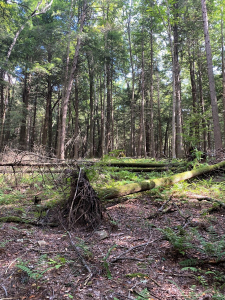 Spiritual Reflections
I enjoy reading the forested landscape. Every tree and every parcel tells its tale. I am slowly learning the language of interpreting the story. Some elements of the tale are strictly biological science and physics. Other facets are more spiritual. I subscribe to Father Richard Rohr's Daily online Mediation: From the Center for Action and Contemplation. I appreciate his view of our spiritual relationship to Nature. He often offers words that express what am I feeling more cogently than I could muster. The text below is from Week Forty-One (10/12/21): Contemplating Creation; Sensing Nature:
Fr. Richard explores how a creation-centered spirituality offers a natural openness to the type of sensing that comes from contemplation:
Creation spirituality reveals our human arrogance, and maybe that's why we are afraid of it. Maybe that's why we're afraid to believe that God has spoken to us primarily in what is. Francis of Assisi was basically a hermit. He lived in the middle of nature. And if we want nature to come to life for us, we have to live in the middle of it for a while. When we get away from the voices of human beings, then we really start hearing the voices of animals and trees. They start talking to us, as it were. And we start talking back. Foundational faith, I would call it, the grounding for personal and biblical faith.
I have been blessed to spend several Lents living as a hermit in nature. When we get rid of our watches and all the usual reference points, it is amazing how real and compelling light and darkness become. It's amazing how real animals become. And it's amazing how much we notice about what's happening in a tree each day. It's almost as if we weren't seeing it all before, and we wonder if we have ever seen at all. I don't think that Western civilization realizes what a high price we pay for separating ourselves from the natural world. One of the prices is certainly a lack of a sort of natural contemplation, a natural seeing. My times in the hermitage re-situated me in God's universe, in God's providence and plan. I had a feeling of being realigned with what is. I belonged and was thereby saved! Think about it.
So, creation spirituality is, first of all, the natural spirituality of people who have learned how to see. I am beginning to think that much of institutional religion is rather useless if it is not grounded in natural seeing and nature religion.
We probably don't communicate with something unless we have already experienced its communications to us. I know by the third week I was talking to lizards on my porch at the hermitage, and I have no doubt that somehow some communion was happening. I don't know how to explain it beyond that. I was reattached, and they were reattached.
When we are at peace, when we are not fighting it, when we are not fixing and controlling this world, when we are not filled with anger, all we can do is start loving and forgiving. Nothing else makes sense when we are alone with God. All we can do is let go; there's nothing worth holding on to, because there is nothing else we need. It is in that free space, I think, that realignment happens. Francis lived out of such realignment. And I think it is the realignment that he announced to the world in the form of worship and adoration.
I found little to no time during my professional career for such realignment. Even now in retirement I am only just beginning to do so with purpose and focus. I still spend too little time simply sitting, observing, and contemplating in sylvan settings. I resolve to try harder. I want to achieve the state Father Rohr sought, repeating from above:
Nothing else makes sense when we are alone with God. All we can do is let go; there's nothing worth holding on to, because there is nothing else we need. It is in that free space, I think, that realignment happens.
A Postscript of Sorts
Just as we all enjoy seeing an old friend who surprises us when we least expect him, I encountered an old forest friend that I had not anticipated, striped maple, ubiquitous across Savage River State Forest. From a USDA Forest Service online publication:
Acer pensylvanicum, also called moosewood, is a small tree or large shrub identified by its conspicuous vertical white stripes on greenish-brown bark. It grows best on shaded, cool northern slopes of upland valleys where it is common on well drained sandy loams in small forest openings or as an understory tree in mixed hardwoods. This very slow growing maple may live to be 100 and is probably most important as a browse plant for wildlife, although the tree is sometimes planted as an ornamental in heavily shaded areas.
The included range map does not show striped maple in Alabama. I don't recall seeing the species even here in northern Alabama. So, I was glad to see my old friend at New Germany State Park.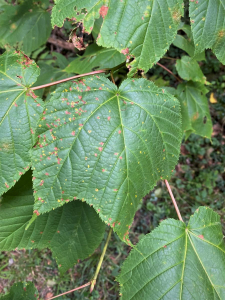 Likewise, I reveled in seeing wood fern (Dryopteris intermedia), a species not extending into Alabama. Another species of the genus occurs in our state. So, another long-forgotten friend in western Maryland!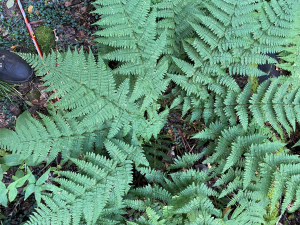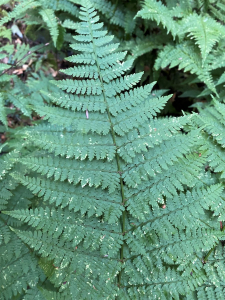 My third book, Weaned Seals and Snowy Summits: Stories of Passion for Place and Everyday Nature (co-authored with Jennifer Wilhoit), dives deeply into how and why making such reacquaintances stirs my soul. Nature reaches me through all five portals: mind, body, heart, soul, and spirit.
Thoughts and Reflections
I offer these observations:
Borrowing from Father Richard Rohr, alone in Nature, "All we can do is let go; there's nothing worth holding on to, because there is nothing else we need."
I feel deep passion for special places in Nature, whether recent acquaintances or revisiting 51 years later.
Wherever I roam, Nature inspires and rewards my heart, mind, body, soul, and spirit.
Inhale and absorb Nature's elixir. May Nature Inspire, Inform, and Reward you!
Note: All blog post images created & photographed by Stephen B. Jones unless otherwise noted. Please circulate images with photo credit: "©2021 Steve Jones, Great Blue Heron LLC. All Rights Reserved."
Another Note: If you came to this post via a Facebook posting or by another route, please sign up now (no cost… no obligation) to receive my Blog Post email alerts: http://eepurl.com/cKLJdL
And a Third: I am available for Nature-Inspired Speaking, Writing, and Consulting — contact me at steve.jones.0524@gmail.com
Reminder of my Personal and Professional Purpose, Passion, and Cause
If only more of us viewed our precious environment through the filters I employ. If only my mission and vision could be multiplied untold orders of magnitude:
Mission: Employ writing and speaking to educate, inspire, and enable readers and listeners to understand, appreciate, and enjoy Nature… and accept and practice Earth Stewardship.
Vision:
People of all ages will pay greater attention to and engage more regularly with Nature… and will accept and practice informed and responsible Earth Stewardship.
They will see their relationship to our natural world with new eyes… and will understand more clearly their Earth home.
Tagline/Motto: Steve (Great Blue Heron) encourages and seeks a better tomorrow through Nature-Inspired Living!
Steve's Three Books
I wrote my books Nature Based Leadership (2016), Nature-Inspired Learning and Leading (2017), and Weaned Seals and Snowy Summits: Stories of Passion for Place and Everyday Nature (2019; co-authored with Dr. Jennifer Wilhoit) to encourage all citizens to recognize and appreciate that every lesson for living, learning, serving, and leading is either written indelibly in or is powerfully inspired by Nature.
I began authoring books and Posts for several reasons:
I love hiking and exploring in Nature
I see images I want to (and do) capture with my trusty iPhone camera
I enjoy explaining those images — an educator at heart
I don't play golf!
I do love writing — it's the hobby I never needed when my career consumed me
Judy suggested my writing is in large measure my legacy to our two kids, our five grand kids, and all the unborn generations beyond
And finally, perhaps my books and Blogs could reach beyond family and touch a few other lives… sow some seeds for the future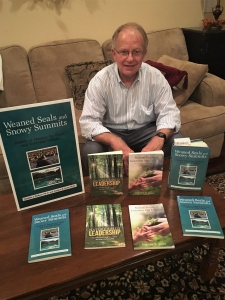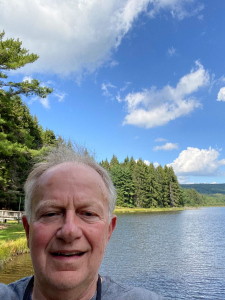 All three of my books (Nature Based Leadership; Nature-Inspired Learning and Leading; Weaned Seals and Snowy Summits) present compilations of firsthand experiences expressing my (and co-author Dr. Wilhoit for Weaned Seals and Snowy Summits) deep passion for Nature. All three books offer observations and reflections on my relationship to the natural world… and the broader implications for society. Order from your local indie bookstore, or find them on IndieBound or other online sources such as Amazon and LifeRich.
http://stevejonesgbh.com/wp-content/uploads/2021/09/IMG_0479.jpg-07.09.21-New-Germany-SP.jpg
1200
900
Steve Jones
http://stevejonesgbh.com/wp-content/uploads/2017/01/gbhweblogo.png
Steve Jones
2021-11-29 08:51:06
2021-11-29 08:51:06
Maryland's New Germany State Park -- Returning after 51 Years