September 8, 2021, I hiked along Slippery Rock Creek at McConnell's Mill State Park some 40 miles north of Pittsburgh, Pennsylvania. This Post focuses on the Nature of this geologic, environmental, and historic gorge in west central Pennsylvania.
Human and natural history intersect in nearly every wild place I've wandered in the eastern US. McConnell's Mill State Park along the Slippery Rock Creek gorge is yet another example. Daniel Kennedy built the original grist mill at this site in 1852; fire destroyed the structure in 1868 and he rebuilt that same year. Thomas McConnell bought the mill in 1875. Officials dedicated the mill and surrounding property as McConnell's Mill State Park in 1957. The Park encompasses 2,546 acres.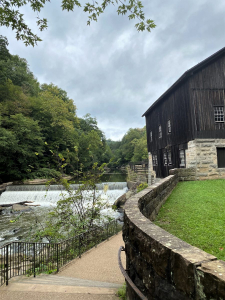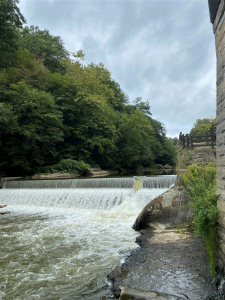 The covered bridge crosses the creek just 200 feet below the mill. A fine old structure, the bridge was built in 1874 and rehabilitated in 2016. I find something special…a sense of antiquity and comfort…in historic wooden covered bridges. May it stand for another 150 years!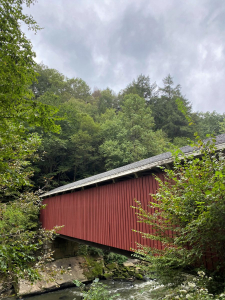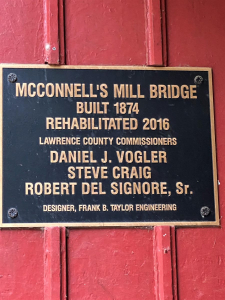 The Gorge
The creek runs strong and true through the rocky (sandstone) gorge. Slippery Rock Gorge is a National Natural Landmark, so designated by the US Department of the Interior in 1972.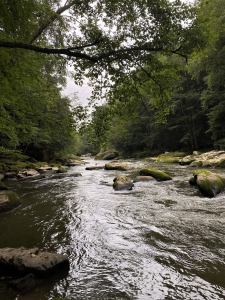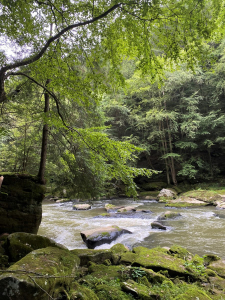 Exquisite beauty defines the trails along the creek, the forest rising from among the boulders. The trail surface is generally smooth and wide. I enjoyed being able to observe the creek and ascending side slopes without need for watching every footfall carefully. Toss in a handful of side-spring crossings and wooden stairs. The full effect is aesthetic and peaceful to the extreme.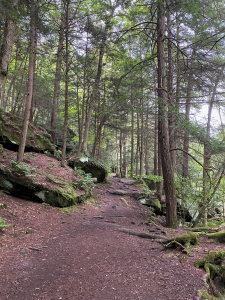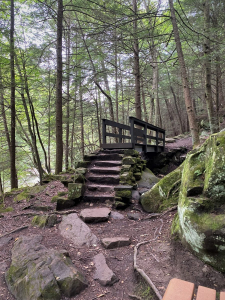 Over the eons, boulders and fallen rimrock have populated the gorge bottom (below left). Bedrock in form of vertical faces lines the gorge in places. The gorge bottom is deeply shaded, very moist, and several degrees cooler that the forests and fields above. I felt sheltered, protected, and isolated from the world beyond the park. Here I was within an hour of Pittsburgh, yet this in every dimension appeared to be raw wildness.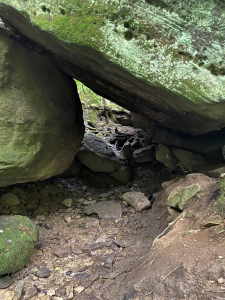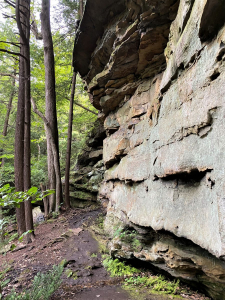 The Gorge and its history warrant far more discussion than I have given it. However, my purpose is not to offer a treatise, but to present a broad introduction to an amazing slice of Nature within reach of a major American city. I've discovered during my lifetime of Nature exploration that wildness and Nature's beauty, magic, wonder, and awe are within easy reach no matter where we are in our great country… or across this magnificent planet Earth.
The Forest and its Trees
I have lately begun to deliberate in my own mind the distinction between old growth forest and old forest. My wanderings in the Heart's Content Natural Area (400-year-old remnant forest) a day before this McConnell's Mill hike, gave me a nearby frame of reference. I believe that this old gorge-bottom forest does not rise to the level of old growth. I'll address the distinction in subsequent Posts.
Eastern hemlock (below left) and red oak (its back against the rock face below right) are common within the gorge.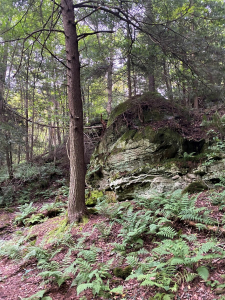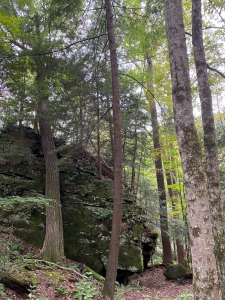 Yellow birch (below), common in the canyon, brings back fond memories of my northern woods' adventures. Yellow birch does extend sporadically into northeast Alabama, but it is uncommon.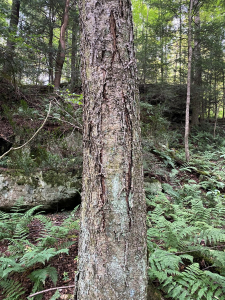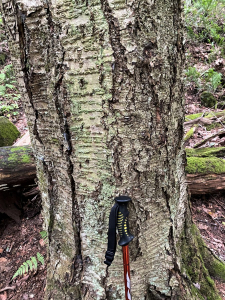 Black cherry's range extends throughout Alabama, yet it seldom achieves the significance, quality, and stature it holds in the Allegheny highlands of SW New York, NW Pennsylvania, and in cove sites south into the Smokies.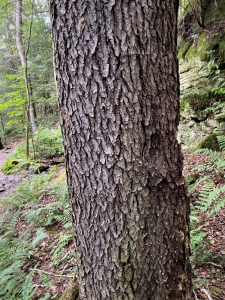 Hemlock (below left) predominates in the gorge. Yellow poplar, like the two 30-inch stems below right, flourishes on these rich protected lower slopes.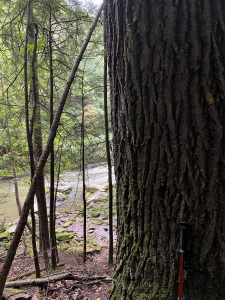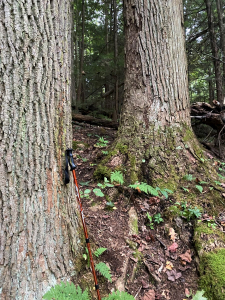 American beech and sugar maple, two shade tolerant species, also thrive in such microsites.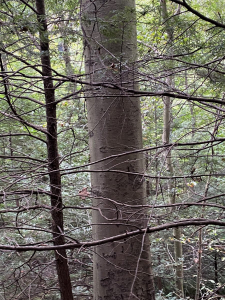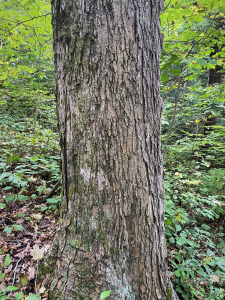 All the trees I just introduced exceed my unofficial criterion of old. I estimate that many are at least 150 years. I stress "estimate."
Life Among the Boulders
Ecology is the branch of biology that deals with the relations of organisms to one another and to their physical surroundings. One element of ecology worthy of Blog-pursuit is how trees in this gorge interact with the boulders and exposed bedrock that constitute the canyon floor.
The life span of even old trees here in the gorge may reach or occasionally exceed 300 years. The rock upon which this black birch clings is a million times that old, 300 million years. The rock's flat top collects organic matter from above, upon which mosses and ferns grow, decay, hold moisture, and provide suitable substrate and microclimate for birch, hemlock, and other tree species to germinate, begin a life cycle, and knowingly extend roots down seeking mineral soil to sustain life beyond the seedlings stage. This birch reached literal paydirt at the rock's base.
This hemlock is fully exploiting the soil and organic matter covering the large slab of sandstone 150 vertical feet above the creek. Somewhere in its (and the birch above) genetic code there are instructions for germinating and surviving on top of a boulder, slab, stump, or fallen log.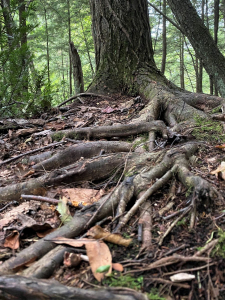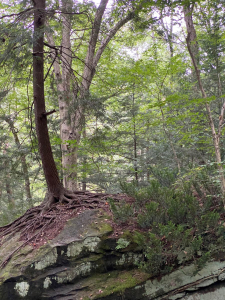 These two trios (in each case a yellow birch and two hemlocks) found purchase on the respective rock shelf. All three on both rocks seem healthy and vibrant.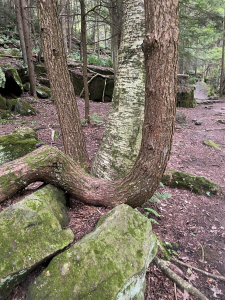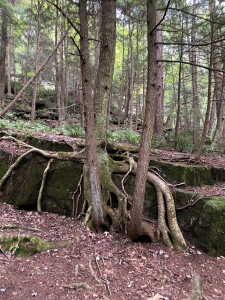 The yellow birch below is employing a long root-arm to reach mineral soil. Yoda wisely proclaimed, Do or do not, there is no try. Birch has, over millennia of evolution, learned to send root-scouts to search for mineral soil and to secure the nutrients and moisture essential for sustaining life-success (i.e. living long and well enough to produce and disperse seed).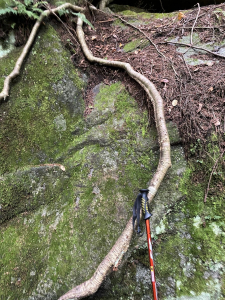 Nature does indeed abhor a vacuum. A fern and moss terrarium covers the rock top below left. Moss drapes the rock face below right. Life thrives within every available niche on the canyon floor.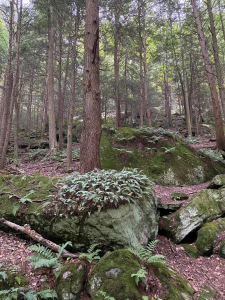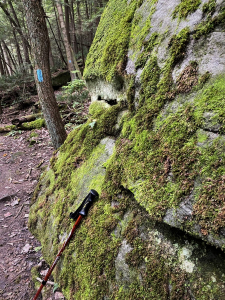 A yellow birch long ago found a welcoming rock crevice and, as the tree grew, now embraces the constricting rock. Ferns have captured the high ground below right. Were the same rock exposed at the canyon rim above, the rock would not be such a favorable microsite for fern nor moss. The gorge micro-climate makes almost any surface suitable for life and living.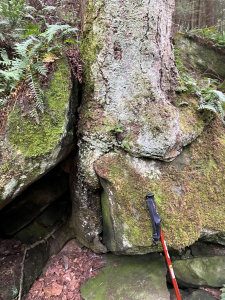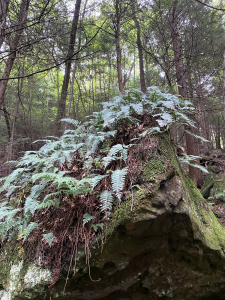 I nearly head-brushed this beech twig (below left) covered by beech blight aphids. From the InsectIdentification website:
Beech Blight Aphids can be found on the twigs, leaves and branches of a variety of deciduous trees, but the beech tree is a popular hangout. They are white and fluffy, as if small bits of cotton or white wool have been glued to their bodies. This hairy substance is actually made of strings of wax that the aphid secretes onto itself. The texture of the wax is thought to be unappealing to beetles and wasps that might eat it. It is also an efficient way of reducing the loss of water by providing a hydro-phobic barrier that prevents evaporation.
Beech Blight Aphids tend to be found in clusters and may at first be overlooked as a fungus or lichen. Like other aphids, they use their mouth parts to drain their host plant of its juices. They then produce a sticky, sweet substance called "honeydew" from the plant juices once they eliminate it. Honeydew is a sweet, attractive food source for ants and, therefore, it is likely to find ants in the vicinity of aphids in order to harvest the sap-like excretion.
Molding honeydew covers the litter trailside (below right) beneath the aphid-coated branch.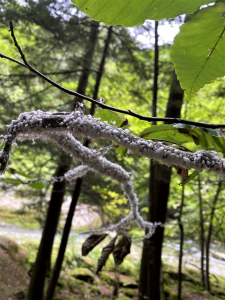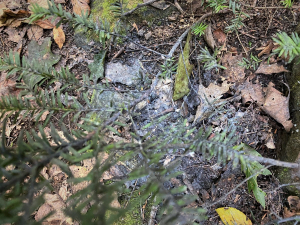 Late growing season flowers were notably scarce in the dense canyon shade. I found just a small patch of pale jewelweed.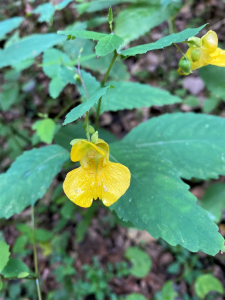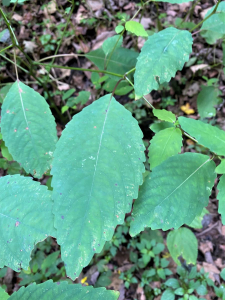 Taking care not to contact this wood nettle plant, I snapped a photo. Also known as stinging nettle, its stems and leaves are covered with hairs containing caustic irritants. I did not wish to spoil my canyon explorations with caustic irritants!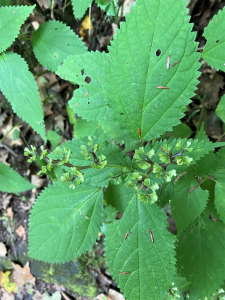 I had previously visited the mill with my son and his family during deep winter when snow created a post card image of the mill and bridge, and the frozen and snow-covered creek above and below the dam. I can visualize a series of photo-essay Posts chronicling the seasonal shifts in the gorge. Because we live 700 miles south of where our son and his family reside, I will likely not pursue such a project. Nevertheless, I did enjoy my early fall hike along Slippery Rock Creek within the Slippery Rock Gorge, a National Natural Landmark, protected for all future generations.
Aldo Leopold talked with unusual resignation about protecting such wild places:
All conservation of wildness is self-defeating, for to cherish we must see and fondle, and when enough have seen and fondled, there is no wilderness left to cherish.
I believe he would be pleasantly surprised by how effectively, across America, we have taken his words as a call to action…identifying and protecting special wild places. Find one near you; visit it and support continuing Nature conservation.
Thoughts and Reflections
I offer these observations:
Whether in northern Alabama or west central Pennsylvania, special natural places warrant special protection.
We have taken Aldo Leopold's call to action seriously, protecting special natural places across the country.
Wherever I roam, Nature inspires and rewards my heart, mind, body, soul, and spirit.
Inhale and absorb Nature's elixir. May Nature Inspire, Inform, and Reward you!
Note: All blog post images created & photographed by Stephen B. Jones unless otherwise noted. Please circulate images with photo credit: "©2021 Steve Jones, Great Blue Heron LLC. All Rights Reserved."
Another Note: If you came to this post via a Facebook posting or by another route, please sign up now (no cost… no obligation) to receive my Blog Post email alerts: http://eepurl.com/cKLJdL
And a Third: I am available for Nature-Inspired Speaking, Writing, and Consulting — contact me at steve.jones.0524@gmail.com
Reminder of my Personal and Professional Purpose, Passion, and Cause
If only more of us viewed our precious environment through the filters I employ. If only my mission and vision could be multiplied untold orders of magnitude:
Mission: Employ writing and speaking to educate, inspire, and enable readers and listeners to understand, appreciate, and enjoy Nature… and accept and practice Earth Stewardship.
Vision:
People of all ages will pay greater attention to and engage more regularly with Nature… and will accept and practice informed and responsible Earth Stewardship.
They will see their relationship to our natural world with new eyes… and will understand more clearly their Earth home.
Tagline/Motto: Steve (Great Blue Heron) encourages and seeks a better tomorrow through Nature-Inspired Living!
Steve's Three Books
I wrote my books Nature Based Leadership (2016), Nature-Inspired Learning and Leading (2017), and Weaned Seals and Snowy Summits: Stories of Passion for Place and Everyday Nature (2019; co-authored with Dr. Jennifer Wilhoit) to encourage all citizens to recognize and appreciate that every lesson for living, learning, serving, and leading is either written indelibly in or is powerfully inspired by Nature.
I began authoring books and Posts for several reasons:
I love hiking and exploring in Nature
I see images I want to (and do) capture with my trusty iPhone camera
I enjoy explaining those images — an educator at heart
I don't play golf!
I do love writing — it's the hobby I never needed when my career consumed me
Judy suggested my writing is in large measure my legacy to our two kids, our five grand kids, and all the unborn generations beyond
And finally, perhaps my books and Blogs could reach beyond family and touch a few other lives… sow some seeds for the future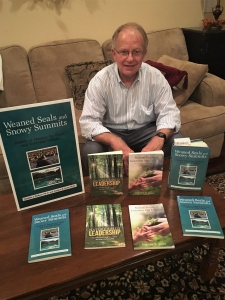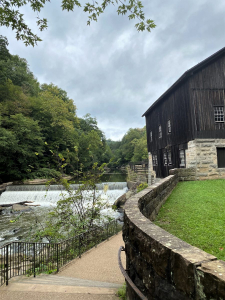 All three of my books (Nature Based Leadership; Nature-Inspired Learning and Leading; Weaned Seals and Snowy Summits) present compilations of firsthand experiences expressing my (and co-author Dr. Wilhoit for Weaned Seals and Snowy Summits) deep passion for Nature. All three books offer observations and reflections on my relationship to the natural world… and the broader implications for society. Order from your local indie bookstore, or find them on IndieBound or other online sources such as Amazon and LifeRich.
http://stevejonesgbh.com/wp-content/uploads/2021/09/IMG_0419.jpg-07.08.21-McConnells-Mill-SP-Slippery-Rock-Creek.jpg
1200
900
Steve Jones
http://stevejonesgbh.com/wp-content/uploads/2017/01/gbhweblogo.png
Steve Jones
2021-11-10 18:01:39
2021-11-10 18:01:39
Pennsylvania's McConnell's Mill State Park