July 14 and 15, 2021, brought me to DeSoto State Park for the quarterly Alabama State Parks Foundation Board meeting. Taking advantage of being there for two days and overnight, I hiked all or parts of three trails at the Park: along the West Fork of the Little River, the Lost Falls Trail, and the Talmadge Butler Azalea Cascade Boardwalk Trail. Nature never disappoints, whether the first day's nearly five-mile circuit or the second morning's one-mile boardwalk stroll.
Hiking along the West Fork of the Little River
Although I had been to the Park several times previously, this was my first hike along the West Fork of the Little River, which cuts south along the east side of the Park at approximately 1,400 feet elevation, after dropping 104 feet upstream at DeSoto Falls. Downstream the West and East Forks merge before plunging 45 feet (Little River Falls) into the head of the Little River Canyon, Alabama's deepest at 600 feet from rimrock to the river.
The West Fork below the Lodge (below left) flowed clearly and quietly southward, yet I saw water-borne debris at least 20 vertical feet higher than the current water level. Where I live, 90-miles to the west/northwest, mid-June's tropical storm Claudette gave us less than an inch of rain. Fort Payne (near the Park) officially recorded 9.83 inches from Claudette, the deluge responsible for the high-hanging West Fork debris. The river-side hike spurred memories of similar size streams and creeks near my western Maryland central Appalachian home. If I were to substitute white pine for the loblolly pine (below right) I am transported 600 miles north.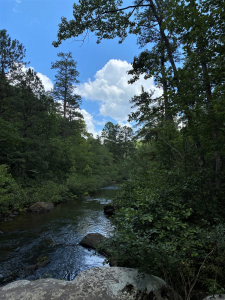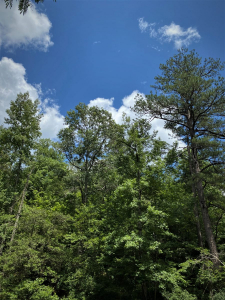 Recently retired North Region Operations Supervisor, Alabama State Parks, Tim Haney, joined me for the hike and stands along the river below left. Tim is facing downstream. At the next morning's Parks Foundation Board meeting, Jim Emison (also on the hike with his grandson Jay) presented Tim with a commemorative plaque acknowledging three and a half years of service as a Founding Member of the Alabama State Parks Foundation Board of Directors as he retires from the Board and from Alabama State Parks following 44 years of exemplary service to the State Parks System.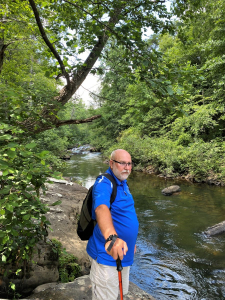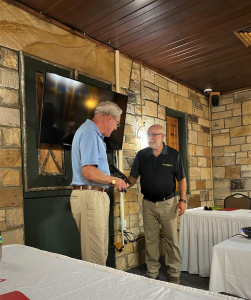 Mid-Summer Flowers and a Special Mushroom
Although I consider our woodland spring ephemerals as my lifelong abiding love, I have come to appreciate the forest interior species I encounter as our southern growing season develops into the fall. Here are yellow false foxglove in flower (below left) and galax below right with its resplendent glossy emerald foliage.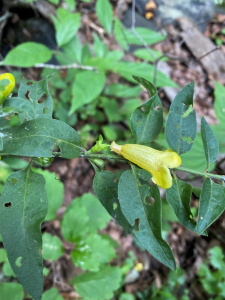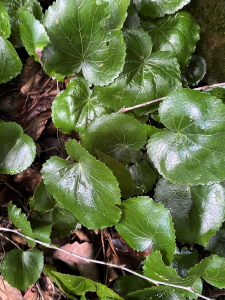 I describe the riverside site as a canyon bottom, deeply shaded, rich and moist, and several very noticeable degrees cooler than the adjoining uplands. The plants seemed to demonstrate their appreciation for the micro-climate with verdant foliage. Like the galax above, also bearing showy foliage, pale Indian plantain presented flower buds just days from opening.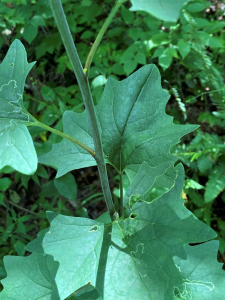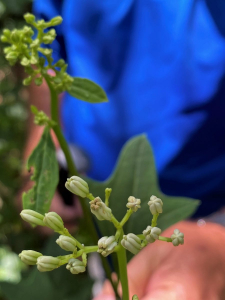 This southern bush honeysuckle extended its flower-bearing stems into and across the trail, a tentative touch I interpreted as a greeting. I loved the feeling of sheltered comfort, enhanced by the River's persistent audible mirth as it descended toward Little River Falls.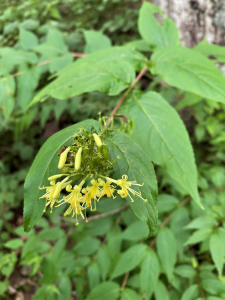 We hiked during the peak season for chanterelle mushrooms, a culinary delight within the fungi kingdom. This patch grew at the trail edge. Two notes: never consume any wild edibles unless you are 100 percent certain of identity; do not harvest anything (mushrooms, plants, flowers, rocks, etc.) from State Parks. As a selective mushroom forager, I fought the urge to collect, wandering on contented by simply seeing these fine specimens thriving in the canyon.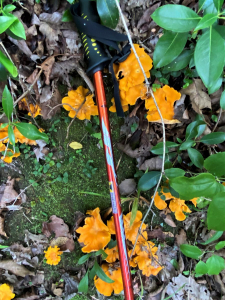 Boulders and Prescribed Fire
After we ascended from the river to the uplands, we entered the Laurel Falls Trail behind the Park store to explore the house-sized boulder field, where Jay snapped a photo of Tim, Jim, and me. The young man who lives within me tried not to think that in aggregate we three exceed 200 years of life on Earth, a period which is nothing to the several hundred million year old rocks framing us.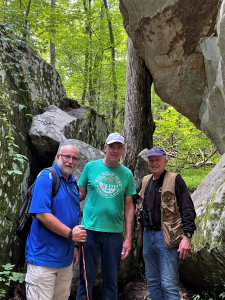 Leaving the boulder zone, we strolled within a forest stand through which Park staff ran a prescribed fire just this past March. Fire is a wonderful management tool when used under ideal conditions, reducing fuel that might otherwise increase wildfire intensity, removing dense understory, enhancing wildlife habitat, and extending visibility within the forest. The larger main canopy trees suffer no damage; many of the targeted understory vegetation has or will succumb. Tim and I stand in front of a long-fallen tree trunk charred by the burn. Below right a chanterelle rises from the charred litter and ashes.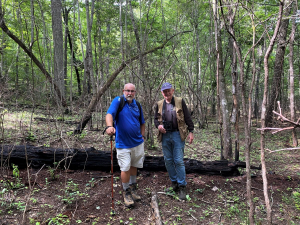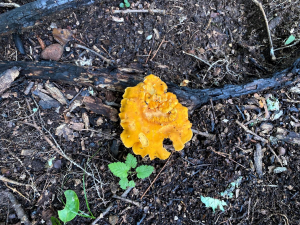 The now more open forest will be blessed next spring with a burst of spring wildflowers.
Talmadge Butler Boardwalk Trail
The next morning before breakfast, three of us (fellow Board member Renee Rice, her niece Rachael Blalock, and I) hiked (really, we intentionally strolled) the Talmadge Butler Boardwalk Trail to Azalea Cascade. We found scarlet beebalm (below right) at the entrance.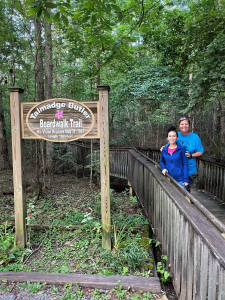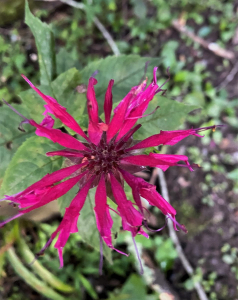 The cascade is a magic place of deep shade, rocks, water, trees, and the sounds of birds, frogs, and stream gurgles. The second photo is Rachael's, taken from her position (below left) looking back to the boardwalk.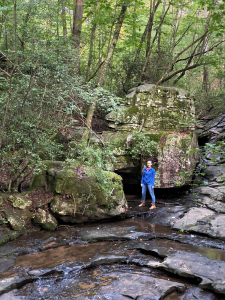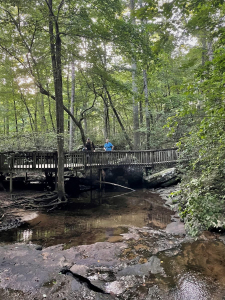 Both of these are Rachael's from within the boulder tumble where the cascade emerges.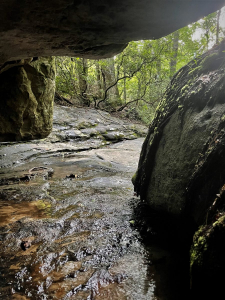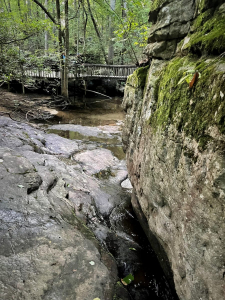 We admired a black birch growing atop a rock ledge, having germinated in accumulated organic debris, extending its roots into the mineral soil along the stream. Nature does indeed abhor a vacuum. Any port in a storm will do.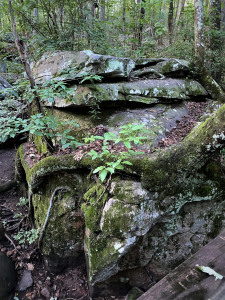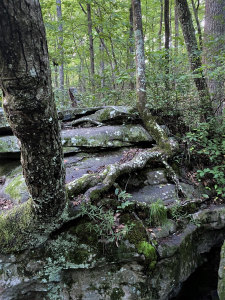 The recent deluge and flash response from the azalea cascade stream had washed its bed under the terminal deck clear of litter and debris, exposing tree roots.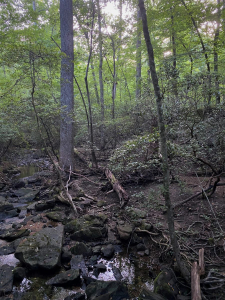 We found button bush in full flower, a curious spiked display, certainly worthy of a photograph.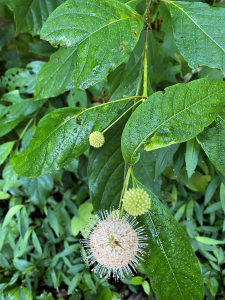 Smiling Faces Tell the Tale!
Rachael's selfie shows smiling faces, a result of our early morning immersion in a special, reverent place at DeSoto State Park. A place that in some small way reveals the soul of this fifth most-visited natural attraction in Alabama. That's no small designation within a state that is America's fourth most biologically diverse.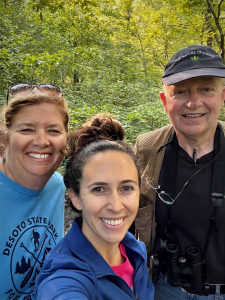 An important element of my retirement Mission is to help people understand, appreciate, and enjoy Nature… and accept and practice Earth Stewardship. We three accomplished that end…preparing us for the day ahead…and for all the days and years to follow.
Alabama State Parks Foundation
Thoughts and Reflections
I offer these observations:
Nature reveals so much to those willing to seek her truths.
I find Nature's treasures wherever I take the time to seek them.
Nature's wonder and awe lie hidden in plain sight. 
Inhale and absorb Nature's elixir. May Nature Inspire, Inform, and Reward you!
Note: All blog post images created & photographed by Stephen B. Jones unless otherwise noted. Please circulate images with photo credit: "©2021 Steve Jones, Great Blue Heron LLC. All Rights Reserved."
Another Note: If you came to this post via a Facebook posting or by an another route, please sign up now (no cost… no obligation) to receive my Blog Post email alerts: http://eepurl.com/cKLJdL
And a Third: I am available for Nature-Inspired Speaking, Writing, and Consulting — contact me at steve.jones.0524@gmail.com
Reminder of my Personal and Professional Purpose, Passion, and Cause
If only more of us viewed our precious environment through the filters I employ. If only my mission and vision could be multiplied untold orders of magnitude:
Mission: Employ writing and speaking to educate, inspire, and enable readers and listeners to understand, appreciate, and enjoy Nature… and accept and practice Earth Stewardship.
Vision:
People of all ages will pay greater attention to and engage more regularly with Nature… and will accept and practice informed and responsible Earth Stewardship.
They will see their relationship to our natural world with new eyes… and will understand more clearly their Earth home.
Tagline/Motto: Steve (Great Blue Heron) encourages and seeks a better tomorrow through Nature-Inspired Living!
Steve's Three Books
I wrote my books Nature Based Leadership (2016), Nature-Inspired Learning and Leading (2017), and Weaned Seals and Snowy Summits: Stories of Passion for Place and Everyday Nature (2019; co-authored with Dr. Jennifer Wilhoit) to encourage all citizens to recognize and appreciate that every lesson for living, learning, serving, and leading is either written indelibly in or is powerfully inspired by Nature.
I began writing books and Posts for several reasons:
I love hiking and exploring in Nature
I see images I want to (and do) capture with my trusty iPhone camera
I enjoy explaining those images — an educator at heart
I don't play golf!
I actually do love writing — it's the hobby I never needed when my career consumed me
Judy suggested my writing is in large measure my legacy to our two kids, our five grand kids, and all the unborn generations beyond
And finally, perhaps my books and Blogs could reach beyond family and touch a few other lives… sow some seeds for the future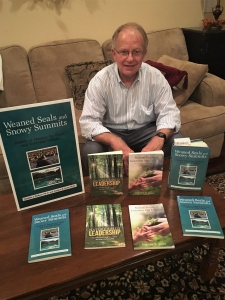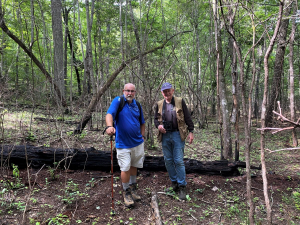 All three of my books (Nature Based Leadership; Nature-Inspired Learning and Leading; Weaned Seals and Snowy Summits) present compilations of personal experiences expressing my (and co-author Dr. Wilhoit for Weaned Seals and Snowy Summits) deep passion for Nature. All three books offer observations and reflections on my relationship to the natural world… and the broader implications for society. Order any and all from your local indie bookstore, or find them on IndieBound or other online sources such as Amazon and LifeRich.
http://stevejonesgbh.com/wp-content/uploads/2021/07/IMG_8158.jpg-07.15.21-7.15AM-at-Azalea-Cascade-Rachael-Photo.jpg
1200
900
Steve Jones
http://stevejonesgbh.com/wp-content/uploads/2017/01/gbhweblogo.png
Steve Jones
2021-08-18 15:54:37
2021-08-18 15:54:37
Mid-July Wanderings at DeSoto State Park