April 3, 2021 I revisited Chapman Mountain Nature Preserve, just east of Huntsville, Alabama. See my November 28, 2019 Great Blue Heron Blog Post for previous reflections: http://stevejonesgbh.com/2019/11/28/happy-thanksgiving-chapman-mountain-nature-preserves-terry-big-tree-trail/
From the Land Trust of North Alabama website: Chapman Mountain Nature Preserve is a 472 acre property located just to the east of Huntsville on HWY 72. While we have plans for 10 miles of trails, a little over 3 miles are currently open and ready to explore. Like all of our public preserves, Chapman Mountain is open dawn to dusk and access is free. These trails are not just for hiking though. Mountain bikers and horseback riders are also welcome and an 18-hole disc golf course is now open to play.
With this current Post, I offer reflections on the intense inter-tree competition for sunlight, and the consequences of that fierce struggle within the forest, and pose some observations about the interplay of natural and human history on this…and nearly every…forested property in northern Alabama. I'll begin by mentioning the forest diversity across the Nature Preserve.
Forest Diversity
Evergreen tree species on-site include loblolly pine (below left), eastern red cedar and shortleaf pine (further below). Hardwood forest  (typical stand below right) species include: yellow poplar; black, chestnut, northern red, white, and chinkapin oaks; shagbark and pignut hickories; green ash; black walnut; persimmon; American elm; osage orange; honey locust; red and Ohio buckeyes; and dogwood. The list may not be exhaustive.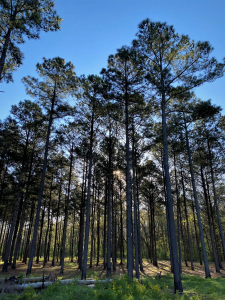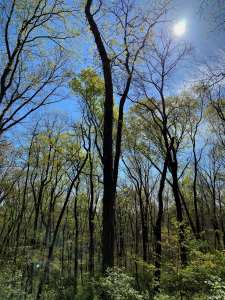 Eastern red cedar is another of our common evergreen species. This individual is one of the very few I saw thriving in the main canopy. The species is a pioneer. Birds disseminate the seeds widely by consuming the fruit and passing the hard inner-seed, scarified by digestive juices, as they forage for insects and seeds in areas disturbed by fire, timber harvesting, or grazing. Cedar often remains in maturing stands like the Chapman Mountain forests, but often as residuals under the topmost canopy.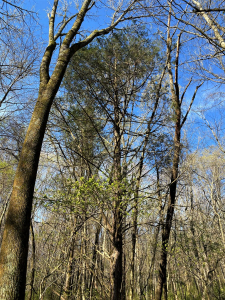 Although situated off-trail, I found this shortleaf pine, with its circumferential bird-peck-agitated bark deformity, reaching high into the hardwood canopy. Note its narrow crown relative to the adjacent hardwoods, especially the wide-spreading white oak at the lower left of the image. I will say more about relative density, a forestry term that indicates the variability of crown space demanded by species. For any given tree base diameter, shortleaf pine expresses a lower relative density than white oak. On identical sites, a fully stocked stand of 12-inch-diameter shortleaf will have more stems per acre than a stand of 12-inch white oak.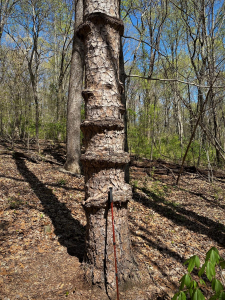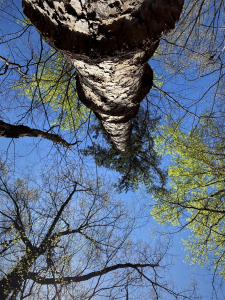 Battle for Canopy Space
The relative density discussion around the shortleaf pine above sets the stage for transitioning into the battle for canopy space. Think about the essential factors for tree growth and development:
Rooting volume (soil depth)
Soil moisture
Soil nutrients
Sunlight
Temperature (soil and air)
My doctoral dissertation evaluated the effects of these factors (and surrogates for them) for Allegheny Hardwood forests of NW Pennsylvania and SW New York. We can't see direct evidence of the fierce belowground competition for soil volume, moisture, and nutrients. I am beginning to focus greater attention on the upper canopy battle for sunlight.
We saw the very narrow shortleaf pine crown relative to the adjacent white oak. In contrast to the white oak, the green ash (below left) and southern red oak (below right) have narrow crowns.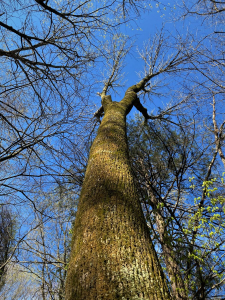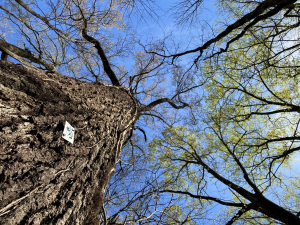 The white oak crowns below are massive. This species demands a lot of aerial space. Thus, its relative density is high.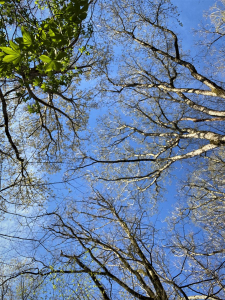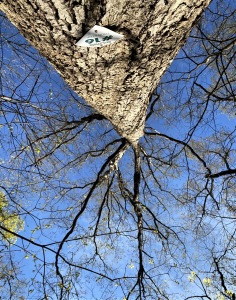 Below are adjacent white oak and red oak crowns, with white oak (lower half of frame) commanding far greater space. If I limited my examination to only eye level, I would see the two individuals at roughly the same diameter. Like the blind men and the elephant, we cannot limit our forest assessment to only one facet. I'm learning more and more. And, the more I learn, the less I realize that I know. That is a fact of life for the inquisitive…the student of life and living.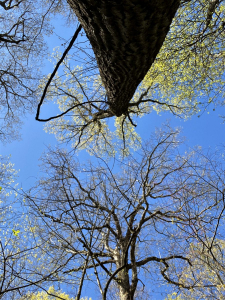 Black walnut stands adjacent to a white oak in the image below. Keep in mind that this stand is even-aged, regenerated following a disturbance, probably continuing fuelwood production up to the time of farm abandonment. All of the trees are likely within a 10-15 year age range. The walnut and white oak began their vertical development concurrently. Importantly, black walnut is shade intolerant. The USDA Agricultural handbook No. 271, Silvics of Forest Trees of the US: "In mixed forest stands, it must be in a dominant position to maintain itself." The black walnut below (left side of image) is in the main canopy, but the white oak has muscled the walnut, forcing its crown far to the left, struggling to maintain its main canopy position. I wonder how much longer the walnut will remain in the stand.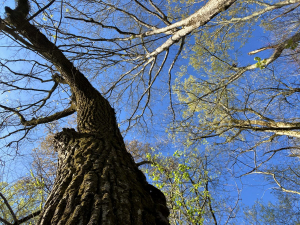 American beech, like white oak, demands lots of crown space. This 30-plus-inch diameter individual commands the canopy, keeping adjacent trees at bay.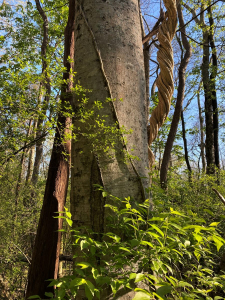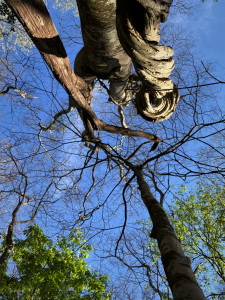 A dead, bark-stripped tree stands to the left (in both images) of the beech. Every battle for crown space yields casualties.
Every Battle Yields Casualties
This recently dead black oak still carries a Terry Big Tree Trail number. All of its fine branches have already fallen. The neighbor trees are closing the canopy void left by the black oak.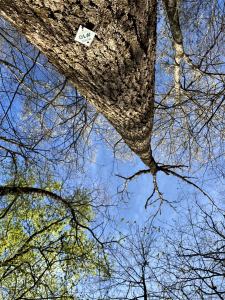 As I've observed repeatedly in these Posts, death is a real and continuing component in the life of a forest. This substantial oak snag bears testimony. I saw no outward evidence of physical trauma (lightning or wind) that may have resulted in death. Instead, I will presume that it failed in the competitive battlefield.
Here's another dead oak with its accompanying canopy void.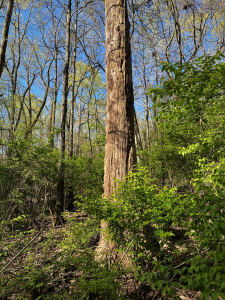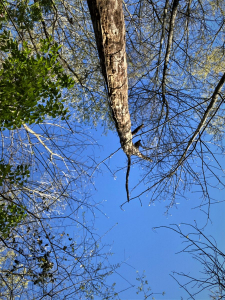 Often the evidence of physical trauma is apparent, whether windthrow (below left) or wind snapping the trunk at its base (below right).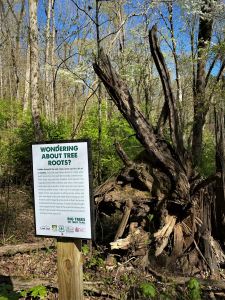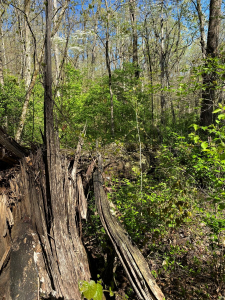 Site resources are finite. The competition for those fixed assets is a zero sum game. Some trees continue to grow and thrive at the expense of others.
To the Survivors Go the Spoils
Simply, to the victors go the spoils. Multiple windblown individual main canopy oak trees (below left) resulted in a large canopy opening (below right). A windfall (pardon the pun) of sunlight for the survivors. Adjacent trees will vie for the bounty of sunlight. Until the void closes, sunlight reaching the forest floor will generate a flush of vigor for herbaceous and woody growth in plants who patiently await just such disturbance. The entire ecosystem knows perturbance and sustains itself on the process of life, death, stability, and disturbance. The forest changes and persists.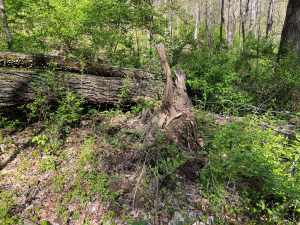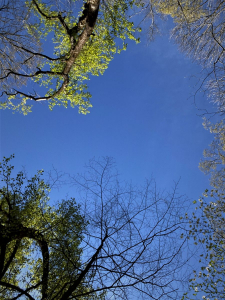 Disturbance yields more than sunlight. Downed trees and branches decay quite rapidly in our warm and moist climate. Moss drapes the log below left. Fungi sprouting the devil's urn mushrooms (below right) are just one of the innumerable species of decay fungi returning organic matter and nutrients to the soil.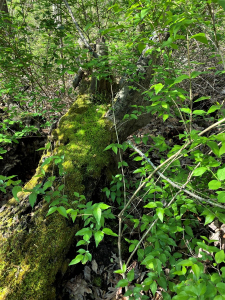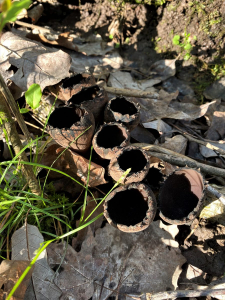 The decay process is certain and predictable. The downed log below left will eventually decay to the more advanced condition below right and, in time, will incorporate fully into the soil organic matter.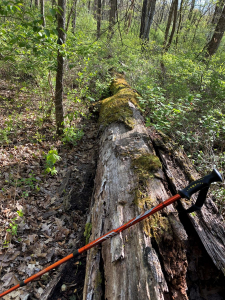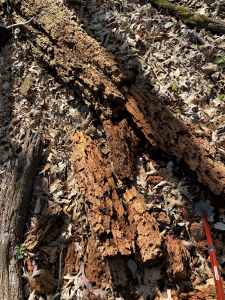 Thoughts and Reflections
I offer these reflections:
Forest diversity offers a richness worth noticing.
Life and death dance without end in our forests.
To the victor go the spoils.
Inhale and absorb Nature's elixir. May Nature Inspire, Inform, and Reward you!
Note: All blog post images created & photographed by Stephen B. Jones unless otherwise noted. Please circulate images with photo credit: "©2021 Steve Jones, Great Blue Heron LLC. All Rights Reserved."
Another Note: If you came to this post via a Facebook posting or by an another route, please sign up now (no cost… no obligation) to receive my Blog Post email alerts: http://eepurl.com/cKLJdL
And a Third: I am available for Nature-Inspired Speaking, Writing, and Consulting — contact me at steve.jones.0524@gmail.com
Reminder of my Personal and Professional Purpose, Passion, and Cause
If only more of us viewed our precious environment through the filters I employ. If only my mission and vision could be multiplied untold orders of magnitude:
Mission: Employ writing and speaking to educate, inspire, and enable readers and listeners to understand, appreciate, and enjoy Nature… and accept and practice Earth Stewardship.
Vision:
People of all ages will pay greater attention to and engage more regularly with Nature… and will accept and practice informed and responsible Earth Stewardship.
They will see their relationship to our natural world with new eyes… and will understand more clearly their Earth home.
Tagline/Motto: Steve (Great Blue Heron) encourages and seeks a better tomorrow through Nature-Inspired Living!
Steve's Three Books
I wrote my books Nature Based Leadership (2016), Nature-Inspired Learning and Leading (2017), and Weaned Seals and Snowy Summits: Stories of Passion for Place and Everyday Nature (2019; co-authored with Dr. Jennifer Wilhoit) to encourage all citizens to recognize and appreciate that every lesson for living, learning, serving, and leading is either written indelibly in or is powerfully inspired by Nature.
I began writing books and Posts for several reasons:
I love hiking and exploring in Nature
I see images I want to (and do) capture with my trusty iPhone camera
I enjoy explaining those images — an educator at heart
I don't play golf!
I actually do love writing — it's the hobby I never needed when my career consumed me
Judy suggested my writing is in large measure my legacy to our two kids, our five grand kids, and all the unborn generations beyond
And finally, perhaps my books and Blogs could reach beyond family and touch a few other lives… sow some seeds for the future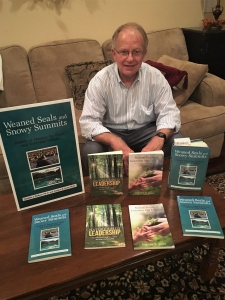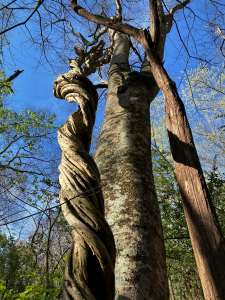 All three of my books (Nature Based Leadership; Nature-Inspired Learning and Leading; Weaned Seals and Snowy Summits) present compilations of personal experiences expressing my (and co-author Dr. Wilhoit for Weaned Seals and Snowy Summits) deep passion for Nature. All three books offer observations and reflections on my relationship to the natural world… and the broader implications for society. Order any and all from your local indie bookstore, or find them on IndieBound or other online sources such as Amazon and LifeRich.
http://stevejonesgbh.com/wp-content/uploads/2021/05/IMG_7282.jpg-04.03.21-Terry-Trail-30-degree-View-to-Crowns-Sunfleck.jpg
1200
900
Steve Jones
http://stevejonesgbh.com/wp-content/uploads/2017/01/gbhweblogo.png
Steve Jones
2021-06-16 17:56:30
2021-06-18 10:51:44
Spring Visit to Chapman Mountain Nature Preserve; Fierce Competition in the Forest Canopy