March 20, 2021, I once again explored the hardwood bottomland forests on the eastern end of the Wheeler National Wildlife Refuge near Huntsville, Alabama. I focused my attention on the overstory, learning more about the fierce competition among trees for sunlight. I have found little in the scientific literature to refute or support my observations. I will continue studying forest canopies in subsequent dormant seasons. Dense hardwood foliage within the main canopy and vision-obscuring lower and mid-canopy foliage make growing season observations impossible.
Trees Talking to Each Other
Smithsonian Magazine (March 2018) published an article about Peter Wohlleben, titled Do Trees Talk to Each Other. From the article:
Wohlleben, a German forester and author, has a rare understanding of the inner life of trees, and is able to describe it in accessible, evocative language. Now, at the age of 53, he has become an unlikely publishing sensation. His book The Hidden Life of Trees: What They Feel, How They Communicate, written at his wife's insistence, sold more than 800,000 copies in Germany, and has now hit the best-seller lists in 11 other countries, including the United States and Canada.
Since Darwin, we have generally thought of trees as striving, disconnected loners, competing for water, nutrients and sunlight, with the winners shading out the losers and sucking them dry. The timber industry in particular sees forests as wood-producing systems and battlegrounds for survival of the fittest.
There is now a substantial body of scientific evidence that refutes that idea. It shows instead that trees of the same species are communal, and will often form alliances with trees of other species. Forest trees have evolved to live in cooperative, interdependent relationships, maintained by communication and a collective intelligence similar to an insect colony. These soaring columns of living wood draw the eye upward to their outspreading crowns, but the real action is taking place underground, just a few inches below our feet.
Ah, the magical stuff of fairy tales and Harry Potter! I suppose that anthropomorphizing trees and forests is in vogue. I give this much to Wohlleben: much of the action is, in fact, taking place below ground. I have known about the essential role of mycorhizae since my undergraduate days, the synergistic interplay between fungi and plants, trees in particular. The relationship increases the tree root absorptive capacity (water and nutrients) by orders of magnitude.
I confess to being an old timber industry forester (1973-85). And I admit to holding steadfast to my belief that forests are battlegrounds for survival of the fittest. The National Geographic perspective on Wohlleben's characterization of the inner life of trees is becoming commonly accepted dogma. In my objective applied ecology world, dogma stands as the enemy of science. Science is never decided by popular opinion.
From Fantasy to Reality
Let's look at the bottomland hardwood forest below, composed of mixed hardwood species, well-stocked, with trees reaching more than 100 feet skyward. Certainly, its mycorhizal community is vibrant.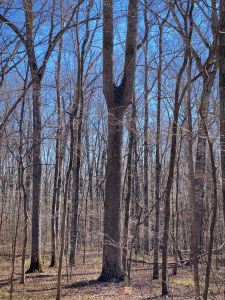 I simply do not subscribe to Wohlleben's principal thesis: Forest trees have evolved to live in cooperative, interdependent relationships, maintained by communication and a collective intelligence similar to an insect colony. Instead, I see intense competition below ground for moisture and nutrients, and above ground for light and life. The overhead canopy view below shows oak crowns fully occupying the overstory, each, for now, having staked out its zone of occupancy, suggesting a stasis that simply does not exist in stands still developing, growing, and maturing. The trees have not agreed upon the terms of an armistice, a cessation of hostilities.
The tree extending over the top of this photo is a vibrant 30-inch diameter red oak. It is not, in my view, a caring larger sibling tending its slightly smaller and a little shorter neighbors. It is a ruthless competitor, as Darwin concluded, intent upon thriving and surviving so that its progeny extend to the next generation. Life in the forest is a zero-sum game. Essential resources of crown light and soil moisture and fertility are finite. What one tree gathers is at the expense of its neighbors.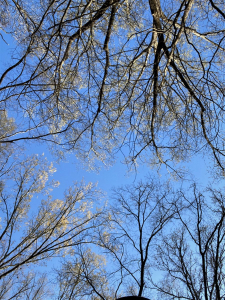 Here's a 16-inch-diameter shagbark hickory reaching into the main canopy (below right). It has secured its position, but it is not living in loving harmony with its neighbors. The much smaller tree to its lower left (appearing to emerge from the lower left corner of the photograph) is the same age as the hickory. It occupies a fraction of the canopy space. It will lose the battle for extended life in the crown. None of the adjoining trees, in some wave of generosity and compassion, will sustain it. They seek its small share of main canopy sunlight and below ground resources. In a very non-egalitarian manner, they will overwhelm it, and then fight the survivors for the resultant bounty.
Forest trees have evolved to live in cooperative, interdependent relationships, maintained by communication and a collective intelligence similar to an insect colony? No, not in the forests of my experience!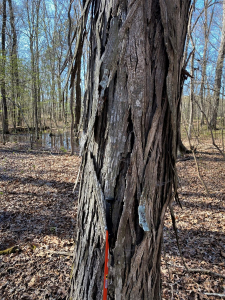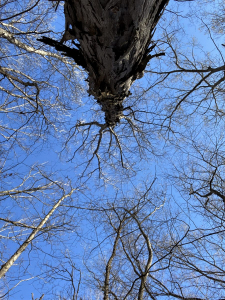 During the most recent dormant season (2020-21) I have for the first time over my fifty-plus years as a professional forester and applied ecologist, begun to study inter-tree crown competition. I've learned that white oaks in our forests demand a lot of crown space. That's a white oak below at the top of the image. A shagbark hickory, with a relatively smaller crown rises from the lower left of the photograph. The trees are of similar diameter. Note that none of these main canopy dwellers are touching. They seem to agree not to invade each other's space; the operative word is seem.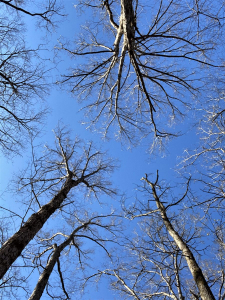 However, they are not respecting each other's space. Instead, I am convinced that over thousands of generations of evolution, trees are hard-wired to avoid interlacing crowns. Such interlacing results in friction and abrasion as wind rocks and sways the crowns. Perhaps the old nursery rhyme has its basis in this crown shyness phenomenon:
Rock a bye baby, on the tree top,
When the wind blows the cradle will rock.
When the bough breaks the cradle will fall,
And down will come baby, cradle and all.
Regardless, evolution…and not neighborly love and respect…dictate that tree crowns do not physically touch!
Competition for essential site resources will result in less capable individuals succumbing. However, inability to compete effectively is not the only cause of stem mortality. Here's a 20-inch-diameter red oak that wind-snapped 12 feet above the ground. Why this one? I can only speculate that it broke at some point of structural weakness. Unlike white oak, red oak does not demand a seeming inordinately large crown space. This individual dropped within just the prior 2-5 years…yet, already the crown opening it left (below right) is closing. Life in the forest is dog-eat-dog!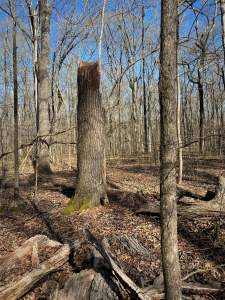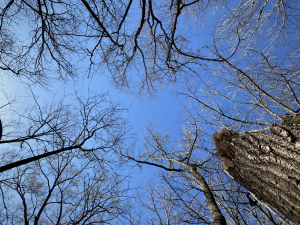 Let's turn to a 22-inch-diameter dead white oak. I have no idea what resulted in its demise. I saw no evidence of lightning strike. The scientist in me seeks a direct cause. The fatalist simply observes that its time had come. I confront forest mysteries of all manner. Simply, a seeming vibrant and dominant individual died, leaving (below right) a standing skeleton of what once was a massive canopy, typical of dominant white oak trees in our forests.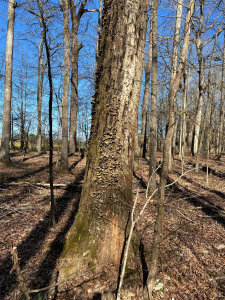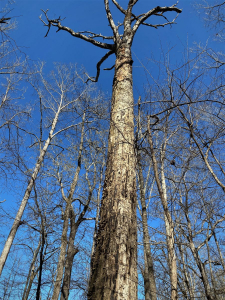 It left a large void and considerable now-available sunlight. The adjacent survivors will battle to secure their share.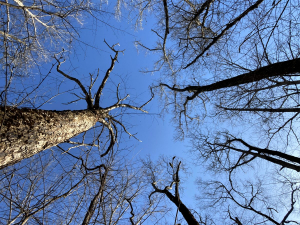 I see a ferocious ongoing competition for canopy light and life. I do not embrace the notion of a loving and caring community practicing intra- and inter-species communication and cooperation. And while I'm reacting to his basic premise, allow me to react somewhat viscerally to Wohlleben's apparent hubris and assumed moral superiority to the knuckle-draggers in the forest products industry. I spent 12 years in that industry at the outset of my career, employed by a company that owned 2.2 million acres of forestland across the southeastern US, and responsibly practiced forest operations within the context of a deep land ethic. My final three years with the company, I led a unit directly charged with managing 500 square miles of company-owned forestland in central and southern Alabama. Although I did not anthropomorphize those forests, I did recognize the interconnected reality of the entire forest ecosystem: its plants, animals, other organisms, water, soil, and atmosphere. I had not by then run across this Albert Einstein quote: It's not that one thing is a miracle, but that the whole thing is a miracle. Yet, I knew from my forestry education, my personal passion, and the company's expressed land ethic that the whole thing is a miracle, including that I was privileged to work with such a magnificent natural system and work for a company embracing a land ethic.
Since Darwin, we have generally thought of trees as striving, disconnected loners, competing for water, nutrients and sunlight, with the winners shading out the losers and sucking them dry. I adopt Darwin's view with respect to competition among trees. He did not say that the forest is not an integrated system, nor do I. I see our forests as complex meritocracies. The system and the individuals work best when the strong survive. Nature sets no quotas on species composition, nor does it seek some specific admixture of strong and weak. The whole thing, no matter how the pieces assemble, is a miracle.
Thoughts and Reflections
I offer two observations from my mid-March trek:

The forest's visible action occurs high above us; her invisible dynamism lies beneath our feet in the soil.
The forest is a living miracle of biology, beauty, and fierce competition among trees.
Inhale and absorb Nature's elixir. May Nature Inspire, Inform, and Reward you!
Note: All blog post images created & photographed by Stephen B. Jones unless otherwise noted. Please circulate images with photo credit: "©2021 Steve Jones, Great Blue Heron LLC. All Rights Reserved."
Another Note: If you came to this post via a Facebook posting or by an another route, please sign up now (no cost… no obligation) to receive my Blog Post email alerts: http://eepurl.com/cKLJdL
And a Third: I am available for Nature-Inspired Speaking, Writing, and Consulting — contact me at steve.jones.0524@gmail.com
Reminder of my Personal and Professional Purpose, Passion, and Cause
If only more of us viewed our precious environment through the filters I employ. If only my mission and vision could be multiplied untold orders of magnitude:
Mission: Employ writing and speaking to educate, inspire, and enable readers and listeners to understand, appreciate, and enjoy Nature… and accept and practice Earth Stewardship.
Vision:
People of all ages will pay greater attention to and engage more regularly with Nature… and will accept and practice informed and responsible Earth Stewardship.
They will see their relationship to our natural world with new eyes… and will understand more clearly their Earth home.
Tagline/Motto: Steve (Great Blue Heron) encourages and seeks a better tomorrow through Nature-Inspired Living!
Steve's Three Books
I wrote my books Nature Based Leadership (2016), Nature-Inspired Learning and Leading (2017), and Weaned Seals and Snowy Summits: Stories of Passion for Place and Everyday Nature (2019; co-authored with Dr. Jennifer Wilhoit) to encourage all citizens to recognize and appreciate that every lesson for living, learning, serving, and leading is either written indelibly in or is powerfully inspired by Nature.
I began writing books and Posts for several reasons:
I love hiking and exploring in Nature
I see images I want to (and do) capture with my trusty iPhone camera
I enjoy explaining those images — an educator at heart
I don't play golf!
I actually do love writing — it's the hobby I never needed when my career consumed me
Judy suggested my writing is in large measure my legacy to our two kids, our five grand kids, and all the unborn generations beyond
And finally, perhaps my books and Blogs could reach beyond family and touch a few other lives… sow some seeds for the future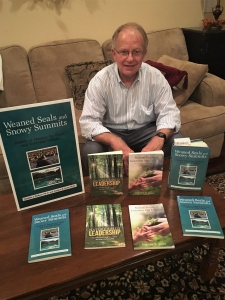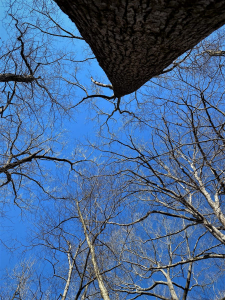 All three of my books (Nature Based Leadership; Nature-Inspired Learning and Leading; Weaned Seals and Snowy Summits) present compilations of personal experiences expressing my (and co-author Dr. Wilhoit for Weaned Seals and Snowy Summits) deep passion for Nature. All three books offer observations and reflections on my relationship to the natural world… and the broader implications for society. Order any and all from your local indie bookstore, or find them on IndieBound or other online sources such as Amazon and LifeRich.
http://stevejonesgbh.com/wp-content/uploads/2021/03/IMG_6929-03.20.21-HGH-Road-20-inch-RO-Snag-Canopy-Closing.jpg
900
1200
Steve Jones
http://stevejonesgbh.com/wp-content/uploads/2017/01/gbhweblogo.png
Steve Jones
2021-06-08 17:37:47
2021-06-08 17:37:47
Fighting for Light and Life in the Forest Canopy: Parsing Reality from Fantasy