Pleasant and Well-Managed Trails
April 11, 2021, along with my two Alabama grandsons, I visited Green Mountain Nature Preserve for the first time. The Land Trust of North Alabama owns and manages this 922-acre preserve south of Huntsville in Madison County. The three of us hiked four miles, exploring features of interest that I share in this Post. As with all the Land Trust's public Preserves, the signage met (and exceeded) expectations. That's seven-year-old Sam on the right; 13-year-0ld Jack to the left.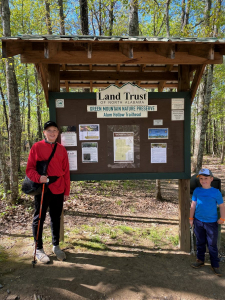 We began our journey along the west rim, where the slope dropped abruptly below us. As he always does, Sam found a stick-weapon, posing from his rimrock perch with the narrow canyon just beyond him and in the distance a broad valley. Had we delayed our hike a week longer, fuller hardwood foliage would have obstructed the view.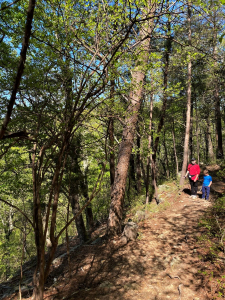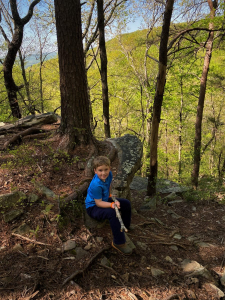 I applaud the Land Trust for superb trail condition and maintenance, the occasional bench-amenity, and bridges across seasonal streams.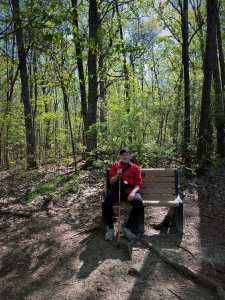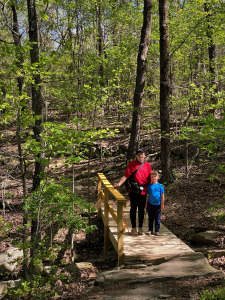 Yet Another Look at Sharing Space in the Main Canopy
Along the west rim, we passed through stands dominated by Virginia pine. I aimed the camera 60-degrees from the horizontal into the live crowns. I then swung the camera to the vertical. As I've begun to notice across our north Alabama forests, crown shyness is apparent; adjoining Virginia pines respect the space of their neighbors. Long before Covid-19 and, I surmise, way before even our Native American forerunners settled north Alabama, our forest species practiced their own brand of social distancing!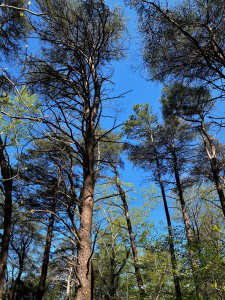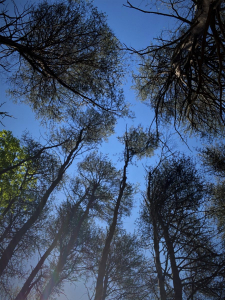 Where hardwood mixed with the pine (below left), crown shyness maintains respectful distance between trees. Such is the case, I'm learning, where the stand consists of trees generally sharing the upper canopy space. I am eager to explore stands with a more complex vertical structure, where the canopy is tiered. Imagine a lower story of shade tolerant species like dogwood and beech, an intermediate canopy of mid-story species like sourwood. From my ground-level perspective, crown shyness would be masked by occupants of the tree crowns beneath the main canopy. Yet another task for me to pursue when dormant season returns next fall.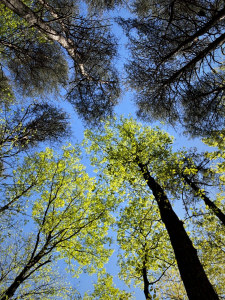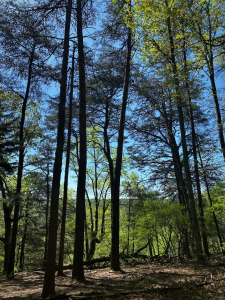 Recently dead main canopy occupants help illustrate interrelationships high above the forest floor. For scale I asked Sam to stand beside the two-to-three-year deceased oak. Its sloughed bark and naked stem caught my eye as we rambled past. Death's decay has taken nearly all branches, leaving only its main spar surrounded by open sky, a void in the main canopy that already the adjacent trees have begun to occupy. Nature surely does abhor a vacuum.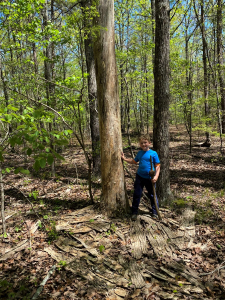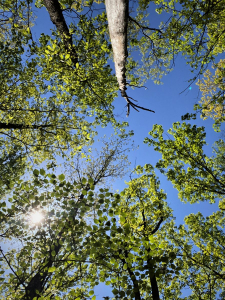 Never do I enter Nature's wildness when I found nothing new, puzzling, or meriting ecological examination.
Tree Form Oddities and Curiosities
Once again, tree form oddities and curiosities drew my attention. The boys shared in the fun…and seemed eager to learn the causes and consequences. During its teenage years, standing as a sapling, this chestnut oak tree fell victim to another tree or treetop falling onto it. Bent to nearly horizontal, the sapling snapped at ten feet above its base, retained its anchorage, and redirected its life force to a small branch at the point where its vertical trunk now rises into the main canopy. The boys posed riding this wild sylvan stallion.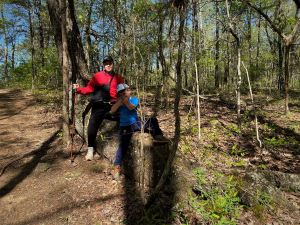 My Dad, himself an avid outdoorsman, called this form pump handle trees, because they resemble, you guessed it, water pump handles. Like the chestnut oak, falling debris bent both the now-dead oak ( below left) and the smaller one at right. Both corrected and sent a shoot heavenward. Certainly, neither is old enough to be an Indian marker tree. Nature, instead, used a failsafe remedy to overcome physical injury.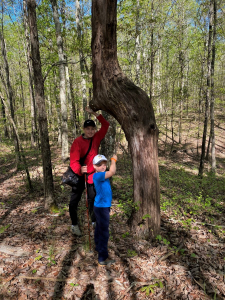 The same is true for this chestnut oak. In some ways it's uncanny how many of the injured and recovered stems we found within reach of the trail that morning.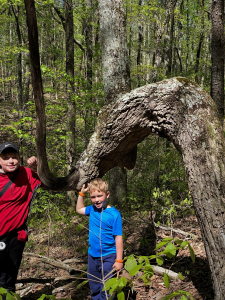 Here is what I learned to call a wolf tree during my forestry days. Older than the adjoining stand, this chestnut oak grew unencumbered by direct adjoining tree competition. Its large coarse branching and extensive crown validate that early life of full-sunlight luxury. Why a wolf tree? As explained to me, for some years it stood as a lone wolf. Makes sense!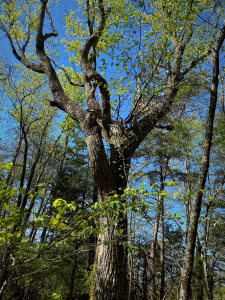 I always enjoy finding and puzzling over tree form oddities and curiosities. I find them wherever I roam in our hardwood forests.
Fanciful Features
Green Mountain offers far more that just pleasant woodland trails and tree form curiosities. Without elaboration, below is Alum Cave, a rock ledge overhang that likely sheltered Native American hunting and gathering parties for 12-13,000 years.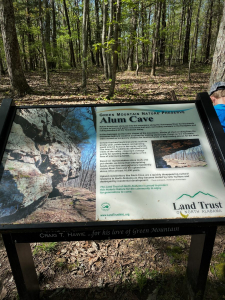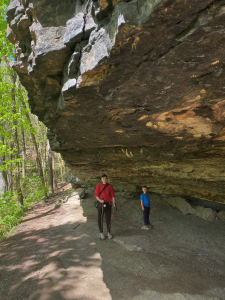 Two views of the spring rain-flushed stream cascading over rock ledges, fulfilling us as we stood in awe and appreciation.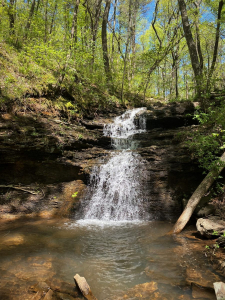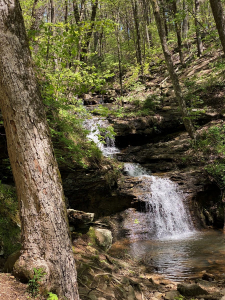 A secondary falls nearby attracted Sam and Jack. Pap admired from above, electing not to tempt fate and tumble into the falls!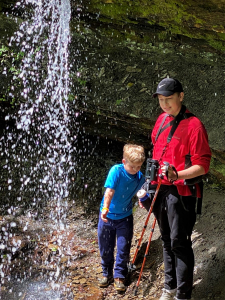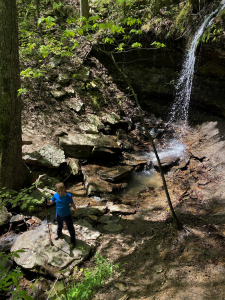 Sam has never found a stick he couldn't convert into some form of implement. He termed this one his Indian war club.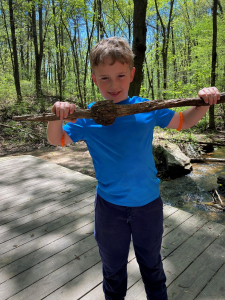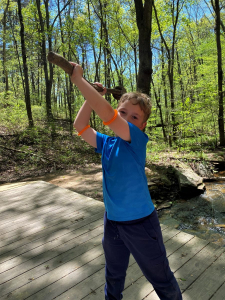 Although the above factors favored us with great reward, we found other wonders along the way.
Special Spring Wildflowers
I have long been a spring wildflower enthusiast. Here is a highlight reel of just six we discovered and appreciated. Mountain azalea (below left) is one of my favorites. Woodland stonecrop (below right) provided a fresh splash of star-white.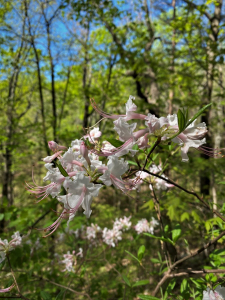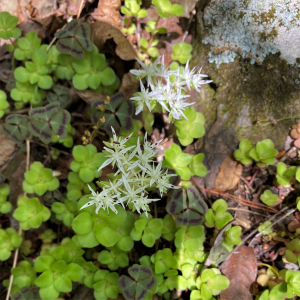 Fire pink (below left) is also among my spring-select ephemerals! I never tire of seeing blue phlox (below right).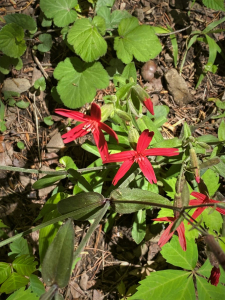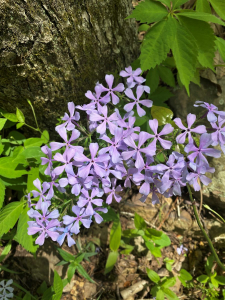 Violet wood sorrel (below left) graced us, and VA spiderwort blue-shouted its way into our field of vision.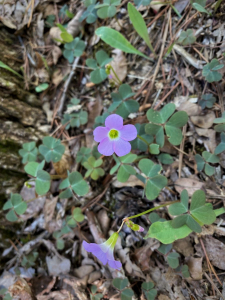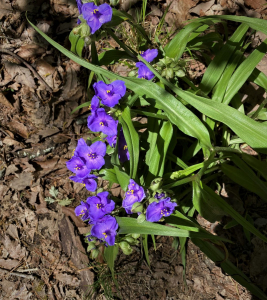 I've been a spring wildflower enthusiast since my freshman year of college, when I took systematic botany in the spring term. It's been a lifetime obsession!
Thoughts and Reflections
I offer three observations from my April introduction to Green Mountain Nature Preserve:
Nature always spurs inspiration and teaches humility.
Every trek through the forest is better with young people, especially grandchildren.
Spring wildflowers are always a forest highlight! 
Inhale and absorb Nature's elixir. May Nature Inspire, Inform, and Reward you!
Note: All blog post images created & photographed by Stephen B. Jones unless otherwise noted. Please circulate images with photo credit: "©2021 Steve Jones, Great Blue Heron LLC. All Rights Reserved."
Another Note: If you came to this post via a Facebook posting or by an another route, please sign up now (no cost… no obligation) to receive my Blog Post email alerts: http://eepurl.com/cKLJdL
And a Third: I am available for Nature-Inspired Speaking, Writing, and Consulting — contact me at steve.jones.0524@gmail.com
Reminder of my Personal and Professional Purpose, Passion, and Cause
If only more of us viewed our precious environment through the filters I employ. If only my mission and vision could be multiplied untold orders of magnitude:
Mission: Employ writing and speaking to educate, inspire, and enable readers and listeners to understand, appreciate, and enjoy Nature… and accept and practice Earth Stewardship.
Vision:
People of all ages will pay greater attention to and engage more regularly with Nature… and will accept and practice informed and responsible Earth Stewardship.
They will see their relationship to our natural world with new eyes… and will understand more clearly their Earth home.
Tagline/Motto: Steve (Great Blue Heron) encourages and seeks a better tomorrow through Nature-Inspired Living!
Steve's Three Books
I wrote my books Nature Based Leadership (2016), Nature-Inspired Learning and Leading (2017), and Weaned Seals and Snowy Summits: Stories of Passion for Place and Everyday Nature (2019; co-authored with Dr. Jennifer Wilhoit) to encourage all citizens to recognize and appreciate that every lesson for living, learning, serving, and leading is either written indelibly in or is powerfully inspired by Nature.
I began writing books and Posts for several reasons:
I love hiking and exploring in Nature
I see images I want to (and do) capture with my trusty iPhone camera
I enjoy explaining those images — an educator at heart
I don't play golf!
I actually do love writing — it's the hobby I never needed when my career consumed me
Judy suggested my writing is in large measure my legacy to our two kids, our five grand kids, and all the unborn generations beyond
And finally, perhaps my books and Blogs could reach beyond family and touch a few other lives… sow some seeds for the future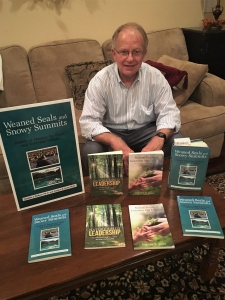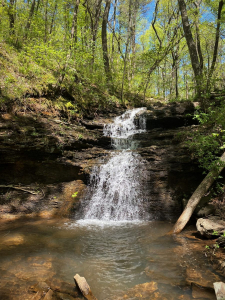 All three of my books (Nature Based Leadership; Nature-Inspired Learning and Leading; Weaned Seals and Snowy Summits) present compilations of personal experiences expressing my (and co-author Dr. Wilhoit for Weaned Seals and Snowy Summits) deep passion for Nature. All three books offer observations and reflections on my relationship to the natural world… and the broader implications for society. Order any and all from your local indie bookstore, or find them on IndieBound or other online sources such as Amazon and LifeRich.
http://stevejonesgbh.com/wp-content/uploads/2021/04/IMG_7449.jpg-04.11.21-Alum-Cave.jpg
1200
900
Steve Jones
http://stevejonesgbh.com/wp-content/uploads/2017/01/gbhweblogo.png
Steve Jones
2021-05-29 14:53:28
2021-05-29 14:53:28
My First Visit to Green Mountain Nature Preserve