I enjoyed three half-day hikes at Oak Mountain State Park April 14-16, 2021. This is the third Post from those hiking excursions. The other two are:
Fifty Shades of Green — http://stevejonesgbh.com/2021/04/27/fifty-shades-of-april-green-at-oak-mountain-state-park/
Important State Park System Announcement — http://stevejonesgbh.com/2021/05/04/governor-kay-iveys-exciting-april-2021-state-park-system-announcement-at-oak-mountain-state-park/
This Post catalogs the variety of spring ephemerals and woody plants in flower that I encountered while hiking incredible wooded trails like this one.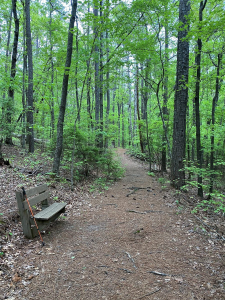 Spring Ephemerals
I won't spoil these lovely spring wildflower photographs with my ecologist's ramblings and pontifications, although my inclination is to observe, reflect, and explain. This time, I pledge to resist temptation and provide little more than name, rank, and serial number for each of these woodland beauties.
Hairy Phlox (Phlox amoena) and Lobed Tickseed (Coreopsis auriculata)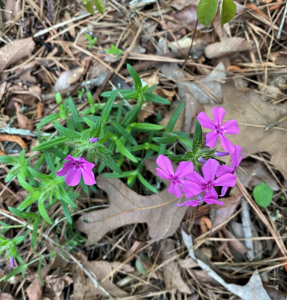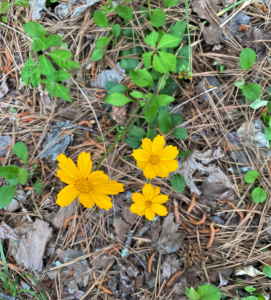 Southern Yellow Wood Sorrel (Oxalis stricta) and American Alumroot (Heuchera americana). I love the alumroot's beautifully variegated leaves.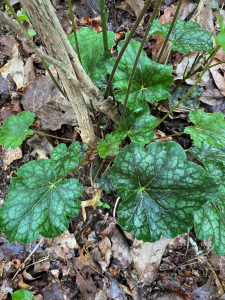 Dwarf Crested Iris (Iris cristata), an exquisite beauty unto itself!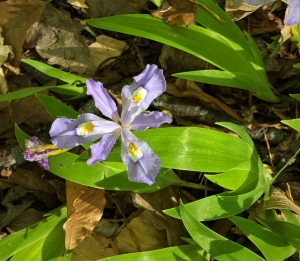 Rattlesnakeweed (Hieracium venosum), with its own deeply variegated leaves!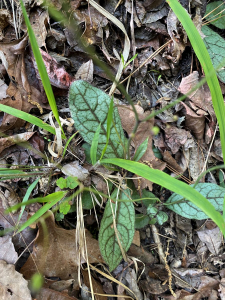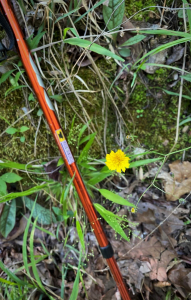 Candyroot (Polygala nana) and Birds Foot Violet (Viola pedata). I found the Candyroot in an area prescribe-burned several weeks prior.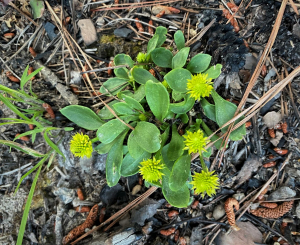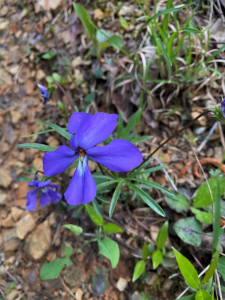 Jack-in-the-Pulpit (Arisaema triphyllum)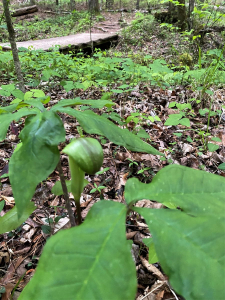 Firepink (Silene virginica) and (poison ivy; Toxicodendron radicans). I decided to dub the right image as Beauty-and-the-Beast. Firepink is one of my favorites (Beauty) and because I am quite sensitive to poison ivy I consider it The Beast.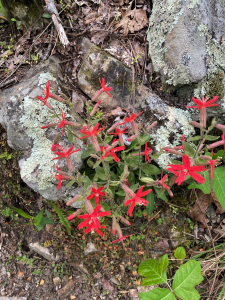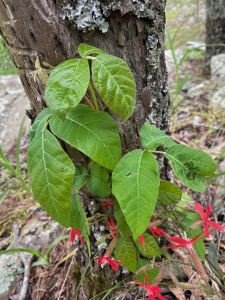 Plantain-Leafed Pusseytoes (Antennaria plantaginifolia)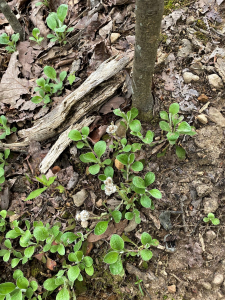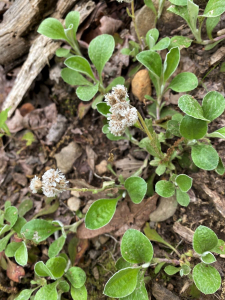 Woody Flowering Plants
The spring ephemerals above are not woody. They flourish and bloom before the overstory hardwoods foliate, blocking sun from the forest floor. Their growing season often begins well before last frost and end by the close of May. Grancy Greybeard (Chionanthus virginicus) was in full glory. I found Crossvine (Bignonia capreolata) at the overlook ledge on Shackelford Ridge.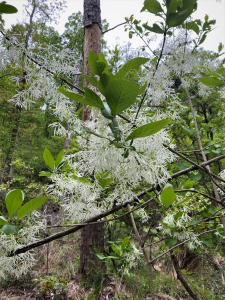 Likewise, I encountered Rusty Blackhaw (Viburnum rufidulum) along the ridge. I do not recall ever seeing this species so robustly flowering.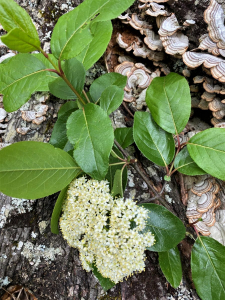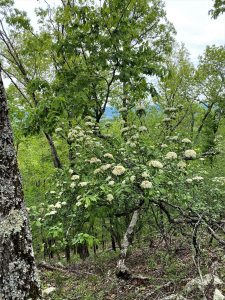 Perhaps my favorite among all spring wildflowers, Mountain Azalea (Rhododendron canescens), greeted me along nearly every trail I wandered.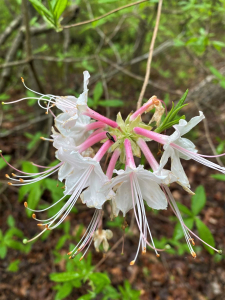 Spring wildflowers warm my heart. I've been an addict since spring semester of my freshman year in western Maryland, when Dr. Glenn O. Workman led his systematic botany charges in relentless pursuit of ephemerals from elevations of just 650 feet along the Potomac River to upwards of 3,000 feet at the Allegany Front. Although Doc is now into his 90s, we remain in touch…and, I still consider him one of my mentors and heroes. Judy and I perhaps ten years ago established a scholarship in his name at Allegany College of Maryland, where he taught and also coached tennis.
Alabama State Parks Foundation
Thoughts and Reflections
I offer these reflections from my recent spring wildflower hikes of discovery at Oak Mountain State Park:
The magic of spring wildflowers never wanes.
In fact, my appreciation sharpens every spring.
Borrowing from Muir, "And into the forest I go, to lose my mind and find my soul." 
Inhale and absorb Nature's elixir. May Nature Inspire, Inform, and Reward you!
Note: All blog post images created & photographed by Stephen B. Jones unless otherwise noted. Please circulate images with photo credit: "©2021 Steve Jones, Great Blue Heron LLC. All Rights Reserved."
Another Note: If you came to this post via a Facebook posting or by an another route, please sign up now (no cost… no obligation) to receive my Blog Post email alerts: http://eepurl.com/cKLJdL
And a Third: I am available for Nature-Inspired Speaking, Writing, and Consulting — contact me at steve.jones.0524@gmail.com
Reminder of my Personal and Professional Purpose, Passion, and Cause
If only more of us viewed our precious environment through the filters I employ. If only my mission and vision could be multiplied untold orders of magnitude:
Mission: Employ writing and speaking to educate, inspire, and enable readers and listeners to understand, appreciate, and enjoy Nature… and accept and practice Earth Stewardship.
Vision:
People of all ages will pay greater attention to and engage more regularly with Nature… and will accept and practice informed and responsible Earth Stewardship.
They will see their relationship to our natural world with new eyes… and will understand more clearly their Earth home.
Tagline/Motto: Steve (Great Blue Heron) encourages and seeks a better tomorrow through Nature-Inspired Living!
Steve's Three Books
I wrote my books Nature Based Leadership (2016), Nature-Inspired Learning and Leading (2017), and Weaned Seals and Snowy Summits: Stories of Passion for Place and Everyday Nature (2019; co-authored with Dr. Jennifer Wilhoit) to encourage all citizens to recognize and appreciate that every lesson for living, learning, serving, and leading is either written indelibly in or is powerfully inspired by Nature.
I began writing books and Posts for several reasons:
I love hiking and exploring in Nature
I see images I want to (and do) capture with my trusty iPhone camera
I enjoy explaining those images — an educator at heart
I don't play golf!
I actually do love writing — it's the hobby I never needed when my career consumed me
Judy suggested my writing is in large measure my legacy to our two kids, our five grand kids, and all the unborn generations beyond
And finally, perhaps my books and Blogs could reach beyond family and touch a few other lives… sow some seeds for the future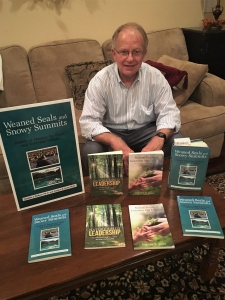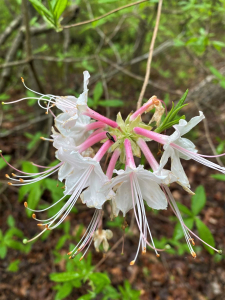 All three of my books (Nature Based Leadership; Nature-Inspired Learning and Leading; Weaned Seals and Snowy Summits) present compilations of personal experiences expressing my (and co-author Dr. Wilhoit for Weaned Seals and Snowy Summits) deep passion for Nature. All three books offer observations and reflections on my relationship to the natural world… and the broader implications for society. Order any and all from your local indie bookstore, or find them on IndieBound or other online sources such as Amazon and LifeRich.
http://stevejonesgbh.com/wp-content/uploads/2021/04/IMG_7553.jpg-04.15-16.21-OMSP-Mountain-Azalea-Rhododendron-canescens.jpg
1200
900
Steve Jones
http://stevejonesgbh.com/wp-content/uploads/2017/01/gbhweblogo.png
Steve Jones
2021-05-13 14:40:48
2021-05-13 14:40:48
Oak Mountain State Park April Wildflowers