Nature's Beauty, Magic, Wonder, and Awe are Regionally Relative
Only reluctantly did I decide to include this open source autumn-glory image of a sugar maple forest along an unidentified New England lake. Hesitant because its unmatched beauty argues somewhat against the entire premise of my Post — that here in north Alabama, our spring forests'  fifty shades of green rivals the magic of our own fall colors. Note: I shamelessly did a little word play with the recent blockbuster series Fifty Shades of Grey. You'll be pleased to know that, unlike the sordid series, my Posts are PG!
(Internet Stock Image)
Continuing, I admit that New England's autumn colors epitomize seasonal stunning. Our oak, sweetgum, hickory, and poplar forests will always fall (pardon the incidental pun) short.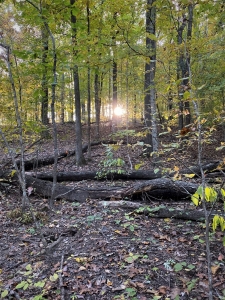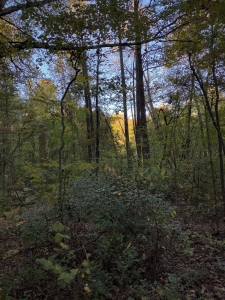 So, I don't apply the New England standard to my north Alabama autumn enjoyment. I draw parallel to the ultimate majesty of the Tetons. They stir my soul. Who can best them?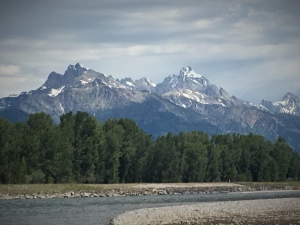 Yet, I don't permit the splendor of the Tetons to diminish my love of our southern Appalachians (Oak Mountain below).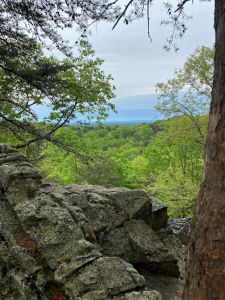 Nature's beauty, magic, wonder, and awe are relative. I partition my appreciation ranking in terms of where I'm exploring wildness. Stephen Stills captured my Nature-appreciation sentiment with his lyrics, "If you can't be with the one you love, love the one you're with." I love our Alabama wildness right here… easily accessible and within reach. And I love its exquisite vernal elegance, all fifty shades of green! Our southern wildness, across the seasons, stirs my soul and fills my heart. I'll continue unabashedly to love the one I'm with!
Fifty Shades of Spring Green
I captured all of the images below during my April 14-16 wanderings at Oak Mountain State Park. I won't burden you with excessive text, scientific explanation, or emotional expression. Whether the steady, year-round green of loblolly, Virginia, and shortleaf pines or the full range of green springing from new leaves, oak flowers, or developing maple samaras, multiple shades and hues paint every vista. I offer images from across the several Oak Mountain lakes, along the Park Headquarters parking lot, and from Indian Overlook atop Shackleford Ridge.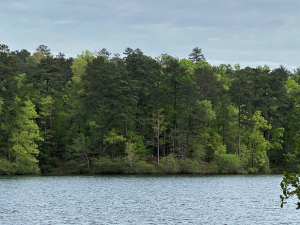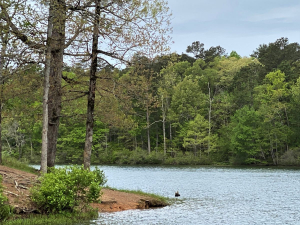 Throw in the mix of cloud cover, and some blue sky after my first day with persistent showers and light rain and the result accentuates the many shades.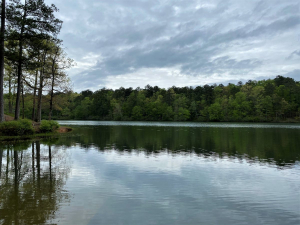 The parking lot does not elevate the view. Instead, it provides the open space vista necessary to expose the forest-edge green mosaic.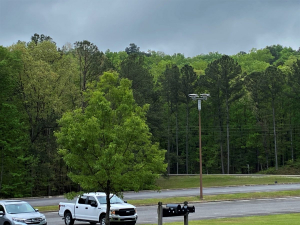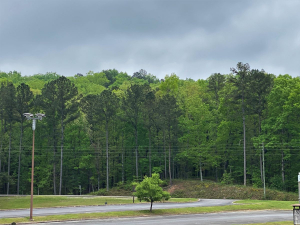 This view adds the near-shore forest edge framing the opposite shore's varying greens.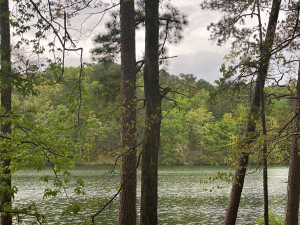 The strata of firmament, shoreline forest profile, and lake surface caught my attention and amplified the simple spring beauty. I didn't need to fly to Jackson, Wyoming, rent a car, and drive north into Grand Teton National Park. Nor did my enjoyment require driving 1,300 miles to southeast Maine! I invested driving only two hours to the Park, staying two nights in a Park cabin on Tranquility Lake, and hiking multiple trails. Heaven on Earth within easy (and inexpensive) reach of my doorstep.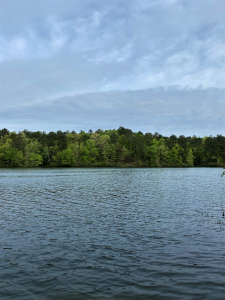 Friday morning I hiked from my cabin to Maggie's Glen, then climbed the trail to Shackleford Ridge,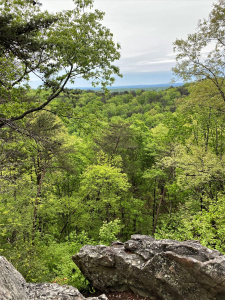 I found absolute wonder of various sorts along the route, including some great spring wildflowers, on which I'll report in subsequent Posts. My focus with this one is Fifty Shades of Green! The view from Indian Overlook did not disappoint. Occasionally, for future posterity, I feel compelled to provide evidence that I made the trek, hence the photo below left. The view below right is not tarnished by my own mug.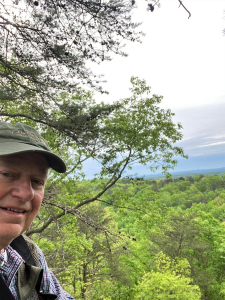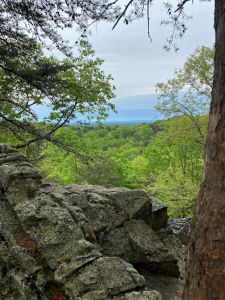 Here's Tranquility Lake, site of the cabin where I stayed for two nights. Both nights, at least two barred owls called and caterwauled in full throat shortly after nightfall. Only loons and whippoorwills rival that special nighttime magic and thrill. Among all my fifty-shades photos from Oak Mountain, none surpasses my front porch Tranquility view with placid water, shoreline forest, stunning sky, and surface reflections… and the deeper internal reflections the scene spurred as I contemplated Nature-Inspired Life and Living.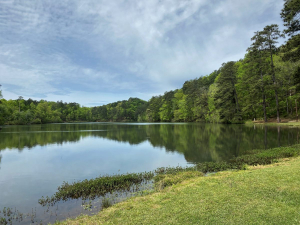 Although forest profiles best evidence the multiple shades and hues, subtle differences appeared within the deep forest.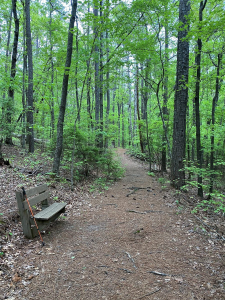 Now, a few days later as I draft this Post, spring has matured beyond the pronounced fifty shades of green as summer muscles the spring season aside with full canopy foliage. Every place within our Alabama Nature changes complexion diurnally, seasonally, and across the years. Returning time and again to any one place, I never fail to discover a new dimension…a changed face…a special nuance. And, I learn that I have changed with it. Never do I tire of reveling in Nature-exploration. With each visit I feel higher inspiration, deeper humility, and greater commitment to Earth Stewardship and Enjoyment.
John Muir nailed it: In every walk with Nature one receives far more than he seeks.
Alabama State Park System
Thoughts and Reflections
I offer three observations from my fifty-shades-of-green reflections:
Nature's magic shifts with the seasons.
So much lies hidden in plain sight.
Muir's wisdom: And into the forest I go, to lose my mind and find my soul.
Inhale and absorb Nature's elixir. May Nature Inspire, Inform, and Reward you!
Note: All blog post images created & photographed by Stephen B. Jones unless otherwise noted. Please circulate images with photo credit: "©2021 Steve Jones, Great Blue Heron LLC. All Rights Reserved."
Another Note: If you came to this post via a Facebook posting or by an another route, please sign up now (no cost… no obligation) to receive my Blog Post email alerts: http://eepurl.com/cKLJdL
And a Third: I am available for Nature-Inspired Speaking, Writing, and Consulting — contact me at steve.jones.0524@gmail.com
Reminder of my Personal and Professional Purpose, Passion, and Cause
If only more of us viewed our precious environment through the filters I employ. If only my mission and vision could be multiplied untold orders of magnitude:
Mission: Employ writing and speaking to educate, inspire, and enable readers and listeners to understand, appreciate, and enjoy Nature… and accept and practice Earth Stewardship.
Vision:
People of all ages will pay greater attention to and engage more regularly with Nature… and will accept and practice informed and responsible Earth Stewardship.
They will see their relationship to our natural world with new eyes… and will understand more clearly their Earth home.
Tagline/Motto: Steve (Great Blue Heron) encourages and seeks a better tomorrow through Nature-Inspired Living!
Steve's Three Books
I wrote my books Nature Based Leadership (2016), Nature-Inspired Learning and Leading (2017), and Weaned Seals and Snowy Summits: Stories of Passion for Place and Everyday Nature (2019; co-authored with Dr. Jennifer Wilhoit) to encourage all citizens to recognize and appreciate that every lesson for living, learning, serving, and leading is either written indelibly in or is powerfully inspired by Nature.
I began writing books and Posts for several reasons:
I love hiking and exploring in Nature
I see images I want to (and do) capture with my trusty iPhone camera
I enjoy explaining those images — an educator at heart
I don't play golf!
I actually do love writing — it's the hobby I never needed when my career consumed me
Judy suggested my writing is in large measure my legacy to our two kids, our five grand kids, and all the unborn generations beyond
And finally, perhaps my books and Blogs could reach beyond family and touch a few other lives… sow some seeds for the future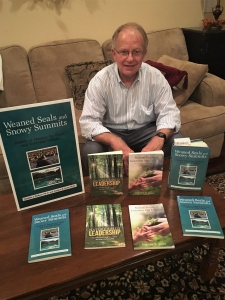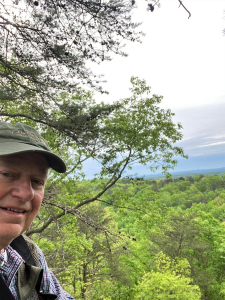 All three of my books (Nature Based Leadership; Nature-Inspired Learning and Leading; Weaned Seals and Snowy Summits) present compilations of personal experiences expressing my (and co-author Dr. Wilhoit for Weaned Seals and Snowy Summits) deep passion for Nature. All three books offer observations and reflections on my relationship to the natural world… and the broader implications for society. Order any and all from your local indie bookstore, or find them on IndieBound or other online sources such as Amazon and LifeRich.
http://stevejonesgbh.com/wp-content/uploads/2021/04/IMG_7834.jpg-04.14-16.21-OMSP-Fifty-Shades-of-Green-Tranquility-Lake.jpg
900
1200
Steve Jones
http://stevejonesgbh.com/wp-content/uploads/2017/01/gbhweblogo.png
Steve Jones
2021-04-27 10:08:22
2021-04-27 10:08:22
Fifty Shades of April Green at Oak Mountain State Park