Thirty-Four-inch Yellow Poplar
I'm continuing to explore our north Alabama forests and their sylvan residents from the ground up with my newly acquired instruments for measuring tree heights. March 12, 2021, I led Jerry Weisenfeld, Alabama State Parks Advertising and Marketing Manager, along the Arthur Wells Memorial and Sinks Trails at Monte Sano State Park near Huntsville, Alabama. I love these trails for the spectacular cathedral grove within the lower slopes and rich limestone-sink soils in protected coves. These soils are extremely fertile and deep. Trees are sheltered on the lower slopes and concave sites from winds that may ravage nearby ridge tops.
We identified a particularly tall yellow poplar for our first measurement. At 34-inch diameter breast high (DBH, 4.5 feet above ground on the uphill side), the tree towered above us. We stretched our tape out 100 feet, then used a clinometer to measure percent sight-line to its base and top. This individual stands at 140′. That's roughly a 14-story building, a testament to the incredible productive capacity of these remarkably rich soils and ideal site location!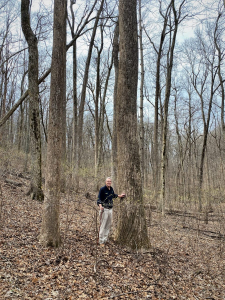 This vertically-giant yellow poplar stands among other tall members of its own species. Below right Jim uses the clinometer to measure the percent line of sight to the tree's top. The percent scale works well at 100 feet from the base. A reading of percent converts directly to tree height in feet.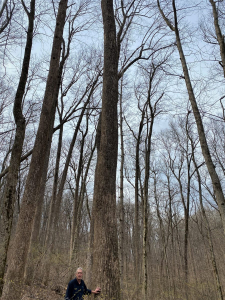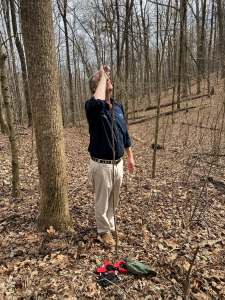 The stand is fully stocked. The canopy is crowded. Little light reaches the summer forest floor.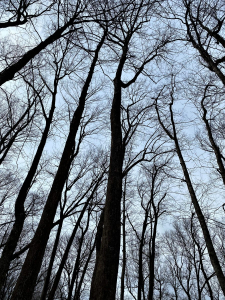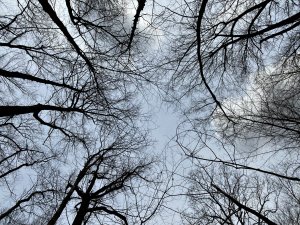 Yellow poplar efficiently captures sunlight high above the forest floor with crowns much smaller in diameter than species of white oak or beech, for example.
Thirty-Six-inch Yellow Poplar
Jerry and I wandered from the lower sink elevation to a terrace 30-40 feet higher, but still on a protected lower slope position. We identified another yellow poplar, this one a bit fatter at 36-inch DBH. Still towering, this one fell ten feet shorter at 130′. Viewing the ground from a 13-story roof ledge would be no less terrifying for me than standing atop a 14-story building. This yellow poplar stands just ten feet off the Wells Trail (below right).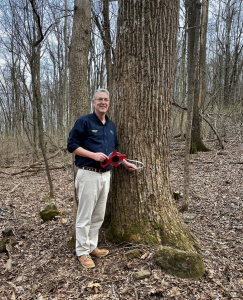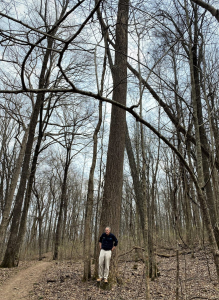 That's it below at 100 feet away, seeming far distant with my iPhone camera, which in my hands does not capture forest distance and depth very well.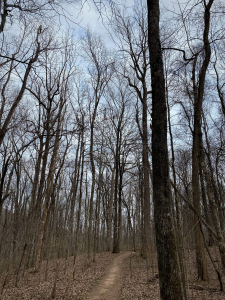 The view below left is at 60 degrees into the canopy. That's our 130-footer dead center. And below right the vertical view into the crowns.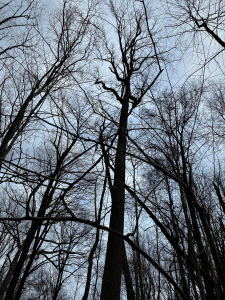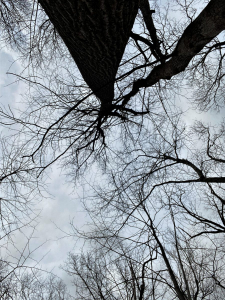 As I complete this Post on April 19, we have moved into nearly full foliage, making height measurements next to impossible until next dormant season. The leafy canopy obscures any given tree. We cannot measure when the top is not visible.
Twenty-Five-inch Chestnut Oak
We ascended from the lower slopes and sinks onto the plateau top, where we chose a chestnut oak to measure. Keep in mind that being on the relatively flat plateau is not the same as rising onto a narrow ridge line, with steeply convex upper slopes, sites that are generally among our least productive, especially if they face west through south. Chestnut oaks often populate those harsh sites. This one occupies a more favorable site, albeit not on par with the lower slopes where we measured the two poplars. We measured this oak at 95 feet, certainly not unimpressive for a chestnut oak.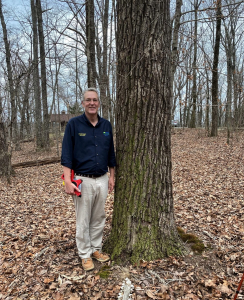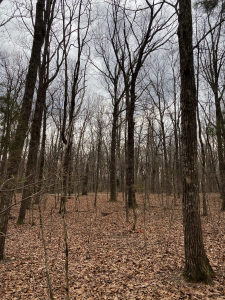 Reaching 9.5 stories high, this specimen is among the tallest chestnut oaks I have ever encountered. Oaks demand more crown space than our more efficient yellow poplars. Therefore, we can observe that the relative density of a comparable diameter chestnut oak exceeds that of a yellow poplar. I'll dig deeper into the concept of relative density in subsequent Posts.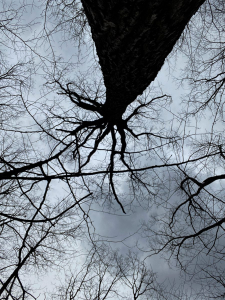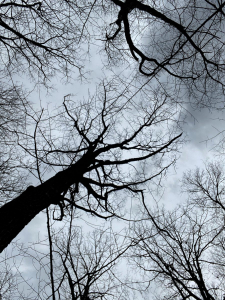 I see and learn more with each hike through our forests. In no small way I regret that the season of crown observation and study has reached a summer halt. Nevertheless, I'll find plenty of other avenues of exploration during the growing season.
The Sinks
Departing from isolating individual trees, let's take a look at the sinks and the associated forest. The major sink along the Sinks Trail actually swallows all surface water that during storms and heavy rainfall flows into the great sink-of-no-outflow. Limestone outcrops below left provide the first hint. The towering forest occupies the bowl-shaped topography above and to the left of the limestone ledge. The ledge below right descends to the pit bottom where the surface flow disappears. For a sense of scale, the trunk that has fallen into the pit is close to 30 feet long and two feet in diameter on its larger end.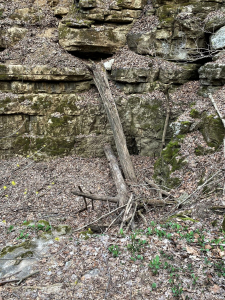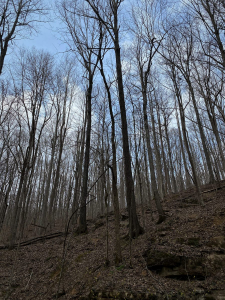 The bowl extends below to the right side of the pit image.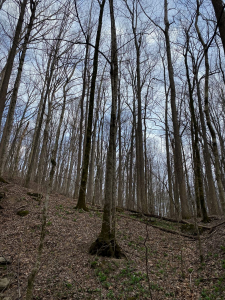 The stand of predominantly yellow poplar reaches 110 to 130 feet above. These stands by eastern forest standards are jaw-dropping.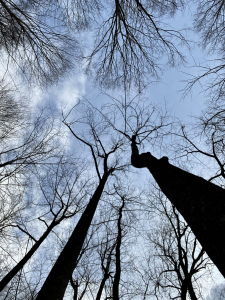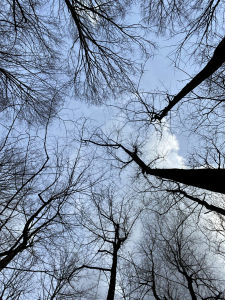 A die-hard forester, I am no longer in awe only of trees and their merchantable value.
And Nearby Spring Wildflowers
In fact, I have never been blind to values beyond timber. I have been, even during my forest industry days, a spring wildflower enthusiast. Blood root has long been among my favorites. Its pure white beauty, early-season appearance, and its fondness for deep fertile soils and associated majestic forests stir my spirit and soul.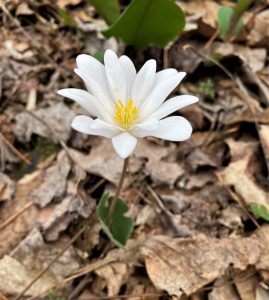 The far less spectacular harbinger of spring added a more subtle expression of the spring spirit.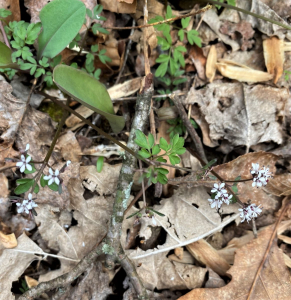 And, we encountered a dense stand of bluebell leaves, but only a few precocious flowers daring to open so early.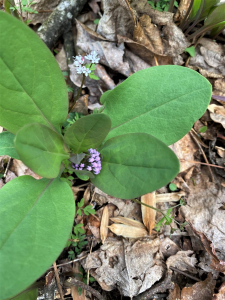 Another early ephemeral is cutleaf toothwort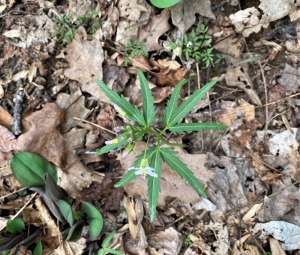 So, whether towering eastern hardwoods or rich-site early spring ephemerals, I am thrilled to enter the cathedral forest of Monte Sano State Park.
Alabama State Parks: A 21-Pearl Necklace from the Gulf to Alabama's Southern Appalachians and the Tennessee Valley
Thoughts and Reflections
I offer three observations from my mid-March explorations within the rich sink sites along the Wells and Sinks Trails at Monte Sano State Park:
Trees exploit rich, moist, and deep soils 
Cathedral forests stir my soul and lift my spirit
John Muir observed: "And into the forest I go, to lose my mind and find my soul"
Inhale and absorb Nature's elixir. May Nature Inspire, Inform, and Reward you!
Note: All blog post images created & photographed by Stephen B. Jones unless otherwise noted. Please circulate images with photo credit: "©2021 Steve Jones, Great Blue Heron LLC. All Rights Reserved."
Another Note: If you came to this post via a Facebook posting or by an another route, please sign up now (no cost… no obligation) to receive my Blog Post email alerts: http://eepurl.com/cKLJdL
And a Third: I am available for Nature-Inspired Speaking, Writing, and Consulting — contact me at steve.jones.0524@gmail.com
Reminder of my Personal and Professional Purpose, Passion, and Cause
If only more of us viewed our precious environment through the filters I employ. If only my mission and vision could be multiplied untold orders of magnitude:
Mission: Employ writing and speaking to educate, inspire, and enable readers and listeners to understand, appreciate, and enjoy Nature… and accept and practice Earth Stewardship.
Vision:
People of all ages will pay greater attention to and engage more regularly with Nature… and will accept and practice informed and responsible Earth Stewardship.
They will see their relationship to our natural world with new eyes… and will understand more clearly their Earth home.
Tagline/Motto: Steve (Great Blue Heron) encourages and seeks a better tomorrow through Nature-Inspired Living!
Steve's Three Books
I wrote my books Nature Based Leadership (2016), Nature-Inspired Learning and Leading (2017), and Weaned Seals and Snowy Summits: Stories of Passion for Place and Everyday Nature (2019; co-authored with Dr. Jennifer Wilhoit) to encourage all citizens to recognize and appreciate that every lesson for living, learning, serving, and leading is either written indelibly in or is powerfully inspired by Nature.
I began writing books and Posts for several reasons:
I love hiking and exploring in Nature
I see images I want to (and do) capture with my trusty iPhone camera
I enjoy explaining those images — an educator at heart
I don't play golf!
I actually do love writing — it's the hobby I never needed when my career consumed me
Judy suggested my writing is in large measure my legacy to our two kids, our five grand kids, and all the unborn generations beyond
And finally, perhaps my books and Blogs could reach beyond family and touch a few other lives… sow some seeds for the future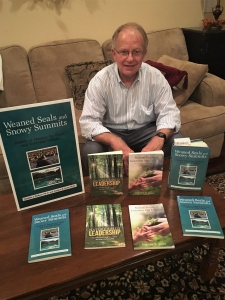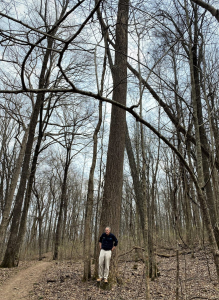 All three of my books (Nature Based Leadership; Nature-Inspired Learning and Leading; Weaned Seals and Snowy Summits) present compilations of personal experiences expressing my (and co-author Dr. Wilhoit for Weaned Seals and Snowy Summits) deep passion for Nature. All three books offer observations and reflections on my relationship to the natural world… and the broader implications for society. Order any and all from your local indie bookstore, or find them on IndieBound or other online sources such as Amazon and LifeRich.
http://stevejonesgbh.com/wp-content/uploads/2021/03/IMG_6824-03.12.21-Sink-Forest.jpg
1200
900
Steve Jones
http://stevejonesgbh.com/wp-content/uploads/2017/01/gbhweblogo.png
Steve Jones
2021-04-20 14:47:59
2021-04-20 14:47:59
Tall Trees in Monte Sano State Park's Cathedral Forest