I revisited the bottomland hardwood forests on the eastern end of Wheeler National Wildlife Refuge (near Huntsville, Alabama) January 29, 2021. I wandered this time through a stand I had not previously entered. I characterize this stand as two-aged, a 70-90 year-old matrix punctuated with much older individuals, perhaps 120-plus years. I stood in amazement admiring this 52-inch-diameter (4.5 feet above the ground) cherrybark oak (Quercus pagoda), standing tall, straight, and occupying at least a quarter of an acre of main canopy area. This species is one of the most highly valued red oaks in the southern United States. It commonly grows on moist, rich sites, such as this terrace above the seasonally water-logged lower bottomlands, which in late January supported ankle-deep standing water. Its strong wood and straight form make it an excellent timber tree. Many wildlife species use its acorns as food.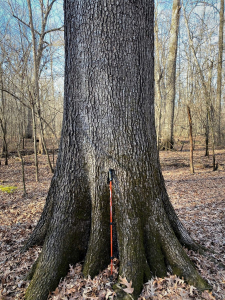 Drawing from my years in the forest products industry, I saw two sixteen-foot veneer quality logs and a third high quality timber log up to the base of the spreading crown. The tree is at least 100 feet tall.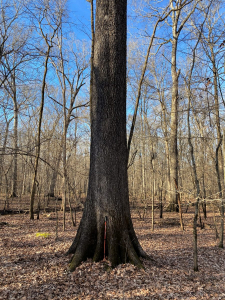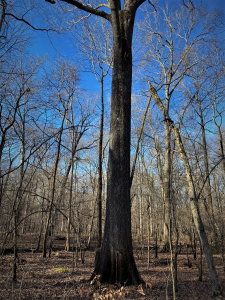 It stands regally among surrounding individuals within the younger forest. Its wide-reaching crown evidences that it did not face overwhelming competition from individuals growing alongside it. Even the larger trees beyond it do not express the dominating crown features of this object of my deep admiration. I do not limit my appreciation to this specimen's timber value. In fact, now, 40 years since I left the Paper and Allied Products Manufacturing sector,  I pay little heed to commercial timber value. Instead, I see a magnificent living organism, one standing (literally) the test of time. Whether hugging its girth to extend my diameter tape or standing back to snap these two lower images, my heart soared with delight. In retrospect, I should have sat awhile nearby… as one would sit in a cathedral, intent on resonating with its spiritual aura, and making sacred connection.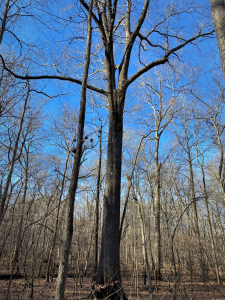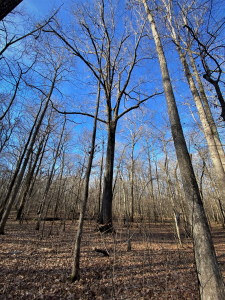 My cherrybark oak was not the only member of its age class. I found two white oaks (Quercus alba) measuring 40- and 45-inches in diameter, respectively. Again, these individuals stand unique from the younger stand in which they are embedded. These two appear vibrant and healthy. Note, however, below right that a large neighboring red oak (Quercus rubra) has fallen directly toward the camera alongside the white oak, and lies decaying at the white oak's base. The prostrate tree stood dead prior to falling, tumbling long after its roots lost firm grip on the soil. The distant base (at least 60 feet beyond the white oak) toppled with only coarse roots breaking, lifting no soil.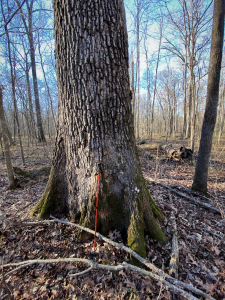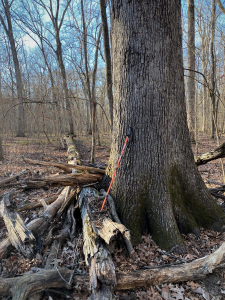 When large living trees are blown over and uprooted, they lift a large volume of soil. I snapped this photograph of a wind-felled red oak February 9, 2021, as I bushwhacked a nearby bottomland within a half-mile of the two white oaks. This nearby site evidenced a higher water table, and shallower rooting zone than where the cherrybark and two white oaks grew. Still, this individual lifted 8-10 inches of soil, holding tightly to the roots standing 15 feet tall.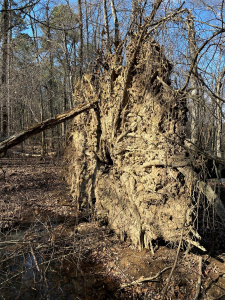 Just a hundred yards from the white oaks, this 48-inch diameter red oak stands dead, its top decaying and dropping, branch by branch. At some point the remaining top will fall earthward or, like the red oak that had fallen alongside the white oak, it will let loose from its roothold. One might ponder what agent or cause is weakening or killing these forest giants. Absent seeing direct evidence of disease and rot, lightning strike, or other physical injury, I pose a simple answer: Old Age and Natural Causes. I've said often that life and death dance an ongoing forest waltz. Nothing in Nature is static. Although individual trees die, the forest goes on. The forest will not mourn the loss of any one tree. Instead, it recycles the fiber and nutrients that composed the regal old soldier.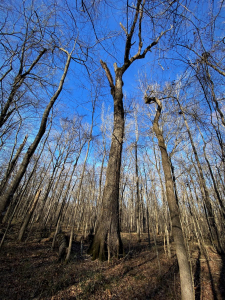 Our bottomland forest systems are closed. The progression of life and death recycles and reuses, demonstrated convincingly in this stand, where dead and down woody biomass may exceed the volume standing.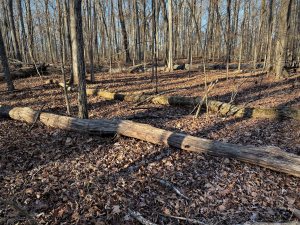 I never tire of the stories our forests tell to the patient and persistent observer. Dynamism is the predominant theme. The cycle of life and death defines the forest.
Thoughts and Reflections
I offer three observations from my late January trek through the riparian forest:
Dynamism is a recurring forest theme
The cycle of life and death defines the forest
Each tree tells a story, demanding forest sleuthing 
Inhale and absorb Nature's elixir. May Nature Inspire, Inform, and Reward you!
Note: All blog post images created & photographed by Stephen B. Jones unless otherwise noted. Please circulate images with photo credit: "©2021 Steve Jones, Great Blue Heron LLC. All Rights Reserved."
Another Note: If you came to this post via a Facebook posting or by an another route, please sign up now (no cost… no obligation) to receive my Blog Post email alerts: http://eepurl.com/cKLJdL
And a Third: I am available for Nature-Inspired Speaking, Writing, and Consulting — contact me at steve.jones.0524@gmail.com
Reminder of my Personal and Professional Purpose, Passion, and Cause
If only more of us viewed our precious environment through the filters I employ. If only my mission and vision could be multiplied untold orders of magnitude:
Mission: Employ writing and speaking to educate, inspire, and enable readers and listeners to understand, appreciate, and enjoy Nature… and accept and practice Earth Stewardship.
Vision:
People of all ages will pay greater attention to and engage more regularly with Nature… and will accept and practice informed and responsible Earth Stewardship.
They will see their relationship to our natural world with new eyes… and will understand more clearly their Earth home.
Tagline/Motto: Steve (Great Blue Heron) encourages and seeks a better tomorrow through Nature-Inspired Living!
Steve's Three Books
I wrote my books Nature Based Leadership (2016), Nature-Inspired Learning and Leading (2017), and Weaned Seals and Snowy Summits: Stories of Passion for Place and Everyday Nature (2019; co-authored with Dr. Jennifer Wilhoit) to encourage all citizens to recognize and appreciate that every lesson for living, learning, serving, and leading is either written indelibly in or is powerfully inspired by Nature.
I began writing books and Posts for several reasons:
I love hiking and exploring in Nature
I see images I want to (and do) capture with my trusty iPhone camera
I enjoy explaining those images — an educator at heart
I don't play golf!
I actually do love writing — it's the hobby I never needed when my career consumed me
Judy suggested my writing is in large measure my legacy to our two kids, our five grand kids, and all the unborn generations beyond
And finally, perhaps my books and Blogs could reach beyond family and touch a few other lives… sow some seeds for the future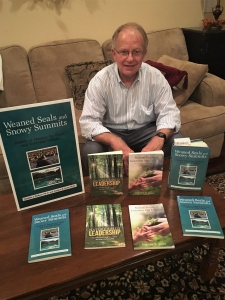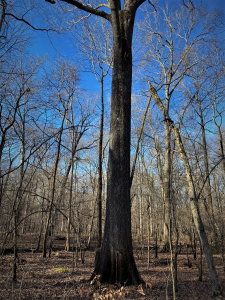 All three of my books (Nature Based Leadership; Nature-Inspired Learning and Leading; Weaned Seals and Snowy Summits) present compilations of personal experiences expressing my (and co-author Dr. Wilhoit for Weaned Seals and Snowy Summits) deep passion for Nature. All three books offer observations and reflections on my relationship to the natural world… and the broader implications for society. Order any and all from your local indie bookstore, or find them on IndieBound or other online sources such as Amazon and LifeRich.
http://stevejonesgbh.com/wp-content/uploads/2021/02/IMG_6456.jpg-01.29.21-HGH-Road-CBO-52-inch.jpg
1200
900
Steve Jones
http://stevejonesgbh.com/wp-content/uploads/2017/01/gbhweblogo.png
Steve Jones
2021-03-03 12:50:22
2021-03-03 12:50:22
A Magnificent Cherrybark Oak on the Wheeler National Wildlife Refuge