I returned November 30 mid-morning to the eastern end of nearby Wheeler National Wildlife Refuge. As is often the case for my Refuge excursions, I bushwhacked through the bottomland hardwood forests. I saw and photographed enough magic and wonder to yield two Blog Posts. I focused the first one last week on the fungi and non-flowering plants I encountered:
I celebrate the bottomland hardwood and its forest tree oddities and curiosities with this second Post. I hope you'll pardon a little mirthful image play!
The Bottomland Hardwood Forest
Typical of these very productive bottomlands along the Tennessee River (now Lake Wheeler), the forests are diverse, generally 70-90 years old, and 80 to well over 100 feet tall. During this walk I found a recently wind-thrown oak and paced its height (well, okay, its length) at 112 feet. The point is, these are rich sites.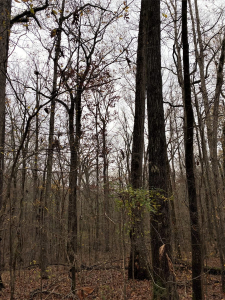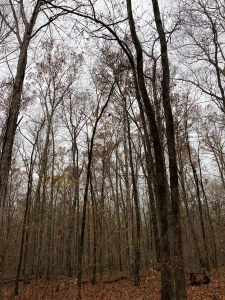 Although there is nothing unusual about this shagbark hickory (Carya ovata), the species' signature bark is a curiosity in and of itself. Some species of bats seek shelter under the bark strips. I have long been a fan of shagbark hickory, even when as a practicing forester I had to maneuver my diameter tape under the strips to make an accurate measurement of a tree's diameter. The sawyer doesn't care what the diameter is of the shagginess; he cares only about the wood and its merchantable yield.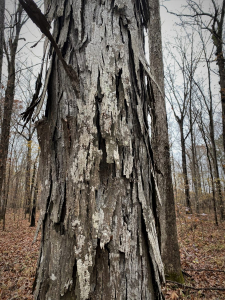 Okay, now I enter the realm of true tree form oddities and curiosities.
Tree Form Curiosities
Bear with me. Upon encountering this misshapen sugar maple (Acer saccharum), I snapped a photo because of its distorted burl shape, the few small stems protruding from surface warts, and its profuse covering of mosses. It wasn't until I inserted the photo in this Post that I noticed the image of my favorite Wookie, Chewbacca, gazing to the forward right, just like he is in the photo I borrowed from a uncredited website.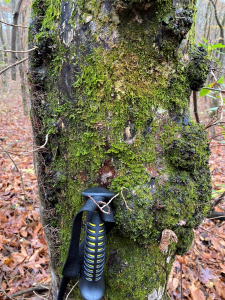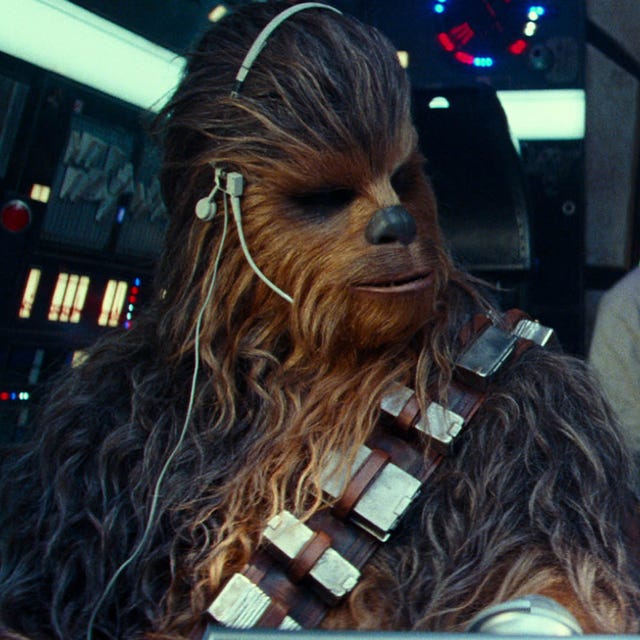 I discovered no hidden images in this wounded sweetgum (Liquidambar styraciflua) that is fighting a losing battle with heart rot. The stem is attempting to callous over the old wound even as the decay is eating more deeply and most likely extending upward into the trunk. Keep in mind that the fungi is consuming only dead wood, the structural and load-bearing interior wood. Only the rind of any tree constitutes the living cambium, the conducting xylem and phloem tissue. Apparent in this view is that some living creature (e.g. chipmunk. squirrel, bird, insect) is working to increase the hollow, depositing excavated woody debris from within. The fight will continue until some tipping point is reached or the tree succumbs from other causes.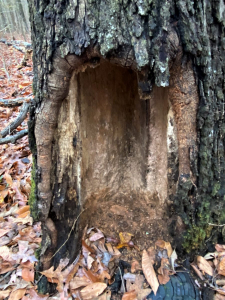 The Morton Arboretum website describes cankers, the growths below on a red oak species and a hickory: A 'canker' is really a symptom of an injury often associated with an open wound that has become infected by a fungal or bacterial pathogen. Canker diseases frequently kill branches or structurally weaken a plant until the infected area breaks free, often in a wind or ice storm. These are classic specimens. In effect, they act as benign tumors… a non fatal cancer. Both the oak and the hickory seemed otherwise healthy, the structural weakness not manifesting any detectable deterioration of tree vigor and vitality.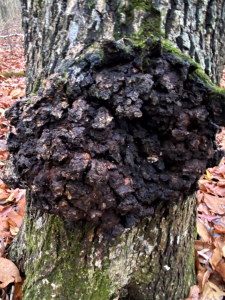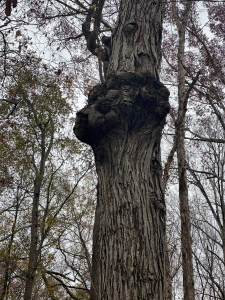 This oak stands adjacent to the HGH access road, which leads me back to the gravel lot and my car after my forest ramblings. I've seen it many times, giving my brain ample time to construct a vivid image.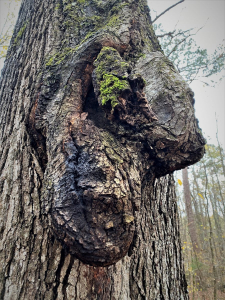 A visage that takes me back to my days as Vice Chancellor at NC State University, home of the Wolfpack. The wolf with the cap greets me with an imagined wink when I pass. No menacing growl from this canine. More a faint good-natured smile. I suppose that were I a Duke Blue Devil or a Carolina Tar Heel (bitter rivals of the Wolfpack on the field of play), the thinly concealed grin would transform to a vicious snarl!
Again, nothing fanciful with this tortured sweetgum, yet another individual fighting the good fight with heart rot. The swollen trunk signals deep decay. Fungi fruiting bodies along the left side suggest cambium on that side is dying. Fighting the good fight may be an overstatement; this tree is, it appears, losing the good fight. As I have said with nearly every one of my forest Posts, life and death operate hand-in-hand. Nothing mirthful about the situation facing this sweetgum.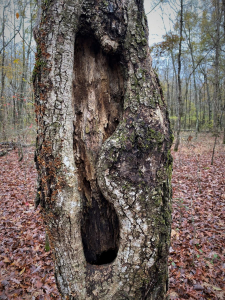 If possible, this oak may be in even worse straits, its life on the edge. Again, it wasn't until I placed the photo in this Post that I saw proof that we are in Alabama, home of the National Championship Crimson Tide and its mascot Big Al. The photo speaks for itself.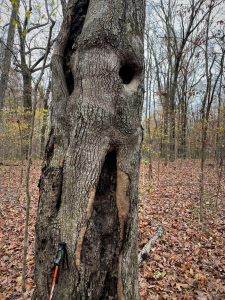 The woods are filled with fanciful images and faces. I suppose they are, in fact, as Robert Frost proclaimed in Stopping By Woods on a Snowy Evening, lovely, dark and deep. Not dark and sinister, foul and repugnant, nor teeming with savage beasts. These bottomland hardwood forests fill me with their beauty, magic, wonder, and awe.
Hardwoods Straight and Tall
I captured these two photos during a previous visit this past summer, depicting the forest in its full majestic glory. Trees stout and towering… no tortured forms nor blemishes. These are the trees of forest glamour magazines, with coifed hair, flattering makeup, fresh from the gym, six-pack abs, and just-right lighting. Except that these are the real thing… no photo-shopping. Yet, this isn't Lake Wobegon, where all the women are strong, all the men are good-looking, and all the children are above average. Even these rich sites produce forests of mixed vintage, with trees ranging from the beauties below to the misshapen forms and curiosities above. I suppose such is the way of Nature. Variety, in point of fact, whether within forests or of human populations, is the spice of life, survival, and evolution.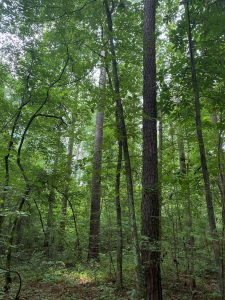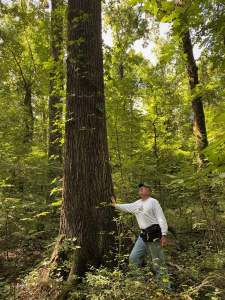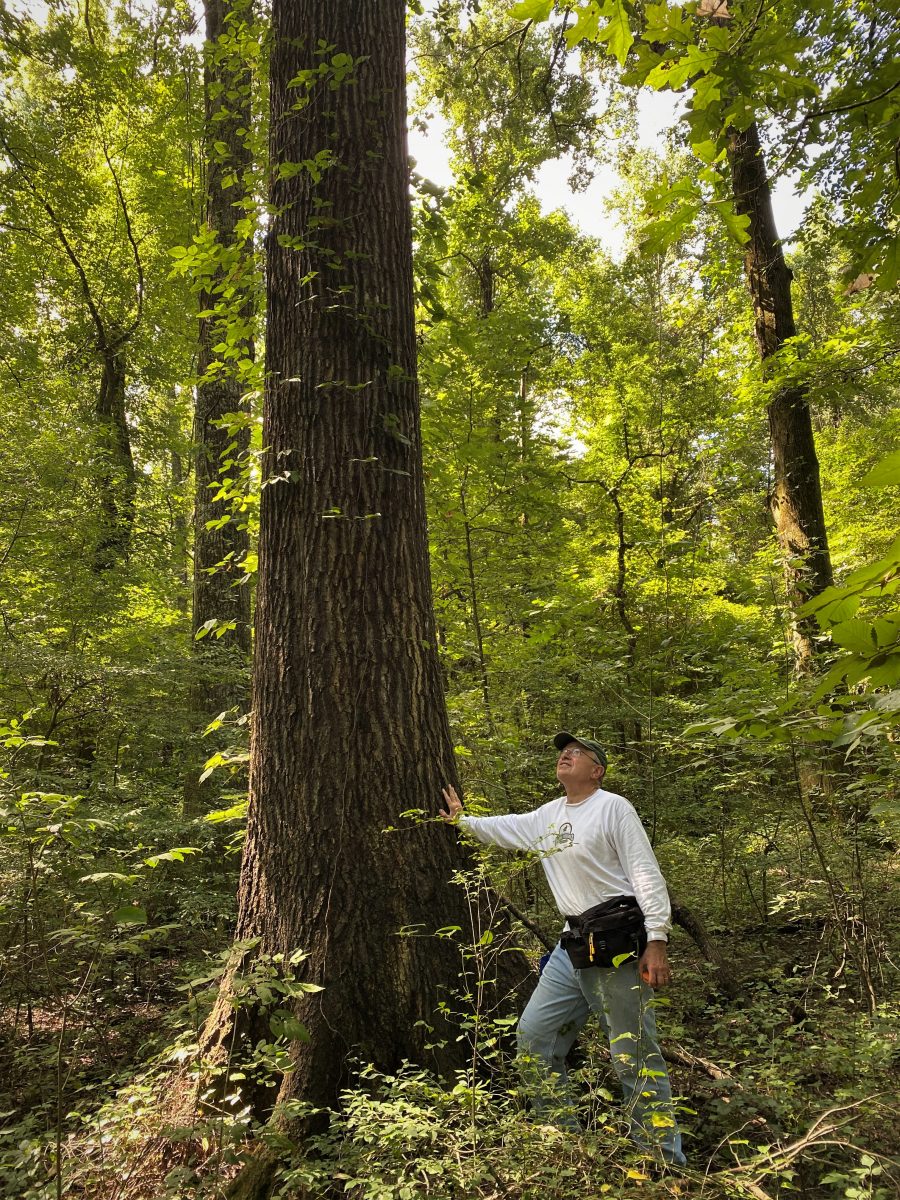 Beauty surely is in the eye of the beholder. Retired Steve sees magnificence across the forest spectrum.
Amazing Find
November 30 brought a big surprise, one of a very positive nature. August 8, 2020, I had bushwhacked this same bottomland forest. When I emerged onto the gravel road for trekking back to my vehicle, I noticed the empty selfie-stick sling at my side. I re-entered the woods to search, the forest rich with undergrowth all about me. See the two photos immediately above. While not impenetrable thickets, the forest floor is not bare and open to finding an 18-inch collapsed telescoping rod. I abandoned the search after 30 minutes of trying to retrace the rambling pathway I had taken. On each subsequent trundle through these woods, perhaps three times since mid-August, I stayed alert for the rod, without success. As I was nearing the road for my return to the parking area, I saw a shiny object in the autumn leaf litter several feet ahead. Only the two-inch square reflecting pad (below) peeked through the litter, the rest of the rod effectively hidden!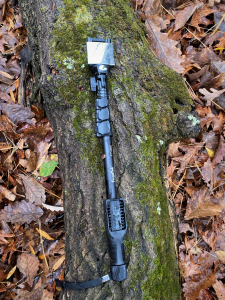 I observe often that Nature keeps much of her beauty, magic, wonder, and awe hidden in plain sight. Apparently that is not all she hides. So, November 30, 2020, proved to be a good day. Lots of fungi, ferns, and mosses; fanciful tree form oddities and curiosities; a months-long missing piece of equipment revealed to a forest wanderer (and wonderer)!
Thoughts and Reflections
I offer two observations from my late November trek through the early winter riparian forest:
There's pure magic in the southern riparian forest… whether in towering trees or in strange and distorted sylvan Nature-creations
Each tree tells a story, demanding forest sleuthing and, occasionally, vivid imagination
Inhale and absorb Nature's elixir. May Nature Inspire, Inform, and Reward you!
Note: All blog post images created & photographed by Stephen B. Jones unless otherwise noted. Please circulate images with photo credit: "©2021 Steve Jones, Great Blue Heron LLC. All Rights Reserved."
Another Note: If you came to this post via a Facebook posting or by an another route, please sign up now (no cost… no obligation) to receive my Blog Post email alerts: http://eepurl.com/cKLJdL
And a Third: I am available for Nature-Inspired Speaking, Writing, and Consulting — contact me at steve.jones.0524@gmail.com
Reminder of my Personal and Professional Purpose, Passion, and Cause
If only more of us viewed our precious environment through the filters I employ. If only my mission and vision could be multiplied untold orders of magnitude:
Mission: Employ writing and speaking to educate, inspire, and enable readers and listeners to understand, appreciate, and enjoy Nature… and accept and practice Earth Stewardship.
Vision:
People of all ages will pay greater attention to and engage more regularly with Nature… and will accept and practice informed and responsible Earth Stewardship.
They will see their relationship to our natural world with new eyes… and will understand more clearly their Earth home.
Tagline/Motto: Steve (Great Blue Heron) encourages and seeks a better tomorrow through Nature-Inspired Living!
Steve's Three Books
I wrote my books Nature Based Leadership (2016), Nature-Inspired Learning and Leading (2017), and Weaned Seals and Snowy Summits: Stories of Passion for Place and Everyday Nature (2019; co-authored with Dr. Jennifer Wilhoit) to encourage all citizens to recognize and appreciate that every lesson for living, learning, serving, and leading is either written indelibly in or is powerfully inspired by Nature.
I began writing books and Posts for several reasons:
I love hiking and exploring in Nature
I see images I want to (and do) capture with my trusty iPhone camera
I enjoy explaining those images — an educator at heart
I don't play golf!
I actually do love writing — it's the hobby I never needed when my career consumed me
Judy suggested my writing is in large measure my legacy to our two kids, our five grand kids, and all the unborn generations beyond
And finally, perhaps my books and Blogs could reach beyond family and touch a few other lives… sow some seeds for the future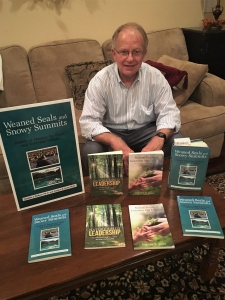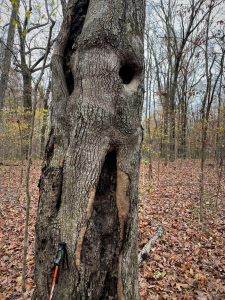 All three of my books (Nature Based Leadership; Nature-Inspired Learning and Leading; Weaned Seals and Snowy Summits) present compilations of personal experiences expressing my (and co-author Dr. Wilhoit for Weaned Seals and Snowy Summits) deep passion for Nature. All three books offer observations and reflections on my relationship to the natural world… and the broader implications for society. Order any and all from your local indie bookstore, or find them on IndieBound or other online sources such as Amazon and LifeRich.
http://stevejonesgbh.com/wp-content/uploads/2020/12/IMG_5779.jpg-11.30.20-WNWR-HGH-Road-Wolfs-Head-on-Oak.jpg
1200
900
Steve Jones
http://stevejonesgbh.com/wp-content/uploads/2017/01/gbhweblogo.png
Steve Jones
2021-01-26 17:22:58
2021-01-26 17:24:43
Wheeler National Wildlife Refuge: Bottomland Hardwood Tree Form Oddities