November 18, 2020 I revisited the 375-acre Goldsmith-Schiffman Wildlife Sanctuary in Madison County Alabama with Marian Moore-Lewis, author of Southern Sanctuary, A Naturalist's Walk through the Seasons. The book chronicles (with observations and photographs) the Sanctuary's annual cycle of life… month by month. Gifted to, owned, and managed by the city of Huntsville, the Sanctuary is located along the Flint River in southeast Huntsville. The Sanctuary is a mosaic of bottomland hardwood interspersed with open fields, marsh, and farmland.
I published two prior Posts on the Sanctuary from my June 6, 2020 orientation visit: http://stevejonesgbh.com/2020/06/23/visiting-a-southern-sanctuary-my-orientation-visit/ and http://stevejonesgbh.com/2020/06/30/visiting-a-southern-sanctuary-natures-insistence-upon-renewal/
November 18 dawned clear and chilly — my preferred kind of Nature-exploration weather!
I entered the Sanctuary from its east entrance, where a quarter-mile of the paved Flint River Greenway leads to a tributary creek bridge, the point from where plans extend the greenway to the west entrance a mile or so through the Sanctuary.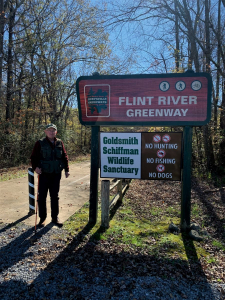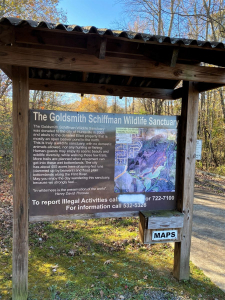 Marian wanted to make sure I received a proper orientation to what for me was the far-side of the preserve. She graciously led me along trails new to me. I walked back to the parking area with Marian, and then reentered to bushwhack for another couple of hours through the deep forest. I do not partition my photos and reflections by time spent with Marian and after. Time and again, every forest reveals its secrets such that with each entry I see things that I missed with prior visits. Join me now for a survey of revelations from my two-stage, mid-November trek into the Sanctuary. I'll begin with the deep forest, shift to diverse habitats, and end with some unusual features of Nature.
Deep Forest
Since October 29, I had measured just 0.07″ of rain. That's nearly three weeks of bright sunshine, ample breezes, and generally seasonably mild temperatures. Five inches of rain falls on average during a Huntsville November. All that to say that the leaf-strewn trail and understory surface snap, crackled, and popped with every footfall. We could not have snuck (or, even sneaked) up on a deaf squirrel! We agreed that the crunching steps added to the charm.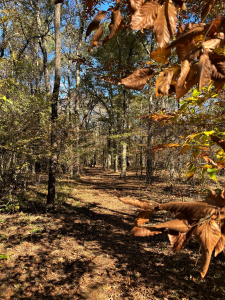 I've often observed in these Posts that nothing in Nature is static. We found direct evidence in form of a large windthrown red oak (Quercus sp.), its root mass standing ten feet (below left). We believe the giant had fallen within the past few months. It still bore desiccated summer leaves, indicating that it suffered its fate when in full leaf. One can discern from the shallow, slab-like root mass that these are shallow soils, likely attributable to a high water table. In fact, surface water is visible over Marian's left shoulder. Although the leaf litter resounded under our feet, nearly six inches of rain had fallen in October, thus resulting in soil saturation and a rising water table. The powerful tree pumps have been inactive since the October rains. I'm on my knees examining a white polypore mushroom barely visible in the dark cavity. Nature doesn't take long to begin the decay process.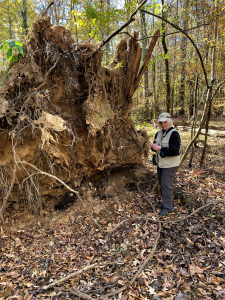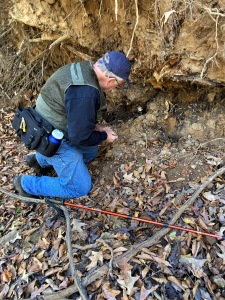 I later found another wind-toppled red oak, this one a willow oak (Quercus phellos). As I wandered through this forest I marveled at tree height, estimating the dominant main canopy at well in excess of 100 feet. I've been flirting with the idea of purchasing a hand-held tree measuring device, yet hesitating because of the minimum $200 price tag. I found something far less expensive, one of the tall timbers lying prostrate, snapped off at its based. Feeling somewhat guilty at celebrating the tree's fatal fall, I paced its length at just over 120 feet! Applying my superb mathematical prowess I quickly converted length to height by multiplying by 1.000! Although a high water table limits rooting depth, these bottomland soils offer readily available moisture, soil nutrients enriched at least once per year by Flint River overflow, a north Alabama climate with long growing seasons. One hundred twenty feet directly expresses high site quality…a rich site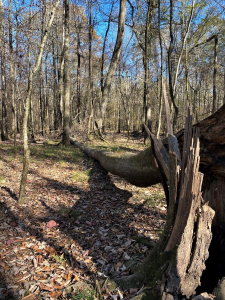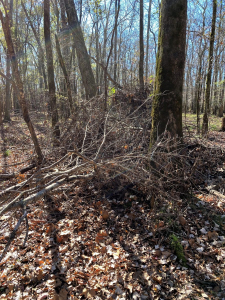 A sat on the fallen trunk midway between stump and top. These two perspectives tell the tale of this willow oak's enviable height. Lower left, the view toward its shattered base; lower right its reach to its downed crown. Not magnificent on a coastal redwood scale, but quite remarkable for a 70-90-year-old second growth hardwood forest.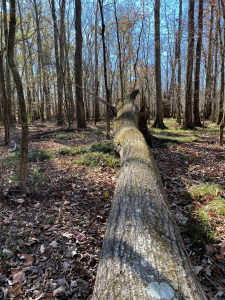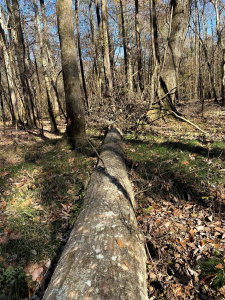 I mentioned that October's rains had elevated the water table, in places to the soil surface. Below left another windthrown oak left a shallow pit already filled with soil water. And, below right standing water covers the entire soil surface at the edge of the preserve's tupelo swamp. These bottomlands will stand waterlogged until spring foliage reappears to reactivate the miracle of transpiration. Occasionally, Flint River floods will reach 3-4 feet across these bottomlands. Its a land of fluxes… seasonal and over the sweep of years, decades, centuries, and millennia. Were we humans to step from the scene the cycles would continue unabated, oblivious to our departure.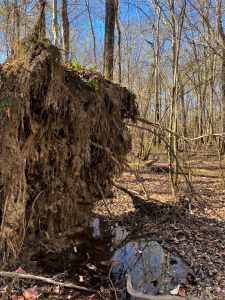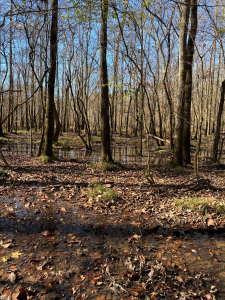 I feel fortunate to have explored the deep forest before late fall and winter rains make the stands inaccessible without hip waders. Since mid-November (my final edits December 23), more than five inches of rain has fallen, bringing us, I am certain, to winter water levels. I'll return in the late spring.
Diverse Habitats
Fortunately, while a land of water in many respects, the Sanctuary offers an ecotype mosaic. The Flint River, quick to leap its bank with summer deluge or prolonged winter rains, borders the Sanctuary, providing food and habitat for diverse fish, amphibians, reptiles, mammals, birds, and insects. Life of all manner abounds.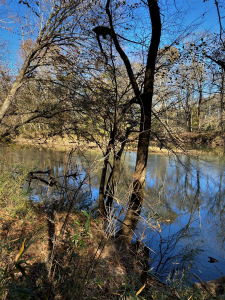 A Flint River feeder stream flows under the bridge near the current terminus of the Flint River Greenway. I had recorded a 22-minute video Nature Walk on the Sanctuary the day prior for a nearby assisted living community, thus taking me to the preserve two consecutive days.
Rebecca Vanek, the videographer for Residences at Wellpoint, snapped my photo atop the bridge. I'm a softie for foot (or cycling) bridges amid wildness. Note the concrete and steel structure. Periodic flooding would destroy a wooden structure similarly located — flood waters frequently overtop even the side railings. Feeder channels are by no means fixed. Floodwaters batter banks; channels meander. The oak and sugar maple (below right) are holding on for dear life, anchored only in the sandy natural levee, which in the life of such an active stream is ephemeral. Again, nothing in Nature is static.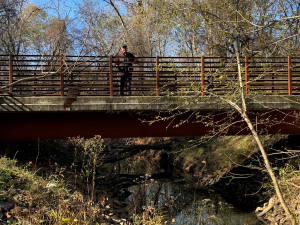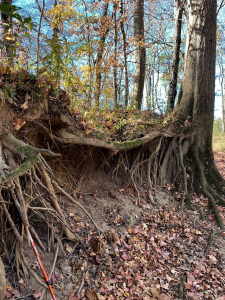 Rebecca captured me (below left), backgrounded by a narrow meadow flanked by woodland. The larger meadows (below right) are interior within the Sanctuary. Numerous game trails (mostly deer) crisscross the openings. Birds flitted among the spent herbaceous vegetation, enjoying cover and fall seeds. Already, lower sections of the meadow evidenced surface water from the October rains. Yes, I am a big fan of closed forests, yet I still cherish the sweeping, extended horizon of openings such as these. I welcome the expanded sky and the opportunity to see soaring birds or crossing deer or gamboling fox, none of which I spotted on this visit.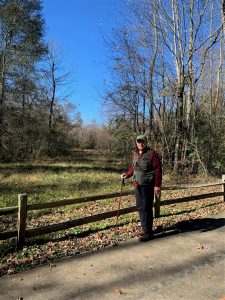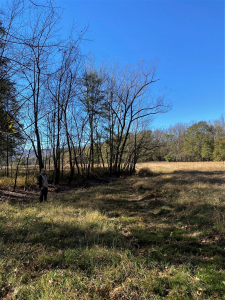 Without myriad ecotones (transition areas between landscape components like field and forest) we would likely not have found walnut (Juglans nigra) and osage orange (Maclura pomifera) and their associated fruit (below). Both species prefer woods edges. Osage orange simply does not thrive in a closed forest. Walnut can compete within the forest, growing best on deep, fertile, well-drained sites.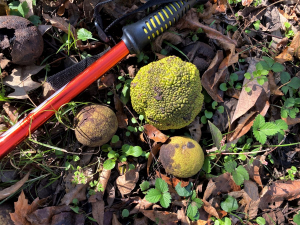 The Sanctuary is rich with ecotones, lying along the Flint River at the foot of a Cumberland Plateau ridge rising to the west several hundred feet above the river valley. River bottom; bottomland and upland forests; southern Appalachian hillside and plateau top: a broad ecosystem dominated by ecotones shifting across space and time.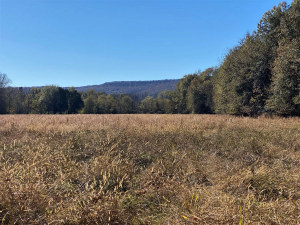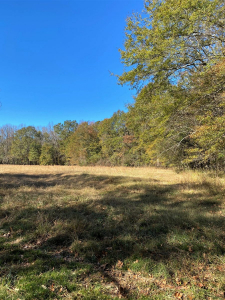 I am not content in my wildness explorations to witness Nature's wonders only at the landscape level, although I find reward and satisfaction in doing so. However, my Nature ramblings are complete only when my eye examines and appreciates both the macro and the micro. Wildness, after all, is an aggregate of individual elements: landscape; geography; hydrology; topography; life components; weather; and many others.
Unusual Features of Nature
Even as I note wildness macro components, I am alert for unusual features that stimulate my aesthetic curiosity, pique my naturalist interest, and seek explanation for elements like the contorted streamside stump flood debris lying within the bottomland hardwood forest. Recall the oak and sugar maple earlier in this Post holding defiantly to their sandy bank. The image below shows another streamside bank-clinger that lost its struggle with the erosive forces of periodic floods. A prior flood brought this contorted root structure remnant to its temporary resting place on the bottomland forest floor. Like a fish out of water, the debris will ride the torrents again until it finds permanent anchorage in a downstream flotsam tangle, or until decay organisms reduce it to soil along the way. Every element of our forests tells a tale.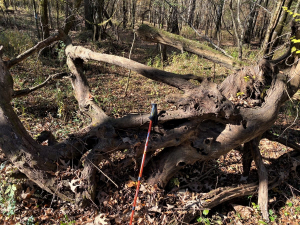 The sycamore below left tells the story of an unfortunate occasion years ago when a flood-borne log slammed and shattered its then smaller base, bending the tree to 45 degrees and deeply scarring its stem. Despite what would seem to have been a mortal consequence, this sycamore survived… hollowed and leaning, yet retaining enough viable crown to nourish a semicircular rind of transporting xylem and phloem sufficient to sustain life. Nature knows disturbance, injury, and insult. The sugar maple (below right) likewise suffered serious injury when it was a mere four-inch diameter sapling, bowing it to near-horizontal. Likely attributable to either a falling tree or large branch, or to water-carried debris, the damaged stem sprouted a vertical shoot about five feet above the ground. The shoot persisted, now occupying a firm place in the intermediate canopy. Sugar maple can survive contentedly for decades without reaching full sunlight in the main canopy, preparing to exploit an opening when disturbance creates a canopy opening. Sugar maple is a patient opportunist.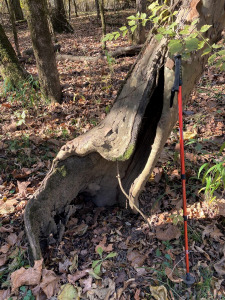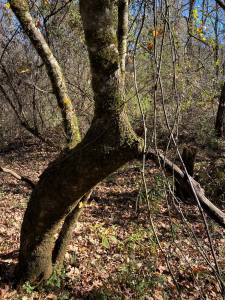 The Sanctuary forest trees provide structure that physically supports several species of grapevine (Vitis sp.). I've written often in these posts about these long-lived woody vines growing up (in age and in verticality) with the dominant and co-dominant overstory trees. I've also speculated on the role and functionality of air roots (below). I won't re-cover that topic here. Instead, I will simply share two photos of some of the best air roots I've seen. I failed to capture images of several places where air roots had reached the ground and found purchase, where I presume they serve as yet another point for the spreading vine canopy above to secure moisture and nutrients.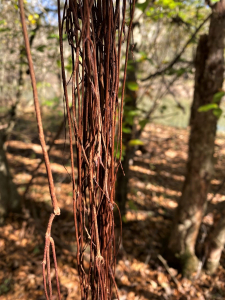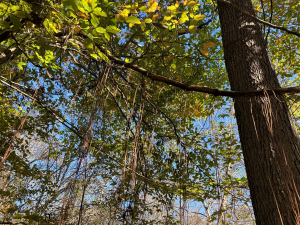 A pure-white softball-size pompom of lion's main (Hericium erinaceus) drew our attention near the trail. I pondered how something so soft, white, delicate, and tempting could break down dead wood. I've most often found lion's mane on obviously dead wood. This one is growing on a living tree that must have internal decay.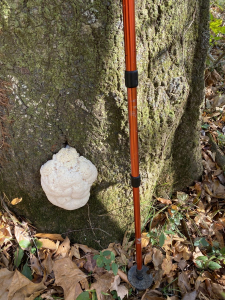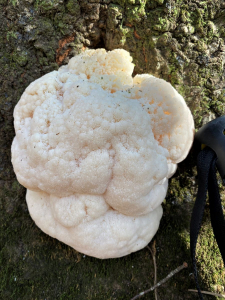 All manner of life occupies our southern forests. A thick moss carpet embraces this large yellow popular (Liriodendron tulipifera). Nature does indeed abhor a vacuum.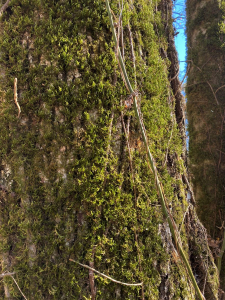 A Rare Find!
As I drafted this text, I received an email from Neal Kelso, a hobby lichenologist (recently relocated to California). Neal had conducted field research on the Sanctuary studying lichens. He reported with his email that the October 29 issue of Opuscula Philolichenum, a journal of the New York Botanical Garden that "is intended to serve as a venue for the publication of small works in the field of lichenology," published his article, Discovery of the first large population of Phaeophyscia leana in northern Alabama. The article reports his find of a rare lichen on the Sanctuary. Neal observes in the article that "P. leana occurs at the southern end of the Ohio Valley and furthers regional knowledge by documenting that it occurs in at least one larger, more stable subpopulation. The discovery has positive implications for the future of the species in north Alabama and throughout its range." Life abounds on the Sanctuary. Neal's discovery supports my view that Nature is remarkably resilient, as evidenced by a rare lichen sporting a large population along the shores of an 80-year-abandoned borrow pit, which I describe in one of my June 2020 Posts.
I will continue to ponder what Neal's discovery means to our collective mission to promote Earth stewardship.
Here are two of Neal's photos. One depicts a trunk base with vivid green lichen, the other of the lichen grey-mud-coated trunk from then recent flooding.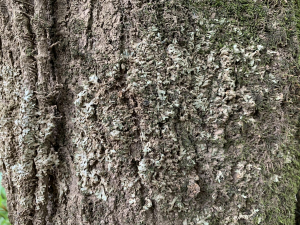 I am eager to seek and find the rare lichen at this special tract that I'm beginning to place among my north Alabama favorite Nature haunts!
Signage at a Special Place
I include these two sign posts only because I remain captivated by their rather primitive, The Legend of Sleepy Hollow, design.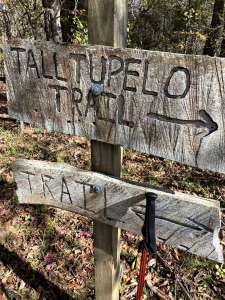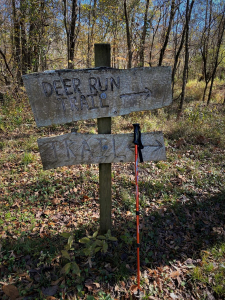 Borrowing from my June Posts, here's the cover of Marian's book and a photo of the west-side entrance sign, with Marian (left) as well as Margaret Anne Schiffman, who donated the Sanctuary property with perpetual conservation easement restrictions to the City of Huntsville. I am grateful to both of these distinguished Earth stewards and dedicated naturalists.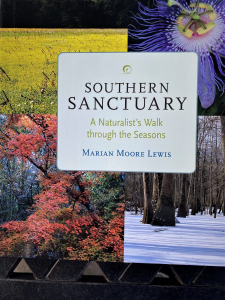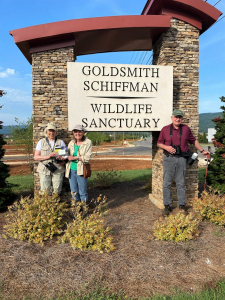 I will return again and again to the Sanctuary. Special places are often within reach of where we live. Nature's beauty, magic, wonder, and awe are where we take time to seek and explore.
Thoughts and Reflections
I offer two observations from my mid-November return to the Goldsmith-Schiffman Wildlife Sanctuary:
All manner of life occupies our southern forests
We can find whatever we seek when we know where (and how) to look within Nature
Inhale and absorb Nature's elixir. May Nature Inspire, Inform, and Reward you!
Note: All blog post images created & photographed by Stephen B. Jones unless otherwise noted. Please circulate images with photo credit: "©2020 Steve Jones, Great Blue Heron LLC. All Rights Reserved."
Another Note: If you came to this post via a Facebook posting or by an another route, please sign up now (no cost… no obligation) to receive my Blog Post email alerts: http://eepurl.com/cKLJdL
And a Third: I am available for Nature-Inspired Speaking, Writing, and Consulting — contact me at steve.jones.0524@gmail.com
Reminder of my Personal and Professional Purpose, Passion, and Cause
If only more of us viewed our precious environment through the filters I employ. If only my mission and vision could be multiplied untold orders of magnitude:
Mission: Employ writing and speaking to educate, inspire, and enable readers and listeners to understand, appreciate, and enjoy Nature… and accept and practice Earth Stewardship.
Vision:
People of all ages will pay greater attention to and engage more regularly with Nature… and will accept and practice informed and responsible Earth Stewardship.
They will see their relationship to our natural world with new eyes… and will understand more clearly their Earth home.
Tagline/Motto: Steve (Great Blue Heron) encourages and seeks a better tomorrow through Nature-Inspired Living!
Steve's Three Books
I wrote my books Nature Based Leadership (2016), Nature-Inspired Learning and Leading (2017), and Weaned Seals and Snowy Summits: Stories of Passion for Place and Everyday Nature (2019; co-authored with Dr. Jennifer Wilhoit) to encourage all citizens to recognize and appreciate that every lesson for living, learning, serving, and leading is either written indelibly in or is powerfully inspired by Nature.
I began writing books and Posts for several reasons:
I love hiking and exploring in Nature
I see images I want to (and do) capture with my trusty iPhone camera
I enjoy explaining those images — an educator at heart
I don't play golf!
I actually do love writing — it's the hobby I never needed when my career consumed me
Judy suggested my writing is in large measure my legacy to our two kids, our five grand kids, and all the unborn generations beyond
And finally, perhaps my books and Blogs could reach beyond family and touch a few other lives… sow some seeds for the future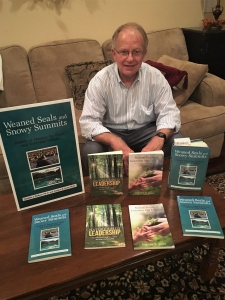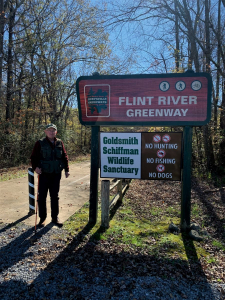 All three of my books (Nature Based Leadership; Nature-Inspired Learning and Leading; Weaned Seals and Snowy Summits) present compilations of personal experiences expressing my (and co-author Dr. Wilhoit for Weaned Seals and Snowy Summits) deep passion for Nature. All three books offer observations and reflections on my relationship to the natural world… and the broader implications for society. Order any and all from your local indie bookstore, or find them on IndieBound or other online sources such as Amazon and LifeRich.
http://stevejonesgbh.com/wp-content/uploads/2020/11/IMG_4796-2.jpeg-11.19.20-Beckas-Photo.jpeg
1200
900
Steve Jones
http://stevejonesgbh.com/wp-content/uploads/2017/01/gbhweblogo.png
Steve Jones
2020-12-23 04:36:49
2020-12-23 04:36:49
Late Fall at Goldsmith-Schiffman Wildlife Sanctuary