Oak Mountain is Alabama's largest State Park at approximately 10,000 acres. I took this entrance sign photo on a prior visit, returning November 11, 2020 to hike the North Trail to Kings Chair, an overlook worthy of the four-mile round trip.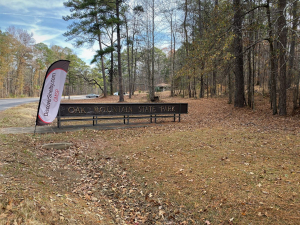 North Trailhead to King's Chair
I often hike wildness alone, seldom finding anyone who tolerates my methodical Nature-explorations. I prefer walking IN Nature, generally disdaining trekking THROUGH the forest just to reach an endpoint. For me the journey is the preferred destination. This trip, three like-minded individuals shared the hike with me. Lauren Muncher (center) is Oak Mountain State Park Naturalist. This was her home turf — she knows her Nature-stuff! Mike Ezell (red headband) is Alabama State Parks Naturalist Emeritus. I value Mike's friendship and consider him my go-to guy for species identification and north Alabama shared hikes. That's Brent Cotton wearing the hat. Brent is with the Greater Birmingham Convention and Visitors Bureau. An avid outdoor enthusiast, Brent had invited me to speak the next day to the Vestavia Hills Sunrise Rotary Club. My topic: Highlighting the Nature of Alabama's State Parks. I combined the Rotary engagement trip with the Oak Mountain hike.
The morning rain quit just a half-hour before we parked at the trailhead. Note the puddles; the rain did not restart until we were back in our vehicle several hours later. Good fortune, good planning, or, more likely, dumb luck!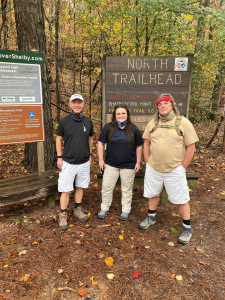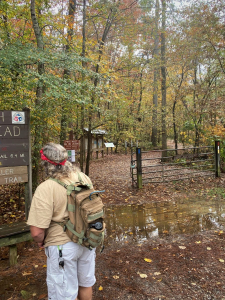 Park trail signage is superb. I had not previously seen the Park System's new vertical signposts describing surface, steepness, difficulty, typical grade, maximum grade, typical cross slope, tread width, intended use (hike, bike, horse, ORV), and other characterizations.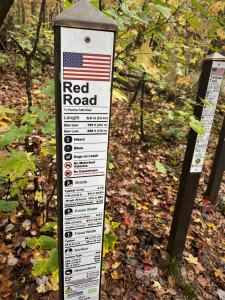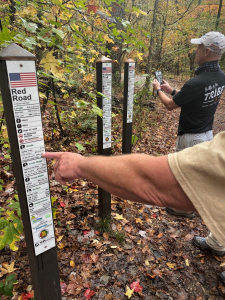 We encountered no surprises with respect to trail conditions.
Tropical Storm Zeta's Signature
Retaining tropical storm strength, Zeta raced across central Alabama (bullseye Oak Mountain!) October 28, 2020. I measured ~3.5-inches of rain at my home along the northern tier of Alabama counties, breezy but shy of TS-force winds, and no damage reported. My hiking companions pose below against a greater than two-foot diameter chestnut oak near the ridgeline. We saw hundreds of downed trees, nearly all toppled or broken by winds from the south and southeast. At one point late that late October evening the Birmingham area had a quarter-million customers without power.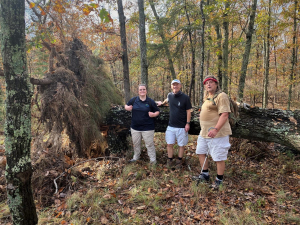 This oak likewise fell uprooted, scarring a Virginia pine trunk 60-feet downwind. The fallen oaks leave large canopy vacancies, a process timeless and ageless. Forests know disturbance… and will respond accordingly. Understory vegetation (woody perennials and seedlings) will exploit the sunlight that next spring will fuel the regrowth. Adjacent main canopy occupants will muscle-up and reach into the opening. Nothing in Nature is static. Tropical systems (and tornadoes) do not destroy forests… instead, they afford opportunities for renewal.
Sometimes a wind-throw reveals secrets. This nearly three-foot diameter American beech not far from the trailhead shattered at its stump. Behold its woody rind protecting and hiding a perfectly hollow core. Lauren kindly accommodated my request that she add some measure of scale to the cut section! Lauren is planning to have crews transport the six-foot cylinders to the playground. I am in awe that the decay fungus and tree stand-off persisted for many decades, maintaining an equilibrium between decay deterioration and annual wood accretion… until Zeta broke the tie. I have said hundreds of times that every parcel of land and even every tree holds a compelling story within. This single beech tree could fill a volume with its tale. What was the wound many years ago that opened the then young stem to fungal infection? What manner of invertebrate and diverse animals (mammals, birds, reptiles, amphibians, and other critters) found refuge and cover within the hollow?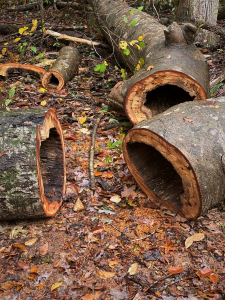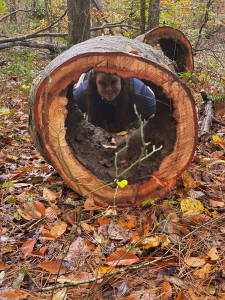 Like the beech, these two Virginia pines snapped near ground level, the wood literally shattering. I imagined a forest-located microphone anchored as Zeta powered across central Alabama. Wind howling; trees creaking; cannon-fire trunks breaking; branches falling to the ground; trunks thundering, slamming to earth; rain pounding. All sounds terrifying to us that for eons have resounded untold times through whatever forests have come and gone. Forests know disturbance.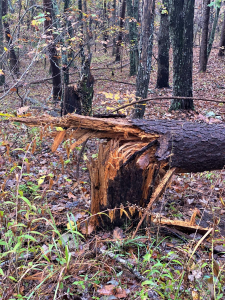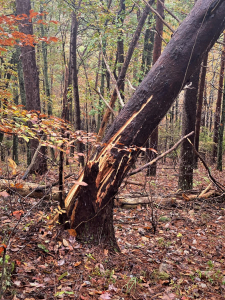 Virginia pine holds its cones over many seasons., evident with these two crowns brought to ground level by Zeta. Virginia pine is a pioneer species, colonizing old fields, burned over areas, and large scale blowdowns. The single-tree canopy openings created by Zeta are too small for the pine to replace itself. Hardwoods will prevail, many of them already in-place in the understory, awaiting just such opportunities. We saw lots of dead Virginia pine, mortality occurring prior to Zeta over the preceding ten or more years. I commented during our ascent that the stands dominated by Virginia pine had perhaps originated when previous landowners abandoned poor quality pasture.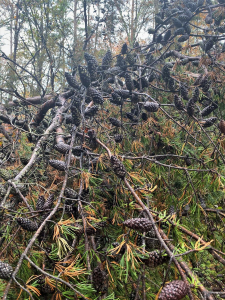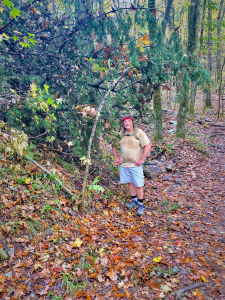 I could have devoted an entire Post to Zeta and its lessons about disturbance and renewal. Instead, let's shift to the undamaged forest condition.
Undamaged Forest and the Annual Signature of Autumn
I estimated that, as spectacular as the wind damage was, fewer than five of every 100 main canopy occupants suffered. The oak bearing the Shackleford Overlook sign stands tall and secure. Fall yellows dominate the slope and ridge beyond. A tint of orange here and there. We witnessed the peak of central Alabama hardwood forest fall color. I am careful not to gauge my appreciation and marvel-level relative to the unsurpassed (albeit brief) magic of New England's northern hardwood forest color explosion. I relish the beauty, magic, wonder, and awe of our southern forest autumns. My appreciation is strengthened by the knowledge that our long hot summer is behind us. The wind would have had a hard time toppling the lower right chestnut oak securely sheltered by the sandstone boulders around it.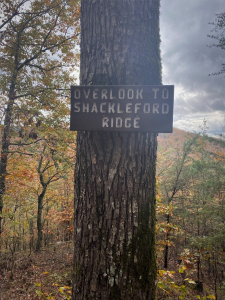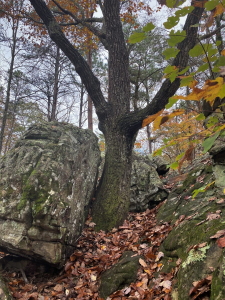 This stand of oaks is on the lee side of a large outcrop. These individuals, too, enjoyed protection from the south-southeast gale.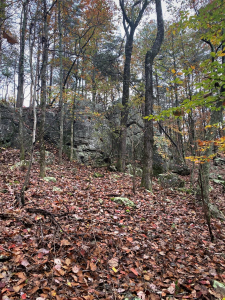 As we crested the ridge beyond the outcrop, we had gained 400-feet elevation from the trailhead to King's Chair, a plateau rim at about 1,150 feet.
What a View!
Our moderate climb proved well worth the effort! Lauren called this first overlook Queen's Chair, just south of our intended destination. Within just a few minutes from the Birmingham area, wildness stretched into the distance behind our crew. Local newspapers recently reported that some 1,600 adjacent forested acres (much of it included in this view) will be added to the Park. I look forward to exploring new and extended trails.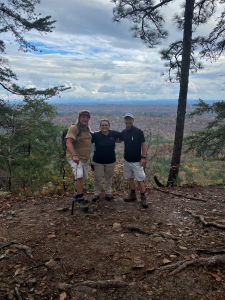 A few minutes later we arrived at King's Chair. Our view spanned from due south (below left) to ENE (below right). Had the visibility been better, Mt Cheaha, Alabama's highest point (2,407-feet) would have appeared center-horizon in the second photo.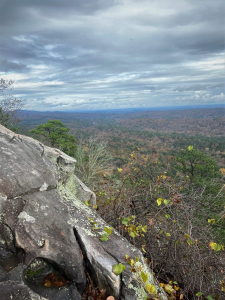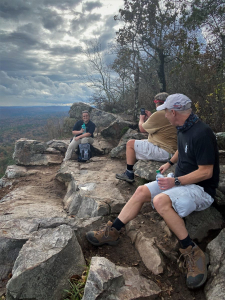 Lest you doubt whether I summited, see below left, a photo that Mike snapped with my camera. That's Belcher Lake off-property (below right; lower right side of photo). Beyond the evident cleared right-of-way leading from the lake, we saw light poles of the Chelsea High School athletic fields, and the town water tower (off-photo to the right). Regardless, wildness is the dominant landscape feature. Alabama has 23 million acres of forestland… 70.6 percent of the state's 31 million acre area. Only Vermont (77.8 percent); West Virginia (79); New Hampshire (84.3); and Maine (89.5) are more heavily forested.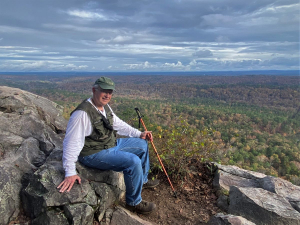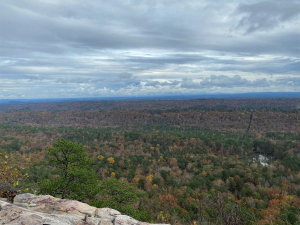 Forests prevail across our state from the Gulf coast to the northern tier of counties. Not a bad place for an old forester to retire!
Some Additional Observations
We paused on our return to the trailhead at a colorful sugar maple… mostly because we needed a break!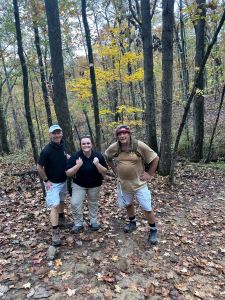 I photographed this young longleaf pine that was one of the few individuals we saw indicating that the species could be part of the next forest generation. However, without some intentional silvicultural treatments (prescribed fire among them), longleaf will not persist on this ridge.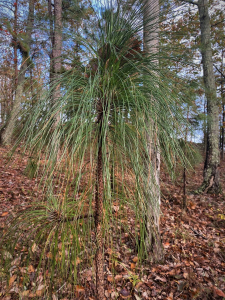 Moss- and lichen-covered rocks add elegance to what would otherwise be unglamorous. The old axiom that Nature abhors a vacuum is evident. Any surface (rock, dead branch, tree trunk) is a home for some life form.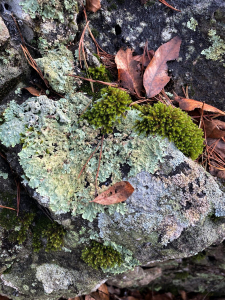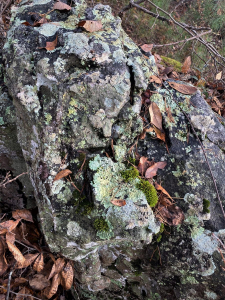 Moss created a work of fine art on this exposed dead tree root.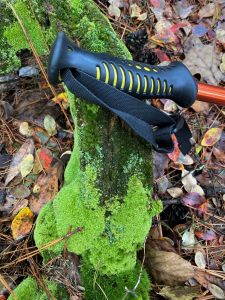 And same for the lichen and fungi decorating this dead branch. As I've often observed, Nature's beauty, magic, wonder, and awe lie hidden in plain sight.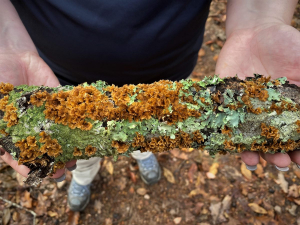 I relish any chance to enjoy Nature's manifold gifts, whether here in Alabama or wherever my travels take me.
Final Reflections
In retirement, my travels allow tremendous opportunities (and time) for immersing in wildness. I recall prior business trips (to exotic places like Japan and China) that left me hungry and aching for even a few hours to explore and learn Nature, luxuries not afforded by the press then of time and business. Although I ostensibly ventured to the Birmingham area to speak at the November 12 Rotary meeting, my real and pressing business was to experience more of Oak Mountain State Park's wildness… and to share with the Rotarians my message of informed and responsible Earth stewardship. And to extoll the virtues of our Alabama State Park System. Immediately below is my retirement business attire.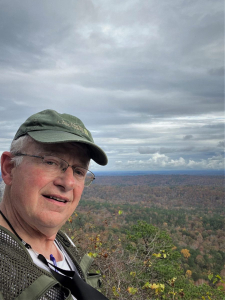 Occasionally for events like speaking with the Rotarians, I will don a sports coat, but rarely sport a tie. I jumped at the chance to once again share my message. I am grateful that Brent invited me.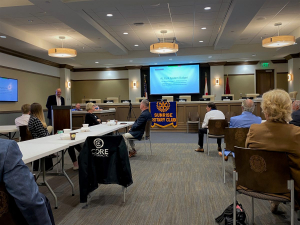 I remind all readers that my retirement mission is: Employ writing and speaking to educate, inspire, and enable readers and listeners to understand, appreciate, and enjoy Nature… and accept and practice Earth Stewardship. If you read these words, don't hesitate to call upon me for speaking engagements: steve.jones.0524@gmail.com
Alabama State Parks Foundation
I'll remind you that I serve on the Alabama State Parks Foundation Board, in part because of my love of Nature and in recognition for my writing many prior Posts about visiting and experiencing the Parks. I urge you to take a look at the Foundation website and consider ways you might help steward these magical places: https://asparksfoundation.org/ Perhaps you might think about supporting the Parks System education and interpretation imperative: https://asparksfoundation.org/give-today#a444d6c6-371b-47a2-97da-dd15a5b9da76
The Foundation exists for the sole purpose of providing incremental operating and capital support for enhancing our State parks… and your enjoyment of them.
Thoughts and Reflections
Our Alabama State Parks reveal their own individual and collective gifts of wonder and beauty:
Unique forest types and landscape features
Interpretive trails and lessons for life and living
Unlimited magic at all scales
Inhale and absorb Nature's elixir. May Nature Inspire, Inform, and Reward you!
Note: All blog post images created & photographed by Stephen B. Jones unless otherwise noted. Please circulate images with photo credit: "©2020 Steve Jones, Great Blue Heron LLC. All Rights Reserved."
Another Note: If you came to this post via a Facebook posting or by an another route, please sign up now (no cost… no obligation) to receive my Blog Post email alerts: http://eepurl.com/cKLJdL
And a Third: I am available for Nature-Inspired Speaking, Writing, and Consulting — contact me at steve.jones.0524@gmail.com
Reminder of my Personal and Professional Purpose, Passion, and Cause
If only more of us viewed our precious environment through the filters I employ. If only my mission and vision could be multiplied untold orders of magnitude:
Mission: Employ writing and speaking to educate, inspire, and enable readers and listeners to understand, appreciate, and enjoy Nature… and accept and practice Earth Stewardship.
Vision:
People of all ages will pay greater attention to and engage more regularly with Nature… and will accept and practice informed and responsible Earth Stewardship.
They will see their relationship to our natural world with new eyes… and will understand more clearly their Earth home.
Tagline/Motto: Steve (Great Blue Heron) encourages and seeks a better tomorrow through Nature-Inspired Living!
Steve's Three Books
I wrote my books Nature Based Leadership (2016), Nature-Inspired Learning and Leading (2017), and Weaned Seals and Snowy Summits: Stories of Passion for Place and Everyday Nature (2019; co-authored with Dr. Jennifer Wilhoit) to encourage all citizens to recognize and appreciate that every lesson for living, learning, serving, and leading is either written indelibly in or is powerfully inspired by Nature.
I began writing books and Posts for several reasons:
I love hiking and exploring in Nature
I see images I want to (and do) capture with my trusty iPhone camera
I enjoy explaining those images — an educator at heart
I don't play golf!
I actually do love writing — it's the hobby I never needed when my career consumed me
Judy suggested my writing is in large measure my legacy to our two kids, our five grand kids, and all the unborn generations beyond
And finally, perhaps my books and Blogs could reach beyond family and touch a few other lives… sow some seeds for the future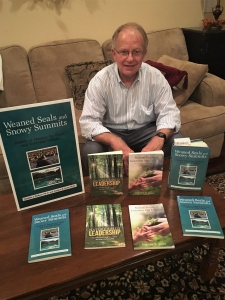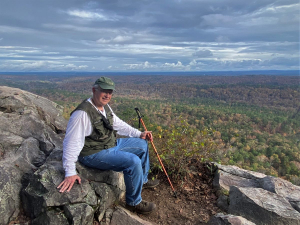 All three of my books (Nature Based Leadership; Nature-Inspired Learning and Leading; Weaned Seals and Snowy Summits) present compilations of personal experiences expressing my (and co-author Dr. Wilhoit for Weaned Seals and Snowy Summits) deep passion for Nature. All three books offer observations and reflections on my relationship to the natural world… and the broader implications for society. Order any and all from your local indie bookstore, or find them on IndieBound or other online sources such as Amazon and LifeRich.
http://stevejonesgbh.com/wp-content/uploads/2020/11/IMG_5464.jpg11.11.20-Oak-Mt-SP-View-E-from-Kings-Chair.jpg
900
1200
Steve Jones
http://stevejonesgbh.com/wp-content/uploads/2017/01/gbhweblogo.png
Steve Jones
2020-12-09 15:19:09
2020-12-09 15:20:02
Destination: King's Chair, Oak Mountain State Park