I grew up in Cumberland, MD, nearly 150 miles west of the Baltimore/DC area. Located along the Potomac River deep in the Central Appalachians, Cumberland served as a transportation hub (roads; rails, and canal) and industrial center for many decades.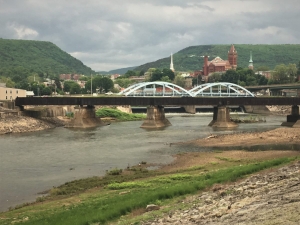 I issued a Post in November 2019 after returning to Cumberland for my 50th high school reunion: http://stevejonesgbh.com/2019/11/20/a-taste-of-mid-september-nature-at-the-co-canal-national-historic-park/ During my youth we took great pride that we lived in Maryland's second largest city (by population) trailing only Baltimore. Today eleven other Maryland municipalities outrank Cumberland. The region is now a recreation center and destination. Rocky Gap State Park (and Resort) lies just ten miles east of the city. Once again visiting Cumberland, I spent a day at the Park September 26, 2020, hiking from Lake Habeeb (1,150′ elevation) to the summit of Evitts Mountain (2,296′) along the Mason and Dixon Line (the border between Maryland and Pennsylvania).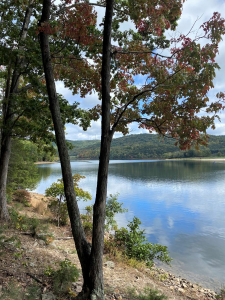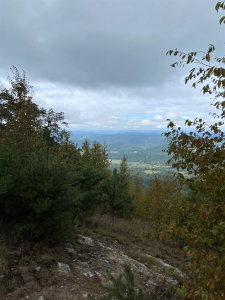 Come with me as I hike the elevation transect, offering reflections on trees, non-tree woody vegetation, a couple tree form oddities, and other Nature elements. An hour into my upward trek, I stood aside to allow a 20-something trail runner to descend past me. I inquired whether he had been to the summit. He respond, "Yes. The view is spectacular." I recalled my younger days as a distance runner, when my endurance and still-spry knees would have taken me to the top and return with relative ease. An effort, yes, but not a six-hour walking marathon reliant upon trekking poles! Yet the trail runner spurred me to accept and meet the peak-trekking challenge.
The Gap
I visited the actual Gap as a teenager, several years before the Park opened in 1974. The State was in the process of acquiring the eventual property package of 3,000 acres. Back then we hiked to the overlook and scrambled down into the chasm. I began my recent hike via the short trail (below left; photo with my Alabama grandsons summer 2019) to the canyon overlook (below right).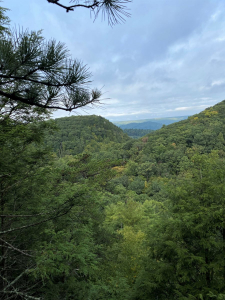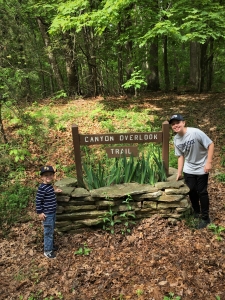 I departed the overlook heading north on a connector trail to reach the Evitts Mountain summit path, first dropping into the head of the Gap stream (below right) several hundred yards downstream of the Habeeb Lake dam. The view as I descended (below left) is to the northwest showing the toe of Evitts Mountain as it tails into the Gap. From this vantage point, the trail dropped into and across the stream (at about the 1,000 foot contour), from which I began the nearly 1,300-foot ascent to the summit photo point (see later) just across the Mason-Dixon Line in Pennsylvania. I've written often on the effect of elevation on climate and weather. In the annual seasonal sweep of the seasons, a difference of 1,300 vertical feet accounts for about 11 days. That is, at 1,000-feet, spring arrives 11 days earlier and summer departs 11 days later than at the summit. That's three additional weeks of summer at the lower elevation and three additional weeks of winter atop Evitts Mountain. I recall growing up when a winter storm might bring wet snow (little coated other than grassy surfaces) to Cumberland (the Potomac River at ~700 feet elevation). When the storm clouds cleared, Evitts Mountain (I could see it from my high school) and other ridges glowed in pure, dazzling, and glimmering white. I've driven from watery flakes in Cumberland to a near-blinding blizzard atop the 2,900-foot Allegany Front just a dozen miles to the west. On this recent hike, I could feel discernably cooler temperatures and a fresher breeze at the summit.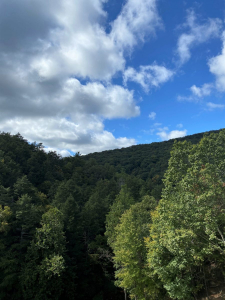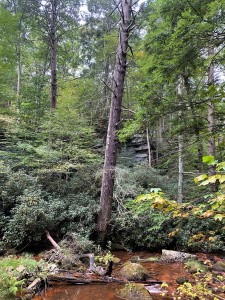 That connector segment down into the canyon and then up to the summit trail offered the circuit's steepest terrain and greatest challenge. As I begin my 70th year (69th birthday back in July), steep downhills are particularly problematic. Thank goodness the actual summit trail follows an old access road (a generous application of the term) leading to the powerline and USGS monument at the summit. I commend the Maryland Park Service for its excellent signage and trail markings.
I do confess to wondering how much longer my knees can tolerate my more aggressive wildness wanderings. I find such contemplation worrisome. For now I shall relish every step and each venture.
A Few Trees Species Encountered
I worked for the Maryland Forest Service during my junior/senior-year summer as a Forester's Aid on the Green Ridge State Forest, visible from the summit view to the east (see later). From the Maryland Forest Service website: At 49,000 acres, Green Ridge is the largest contiguous block of public land in Maryland. Green Ridge is located within the Ridge and Valley Province of the Appalachian Mountains. It is rich in both natural and cultural heritage and remains a "working forest" today as it is managed by the Maryland Department of Natural Resources Forest Service to conserve the natural ecological processes while supporting the economy of the region through an active forest management program. The Maryland Forest Service Mission is to restore, manage, and protect Maryland's trees, forests, and forested ecosystems to sustain our natural resources and connect people to the land.
That summer sent my heart soaring…I was in forestry-student heaven. My supervisor, John Mash, joyed in sharing his knowledge and experience with an eager and impressionable future forester. Through the lens of the 48 years since then, I view John (since deceased) as a superlative forester, naturalist, historian, and teacher. He authored the definitive The Land of the Living: The Story of Maryland's Green Ridge State Forest in 1996. I sit here typing with a signed copy of John's 895-page tome on my lap. Here is the paragraph from the inside front cover:
This is the story of a forgotten part of Maryland that has never seen its story in print. This is the story of the eastern portion of Allegany County, Maryland. Today the character of this area is rural, sparsely populated and a large portion is owned as a public forest. The history of this land is rich and fascinating: royalty, squatters, moonshiners and murderers have made their presence known here as well as Nazi prisoners, slaves and turn of the century capitalists. The story describes the history of the land, its plants and animals, and the people who wrought out their existence here.
Since retiring, I have written about what I call Nature-Inspired Life and Living. I have said time and again that every parcel of wildness, at least here in the east, incorporates a tale at the intersection of human and natural history. Until I revisited John's book preparing this Post, I had not consciously made the connection that my old friend and mentor lived, breathed, and professed those same sentiments and philosophy a half-century ago as I learned under his watchful eye. Like so many who have molded this person I have become, John left an indelible mark that I am only just now realizing and acknowledging. Thank you, John!
I offered those reflections to introduce some of the tree species I encountered at Rocky Gap that spur memories of my season on the State Forest and my countless woods-ramblings growing up in western Maryland. This is not an exhaustive list, just a few highlights. Virginia pine (Pinus virginiana) tops the evergreen list, prolific across these sharp ridges and steep hillsides. The species tolerates poor shale-derived soils and frequent periods of moisture stress. The region, the driest in Maryland, receives less than 35-inches of rainfall (including melted snow) annually. It lies in the Allegany Front rain shadow.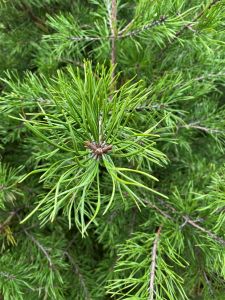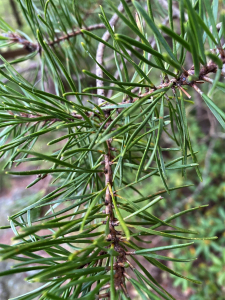 Table mountain pine (Pinus pungens) also proliferates…and tolerates these dry and impoverished sites.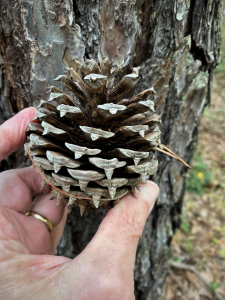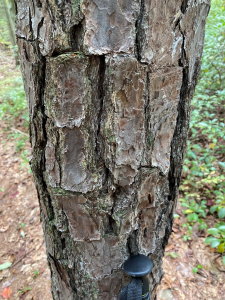 Eastern white pine (Pinus strobus; below left) is also common, but does not reign supreme as it does on richer sites and favorable soils in the higher Appalachians (Great Smoky Mountains and Blue Ridge), and into New England. I found Eastern Hemlock (Tsuga canadensis; below right) creekside, an environment where it occurs throughout the Green Ridge State Forest.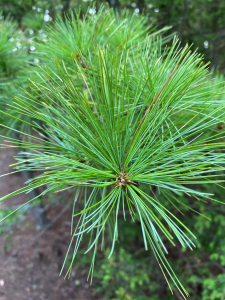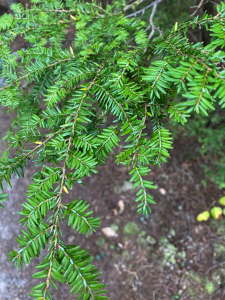 Black gum or black tupelo (Nyssa sylvatica) is a prevalent understory to mid-canopy inhabitant of this region. From the USDA Hardwood Silvics manual: Black tupelo grows in the uplands and in alluvial stream bottoms from southwestern Maine to New York, to extreme southern Ontario, central Michigan, Illinois, and central Missouri, and south to eastern Oklahoma, eastern Texas, and southern Florida. It is local in central and southern Mexico. Optimum development is made on lower slopes and terraces in the Southeastern United States. Black gum is not a main canopy component within Rocky Gap's upland forests. Yet the species provided the earliest color along my transect (see below). For that I was grateful.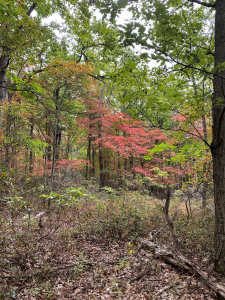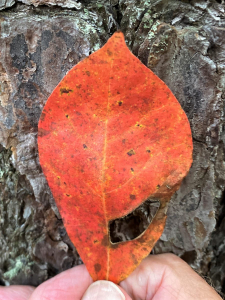 I have no recollection of previously meeting a species of oak I found along the trail, bear oak (Quercus ilicifolia). Although I reviewed several online sources for information, Wikipedia offered a succinct and scientifically accurate summary: Quercus ilicifolia, commonly known as bear oak or scrub oak, is a small shrubby oak native to the eastern United States and southeastern Canada. Its range extends in the United States from Maine to North Carolina, with reports of a few populations north of the international frontier in Ontario. From the International Oak Society website: While the species abruptly stops south of Virginia border, there are two extant populations of bear oak in North Carolina at Pilot Mountain and Crowder's Mountain. Within its range, bear oak is restricted to high mountain tops, rock outcrops, and pine barrens. I am glad I stumbled across this not-so-common species.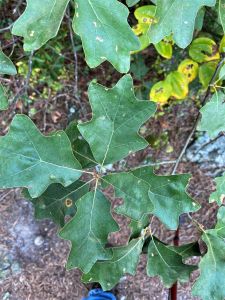 Other Woody Vegetation
It's not just common trees that spirit me back to those memories from forest-ramblings during a summer 48 years ago. I encountered four understory woody species that prompted recollections from my youth. Mountain laurel (Kalmia latifolia; below left) is a broadleaved evergreen shrub in the heather family, Ericaceae, that is native to the eastern United States. Its range stretches from southern Maine south to northern Florida, and west to Indiana and Louisiana. I found it ubiquitous here in northern Alabama. The same holds for great rhododendron (Rhododendron maximum; below right), which extends from southern Canada through to the southern Appalachians. I find it often in moist protected hollows and streamsides from Huntsville into the Talladega National Forest here in Alabama. It reminds me of home, that place where I began my addiction to Nature.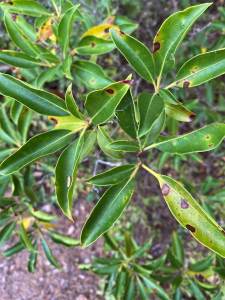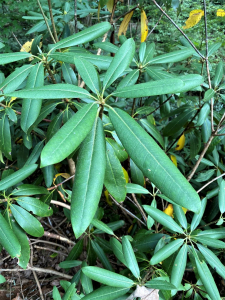 Another local northern Alabama species that transports me back to the central Appalachians is mapleleaf viburnum (Viburnum acerifolium; below left). Wikipedia notes that the mapleleaf viburnum, maple-leaved arrowwood or dockmackie, is a species of Viburnum, native to eastern North America from southwestern Quebec and Ontario south to northern Florida and eastern Texas. Roundleaf greebrier (Smilax rotundifolia; below right), is a species I'm familiar with from my field-forestry days, as common locally here in the southern Appalachians as it is at Rocky Gap.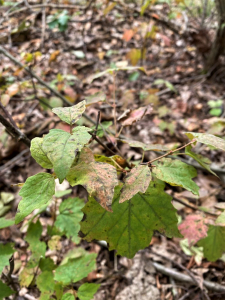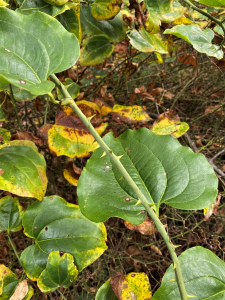 I could have spent hours and days completing a tree and woody plant inventory on my late September Rocky Gap trek. I did not mention the many other oak species I noted (northern red, white, chestnut), shagbark and mockernut hickory, yellow poplar, and red and sugar maple, among others. Suffice it to say that mine was a superficial exploration, and deep spiritual immersion in memories of growing up… personally and professionally.
Special Tree Forms
I'm always on alert for what I term as tree form oddities. I noticed many hollow-trunked trees all along my trek. This chestnut oak (Quercus prinus) had finally passed the threshold where its rind of sound wood could no longer support the weight and leverage of its 70-foot stem blowing in the stiff hilltop breezes. Wind twisted and torqued the stem clockwise, reached a point of failure, and brought the tree downwind to the ground. Decay fungi, long content to feast on the tree's interior wood, will complete their work on the standing snag and the now prostrate trunk. A question I had too little evidence to answer: what wound provided the court of infection that led to entry of the decay organism? Among other possibilities are: lightning strike; a long-ago fire; a buck-rub when the tree stood as a sapling; a bark scar from a falling nearby tree.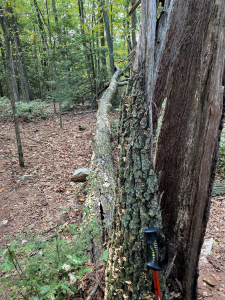 This mockernut hickory (Carya tomentosa) suggests its own compelling story. The top photo (below) appears to be a robust 12-inch diameter stem, growing normally.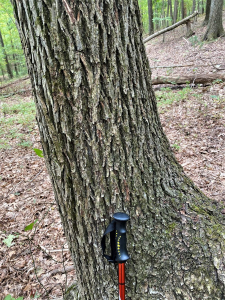 But the top photo does not depict this tree form oddity. The left image below shows that at some point many years ago, some compelling force (likely a nearby tree falling) crushed the then much younger hickory to the ground. Not dead the prostrate hickory sent a shoot skyward some six feet from its original union with the ground. Although badly crushed and broken, the stump (now deeply hollowed) managed to sustain the new sprout, which flourished and now stands as a vertical hickory reaching into the main canopy. The still-living tree has successfully calloused the wounded downed tree beyond the vertical stem. The image below right shows the hollowed and horizontal original trunk, serving now with its accumulated organic debris as a planter of sorts. I am confident that the decay responsible for the hollowed section extends into the upright stem. Note also from that perspective that the vertical stem is canted some 15 degrees to the right, suggesting that the hollowed horizontal support beam is weakening and torqueing in response. Basic and rudimentary physics control so many actions in Nature. Nothing defies gravity for long… nor withstands decay organisms.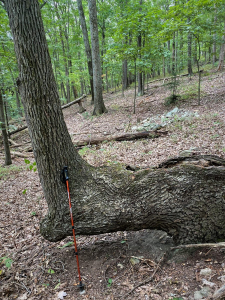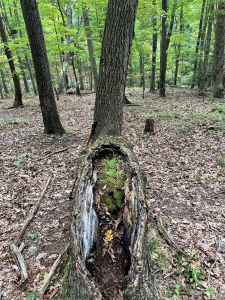 Every single thing in Nature tells a story, whether our deformed hickory… or the old resin-soaked pine tree core (below) I pulled from its stump hole. The resin serves as an effective wood preservative. The outer wood, bark, and the tree above it had long since returned to the soil. I refer to these old remnants as terrestrial driftwood, weathered in-place by the passage of time and persistent forces of deterioration. I knew such an artful specimen would have accented several spots in my home landscape beds. However, I left it where I photographed it for several reasons: I found it in a State Park; it weighed upward of twenty pounds; I still had several miles to cover. Such bounty serves me best when I am not in a protected area and when the effort required is within my limits.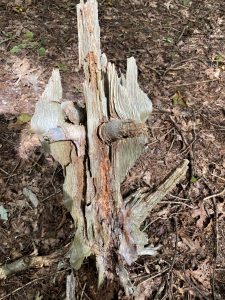 So, I chose to harvest a photograph and a memory. Truth is, such is the principal yield of all my Nature wanderings. Inspiration and satisfaction can't be stuffed into a tucker bag. Instead, I attempt in these Posts to share my harvested inspiration with words and photographs.
Early Fall Flowers, Fungi, and Ferns
I had originally hoped to include this section and its associated photos in this single comprehensive Post. I can't do it. Enough is enough! I'll spin-off a second Post from my rewarding day at Rocky Gap State Park. Watch for it.
Summit, Mason-Dixon Line, and Return to Lake Habeeb
As with early fall flowers, fungi, and ferns, I thought I could squeeze a full discussion of the summit, Mason-Dixon Line, and Return to Lake Habeeb into this single Post. Again, Post-space and length argue against creating a too-large reflection and photo essay. So, watch for yet another subsequent Post.
I'll close this Post with three photos with little text. A view from the summit east, encompassing some of Green Ridge State Forest.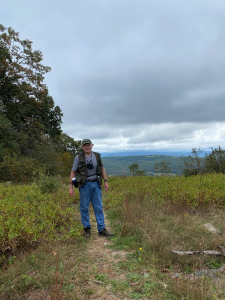 Trail marker at the Mason and Dixon Line.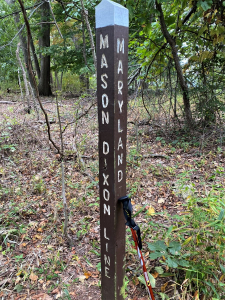 Lake Habeeb.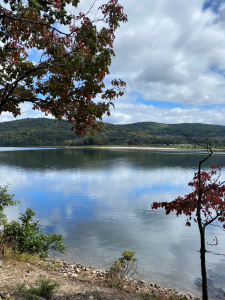 I am pondering the following: had I been dropped off at Rocky Gap's Lake Habeeb with no revelation as to its location near my hometown, would I have enjoyed and appreciated the hike. I think that I would have found it fascinating, inspirational, and deeply enjoyable for its vegetation, topography, and the stories I could read from the land and forest. I also would have felt the homing beacon powerfully. There would have been no denying the unmistakable evidence that I was, in clear fact, home. I was a salmon returning to the headwater stream where I first saw life. I was once again in my mother's arms and under Dad's watchful and loving eye on one of our hundreds of Nature treks. That's the extraordinary Nature of place that is indelibly written in my head, heart, mind, body, and soul. I am a creature and product of place… place defined by Nature.
Thoughts and Reflections
I offer three lessons from my late September revisit to Rocky Gap:
The extraordinary Nature of place is indelibly written in my head, heart, mind, body, and soul. I am a creature and product of place… place defined by Nature.
Countless days in Nature define my life across these 69 years — I look, see, and feel Nature's beauty, magic, wonder, and awe… and find immeasurable lift.
My connection to Nature is unmistakably SACRED!
Inhale and absorb Nature's elixir. May Nature Inspire, Inform, and Reward you!
Note: All blog post images created & photographed by Stephen B. Jones unless otherwise noted. Please circulate images with photo credit: "©2020 Steve Jones, Great Blue Heron LLC. All Rights Reserved."
Another Note: If you came to this post via a Facebook posting or by an another route, please sign up now (no cost… no obligation) to receive my Blog Post email alerts: http://eepurl.com/cKLJdL
And a Third: I am available for Nature-Inspired Speaking, Writing, and Consulting — contact me at steve.jones.0524@gmail.com
Reminder of my Personal and Professional Purpose, Passion, and Cause
If only more of us viewed our precious environment through the filters I employ. If only my mission and vision could be multiplied untold orders of magnitude:
Mission: Employ writing and speaking to educate, inspire, and enable readers and listeners to understand, appreciate, and enjoy Nature… and accept and practice Earth Stewardship.
Vision:
People of all ages will pay greater attention to and engage more regularly with Nature… and will accept and practice informed and responsible Earth Stewardship.
They will see their relationship to our natural world with new eyes… and will understand more clearly their Earth home.
Tagline/Motto: Steve (Great Blue Heron) encourages and seeks a better tomorrow through Nature-Inspired Living!
Steve's Three Books
I wrote my books Nature Based Leadership (2016), Nature-Inspired Learning and Leading (2017), and Weaned Seals and Snowy Summits: Stories of Passion for Place and Everyday Nature (2019; co-authored with Dr. Jennifer Wilhoit) to encourage all citizens to recognize and appreciate that every lesson for living, learning, serving, and leading is either written indelibly in or is powerfully inspired by Nature.
I began writing books and Posts for several reasons:
I love hiking and exploring in Nature
I see images I want to (and do) capture with my trusty iPhone camera
I enjoy explaining those images — an educator at heart
I don't play golf!
I actually do love writing — it's the hobby I never needed when my career consumed me
Judy suggested my writing is in large measure my legacy to our two kids, our five grand kids, and all the unborn generations beyond
And finally, perhaps my books and Blogs could reach beyond family and touch a few other lives… sow some seeds for the future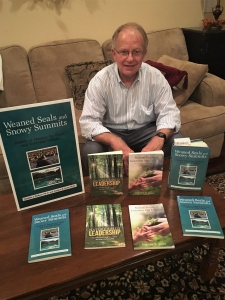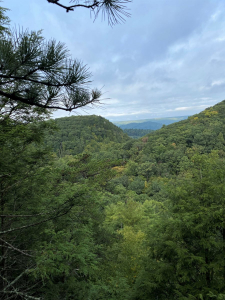 All three of my books (Nature Based Leadership; Nature-Inspired Learning and Leading; Weaned Seals and Snowy Summits) present compilations of personal experiences expressing my (and co-author Dr. Wilhoit for Weaned Seals and Snowy Summits) deep passion for Nature. All three books offer observations and reflections on my relationship to the natural world… and the broader implications for society. Order any and all from your local indie bookstore, or find them on IndieBound or other online sources such as Amazon and LifeRich.
http://stevejonesgbh.com/wp-content/uploads/2020/10/IMG_4831.jpg-09.26.20-White-Oak-at-Lake.jpg
1200
900
Steve Jones
http://stevejonesgbh.com/wp-content/uploads/2017/01/gbhweblogo.png
Steve Jones
2020-10-15 06:20:18
2020-10-15 06:20:18
A Tough Hike and Deep Reward at Rocky Gap State Park in Western Maryland