August 18, 2020, Alabama State Parks Naturalist Emeritus Mike Ezell and I focused our Wheeler National Wildlife Refuge explorations interior to the Blackwell Swamp loop road on the Refuge's eastern extension. See two previous Posts from our wanderings in both a pine terrace forest (http://stevejonesgbh.com/2020/09/09/pine-forest-on-a-rich-terrace-above-lake-wheeler-on-the-wnw-refuge/) and through a bottomland hardwood ecosystem (http://stevejonesgbh.com/2020/09/16/hardwood-forest-on-seasonally-flooded-lowlands-along-lake-wheeler-on-the-wnw-refuge/).
Even as our main target had been the two forest types, we marveled at the floral and butterfly extravaganza along the gravel road.
Floral Elegance
We appreciated that maintenance crews had not mowed vegetation between the woods edge and driving surface. A wall of vegetation grew to head height…and higher. Although we did not inventory every species in bloom that we encountered, we did photograph some of the more impressive late summer flowers. Mike stands admiring the roadside botanical garden below.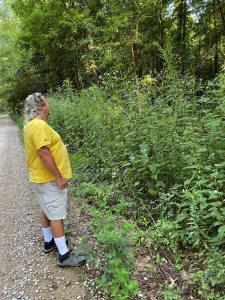 Pineland (or snow) squarestem (Melanthera nivea) grew profusely along the road (below left), standing 5-8-feet. We spotted an occasional buttonbush (Cephalanthus occidentalis), a species of flowering plant in the coffee family. It is native to eastern and southern North America. From the Morton Arboretum online: Buttonbush is a great shrub for naturalizing in wet areas. The glossy green leaves and fragrant, round flower clusters during mid-summer attract butterflies.  Native to the Chicago area and the eastern United States, buttonbush attracts more than 24 species of birds, as well as numerous species of butterflies. No wonder the roadside attracted so many butterflies!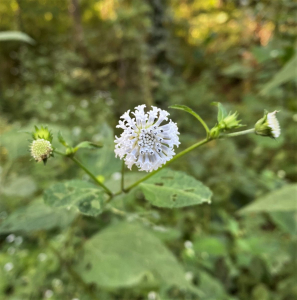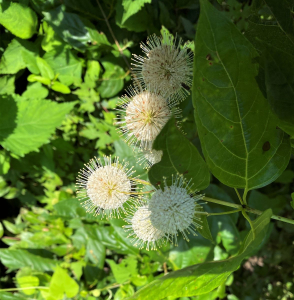 And what a gem we discovered with this halberd-leaf rosemallow (Hibiscus laevis), one of just a few we spotted. I felt fortunate to read this from the NC State University online Extension Gardener: White to pink flowers bloom from June to August and are 5 petaled with a deeper colored throat and up to 6 inches wide. Prominent long stamens in the center of the cup-shaped flower. Each flower lasts for a day. Fortunate because we were there for that flower's single day performance! And I learned more from the site:
The Halberd-leaved Rose Mallow is a native perennial in the mallow family.  It has erect green stems and large showy white or pink flowers.  It is a relative of the okra and has a slimy mucilaginous sap.  It grows quickly in warm weather and works well in wetland gardens and woodland habitats. This plant prefers full or partial sun, fertile soil, and wet conditions. Use in the water or rain garden, along streams or ponds or wet areas of the cottage or native plant garden. Although the text is intended for adventurous home gardeners, as a naturalist intending to understand Nature's natives in-place, I can better appreciate that this rosemallow is perfectly suited to flourish along the Blackwell Swamp Road.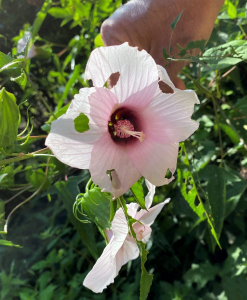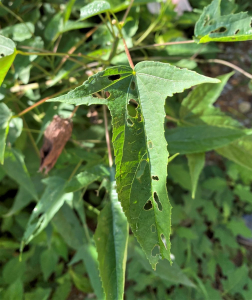 We identified a few specimens of Carolina horsenettle (Solanum carolinense) in flower. I turned to Wikipedia's simple paragraph: Solanum carolinense, the Carolina horsenettle, is not a true nettle, but a member of the Solanaceae, or nightshade family. It is a perennial herbaceous plant, native to the southeastern United States that has spread widely throughout much of temperate North America. The Plants for a Future website offered more complex detail, including:
All parts of the plant are potentially poisonous. Fatalities have been reported with children. I'll make sure not to ingest any parts!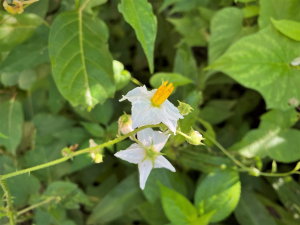 I did not recall previously encountering American groundnut (Apios americana) in flower. The Lady Bird Johnson Wildflower Center (Texas) describes the species as a Climbing vine with maroon or reddish-brown pea-like flowers in compact racemes arising from leaf axils. This legume has a cord-like rootstalk with edible tubers the Indians gathered for food. The Pilgrims relied on them as a food source during their initial years in Massachusetts. The tubers can be used in soups and stews or fried like potatoes; the cooked seeds can also be eaten. The flowers are sufficiently beautiful to warrant cultivation, but the plant tends to take over. The generic name, from Greek for pear, alludes to the shape of the tubers. I can understand why a gardener might be tempted to transplant a seedling or two into a perennial landscape bed, risking the plant's propensity to take over.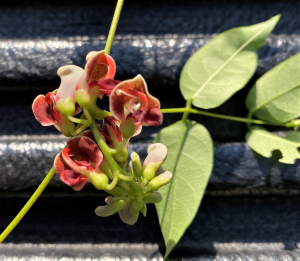 We found abundant bear's foot (Smallanthus uvedalia). Also known as hairy leafcup, this species is a member of the Asteraceae, the Sunflower family. A USDA online source notes that this leafcup is a species of moist to dry, lightly shaded to open woodland, savanna, thickets, fields, and bottomland. This species is found from Michigan southwest to Illinois, Missouri, and Kansas, south to Oklahoma and Texas, east to New York and New Jersey, and, south to Florida. Some manuals also consider it native from Mexico to Panama. This species flowers in July to September. It is an excellent nectar/pollen plant and is visited by many species of bees and wasps.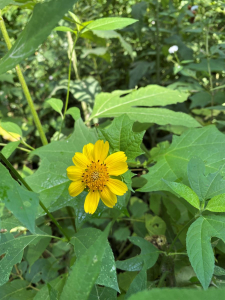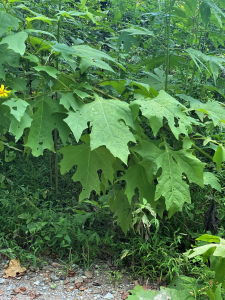 We also found a member of the pea family, bigpod sesbania (Sesbania herbacea). I find the technical plant manual descriptions written in a language (yes, it's English) uniquely their own, both confidently specific and accurate, yet somewhat lyrical and mystical. From a USDA online source: Bigpod sesbania is a semi-woody, native, perennial where it can be grown yearlong in frost-free zones or as an annual warm-season legume where it is frost-killed. It has smooth, green, tapering stems that become woody with age. Although it only has a few wide-spreading branches, it can grow 3–10 ft tall. The Natural Resources Conservation Service Plant Guide former species name exaltata means extremely tall, and refers to the plant's height. The alternately arranged 30 cm leaves are even-pinnately compound, with approximately 20–70 oppositely arranged leaflets. Leaflets are 0.75–2.5 cm long, with smooth margins and a pointed tip. They are somewhat hairy or waxy underneath.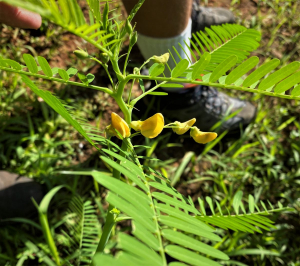 We encountered many other plants in late summer bloom, but did not see our role to inventory an exhaustive list.
Lepidopteran Abundance
We saw any number of bee, wasp, and fly pollinators. However, we focused our attention on our Lepidopteran friends. Two of the more showy species common along the road shoulder were Eastern tiger swallowtail (Papillio glaucus; below) and black swallowtail (Papillio polyxenes; further below). From Wikipedia: The Eastern swallowtail is a species of butterfly native to eastern North America. It is one of the most familiar butterflies in the eastern United States, where it is common in many different habitats. It flies from spring to fall, during which it produces two to three broods. Adults feed on the nectar of many species of flowers. The male is yellow with four black "tiger stripes"  on each forewing. Females may be either yellow or black, making them dimorphic. The yellow morph is similar to the male, but with a conspicuous band of blue spots along the hindwing, while the dark morph is almost completely black.
The green eggs are laid singly on plants of the families Magnoliaceae and Rosaceae. Young caterpillars are brown and white; older ones are green with two black, yellow, and blue eyespots on the thorax. The caterpillar will turn brown prior to pupating. It will reach a length of 5.5 centimeters (2.2 in). The chrysalis varies from a whitish color to dark brown. Hibernation occurs in this stage in locations with cold winter months. The eastern tiger swallowtail is the state Alabama state butterfly (as well as state mascot). State mascot? I had no idea. I suppose most Alabamians, depending upon their perspective, assumed our state mascot was either Aubie the Tiger or Big AL!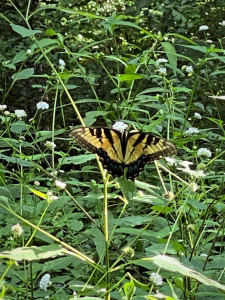 Photo Credit: Mike Ezell
Likewise, the black swallowtail is also a common butterfly in our region and along our road shoulder. From a University of Florida entomology website: The eastern black swallowtail is one of our most common and most studied swallowtails. Although it is admired for its beauty, it is one of the very few butterflies that may occasionally be considered a pest. It has been known by a variety of other names including black swallowtail, American swallowtail, parsnip swallowtail, parsley swallowtail, celeryworm, and caraway worm. Several subspecies of Papillio polyxenes occur in Mexico, Central America and South America. Habitats of the black swallowtail are generally open areas, including both uplands and wet areas—wet prairies, fields, flat-woods, pine savannas, roadsides, weedy areas, and gardens. Males perch and patrol open areas for females—often near patches of host plant.
Eggs are laid singly on the host plants—usually on new foliage and occasionally on flowers. Development time is variable depending on temperature and host plant species, but generally the egg stage lasts four to nine days, the larval stage 10–30 days, and the pupal stage nine to 18 days (except for overwintering pupae). Pupae are the overwintering stage. There are two generations in northern parts of the range but at least three generations in the South.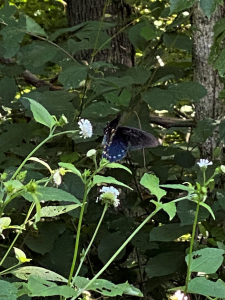 Photo Credit: Mike Ezell
Mike identified and photographed a long-tailed skipper (Urbanus proteus). From the Alabama Butterfly Atlas: No other skipper in Alabama has iridescent blue-green on its upper wings and body! These flashy skippers avidly visit flowers for nectar, and often hang upside-down to feed.   In most years, Long-tails move into Alabama from Florida, usually appearing by early summer.  They colonize as far north as the New England States, where the arrival of cold weather sees them start a southward movement to warmer climates. They cannot tolerate freezing temperatures in any stage of their life cycle. Long-tailed Skippers overwinter as reproductively arrested adults in tropical and subtropical areas. It is likely that this widespread species will eventually be documented in every county in Alabama, where they are welcome and frequent garden visitors.
The Long-tailed Skipper is distributed from Argentina northward through Central America, the West Indies, and Mexico to southeastern Texas and along the Gulf coastal states to Florida.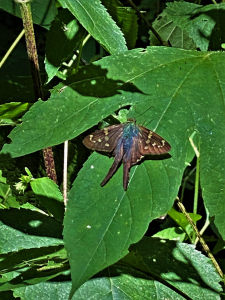 Photo Credit: Mike Ezell
We saw many individuals of Gulf fritillary (Agraulis vanillae). From iNaturalist: The Gulf fritillary or passion butterfly (Agraulis vanillae) is a bright orange butterfly in the subfamily Heliconiinae of the family Nymphalidae. That subfamily was formerly set apart as a separate family, the Heliconiidae. The Heliconiinae are "longwing butterflies," which have long, narrow wings compared to other butterflies. Gulf fritillary is the only member of genus Agraulis. Agraulis vanillae is most commonly found in the southern areas of the United States, specifically in many regions of Florida and Texas.
Gulf fritillaries have a chemical defense mechanism in which they release odorous chemicals in response to predator sightings. As a result, common predators learn to avoid this species. Pheromones play a critical role in male-female courtship behaviors, with male gulf fritillaries emitting sex pheromones that contribute to mate choice in females.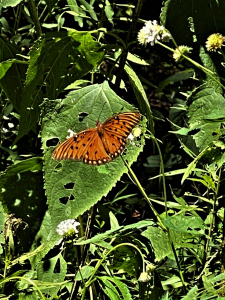 Photo Credit: Mike Ezell
Blackwell Swamp
From floral elegance to butterfly abundance along the roadway, allow me a sidelong gaze into Blackwell Swamp from a view-point at road's edge. We stopped to enjoy the view eastward just as a barred owl swept silently from our left as we enjoyed the open panorama of water, aqua-vegetation, and the hardwood forests fronting the swamp.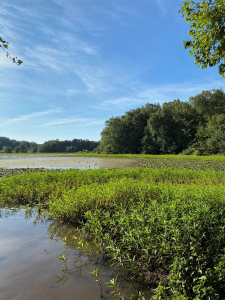 The barred owl (Strix varia) alighted on a willow oak branch just a dozen feet above ground. The lighting (too-bright background) did not allow a clear image, yet we thrilled nevertheless at seeing this magnificent true owl. From the All About Birds website: The Barred Owl's hooting call, "Who cooks for you? Who cooks for you-all?" is a classic sound of old forests and treed swamps. But this attractive owl, with soulful brown eyes and brown-and-white-striped plumage, can also pass completely unnoticed as it flies noiselessly through the dense canopy or snoozes on a tree limb. Originally a bird of the east, during the twentieth century it spread through the Pacific Northwest and southward into California.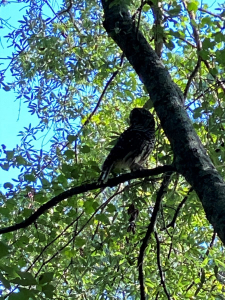 I'll repeat that Mike and I had no advance intent to explore roadside vegetation. Its richness and beauty came as a bonus, meriting this third Blog Post from our wanderings on the eastern end of the Wheeler National Wildlife Refuge on a seasonably hot and humid mid-August day. A bit of sweat and insects was a toll rewarded amply by a full dose of beauty, magic, wonder, and awe!
Thoughts and Reflections
I offer two observations from our mid-August observations along the Blackwell Swamp loop road:
There's pure magic along the southern riparian forest-edge roadside
Sunlight fuels Nature's explosion of botanic (and pollinator) power 
Inhale and absorb Nature's elixir. May Nature Inspire, Inform, and Reward you!
Note: All blog post images created & photographed by Stephen B. Jones unless otherwise noted. Please circulate images with photo credit: "©2020 Steve Jones, Great Blue Heron LLC. All Rights Reserved."
Another Note: If you came to this post via a Facebook posting or by an another route, please sign up now (no cost… no obligation) to receive my Blog Post email alerts: http://eepurl.com/cKLJdL
And a Third: I am available for Nature-Inspired Speaking, Writing, and Consulting — contact me at steve.jones.0524@gmail.com
Reminder of my Personal and Professional Purpose, Passion, and Cause
If only more of us viewed our precious environment through the filters I employ. If only my mission and vision could be multiplied untold orders of magnitude:
Mission: Employ writing and speaking to educate, inspire, and enable readers and listeners to understand, appreciate, and enjoy Nature… and accept and practice Earth Stewardship.
Vision:
People of all ages will pay greater attention to and engage more regularly with Nature… and will accept and practice informed and responsible Earth Stewardship.
They will see their relationship to our natural world with new eyes… and will understand more clearly their Earth home.
Tagline/Motto: Steve (Great Blue Heron) encourages and seeks a better tomorrow through Nature-Inspired Living!
Steve's Three Books
I wrote my books Nature Based Leadership (2016), Nature-Inspired Learning and Leading (2017), and Weaned Seals and Snowy Summits: Stories of Passion for Place and Everyday Nature (2019; co-authored with Dr. Jennifer Wilhoit) to encourage all citizens to recognize and appreciate that every lesson for living, learning, serving, and leading is either written indelibly in or is powerfully inspired by Nature.
I began writing books and Posts for several reasons:
I love hiking and exploring in Nature
I see images I want to (and do) capture with my trusty iPhone camera
I enjoy explaining those images — an educator at heart
I don't play golf!
I actually do love writing — it's the hobby I never needed when my career consumed me
Judy suggested my writing is in large measure my legacy to our two kids, our five grand kids, and all the unborn generations beyond
And finally, perhaps my books and Blogs could reach beyond family and touch a few other lives… sow some seeds for the future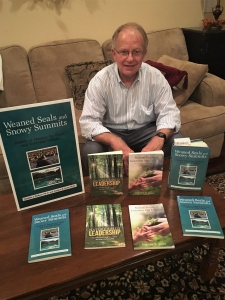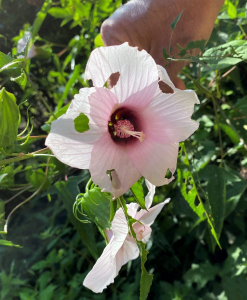 All three of my books (Nature Based Leadership; Nature-Inspired Learning and Leading; Weaned Seals and Snowy Summits) present compilations of personal experiences expressing my (and co-author Dr. Wilhoit for Weaned Seals and Snowy Summits) deep passion for Nature. All three books offer observations and reflections on my relationship to the natural world… and the broader implications for society. Order any and all from your local indie bookstore, or find them on IndieBound or other online sources such as Amazon and LifeRich.
http://stevejonesgbh.com/wp-content/uploads/2020/08/IMG_4163.jpg-08.18.20-WNWR-Blackwell-Run-Loop-Halberd-leaf-Rosemallow-Hybiscus-laevis.jpg
1200
988
Steve Jones
http://stevejonesgbh.com/wp-content/uploads/2017/01/gbhweblogo.png
Steve Jones
2020-10-07 05:25:44
2020-10-07 05:25:44
Mid-Summer Life-Flourish along a Wheeler NWR Gravel Road