August 18, 2020 Alabama State Parks Naturalist Emeritus Mike Ezell and I drove the Blackwell Swamp Loop Road at Wheeler National Wildlife Refuge. We occasionally parked, spending hours on foot exploring a vibrant bottomland hardwood forest within the loop road on lowlands seasonally flooded. Earlier that morning we spent a like amount of time in a nearby pine forest on a sandy loam terrace a few feet higher than the bottomland hardwood forest. See the Blog Post: http://stevejonesgbh.com/2020/09/09/pine-forest-on-a-rich-terrace-above-lake-wheeler-on-the-wnw-refuge/
Bottomland Hardwood Forest
The hardwood forest originated naturally when the Corps of Engineers harvested the forest then present in the early 1930s, when the Corps acquired the property destined for flooding by Wheeler Dam and the associated buffer lands, this hardwood bottomland and the pine terrace included.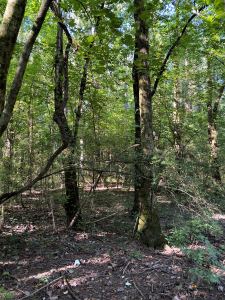 We marveled at a diverse hardwood forest. I'm standing (below left) beside a 46-inch diameter willow oak (Quercus phellos), a magnificent specimen, towering 100-110 feet, with wide spreading crown (below right). Thirty-six years has passed since I left the forest products industry where, within my 12-year employment, I spent two years supplying logs to the company's hardwood sawmill in Waverly, VA. Four decades hence, I still appreciate high-value standing timber. This oak rose more than 60 feet to its first branch, with four clear 16-foot logs. The first two are veneer quality. Although I can't deny viewing such trees through my commercial forestry lens, that perspective does not dominate my assessment. Today I see magic and wonder, overwhelming me with humility (I am nothing in Nature's presence) and inspiration (Nature moves and elevates me). Just 85-90 years ago Corps of Engineers crews harvested the standing forest, passing the baton to Nature, which viewed the cutting as just another natural disturbance, calling upon her resilience and hidden talents to regenerate and renew. This nearly four-foot diameter oak is a gift of God and a purely natural creation.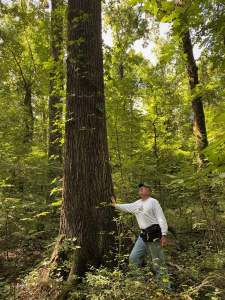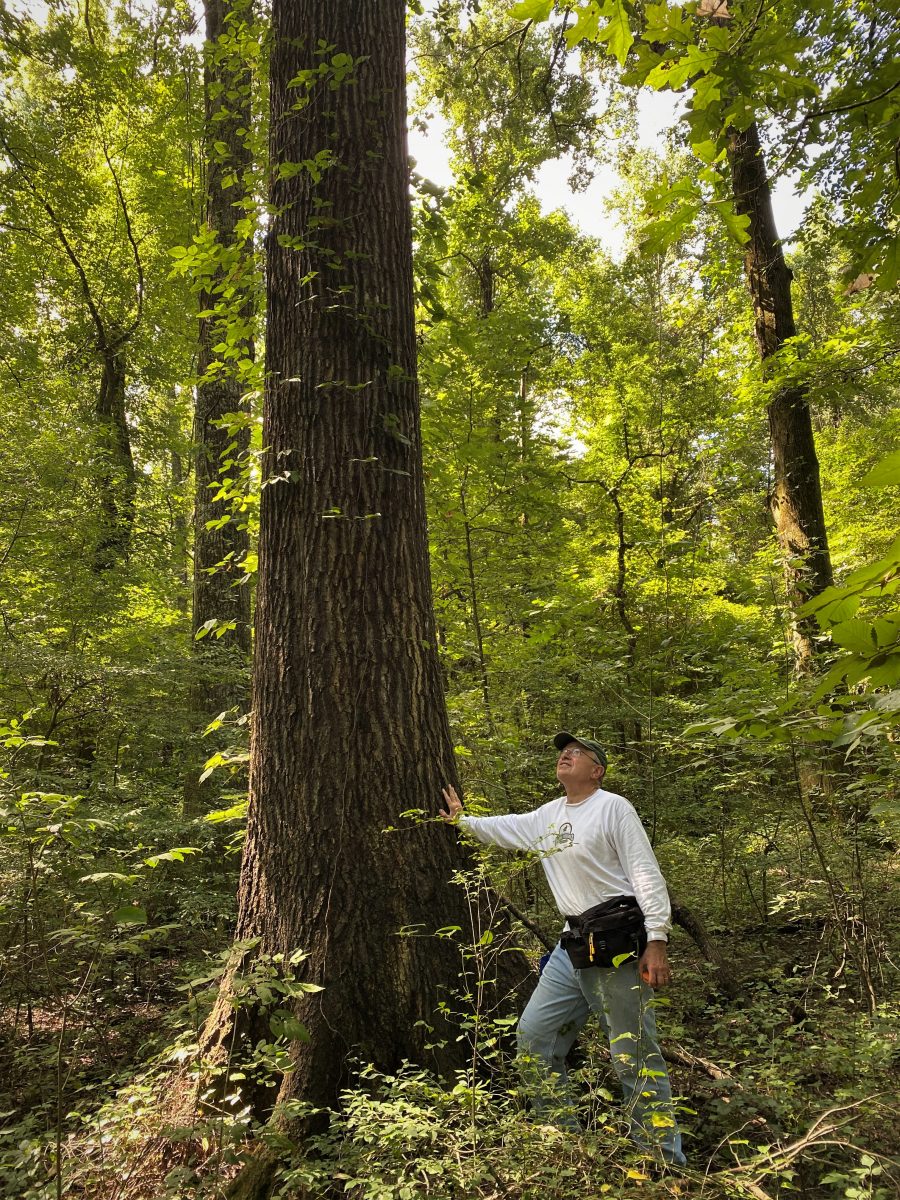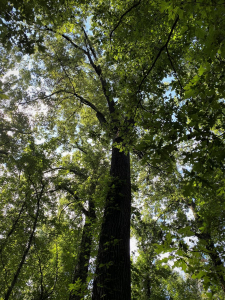 As a former CEO of four different universities, I long ago realized that Nature teaches many lessons. In fact, I hold that every lesson for leading, living, learning, and serving is either written indelibly in or is powerfully inspired by Nature. Peering into the lofty reaches of the willow oak reminded me that as leaders and citizens we must feel deep humility for the tremendous responsibilities we bear for serving others and sustaining our Earth for future generations. I felt absolute humility gazing heavenward into the oak's crown, even as I felt meagerness and inadequacy leading an intricate university ecosystem touching literally thousands of individuals preparing for tomorrow. How could I not be inspired by Nature's beauty, magic, wonder, and awe standing in the presence of such grandeur! Likewise, I viewed the universities I led with absolute inspiration, in their own way as wondrous as the mighty oak. I cannot imagine effectively leading without full doses of humility and inspiration.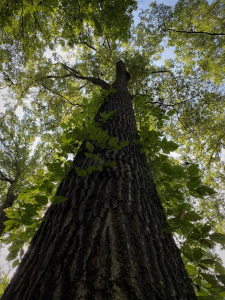 This double-barreled (forked) white oak (Quercus alba; below) measured nearly 60-inches in diameter. The old commercial forester in me, instead, saw two 30-inch stems, each one drawing merchantability from where loggers would buck it… above the fork. I can't help myself… the commercial forestry filter remains intact, yet, I often elect to disengage from it, viewing Nature through a lens of broader appreciation and awe. Once again, we stood at the base absorbing a living organism just 20-25 years my senior. Ah, the stories these oaks could tell: of powerful thunderstorms; occasional (infrequent) snows; cold winter rains; long nights; deep heat; droughts; floods; terrifying winds; courting owls; migrating neotropical songbirds; deer, fox, coyotes, raccoons, opossums, squirrels, and skunks; tree frogs; snakes and other reptiles.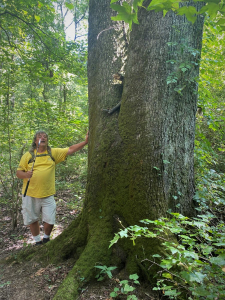 Both oaks stood on relatively higher ground (by 12-18″) within the bottomland. Note the dense understory and ground cover in the prior photos. For much of the winter and spring the higher ground stood above the seasonally flooded lower land. The lower ground, represented below, would have been inundated from late November through April most years. The leaf-matted somewhat ground-cover-free understory evidences the wetter condition. Some 100-feet beyond the photo-point below left lies Blackwell Swamp, where conditions are too wet to support forest cover.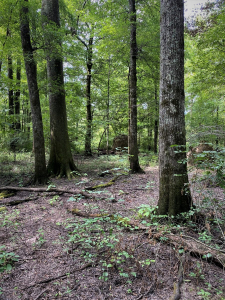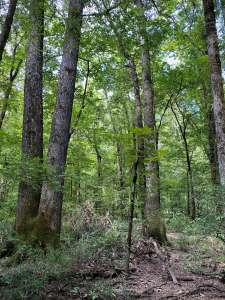 My first forestry position with the company (Union Camp Corporation) after my May 1973 graduation from forestry school involved managing company-owned forestland in southeastern VA. I remember early-on learning the land and forests on the lower coastal plain. One of my colleagues (a coastal plain native) orienting me (a central Appalachian trained forester) pointed to the hill a few hundred feet distant. I saw nothing that met my definition of hill. Instead, I learned that a couple feet in elevation carried great meaning in terms of operability for forestry operations, site quality, and species preference. During the wetter winter season, a hill meant dry feet! The massive, 46-inch willow oak stands on such a hill.
Some Hardwood Tree Oddities
During my current woods walks I am not blindly distracted by the commercial value of trees and forests. Instead, I am taken by both the towering individuals with straight boles and with individuals I describe as tree form oddities. What I used to see as timber defects I now cherish as curiosities, triggering my latent interest in forestry forensics, my urge to puzzle the cause of such unusual form and structure. Understanding the oak below required little imagination. Picture its life beginning as a twin, a double stump sprout resulting from the 1930s harvesting. Perhaps originally there were more than two, yet only two made it to what I'll estimate was 20-30 years ago, when the nearer twin snapped away during a windstorm. That stem was noticeably smaller than its twin is now, reflecting my 20-30-year estimate. The old wound continues to callous, again confirming my time estimate since such large wound callousing takes years. Another point of confirmation is that the twin broke away long enough ago that all evidence of it has disappeared into the soil through decay.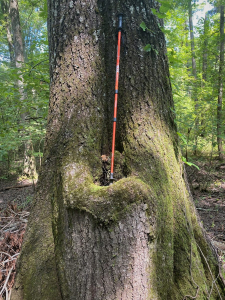 Perhaps coincident with the wind that toppled the oak twin, the top of a nearby tree crushed this sweetgum below to almost horizontal. Laying it flat but not killing it. The sweetgum shot a sprout vertically from a position about three feet above the ground. That sprout has become the dominant main stem, even as the prostrate tree sent other sprouts along its stem vertically. They, too, have survived, but are clearly subordinate to the main trunk.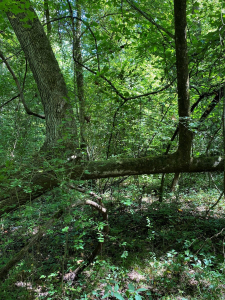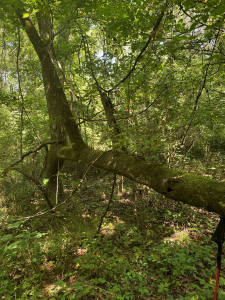 Nature specializes in mysteries that I can sometimes interpret, but not always, yet that is part of the fun. There is great joy in not knowing…and equal thrill in solving. I shall never again walk in the woods and find nothing to challenge my mind, heart, soul, and spirit. The forest fills me with wonder… and deep appreciation.
Fungal Associates
A forest is far more than just a community of trees. The forest ecosystem is a complex, interwoven collection of life forms, all interdependent in a symphony of forms and functions. I am a tree guy. I know something about forest components in the animal and plant kingdoms. Only since retirement have I dedicated time and intellectual energy to knowing, understanding, and appreciating the fungi kingdom, admittedly driven in part by a new-found fondness for edible wild mushrooms. I also find their beauty and function captivating. I offer below just a glimpse of the bottomland fungi we stopped to admire. This is a two-colored bolete (Baorangia bicolor). It's also called red and yellow bolete. I believe it's a tasty edible, but I have not yet gained confidence enough to harvest and test.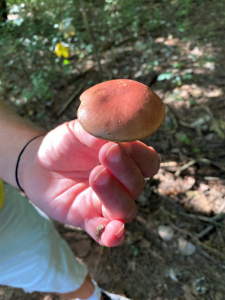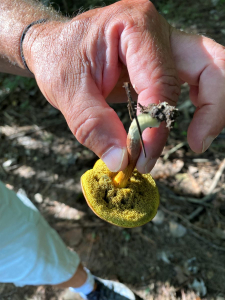 iNaturalist identifies this specimen as scaly rustgill (Gymnopilus sapineus). The iNaturalist description says it has a bitter taste and that it is unclear at this time whether this species or its relatives contain the hallucinogen psilocybin. No, I won't be trying this species!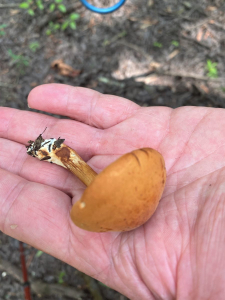 iNaturalist confirmed my field-identification that this common mushroom is of the genus Trametes. I find Trametes throughout my rambling zone here in northern Alabama. Dead and down hardwood material doesn't stand a chance against this rapacious decay fungi.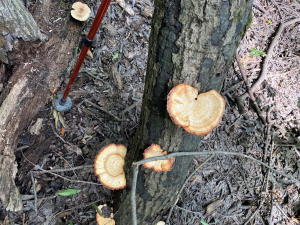 Here is reddening lepiota (Leucoagaricus americanus). This one also carries a less-than-convincing iNaturalist edibility endorsement: It is considered edible, but it might be harmful to ingest the mushroom sometimes. Clearly not on my harvest to consume list!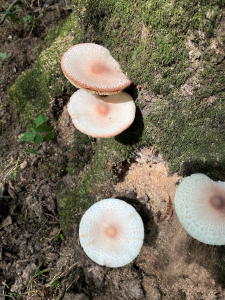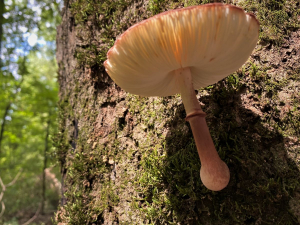 So, whether it's bottomland hardwood giants, odd tree forms, or myriad fungi reducing woody material to reincorporate with forest soil, I am intrigued, humbled, and inspired by these complex forest ecosystems. Robert Service in Spell of the Yukon spoke elegantly 120 years ago of the far north:
There's a land — oh, it beckons and beckons,
And I want to go back — and I will
Although our northern Alabama Tennessee River bottomland hardwood forests do not match the freshness, the freedom, the farness of the untrammeled wildness of the high latitudes, there is magic, mystery, and stillness in these seeming ancient riparian forests. Yes, I know that this forest I trekked has not yet lived a century, yet its ways, forms, functions, wildness, and wisdom are timeless. These forest ecosystems learned their ways long before we humans ventured into them 10-12 millennia ago. And, unless we are much smarter than I fear we are, they will thrive countless millennia after we depart the scene.
Thoughts and Reflections
I offer two observations from my mid-August trek through the bottomland forest:
A forest is far more than just a community of trees.
The forest ecosystem is a complex, interwoven collection of life forms, all interdependent in a symphony of forms and functions.
Inhale and absorb Nature's elixir. May Nature Inspire, Inform, and Reward you!
Note: All blog post images created & photographed by Stephen B. Jones unless otherwise noted. Please circulate images with photo credit: "©2020 Steve Jones, Great Blue Heron LLC. All Rights Reserved."
Another Note: If you came to this post via a Facebook posting or by an another route, please sign up now (no cost… no obligation) to receive my Blog Post email alerts: http://eepurl.com/cKLJdL
And a Third: I am available for Nature-Inspired Speaking, Writing, and Consulting — contact me at steve.jones.0524@gmail.com
Reminder of my Personal and Professional Purpose, Passion, and Cause
If only more of us viewed our precious environment through the filters I employ. If only my mission and vision could be multiplied untold orders of magnitude:
Mission: Employ writing and speaking to educate, inspire, and enable readers and listeners to understand, appreciate, and enjoy Nature… and accept and practice Earth Stewardship.
Vision:
People of all ages will pay greater attention to and engage more regularly with Nature… and will accept and practice informed and responsible Earth Stewardship.
They will see their relationship to our natural world with new eyes… and will understand more clearly their Earth home.
Tagline/Motto: Steve (Great Blue Heron) encourages and seeks a better tomorrow through Nature-Inspired Living!
Steve's Three Books
I wrote my books Nature Based Leadership (2016), Nature-Inspired Learning and Leading (2017), and Weaned Seals and Snowy Summits: Stories of Passion for Place and Everyday Nature (2019; co-authored with Dr. Jennifer Wilhoit) to encourage all citizens to recognize and appreciate that every lesson for living, learning, serving, and leading is either written indelibly in or is powerfully inspired by Nature.
I began writing books and Posts for several reasons:
I love hiking and exploring in Nature
I see images I want to (and do) capture with my trusty iPhone camera
I enjoy explaining those images — an educator at heart
I don't play golf!
I actually do love writing — it's the hobby I never needed when my career consumed me
Judy suggested my writing is in large measure my legacy to our two kids, our five grand kids, and all the unborn generations beyond
And finally, perhaps my books and Blogs could reach beyond family and touch a few other lives… sow some seeds for the future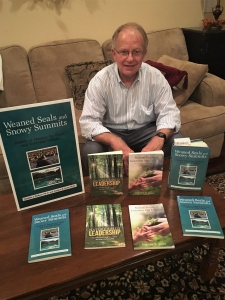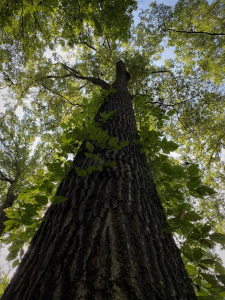 All three of my books (Nature Based Leadership; Nature-Inspired Learning and Leading; Weaned Seals and Snowy Summits) present compilations of personal experiences expressing my (and co-author Dr. Wilhoit for Weaned Seals and Snowy Summits) deep passion for Nature. All three books offer observations and reflections on my relationship to the natural world… and the broader implications for society. Order any and all from your local indie bookstore, or find them on IndieBound or other online sources such as Amazon and LifeRich.
http://stevejonesgbh.com/wp-content/uploads/2020/08/IMG_4232.jpg-08.18.20-WNWR-Blackwell-Run-Loop-46-inch-Willow-Oak.jpg
1200
900
Steve Jones
http://stevejonesgbh.com/wp-content/uploads/2017/01/gbhweblogo.png
Steve Jones
2020-09-16 15:05:36
2020-09-16 15:05:36
Hardwood Forest on Seasonally Flooded Lowlands along Lake Wheeler on the WNW Refuge