Virtual Orientation: Southern Sanctuary
I've often mentioned how fortunate we are in north Alabama to have so much wildness within an hour-and-a-half drive: several State Parks; Bankhead National Forest; Sipsey Wilderness; Wheeler National Wildlife Refuge; County Parks; Greenways; Nature Preserves; and the Goldsmith Schiffman Wildlife Sanctuary, which I visited for the first time June 6, 2020. I felt already intimately familiar with the Sanctuary, having read Marian Moore Lewis' Southern Sanctuary over the winter. Marian chronicles a year of Nature's passage on the Sanctuary one month at a time, with exquisite prose and her own photographs. She writes with deep passion, keen powers of observation and interpretation, and unsurpassed knowledge. I enjoyed the read immensely… and urge Alabama Nature-lovers to pick up a copy and wander through the seasons, and then visit the Sanctuary in person.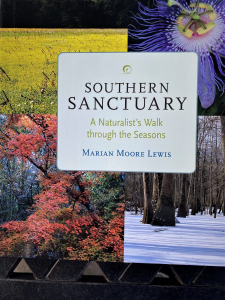 The Real Thing: June 6, 2020 On-The-Ground
Marian was kind enough to meet me at the entrance; she had arranged for Margaret Anne Goldsmith (she donated the property to the City of Huntsville to create the Sanctuary) to join our explorations. We three, along with Judy (my wife), our daughter Katy, and her sons Jack and Sam (11 and 6, respectively), strolled together. I have said many times that I really don't care to walk through Nature, hurrying along from one point to another. Instead, I walk in Nature, observing and adsorbing. Marian and Margaret Anne share that sentiment; we meandered with no sense of urgency. As a result we covered only a third of the total trail distance during our three hours, leaving the remainder for another day or two, most likely this fall when cooler days will prevail.
A lovely entrance welcomed us to the 375-acre Sanctuary. That's Marian at the entrance interpretive sign below right.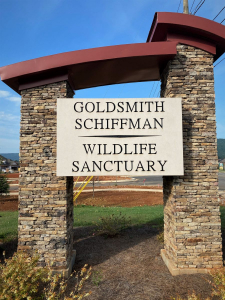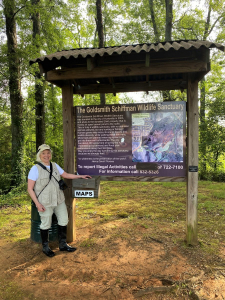 Marian dedicated Southern Sanctuary to Margaret Anne, who, through her vision, sense of stewardship, philanthropy, and love of nature, donated the land for the Goldsmith Schiffman Sanctuary to the City of Huntsville, Alabama. In her own words, "It is my wish that this land will be preserved as a haven for wildlife and for education and enjoyment of our children and future generations; that it will always be a place that lives, suspended in time, yet ever-changing, where all can experience a kind of peace and solace like that found in sacred places." I love the simple heartfelt elegance. What a pleasure to be in the presence of these two incredible naturalists and Earth stewards.
Marian mentioned the red gate often in her book. Here's Sam guarding the red gate. Fortunately, once we explained our purpose he permitted entry!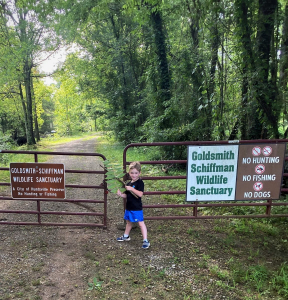 Every parcel of north Alabama wildness holds a tale of intersecting human and natural history. We saw hints of the human history, including the James L. Long bridge, in memoriam to its namesake. I'll mention other elements of the human history as we proceed into the Sanctuary. I will not in these paragraphs develop those fragments of rich history. Instead, Marian, Margaret Anne, and I are already scheming about how we might assemble such a detailed Land Legacy Story for the Sanctuary.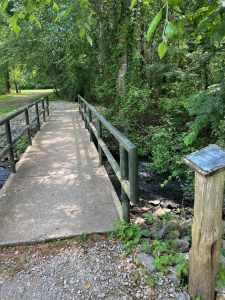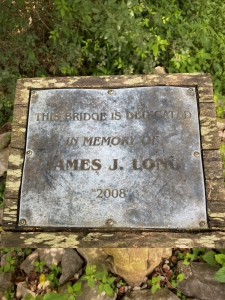 From the interpretive sign (site of the future Interpretive Center) we walked the Hidden Springs Trail… through the red gate, passing Hidden Springs (below). Clear water flows to the surface at this point.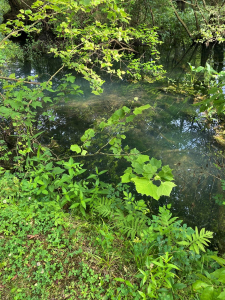 Hidden Springs feeds Jobala Pond, a unique name one might assume has its origin among Native American inhabitants from ages past. However, you probably know what they say about that word assume. Margaret Anne named the pond with the combination of the first two letters from the names of her three children. That's just part of Jobala Pond's story. These wild and natural ponds represent Nature's extraordinary power to reclaim and heal. The pond basin resulted decades ago from the highway department mining fill for road construction west of what is now the Sanctuary. For reasons over which I've pondered for decades, the accepted term for such a basin is borrow pit. You tell me what was borrowed! Doesn't borrow imply returning? Imagine a raw wound, an empty excavated pit void of vegetation and absent aquatic life. Bordered by piles of woody debris scraped from the site prior to surface mining. Now look at the two photographs below. Jobala Pond looks absolutely naturalized. Native terrestrial vegetation borders it; native aquatic vegetation thrives within its margins. Native fishes, crustaceans, turtles, snakes, frogs, insects, gators, beavers, and diverse other critters inhabit it.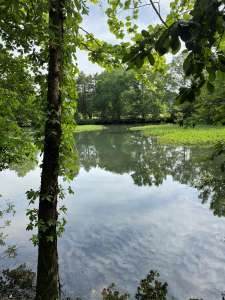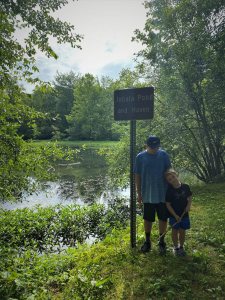 Nature does indeed abhor a vacuum. Once the bulldozers, loaders, and trucks departed, the exposed hidden spring quickly began delivering fresh water; typically reliable rains added their share. The seasonally-overflowing Flint River seeded Jobala with aquatic plant and animal life. Our human footprint, even one as drastic as mining a riparian site for sand and gravel, is seldom indelible to the casual eye. Without Marian and Margaret Anne revealing Jobala's origins, I would have questioned why such a pond existed. Most visitors to the Sanctuary would see it as entirely natural. I see it as a gift of Nature's incredible power to fill voids… to erase footprints… to heal wounds. I hold firmly also to Nature's restorative elixir as a salve for our individual mental, emotional, and spiritual voids, wounds, and scars. The powerful medicine of Vitamin N (Nature)!
I'm not sure we could have moseyed through the Sanctuary any more slowly. So much caught our eye, drew our attention, demanded examination, and delighted us. Marian is a superb photographer, stopping to photo-capture fungi on a dead and down log (below left). Margaret Anne (below right), who has hiked these riparian forests for decades, likewise seemed content to guide and provide family historical notations at our pace. I repeat, the Sanctuary's human and natural history are inextricably interwoven, a tale that the three of us are certain merits telling.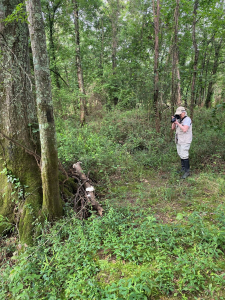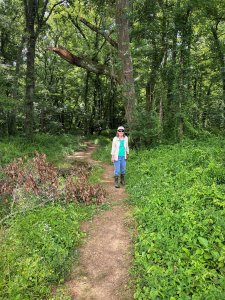 A smaller borrow pit pond (I dubbed it Murky Pond) presented a different face. Hidden Spring enters and flows through Jobala; my sense is that a high water table (without obvious through-flow) feeds Murky, which is accessed at Forest Glen Observation Point. Marian observed that the muddy entrance chute (below right, lower center) is a muskrat slide, where these water habitat-dwelling mammals enter and exit the pond. We speculated why the water is so stirred and turbid. First, there is no apparent surface refresh like there is with Jobala. The muskrat occupants may keep the water disturbed. Or even large carp. Or a gator? We'll leave solving the mystery to another day.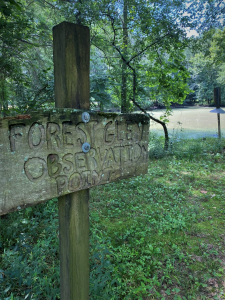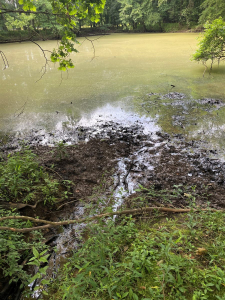 I like the rather primitive wood-routered signs. They look a bit like an illustration one would expect in Ichabod Crane… perhaps a bit Halloweenish. Here we transitioned from Hidden Springs to Deer Run Trail.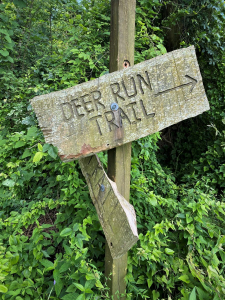 Deer Run Trail crosses a large lowland field, not yet spring-broken for sowing corn or soybeans. Spring rains and periodic flooding often dissuade tractors and cultivation until long after upland agriculture is underway. I am fond of seeing the horizon extended by open viewscapes. I like the distant forest edge and the ridge rising beyond.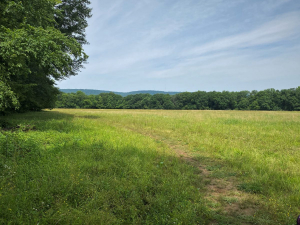 I admit some level of disappointment that there are no plans to convert at least some of the open acreage to native meadow vegetation. I spotted a nice patch of floating primrose-willow (Ludwigia peploides) in full flower mid-field. What a pleasant gift of shimmering yellow. How many years of successive corn and soybean cropping will it survive?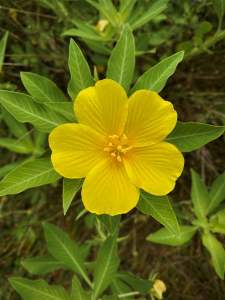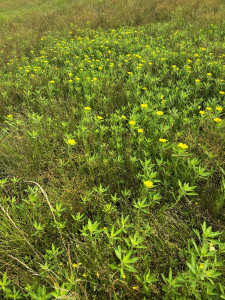 We hiked several hundred feet through deep woods to reach the Flint River. We stood at water's edge, watching the peaceful flow seeking outlet to the Tennessee River, unknowing and uncaring of the long journey ahead to the Ohio, the Mississippi, and the Gulf of Mexico and Atlantic Ocean beyond. We marveled at how tranquil the Flint appeared upstream (left) and down (right), yet we could see ample debris evidence that much of the Sanctuary not many weeks earlier had waited patiently under feet of rising backwater or torrents of flood. The seasons swing wildly here along the Flint.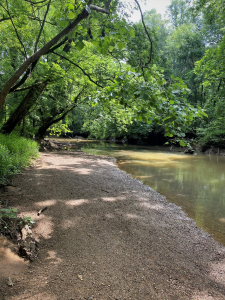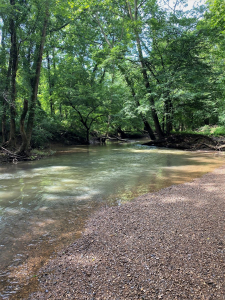 As we stood admiring the flow, a barred owl almost directly overhead in the high riparian canopy greeted us four times with its Who cooks for you; who cooks for you all?: https://www.allaboutbirds.org/guide/Barred_Owl/sounds. The Cornell Ornithology website refers to this call as a classic sound of old forests. The Audubon Guide to North American Birds website provides insight into this deep-woods denizen:
The rich baritone hooting of the Barred Owl is a characteristic sound in southern swamps, where members of a pair often will call back and forth to each other. Although the bird is mostly active at night, it will also call and even hunt in the daytime. Only a little smaller than the Great Horned Owl, the Barred Owl is markedly less aggressive, and competition with its tough cousin may keep the Barred out of more open woods.
The barred owl's call fills my soul. touches my heart, and lifts me into a near-mystical zone. We searched for the owl but to no avail, thus deepening the spiritual dimension of this too-brief audio encounter.
We casually strolled back to the Sanctuary entrance, where several hours earlier we had captured the photo below with Margaret Anne and Marian holding Southern Sanctuary. Such a joy to tour the property with two people who played seminal roles in enabling and chronicling a legacy that will serve future citizens and naturalists deep into the future. The three of us will reconvene to scheme about developing a Land Legacy Story for this wonderful Sanctuary. When we decide how and when to pursue I will provide updates via Blog Posts. The Goldsmith Schiffman Wildlife Sanctuary is in full harmony with my Blog Post theme: Nature-Inspired Life and Living.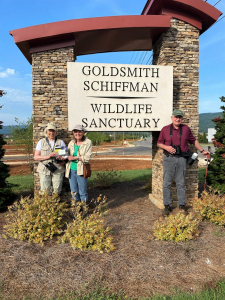 Robert Service, a British poet who wrote about the Far North during his turn-of-the-prior-century wanderings in the Gold Rush Yukon, beautifully corralled the magic of place in his Spell of the Yukon:
There's a land–oh, it beckons and beckons,
And I want to go back–and I will
It's the great, big, broad land 'way up yonder,
It's the forest where silence has lease;
It's the beauty that thrills me with wonder,
It's the stillness that fills me with peace.
I lived four years in Alaska (the Far North)…in the great, big, broad land way up yonder. I realize that our Sanctuary is within the city limits of Huntsville, Alabama, a far cry from the Last Frontier. Yet, I am content and satisfied to find wildness wherever I choose to seek it. The Sanctuary (and so many other Nature-escapes here in north Alabama) thrills me with wonder…and peace. When the barred owl called, silence had lease.
The Sanctuary beckons and beckons. I want to back–and I will. I hope you also take time to visit–both virtually (Southern Sanctuary) and literally.
Thoughts and Reflections
I wrote my books Nature Based Leadership (2016), Nature-Inspired Learning and Leading (2017), and Weaned Seals and Snowy Summits: Stories of Passion for Place and Everyday Nature (2019; co-authored with Dr. Jennifer Wilhoit) to encourage all citizens to recognize and appreciate that every lesson for living, learning, serving, and leading is either written indelibly in or is powerfully inspired by Nature. All three are available on Amazon and other online sources.
I draw two simple truths from my first visit to the Goldsmith Schiffman Wildlife Sanctuary:
I am content and satisfied to find wildness wherever I choose to seek it. 
So many Nature-escapes here in north Alabama thrill me with wonder…and fill me with peace.
Inhale and absorb Nature's elixir. May Nature Inspire, Inform, and Reward you!
Note: All blog post images created & photographed by Stephen B. Jones unless otherwise noted. Please circulate images with photo credit: "©2020 Steve Jones, Great Blue Heron LLC. All Rights Reserved."
Another Note: If you came to this post via a Facebook posting or by an another route, please sign up now (no cost… no obligation) to receive my Blog Post email alerts: http://eepurl.com/cKLJdL
And a Third: I am available for Nature-Inspired Speaking, Writing, and Consulting — contact me at steve.jones.0524@gmail.com
Reminder of my Personal and Professional Purpose, Passion, and Cause
If only more of us viewed our precious environment through the filters I employ. If only my mission and vision could be multiplied untold orders of magnitude:
Mission: Employ writing and speaking to educate, inspire, and enable readers and listeners to understand, appreciate, and enjoy Nature… and accept and practice Earth Stewardship.
Vision:
People of all ages will pay greater attention to and engage more regularly with Nature… and will accept and practice informed and responsible Earth Stewardship.
They will see their relationship to our natural world with new eyes… and will understand more clearly their Earth home.
Tagline/Motto: Steve (Great Blue Heron) encourages and seeks a better tomorrow through Nature-Inspired Living!
Steve's Three Books
I began writing books and Posts for several reasons:
I love hiking and exploring in Nature
I see images I want to (and do) capture with my trusty iPhone camera
I enjoy explaining those images — an educator at heart
I don't play golf!
I actually do love writing — it's the hobby I never needed when my career consumed me
Judy suggested my writing is in large measure my legacy to our two kids, our five grand kids, and all the unborn generations beyond
And finally, perhaps my books and Blogs could reach beyond family and touch a few others lives… sow some seeds for the future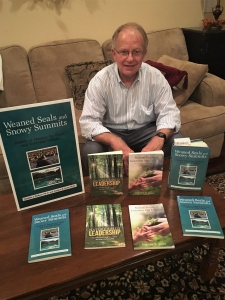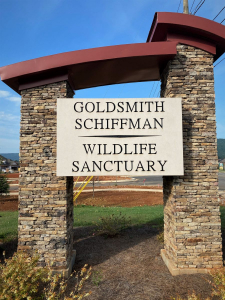 All three of my books (Nature Based Leadership; Nature-Inspired Learning and Leading; Weaned Seals and Snowy Summits) present compilations of personal experiences expressing my (and co-author Dr. Wilhoit for Weaned Seals and Snowy Summits) deep passion for Nature. All three books offer observations and reflections on my relationship to the natural world… and the broader implications for society. Order any and all from your local indie bookstore, or find them on IndieBound or other online sources such as Amazon and LifeRich.
http://stevejonesgbh.com/wp-content/uploads/2020/06/IMG_3092.jpg-06.06.20-Entrance-Sign.jpg
1200
900
Steve Jones
http://stevejonesgbh.com/wp-content/uploads/2017/01/gbhweblogo.png
Steve Jones
2020-06-23 17:03:21
2020-06-23 17:03:21
Visiting a Southern Sanctuary: My Orientation Visit