May 19, 2020 I issued a Post reflecting my Earth Day hike on the Monte Sano State Park Wells Memorial Trail: https://stevejonesgbh.com/2020/05/19/earth-day-visit-to-the-cathedral-forest-along-the-wells-memorial-trail-at-monte-sano-state-park/
Here is the opening paragraph from that Post: Earth Day (April 22, 2020) Judy and I (along with 12-year-old grandson Jack) hiked Sinks, Keith, and Wells Memorial Trails at Monte Sano State Park. Because we were continuing to deal with Covid-19 restrictions, Jack sat in the third-row SUV seat and all of us wore face masks while in the vehicle. On the trails we peeled our masks and maintained social distance. I've written and published several times on the Wells Memorial Trail…my favorite Monte Sano trail because of its special quality and rich cove site and cathedral forest. Here is my December 4, 2019 Wells Post: http://stevejonesgbh.com/2019/12/04/memory-and-legacy-for-a-sailor-and-hero/
I chose not to lengthen that Post with a review of the wildflowers I photographed on Earth Day. Because I am such a spring wildflower advocate, I reserved my wildflower reflections and photographs for a separate Post.
I draw one simple truth from this Earth Day 2020 visit to the Wells Memorial Trail:
Spring ephemerals have fueled my soul and stirred my passion for many decades… and will continue to do so!
Wildflowers
I present these spring lovelies in about the same order we encountered them along the trail. I love traipsing our north Alabama woodlands before the onset of full leaf-out and deep forest shade. Spring ephemerals own the shoulder season between the onset of spring and overstory foliation. Temperatures are perfect for hiking; insects have not yet awakened; and flowering surprises await discovery everywhere. Aniseroot (Osmorhiza longistylis), although not boldly announcing its presence, does offer a show to those who look hard enough to spot its tiny white flowers and are willing to bend closely to appreciate its elegance.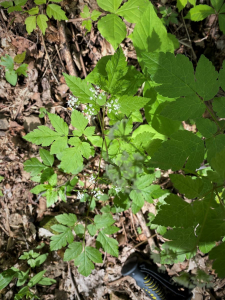 Mayapple (Podophyllum peltatum) Is one of our more common north Alabama wildflowers. You might wonder why we dub it a spring ephemeral. The answer is simple. I revisited the Wells Trail May 12, finding mayapple in early senescence, yellow-spotted and within a week or two of seasonal dormancy. Spring ephemeral definition from an online dictionary: Spring ephemeral describes the life habit of perennial woodland wildflowers which develop aerial parts (i.e. stems, leaves, and flowers) of the plant early each spring and then quickly bloom, and produce seed. The leaves often wither leaving only underground structures (i.e. roots, rhizomes, and bulbs) for the remainder of the year. This strategy is very common in herbaceous communities of deciduous forests as it allows small herbaceous plants to take advantage of the high levels of sunlight reaching the forest floor prior to the formation of a canopy by woody plants.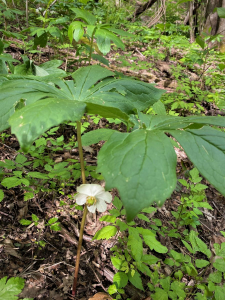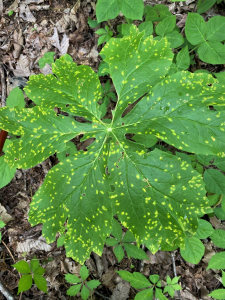 Wild comfrey (Andersonglossum virginianum) is not uncommon, yet falls short of mayapple's abundance and forest floor density.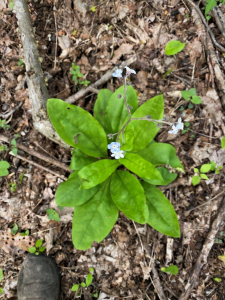 False Solomon's seal (Maianthemum racemosum), as one might suppose, resembles Solomon's seal, which suspends its single flowers from the stem at leaf axes while the false version offers a showy white plume at its terminus. The leaves are nearly identical. I tend to think the false moniker implies lesser or inferior, yet I prefer that version's aesthetic. Call me a Solomon's seal heretic.
I've loved trilliums since my first-year college systematic botany course when our field trips led us into the spring woods searching for ephemerals along elevation gradients in western Maryland, Pennsylvania, and West Virginia. I'm still hooked! This drooping trillium (Trillium flexipes) is a species I don't often encounter. Perhaps it is shy or reverent, denying eye contact with passersby. Lift its face to see its full beauty.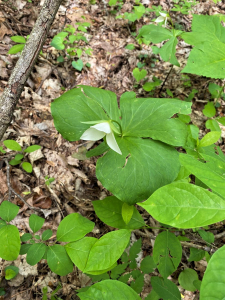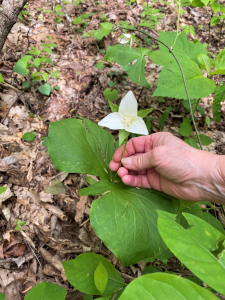 I recall the ubiquitous wild geranium (Geranium maculatum) greeting me across my moves from Ohio to New Hampshire to here. We have its cousin, cultivated geraniums, accenting our landscaping at home. I find dwarf larkspur (Delphinium tricorne) every spring locally and, like wild geranium, everywhere we've lived across the eastern US. I find special attraction in its distinctive spur.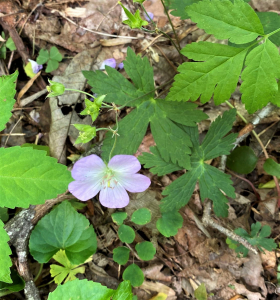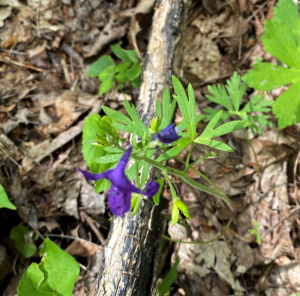 My friends and former colleagues up north (PA, OH, NY, and NH) think of the deep south as another world… a foreign ecosystem. Yes, the transect south to here evidences significant climatic zone continua, variations in ecosystem composition, and shifting local accents and vernacular. However, I tell them that most familiar overstory and forest floor herbaceous species range the Appalachians from New England to our Mount Cheaha. Rue anemone (Thalictrum thalictroides) is another of my favorite ephemerals that I first met in the central Appalachians and found it well up into NY and NH. Lyreleaf sage (Salvia lyrata) also ranges north to CT, but I never developed a relationship with it — it failed to catch my eye. I note it when I see it, yet it does not stir my passion.  Beauty lies in the eye of the beholder.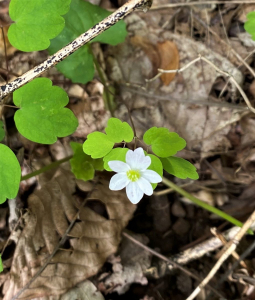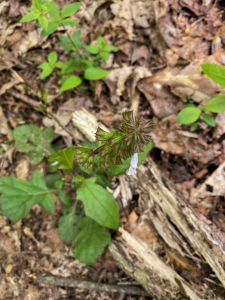 Okay, I admit to another beauty-bias. I melt when a woodland orchid presents herself. Although we saw just this one individual, a yellow lady's slipper (Cypripedium parviflorum), my heart skipped a beat and my face flushed. I recall with relish encountering showy lady's slippers during my doctoral field research in NW PA and SW NY. I can't imagine a more beautiful lass. Are those angel voices I hear!?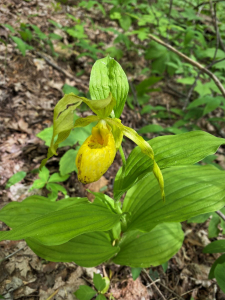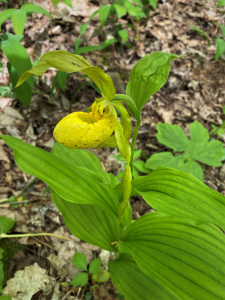 After presenting the yellow lady's slipper, I risk presenting these next two with less excitement than they likely merit: yellow woodland violet (Viola pubescens) and star chickweed (Stellaria pubera). However, even I, while smitten with the orchid, still salute the least of our spring ephemerals. All of them symbolize Nature's insistence that every vacuum (in space and time) be filled. As da Vinci observed 500 years ago:
In her (nature's) inventions nothing is lacking and nothing is superfluous.
And as John Muir concluded:
When we try to pick out anything by itself, we find it hitched to everything else in the Universe.
Everything in Nature has purpose, value, and function… and enjoys intimate interdependence with everything else. The yell violet and star chickweed with the lady's slipper and the entire forest ecosystem. There's the old saw about the greenhorn who insisted that his entire deer be cut into tenderloin. Things don't work that way. Nor does Nature carpet her woodlands with lady's slippers. Its the aggregate that functions… all the gears acting in concert.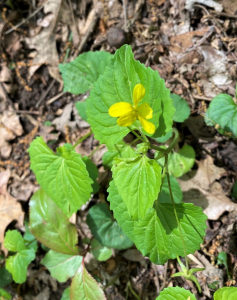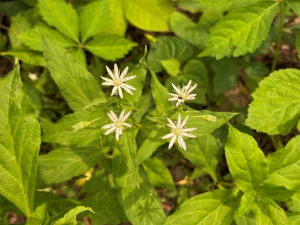 Cross Vine (Bignonia capreolata) is a woody vine that may reach 50-feet into the forest canopy. I don't recall identifying this species up north. I appreciate its flowers, which I mostly see as drops on the forest floor. I place them high on my aesthetic preference list. Nature sees them as just one more cog in the glory of life.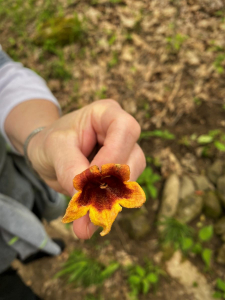 I still marvel at squawroot or bear root (Conopholis americana), a parasitic plant growing on oak roots. Like so many other plants, this one grows northward throughout the range of oaks, from WI to Nova Scotia and south to FL.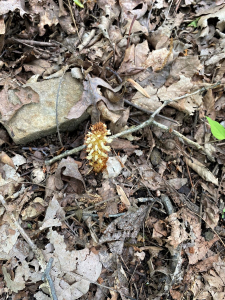 Non-Flowering Plant Reproductive Organs
I must admit that when I attended university, fungi fell within the plant kingdom, hence this subtitle declaring them as non-flowering plants. I've recently learned that these organisms now fall into their own separate group — The Fungi Kingdom! Pardon me if I stumble now and then, referring to them errantly as non-flowering plants. Fungi fascinate me, yet I know them so superficially. I loved my forest disease classes as an undergraduate. Virtually all forest tree diseases are fungal. Now I am captivated by the richness of fungal life I see locally, evidenced by mushrooms of wide variation. I won't attempt to offer detail in my quick presentation of the more memorable fruiting bodies I encountered on the Earth Day Wells Trail hike. I find the names endearing and entertaining.
Green cheese polypore (Formitopsis spraguei)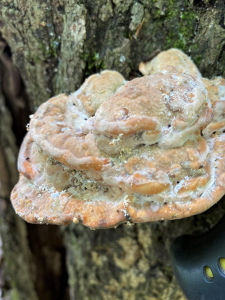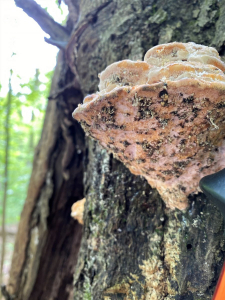 Cracked cap polypore (Phellinus robiniae)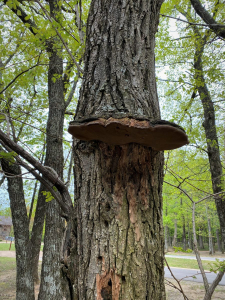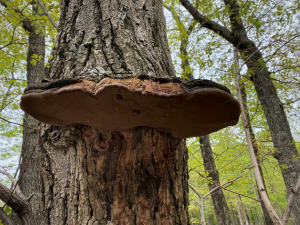 From the Fungi Kingdom — unknown!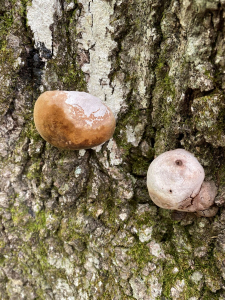 I am committed to learning our region's most significant edibles! Progress otherwise may be slow.
Thoughts and Reflections
I wrote my books Nature Based Leadership (2016), Nature-Inspired Learning and Leading (2017), and Weaned Seals and Snowy Summits: Stories of Passion for Place and Everyday Nature (2019; co-authored with Dr. Jennifer Wilhoit) to encourage all citizens to recognize and appreciate that every lesson for living, learning, serving, and leading is either written indelibly in or is powerfully inspired by Nature. All three are available on Amazon and other online sources.
I draw one simple truth from this Earth Day 2020 visit to the Wells Memorial Trail:
Spring ephemerals have fueled my soul and stirred my passion for many decades… and will continue to do so!
Inhale and absorb Nature's elixir. May Nature Inspire, Inform, and Reward you!
Note: All blog post images created & photographed by Stephen B. Jones unless otherwise noted. Please circulate images with photo credit: "©2020 Steve Jones, Great Blue Heron LLC. All Rights Reserved."
Another Note: If you came to this post via a Facebook posting or by an another route, please sign up now (no cost… no obligation) to receive my Blog Post email alerts: http://eepurl.com/cKLJdL
And a Third: I am available for Nature-Inspired Speaking, Writing, and Consulting — contact me at steve.jones.0524@gmail.com
Reminder of my Personal and Professional Purpose, Passion, and Cause
If only more of us viewed our precious environment through the filters I employ. If only my mission and vision could be multiplied untold orders of magnitude:
Mission: Employ writing and speaking to educate, inspire, and enable readers and listeners to understand, appreciate, and enjoy Nature… and accept and practice Earth Stewardship.
Vision:
People of all ages will pay greater attention to and engage more regularly with Nature… and will accept and practice informed and responsible Earth Stewardship.
They will see their relationship to our natural world with new eyes… and will understand more clearly their Earth home.
Tagline/Motto: Steve (Great Blue Heron) encourages and seeks a better tomorrow through Nature-Inspired Living!
Steve's Three Books
I began writing books and Posts for several reasons:
I love hiking and exploring in Nature
I see images I want to (and do) capture with my trusty iPhone camera
I enjoy explaining those images — an educator at heart
I don't play golf!
I actually do love writing — it's the hobby I never needed when my career consumed me
Judy suggested my writing is in large measure my legacy to our two kids, our five grand kids, and all the unborn generations beyond
And finally, perhaps my books and Blogs could reach beyond family and touch a few others lives… sow some seeds for the future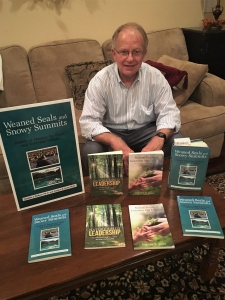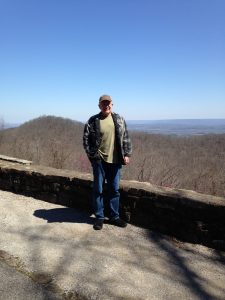 All three of my books (Nature Based Leadership; Nature-Inspired Learning and Leading; Weaned Seals and Snowy Summits) present compilations of personal experiences expressing my (and co-author Dr. Wilhoit for Weaned Seals and Snowy Summits) deep passion for Nature. All three books offer observations and reflections on my relationship to the natural world… and the broader implications for society. Order any and all from your local indie bookstore, or find them on IndieBound or other online sources such as Amazon and LifeRich.
http://stevejonesgbh.com/wp-content/uploads/2020/04/IMG_2428.jpg-04.22.20-Monte-Sano-Yellow-Ladys-Slipper.jpg
1200
900
Steve Jones
http://stevejonesgbh.com/wp-content/uploads/2017/01/gbhweblogo.png
Steve Jones
2020-06-12 04:33:28
2020-06-12 04:33:28
Earth Day Visit: Wildflowers along the Wells Memorial Trail at Monte Sano State Park