Earth Day (April 22, 2020) Judy and I (along with 12-year-old grandson Jack) hiked Sinks, Keith, and Wells Memorial Trails at Monte Sano State Park. Because we were continuing to deal with Covid-19 restrictions, Jack sat in the third-row SUV seat and all of us wore face masks while in the vehicle. On the trails we peeled our masks and maintained social distance. I've written and published several times on the Wells Memorial Trail…my favorite Monte Sano trail because of its special quality and rich cove site and cathedral forest. Here is my December 4, 2019 Wells Post: http://stevejonesgbh.com/2019/12/04/memory-and-legacy-for-a-sailor-and-hero/
You'll see below why I feel a sacred connection to the Wells Trail. I'm a softy for rich sites, towering hardwoods, and a throwback to old growth forest conditions. My doctoral research in the mid-eighties evaluated soil-site conditions in the ninety-or-so-year-old second-growth Allegheny hardwood forests of southwest New York and northwest Pennsylvania. That is, I related forest productivity to a suite of quantifiable soil and site factors, such as slope steepness, slope position, slope shape, aspect, and soil depth and texture. Now 470 miles south of my research area, some of the same site quality relationships hold. Here are a few that relate to the Wells site richness:
Concave slope shape
Lower slope position
Deep soil
Sheltered location
Let's examine the photo evidence.
Cathedral Forest
I recall the little guy when he stood barley taller than knee-high; I no longer tower above him. He'll reach taller than I soon enough. So much, including tree tops more than a hundred feet above us, to remind me of my relative insignificance in the sweep of time and the grandeur of place. Such a powerful lesson in humility… watching a grandchild pass so quickly from toddler to near-teenager, and standing together within a forest cathedral.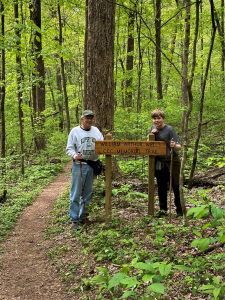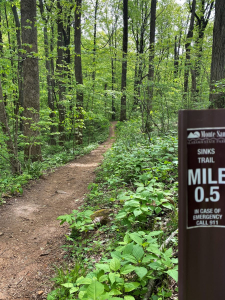 We stroll through the forest… and race through time. I've often quoted Bernard Malamud (The Natural), "We have two lives… the life we learn with and the life we live after that." I admit that I am in that second life. Though still learning, I am busy sorting, applying, and reflecting upon what I learned during those first six decades. Life seemed to be all-consuming when we were living the child-raising and career-advancing period. We focused on what lay ahead, each day taking us closer. Today, in this second life, now is what matters most. I tend more toward the brake and less on the gas pedal. Acceleration to what lies ahead is of no interest. I want to sit in the forest, inhale its essence, dream a bit, and marvel at its supreme beauty, magic, wonder, and awe.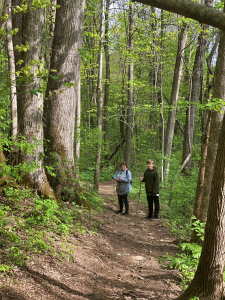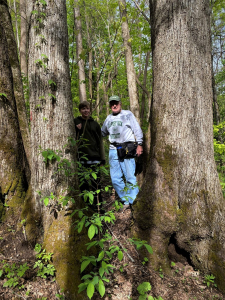 And who could not feel sacred connection to these towering yellow poplars? Sure, I've been to the redwood groves, the coastal Douglas fir Pacific Northwest rain forests, and stood shaken beneath Yosemite's giant sequoias. Admittedly even our grandest eastern hardwood forests pale in comparison to those globally significant ancient forests. However, I've disciplined myself to partition those impressions, refusing to hold those exemplars as the scale against which I gauge forest appreciation.
I recall standing along the track during practice rounds for a pro-amateur track meet during my Penn State faculty days. I watched and listened as D-I university high-hurdlers blasted past, with heavy breathing, pounding footfalls, and heels tipping the hurdles. I then stood in awe as former world record holder for 110-meters Renaldo Nehemiah approached at full speed… silently and without apparent effort, floating over the hurdles, feet seeming not to hit the track surface. How could I ever enjoy another hurdles competition if I judged all against the super human Nehemiah?
Similarly, I consumed fresh world-renowned salmon and halibut often when we lived in Alaska. Upon returning to the lower 48, we did not eat domestic, non-Alaska salmon and halibut for a couple of years, our standards too discriminating. However, after a period of re-calibrating, I once more enjoy eastern USA salmon and halibut.
So it is with our eastern USA hardwood forests. I stand among the Wells Trail poplars and oaks, absorbing their magnificence, transported emotionally and spiritually, lifted to full appreciation and reverence. My connection is sacred. My soul soars. I thank god for Nature's exquisite inspiration. I apply Teddy Roosevelt's wisdom to appreciating Nature, "Do what you can, with what you have, where you are." I accept what they are… their glory where they are… without holding them to a redwood or sequoia standard.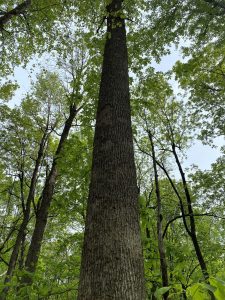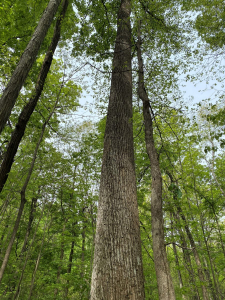 These lofty sylvan citizens are right here at Monte Sano State Park, just 30 minutes from my home. The nearest redwoods, sequoia, and Douglas fir are a continent away.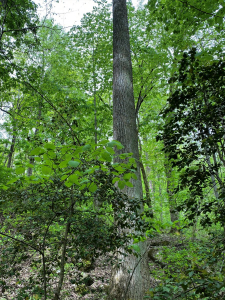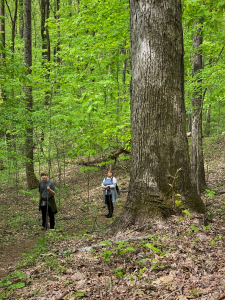 I consider the Wells cathedral forest as transitioning into old growth status, yet I know these are second-growth forests. The wind-toppled hickory below blocked the trail within the past year. The trail crew cut through the trunk this past winter to reopen the path without diversion. I stopped to make a very rough ring count, difficult without a hand lens. Some squirrel buried the source hickory nut 150-200 years ago, a point in time when the General Sherman (a sequoia, the world's largest living tree) was already 2,000 years old. Now that's old!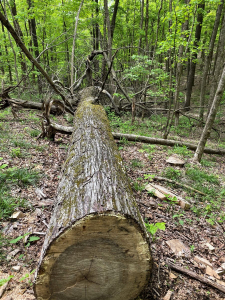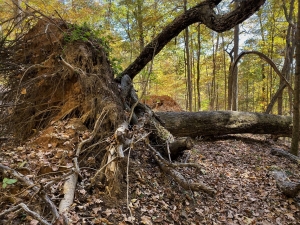 NOTE: I interrupt this Post with an Alert. I revisited Wells Trail May 12, 2020 and discovered yet another large hickory (three-foot diameter) uprooted, within 200 feet of the one above. This second individual stood just 15 feet off the trail. It has fallen since my prior visit, likely toppling with the high winds that passed through north Alabama just a week or so ago. It fell parallel (withing 10 degrees) of its predecessor. In fact, I wondered whether the huge canopy vacancy left by the other may have contributed, the void allowing this new victim to lean further in that direction absent the physical support of the first, surpassing a leverage threshold beyond which the roots could hold.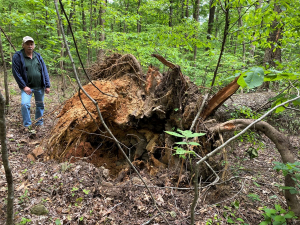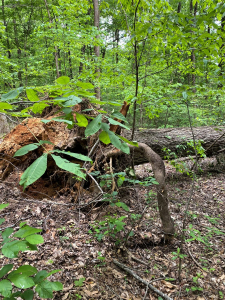 As I've repeated time and time again, nothing in Nature is static. Now back to my Earth Day photos and reflections:
In the Wells stand, even chestnut oak, more commonly a scruffy ridge-top resident, grows fat, straight, and tall.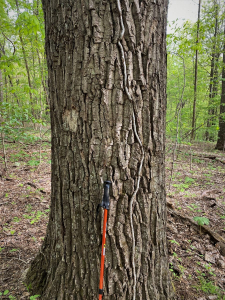 But all along the Trail  is not towering trees. As I've commented often, I do not limit my discoveries to the regal few. Instead, I seek the unusual… the tree form oddities that catch my eye and stimulate my imagination. I offer a little sleuthing to explain the peculiar.
Tree Form Oddities
Sugar maple, the New England species of Maple syrup fame, persists into our north Alabama Appalachian forests, but not often as a main canopy occupant. I see it mostly as an understory component, occasionally reaching into the intermediate canopy. Such individuals aren't younger trees newly developed in the forest shade. They are likely the same age as the dominant upper story poplars, oak, and hickories on Monte Sano. They are shade tolerant, persisting for decades in deep shade, awaiting some main canopy disturbance to afford greater sunlight and an opportunity to reach skyward. This gnarled, twisted, and tortured sapling will never reach toward the heavens. Perhaps a tree or large branch fell from above scarring this individual. The damage is clearly physical. Not a grave wound, just one that will mark it for life and limit its future.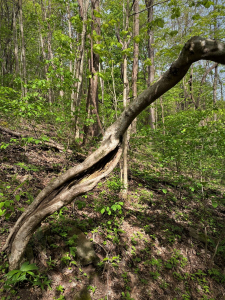 Imagine the yellow poplar below left with an adjacent twin perhaps two decades ago. Now picture the twin breaking away about two feet above ground from wind or an ice load. Due to its living union with the remaining twin, the stump's distal side remained alive without benefit of its own canopy. It continues to grow, and in combination with the residual tree is callousing over the wound. Within the next decade, the surviving twin will have an oddly-seamed base, but will otherwise appear intact, the scar and damage hidden from view. Only the astute aware observer will read the external evidence to trace a history written in the foreign language of scar tissue. Similarly the two-foot diameter, calloused stump ring below right belies the reality of a long-broken-off yellow poplar individual. The stump remains alive courtesy of root union with the poplar three-feet out of view beyond the photo's right margin. See the yellow poplar stump suckers on the left rim. Every thing in Nature tells a story to those who know the language of interpretation.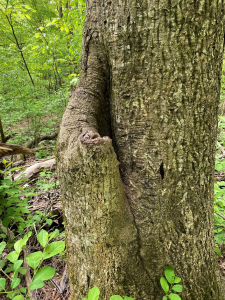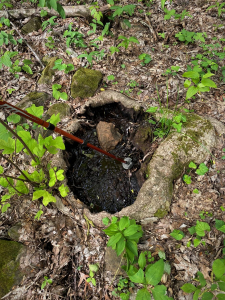 I slipped a leafed-twig of this redbud at the branch union to serve as tree identification. This gnarly burl evidences a somewhat benign infectious agent. I say "somewhat" because while the burl itself is not fatal, it is modifying structural strength and may ultimately lead to breakage at what I suppose is a point of weakness.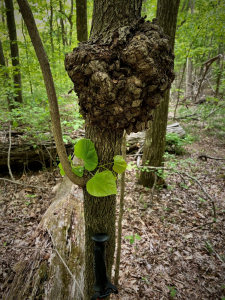 This twin sugar maple has collected enough organic debris in the fork that three violet plants have sprouted. Nature does indeed abhor a vacuum.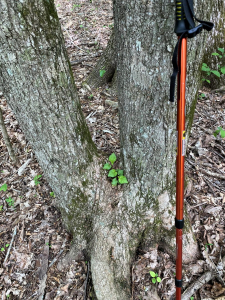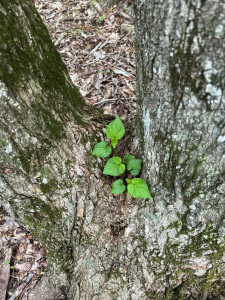 I discovered my first African mask along the Wells Trail. From the Artyfactory website, "African masks should be seen as part of a ceremonial costume. They are used in religious and social events to represent the spirits of ancestors or to control the good and evil forces in the community. They come to life, possessed by their spirit in the performance of the dance, and are enhanced by both the music and atmosphere of the occasion. Some combine human and animal features to unite man with his natural environment. This bond with nature is of great importance to the African and through the ages masks have always been used to express this relationship." I already felt united with this natural environment… the union deepened and strengthened when I read the description. I am obsessed with (and possessed by) the spirit of the Wells cathedral forest.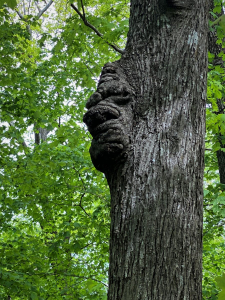 I can imagine that all of the Monte Sano burls contain elements of spirit-essence. I may return some dark night to witness whether "They come to life, possessed by their spirit in the performance of the dance, and are enhanced by both the music and atmosphere of the occasion."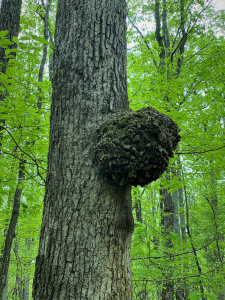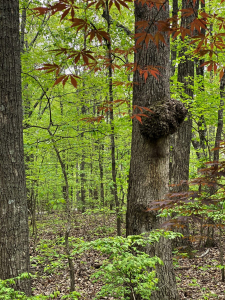 I know I'll not be visiting these woods on a snowy evening, yet I see some of the same level of mystery and even a touch of foreboding that Robert Frost hinted in his often-quoted poem, Stopping by Woods on a Snowy Evening (1923)
Whose woods these are I think I know.
His house is in the village though;
He will not see me stopping here
To watch his woods fill up with snow.
My little horse must think it queer
To stop without a farmhouse near
Between the woods and frozen lake
The darkest evening of the year.
He gives his harness bells a shake
To ask if there is some mistake.
The only other sound's the sweep
Of easy winds and downy flake.
The woods are lovely dark and deep.
But I have promises to keep,
And miles to go before I sleep,
And miles to go before I sleep.
Thoughts and Reflections
I wrote my books Nature Based Leadership (2016), Nature-Inspired Learning and Leading (2017), and Weaned Seals and Snowy Summits: Stories of Passion for Place and Everyday Nature (2019; co-authored with Dr. Jennifer Wilhoit) to encourage all citizens to recognize and appreciate that every lesson for living, learning, serving, and leading is either written indelibly in or is powerfully inspired by Nature. All three are available on Amazon and other online sources.
Here are the two succinct truths I draw from this Blog Post:
Nature's beauty, magic, wonder, and awe are place-sensitive.
Magnificence draws from a relative scale — the sequoia forest is not the standard for appreciating all forests.
Inhale and absorb Nature's elixir. May Nature Inspire, Reward, and Heal you!
Note: All blog post images created & photographed by Stephen B. Jones unless otherwise noted. Please circulate images with photo credit: "©2020 Steve Jones, Great Blue Heron LLC. All Rights Reserved."
Another Note: If you came to this post via a Facebook posting or by an another route, please sign up now (no cost… no obligation) to receive my Blog Post email alerts:  http://eepurl.com/cKLJdL
And a Third: I am available for Nature-Inspired Speaking, Writing, and Consulting — contact me at steve.jones.0524@gmail.com
Reminder of my Personal and Professional Purpose, Passion, and Cause
If only more of us viewed our precious environment through the filters I employ. If only my mission and vision could be multiplied untold orders of magnitude:
Mission: Employ writing and speaking to educate, inspire, and enable readers and listeners to understand, appreciate, and enjoy Nature… and accept and practice Earth Stewardship.
Vision:
People of all ages will pay greater attention to and engage more regularly with Nature… and will accept and practice informed and responsible Earth Stewardship.
They will see their relationship to our natural world with new eyes… and will understand more clearly their Earth home.
Tagline/Motto: Steve (Great Blue Heron) encourages and seeks a better tomorrow through Nature-Inspired Living!
Steve's Three Books
I began writing books and Posts for several reasons:
I love hiking and exploring in Nature
I see images I want to (and do) capture with my trusty iPhone camera
I enjoy explaining those images — an educator at heart
I don't play golf!
I actually do love writing — it's the hobby I never needed when my career consumed me
Judy suggested my writing is in large measure my legacy to our two kids, our five grand kids, and all the unborn generations beyond
And finally, perhaps my books and Blogs could reach beyond family and touch a few others lives… sow some seeds for the future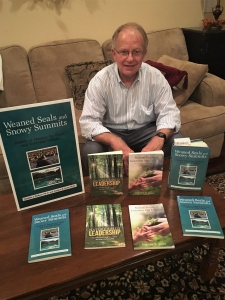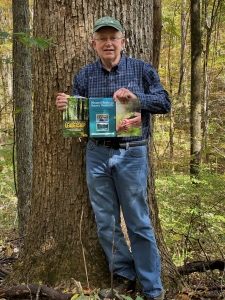 All three of my books (Nature Based Leadership; Nature-Inspired Learning and Leading; Weaned Seals and Snowy Summits) present compilations of personal experiences expressing my (and co-author Dr. Wilhoit for Weaned Seals and Snowy Summits) deep passion for Nature. All three books offer observations and reflections on my relationship to the natural world… and the broader implications for society. Order any and all from your local indie bookstore, or find them on IndieBound or other online sources such as Amazon and LifeRich.
http://stevejonesgbh.com/wp-content/uploads/2020/04/IMG_2419.jpg-04.22.20-Monte-Sano-WO.jpg
1200
900
Steve Jones
http://stevejonesgbh.com/wp-content/uploads/2017/01/gbhweblogo.png
Steve Jones
2020-05-19 12:03:00
2020-05-19 12:03:00
Earth Day Visit to the Cathedral Forest along the Wells Memorial Trail at Monte Sano State Park