This Post continues my series of photographic essays from a 12-day five-state tour of National Parks, Memorials, and Monuments July 12-24, 2019. See the chronological archives for this series that began July 26: http://stevejonesgbh.com/blog/
The immediate prior journey Post covered the two days we based in West Yellowstone, Montana focusing on the great Yellowstone caldera and spectacular hydrothermal features: http://stevejonesgbh.com/wp-admin/post.php?post=5150&action=edit
This current Post takes me through Badlands National Park, Devils Tower National Monument, and Mount Rushmore National Memorial. Note the distinction among designations. All three are a part of the National Park System managed by the National Park Service (NPS). The System has 419 units and at least 19 naming designations (https://www.nps.gov/aboutus/national-park-system.htm), among them the three represented in this Post: Parks (61 units), Monuments (84), and Memorials (30). I recall an open house when I staffed a table promoting my scheduled course at the University of Alabama in Huntsville (Osher Lifelong Learning Institute). A prospective student reacted with great indignation when I observed that Alabama has no designated National Parks. She informed me of the several she knew quite well, to which I responded that not one is designated as a National Park. She stormed away mumbling about how one so dense and ignorant as I could dare to teach such a course!
Truth be told, there are nine NPS units in our fair state:
Birmingham Civil Rights National Monument
Freedom Riders National Monument
Horseshoe Bend National Military Park
Little River Canyon National Preserve
Natchez Trace Parkway
Natchez Trace National Scenic Trail
Russell Cave National Monument
Tuskegee Airmen National Historic Site
Tuskegee Institute National Historic Site
Badlands National Park
Need I say that the person did not register for the course? Regardless, Badlands is an actual (here in the South, a sure-enough) National Park, one of the 61 nationwide. To set the stage for telling you my reaction to Badlands, allow me to answer a question frequently asked of me as a consequence of our residing in Alaska for four years. People will inquire, "What's the weather like in Alaska?" For context, our 49th state is more than twice the size of Texas. Imagine a map of Alaska overlaid at scale upon a map of the 48 contiguous states, with our then home in Fairbanks placed roughly 250-miles west of Chicago. Such placement would mark three of our University of Alaska Fairbanks' 38 staffed units (campuses, research sites, field offices) at El Paso, International Falls, and Myrtle Beach. So, I ask you, "What's the weather like in El Paso/International Falls/Myrtle Beach?"
I was not surprised to find Badlands totally different from the Greater Yellowstone Ecosystem. Our National Parks 12-day vacation covered a rambling 1,400 miles. Just point-to-point, the drive from Salt Lake City to Rapid City totals 665 miles. Rapid City sits at a little over 3,000-feet elevation. We passed through parts of Yellowstone at 10,000-feet… we felt we could have reached through the crisp clear air to touch Grand Tetons' 13,770-feet summit. We passed through several climate zones even within Yellowstone, which overall averages greater than 20-inches liquid-equivalent precipitation annually. Badlands averages a little under eight inches. The expressed differences in vegetation are pronounced. The Badlands region is arid; vegetation sparse. Its bedrock is particularly erodible. Showers occasionally fall with fierce intensity. Flash runoff from those gully-washers meets with little resistance, thus resulting in the deeply incised Badlands formations.
Extreme temperatures, rugged terrain, and lack of water led trappers and travelers to describe this harsh region as "bad" lands. I could not agree more, yet I could not but marvel at its stark beauty, magic, wonder, and awe. Erosion, that appropriately disdained force at work where we desire soil to stay in place, creates landscapes to marvel here at Badlands, as well as the Grand Canyon and other such natural attractions.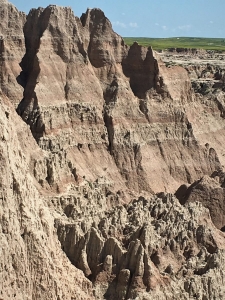 Hard to imagine with such a clear sky as back-drop that savage flash flooding could sculpt terrain to this extent.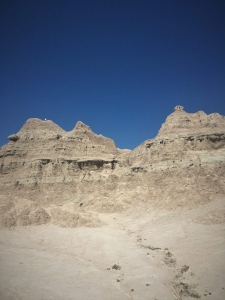 As at Yellowstone, boardwalks directed visitors safely to this overlook. No boiling hot springs to scald the careless wanderer, only steep scree-surfaced faces that could spirit the non-wary hiker to the dry gulch below. Our tour guide and common sense prevailed.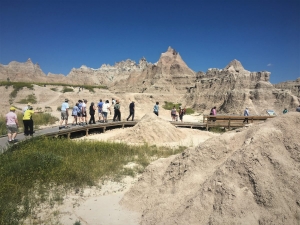 Alternating layers of more and less resistant rock made for captivating architecture, all of it crowned by azure skies and the tiniest wisp of cloud.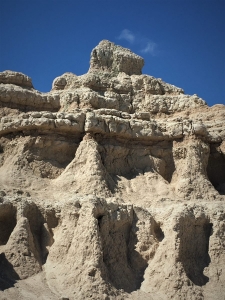 An apt moniker for this feature: Yellow Mounds!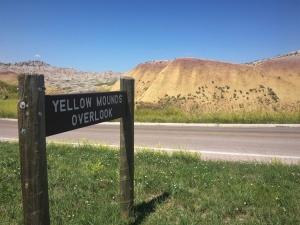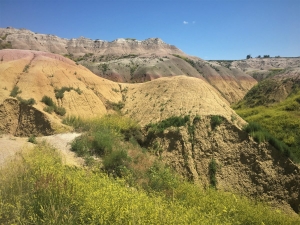 We normally think of geologic time scales extending millions of years. Certainly, the deposition and rock formation processes at Badlands mark millions of years. In contrast, the erosion phase, according to the Badlands NPS online pamphlet is unfolding over an abbreviated period:
Erosion began in the Badlands about 500,000 years ago when the Cheyenne River captured streams and rivers flowing from the Black Hills into the Badlands region. Before 500,000 years ago, streams and rivers carried sediments from the Black Hills building the rock layers we see today. Once the Black Hills streams and rivers were captured, erosion dominated over deposition. Modern rivers cut down through the rock layers, carving fantastic shapes into what had once been a flat floodplain. The Badlands erode at the rapid rate of about one inch per year. Evidence suggests that they will erode completely away in another 500,000 years, giving them a life span of just one million years. Not a long period of time from a geologic perspective.
One-inch per year is fast — five-feet-eight-inches over my lifetime. In sharp contrast, the Grand Canyon is eroding at just three-ten-thousandths of a foot per year!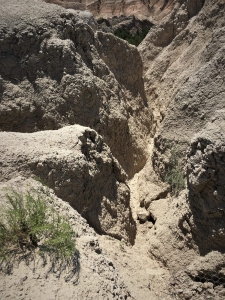 Devils Tower National Monument

Devils Tower rises 867 feet from its base to the summit. It stands 1,267 feet above the Belle Fourche River and its summit stands at 5,112 above sea level. The Tower clearly dominates the skyline of northeastern Wyoming.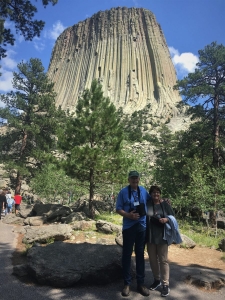 Allow me to borrow from a National Geographic website:
Devils Tower is made of phonolite porphyry. Phonolite porphyry is an igneous rock, meaning it was formed as magma or lava cooled. As the magma that formed Devils Tower cooled, it condensed into columns. Most of the columns that make up Devils Tower are hexagonal (six-sided).
Although magma formed Devils Tower, it was probably never part of a volcano. Most geologists agree that Devils Tower is an igneous intrusion, a place where magma from the Earth's mantle welled up between chunks of sedimentary rock. Devils Tower was probably formed by the same forces that created the Rocky Mountains about 65 million years ago.
Devils Tower was not visible for millions of years. Only as water and wind slowly eroded the surrounding landscape did the igneous intrusion emerge.
Today, the landscape continues to erode, worn away by wind, precipitation, and the nearby Belle Fourche River. However, Devils Tower is eroding, too. The base of the formation is cluttered with scree—rubble, boulders, and fragments of columns that have broken off the tower.
I counted at least a dozen climbers well up the Tower, too small to be visible on my images. I was satisfied with my view from the base! The scree lies between the trees and the Tower a full 360-degrees.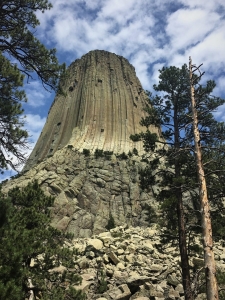 We walked the trail counter-clockwise around the base. I never tired of the view. The Tower appears, physically and spiritually as an alter. As I so often do in Nature, I felt small and insignificant…and blessed to be in the presence of such astounding scale. Absolute humility engulfed me…even as inspiration lifted my soul.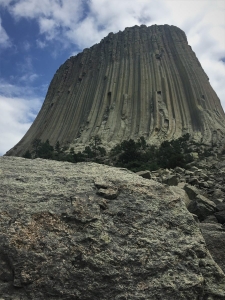 I couldn't resist attempting to capture the majesty Towering above my limited self.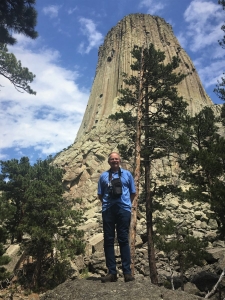 The geologic wonder was not all that captivated me. Yeah, not surprisingly, the forest extending out from the base caught my attention…for two reasons. First, we had left behind the lodgepole pine (Pinus contorta) of Yellowstone, transitioning to Ponderosa pine (Pinus ponderosa). Made me think of Ben, Hoss, Little Joe, and Adam from the Bonanza TV series of my youth! They lived on the Ponderosa Ranch. As an adult, I occasionally mused at how different the sons seemed. Only just now as I explored Bonanza on the web did I discover that each had a different mother — will wonders never cease!
Ponderosa pine forests, like the lodgepole, are fire-maintained. The Park Service routinely employs fire to manage the Tower-adjacent forest. Periodic prescribed fire controls understory vegetation, reduces fuel load and susceptibility to catastrophic wildfire, and creates an open park-like aesthetic. The tree below right evidences bark-fissure charcoal from a burn within the past five years.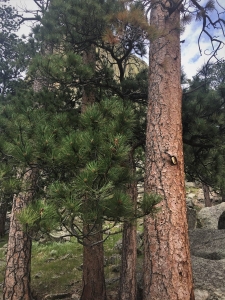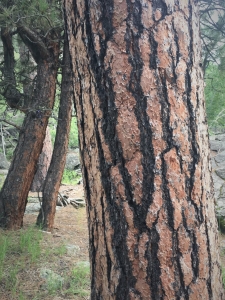 Interpretive signage describes the species' critical fire ecology.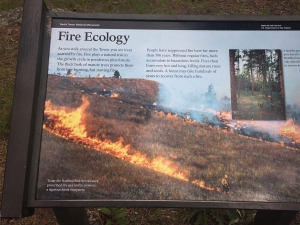 Fire has been a crucial element of these ecosystems since well before even Native American presence subsequent to the last continental glaciation. Smoky Bear interfered with Nature's way for decades. However, even Smoky now recognizes fire as a useful and necessary component of forest management.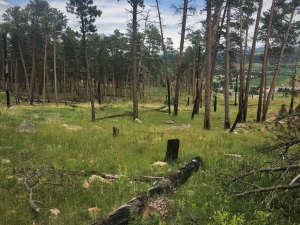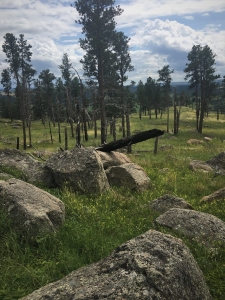 Fire's effect enhances the scenic view from the Tower's base.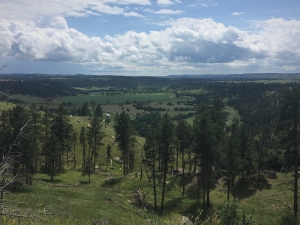 During my days practicing forestry here in the South, I carried a drip torch on many days using prescribed fire in established pine stands to reduce fuel load and control hardwood trees competing with crop trees, and to prepare cut-over sites for planting the next crop of genetically improved pine. Again, this burned stand presents an open park-like stand that most visitors find visually pleasing.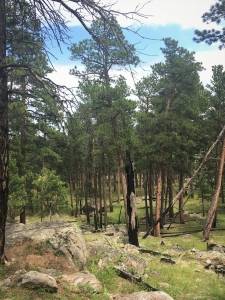 We'll leave Devils Tower with one final view framed by Ponderosa pines reaching for the sky.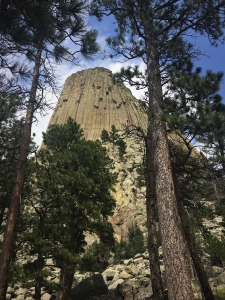 Mount Rushmore National Memorial
I won't say much about the Mount Washington National Memorial. It's not a Natural Wonder–it's a man made tribute to four leaders who changed the face of America, all of it in a remarkable natural setting. So, rather than offer you nature-based commentary, allow me to observe that granite is a wonderful medium for large-scale sculpting, intended to be permanent. Yet we all know that all forms and features in Nature are temporary…at least on a geologic time frame. Regardless, Rushmore's countenances will out-last me, and likely you.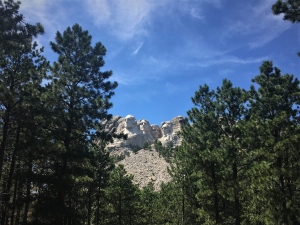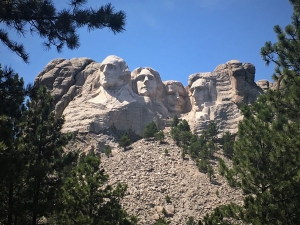 Our four former presidents face southeast. On are way to the Memorial we pulled into what looked like a roadside parking area. Upon exiting the bus, my jaw dropped. There was George Washington in full side profile. The combination of pine trees, nearby boulders, azure-blue sky, and my total surprise to see this superb Monument from an unanticipated perspective (his southwest cheek) triggered misty eyes. Nature has a way of getting to me…even without the deeply patriotic theme imposed.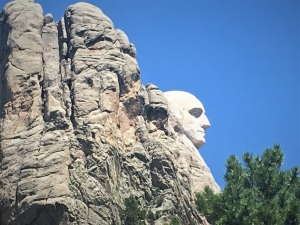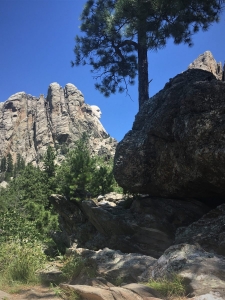 We saw a lot more than these few Posts from our July journey presented. I like to think of these 12 days as an American National Park teaser. There's so much more I want to see and experience. Although this Post closes out my series of narratives on the places we visited, I have at least two more Posts to offer. The first will speak to the crowds we encountered. I will use the second to reflect on the magnificent skies that touched me and complemented the scenery along our journey…the never-ending chemistry of firmament and terra firma.
I'm hesitant to mention my once-promised third remaining Post. I hinted in prior Posts from this journey (really, I pledged) at developing a subsequent essay identifying the many splendid wildflowers I photographed along the way. I am now reducing that pledge to the level of possibility. Identifying all those unknown digital specimens seems so daunting. Perhaps during the cold and snowy winter months. No, wait, I live in Alabama, so forget the cold and snowy!
Thoughts and Reflections
I wrote my books Nature Based Leadership (2016), Nature-Inspired Learning and Leading (2017), and Weaned Seals and Snowy Summits: Stories of Passion for Place and Everyday Nature (co-authored with Dr. Jennifer J. Wilhoit; 2019) to encourage all citizens to recognize and appreciate that every lesson for living, learning, serving, and leading is either written indelibly in or is powerfully inspired by Nature. All three are available on Indiebound (https://www.indiebound.org/search/book?keys=weaned+seals+and+snowy+summits) and other online sources. to encourage all citizens to recognize and appreciate that every lesson for living, learning, serving, and leading is either written indelibly in or is powerfully inspired by Nature.
Here are the three succinct lessons I draw from this Blog Post:
Understanding the Science underlying Nature's attractions amplifies enjoyment, appreciation, and inspiration.
Seeing Nature deeply sows and nurtures the seeds for informed and responsible Earth stewardship.
Nature is spatial (and special) — connect viscerally to The Land wherever you are. Such union of personal passion to place will stir your heart, body, mind, spirit, and soul.
Inhale and absorb Nature's elixir. May Nature Inspire and Reward you!
Note: All blog post images created & photographed by Stephen B. Jones unless otherwise noted. Please circulate images with photo credit: "©2019 Steve Jones, Great Blue Heron LLC. All Rights Reserved."
Another Note: If you came to this post via a Facebook posting or by an another route, please sign up now (no cost… no obligation) to receive my Blog Post email alerts: http://stevejonesgbh.com/contact/
And a Third: I am available for Nature-Inspired Speaking, Writing, and Consulting — contact me at steve.jones.0524@gmail.com
Reminder of my Personal and Professional Purpose, Passion, and Cause
If only more of us viewed our precious environment through the filters I employ. If only my mission and vision could be multiplied untold orders of magnitude:
Mission: Employ writing and speaking to educate, inspire, and enable readers and listeners to understand, appreciate, and enjoy Nature… and accept and practice Earth Stewardship.
Vision:
People of all ages will pay greater attention to and engage more regularly with Nature… and will accept and practice informed and responsible Earth Stewardship.
They will see their relationship to our natural world with new eyes… and will understand more clearly their Earth home.
Tagline/Motto: Steve (Great Blue Heron) encourages and seeks a better tomorrow through Nature-Inspired Living!
Weaned Seals and Snowy Summits: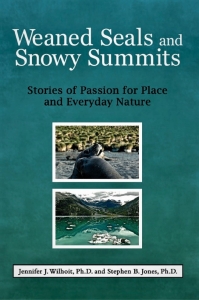 Jennifer and Steve: "We're so proud to announce the publication and release of our first co-authored book, Weaned Seals and Snowy Summits: Stories of Passion for Place and Everyday Nature. This book is a collection of nature stories seeking to inspire deeper relationship with and care for this beautiful Earth." Order your copy from your local indie bookstore, or find it on IndieBound: https://www.indiebound.org/book/9781489723529
http://stevejonesgbh.com/wp-content/uploads/2019/07/IMG_1560.jpg-07.21.19-Sunday-Devils-Tower.jpg
1200
900
Steve Jones
http://stevejonesgbh.com/wp-content/uploads/2017/01/gbhweblogo.png
Steve Jones
2019-09-25 10:01:56
2019-10-04 10:19:54
Beyond Yellowstone: Badlands, Devils Tower, and Mount Rushmore