View this Post as a continuation of my July 12-24, 1,400-mile, five-state tour of National Parks and Monuments.
We headed north from Salt Lake City (SLC) July 14, after enjoying the Mormon Tabernacle Choir and Orchestra performance. Ranches and rangeland dominated the valleys (smaller basins); parallel north-south ranges, diminutive compared to the Wasatch, bordered us to the east. This valley floor is far more verdant than the Salt Lake basin we had left behind, signaling ample rainfall, yet not so much to obviate center-pivot irrigation systems that appeared every mile or so.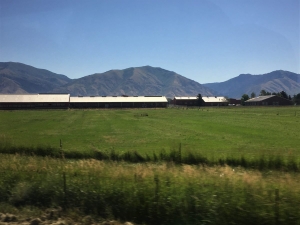 Something palpable I saw and sensed about this landscape brought Bonanza, the Cartwrights, and the Ponderosa to mind. A quick visit to the internet revealed that the TV Ponderosa was located near North Lake Tahoe, some 566 road miles WSW from SLC. A long ways, yet the location lies within the same Basin and Range Province! Whether SLC or Tahoe, it's still a far different world from my Central Appalachian roots!
Yet the sense I mentioned did connect at core to my youth. I'm always impressed with how The Land stirs memory, passion, and sentiment in me. I was but a young lad when Mom, Dad, my older brother (and two much younger sisters present but not paying heed), and I watched Bonanza, Gunsmoke, and Rawhide. As our group passed through this and other countryside in Idaho, Wyoming, and Montana, my mind drifted to sitting with Mom, Dad, and Jack (with the little ones nearby) eating popcorn… all the while rooting for Hoss and Little Joe to handle whatever villains posed peril for the Ranch, wishing Marshall Dillon good fortune, and marveling at Clint Eastwood's invincible ruggedness–well before he matured into Dirty Hairy! Perhaps even before he completely mastered the art of squinting. With tears welling as the bus rolled, I could smell the popcorn and feel the warmth of distant and wistful recollections. The Land affects me powerfully!
Bear Lake Overlook
My impression of the land persisted as we summited the mountain range above and west of Bear Lake. The overlook placed us at 7,600-feet, more than four-tenths of a vertical mile above the 5,300′ lake. Bear Lake is a natural freshwater lake on the Utah-Idaho border in the Western United States. About 109 square miles in size, it is split about equally between the two states; its Utah portion comprises the second-largest natural freshwater lake in Utah (Wikipedia). Spectacularly clear sky gave us unlimited visibility to the southeast (below left) and east (right). I could have alternately strolled and sat for hours, soaking in the cool breeze and 360-degree horizon. I pondered what the changing seasons might bring at the 7,600′ Utah-Wyoming border.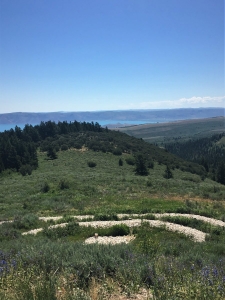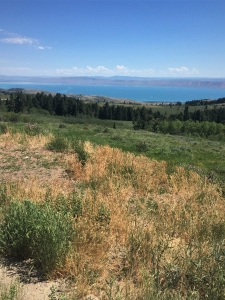 I've discovered–and verified repeatedly–that I am irreversibly spatial (no, not at all special!). The Land speaks to me–communicating viscerally to body, mind, heart, soul, and spirit. My most vivid memories link to Land… as evidenced by the Bonanza and family moment. I want to retain the feel, sense, and view from the Bear Lake vista. I want the memory to lodge permanently.
Whether east to the Lake or to the SSW and N (below left and right, respectively) absent the Lake, I am stirred. Amazing how a wee cumulus can add an exclamation point! I'm reminded of my nine years on the faculty at Penn State University, where a common bumper sticker asks, If God Isn't a Penn State Fan, Then Why is the Sky Blue and White? This certainly was a Penn State Sky!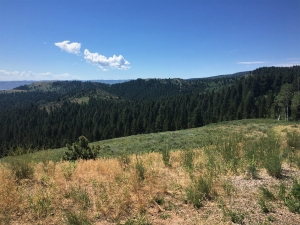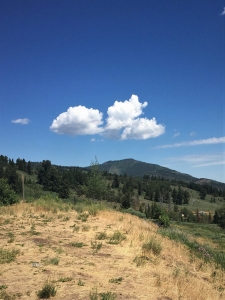 Wildflower Magic at the Overlook
I confess to being a hopeless wildflower addict. What a gift to see both magnificent landscape-level-vista beauty from the Overlook, and then focus my gaze to the ground at my feet to reveal beauty at another scale and in a different dimension. Were I back in Alabama I would have known many native species on sight or had references on my bookshelf to identify them. My good intention as I photographed these beauties was to complete identification before publishing the Posts. I admit, however, to assembling a pile of good intentions. I made a time-constrained internet attempt to determine name, rank, and serial number to include with this Post and subsequent stops along the National Parks and Monuments series. Instead, I will offer you a revised Good Intention: I'll delay to a final trip Post a compilation of wildflowers from the entire trip, striving to offer flower identity. So, for the moment, I offer a taste of the floral bounty and beauty we encountered here at 7,600 feet!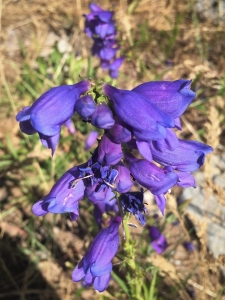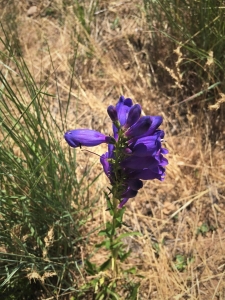 I'm fighting the urge to dig deeply into online references. Each of these blooms seems so very distinctive. I want to know what and who they are. However, I also want to issue these Posts while my mind is fresh for all trip facets and not just the wildflowers.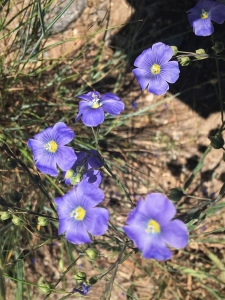 From blue to pink the variety show is rich with blessing and inspiration.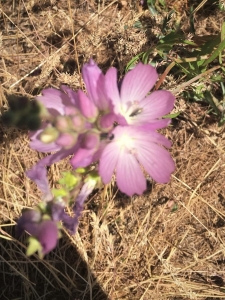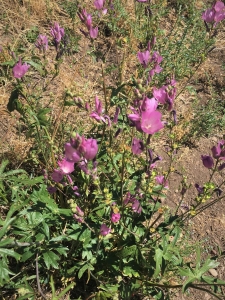 Or this subtle white and beige cushion-cluster.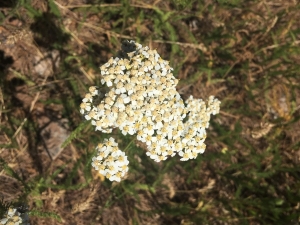 And the 3-4-inch seed head of this plant I saw all along our journey.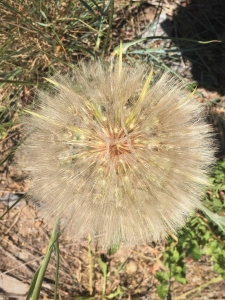 Interpretation at the Overlook
Because I am spatial, I've had a lifelong long love affair with maps. Interpretative signage offered this Heart of the Rockies panel. The Overlook (#3) is in the far northeast corner of Idaho. The red route just happens to trace our passage from SLC to Yellowstone.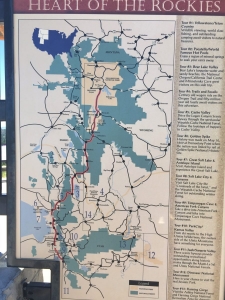 Another information poster transports the visitor back 200-500 million years ago, an extended period when a shallow sea accepted calcareous deposits that over time (and at great depth) transformed (heat and pressure) to the limestone that now composes these mountains.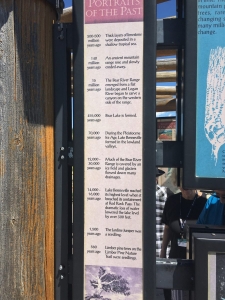 And here Judy and I stood some half-a-billion years later nearly a-mile-and-a-half above where the tiny sea creatures ended their cycle of life, yielding their exoskeletons to the stuff of future mountains. I've said often that death begins with life… and that life begins with death. And the cycle repeats endlessly. Those lovely wildflowers (no, not the two of us) I could not identify draw life from those ancient shallow sea organisms.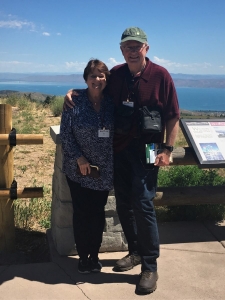 Down to the Oregon/California Trail Center
We dropped down to Bear Lake, traveled north along its western shore, and stopped in Montpelier, ID at The National Oregon/California Trail Center. From the Center's website, The Oregon National Trail is a 2,000 mile monument to the human spirit. In the sixty odd years of its use, thousands of Americans headed west, first for fur, then as missionaries, and finally for land. Between 1841 and the turn of the century, over 300,000 Americans of all ages and walks of life sold most of their worldly possessions, piled what was left in a wagon and set off on an epic journey. Our own luxury coach bus held little resemblance to the oxen-powered wagons that carried belongings (the settlers generally walked alongside) across endless miles of rugged terrain and treacherous passage. The Center offers insight into the bold adventurers who made the sometimes terrifying and dangerous journey. Perhaps the cumulus below right hints at the promise and hope they felt as they trekked onward to a land of anticipated freedom, plenty, and reward.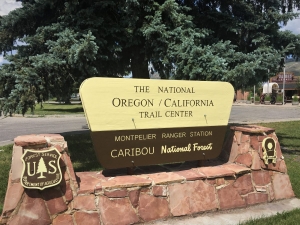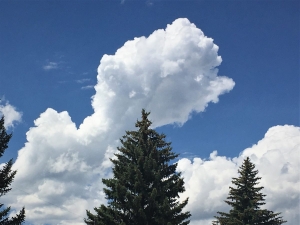 Those intrepid souls were leaving a life, friends, and extended family behind to pursue a momentous new venture. Judy and I were merely ticking items from a bucket list, reveling in a comfortable present-day… a present time paved with the sweat, blood, and courage of those who passed this way over those six decades. They would have paused at what is now the summit near the Overlook, thanking God that those 2,300 vertical feet were now behind, and contemplating what might lie ahead. No foreboding journey lay immediately ahead for Judy and me. Highway miles from Montpelier to Jackson–117. Estimated bus time of two hours and ten minutes. Our only remaining tasks for the day was to enjoy the ride, settle into Jackson's Snow King Resort, and decide where to eat.
I often reflect on our good fortune to live when and where we do. On this Earth of pure beauty, magic, wonder, and awe. This pale blue orb. This mote of dust in the vast darkness of space. Isolated by unfathomable time and distance from other stars in even our home galaxy, and  incomprehensibly separated from the two trillion other galaxies across the universe. Perhaps, in this full context, we are today, in this world of modern convenience, just as vulnerable and threatened as our western-bound forebearers were day in and day out. The dangers may not be as immediate as those they faced, yet we are just as dependent on deliberate understanding, preparation, and decision-making for our own present and future well-being. A well-being demanding informed action, and necessitating sound judgment and reasoned strategy to care for this Earth that sustains us now and forevermore.
Thoughts and Reflections
I wrote my books Nature Based Leadership (2016), Nature-Inspired Learning and Leading (2017), and Weaned Seals and Snowy Summits: Stories of Passion for Place and Everyday Nature (2019; co-authored with Dr. Jennifer Wilhoit; Submitted to publisher May 31, 2019), as well as another one by me (single author) scheduled for 2020, Natural Elixir: Lifting Your Life through Nature's Inspiration, to encourage all citizens to recognize and appreciate that every lesson for living, learning, serving, and leading is either written indelibly in or is powerfully inspired by Nature. Both published books are available on Amazon and other online sources.
Here are the four succinct lessons I draw from this Blog Post:
No matter at what scale we view Nature, she presents gifts of beauty, magic, wonder, and awe.
Understanding the Science underlying Nature's attractions amplifies enjoyment, appreciation, and inspiration.
Seeing Nature deeply sows and nurtures the seeds for informed and responsible Earth stewardship.
Nature is spatial (and special) — connect viscerally to The Land wherever you are. Such union of personal passion to place will stir your heart, body, mind, spirit, and soul.

Inhale and absorb Nature's elixir. May Nature Inspire and Reward you!
Note: All blog post images created & photographed by Stephen B. Jones unless otherwise noted. Please circulate images with photo credit: "©2019 Steve Jones, Great Blue Heron LLC. All Rights Reserved."
Another Note: If you came to this post via a Facebook posting or by an another route, please sign up now (no cost… no obligation) to receive my Blog Post email alerts: http://stevejonesgbh.com/contact/
And a Third: I am available for Nature-Inspired Speaking, Writing, and Consulting — contact me at steve.jones.0524@gmail.com
Reminder of my Personal and Professional Purpose, Passion, and Cause
If only more of us viewed our precious environment through my own filters. If only my mission and vision could be multiplied untold orders of magnitude:
Mission: Employ writing and speaking to educate, inspire, and enable readers and listeners to understand, appreciate, and enjoy Nature… and accept and practice Earth Stewardship.
Vision:
People of all ages will pay greater attention to and engage more regularly with Nature… and will accept and practice informed and responsible Earth Stewardship.
They will see their relationship to our natural world with new eyes… and will understand more clearly their Earth home.
Tagline/Motto: Steve (Great Blue Heron) encourages and seeks a better tomorrow through Nature-Inspired Living!
http://stevejonesgbh.com/wp-content/uploads/2019/07/IMG_0967.jpg-07.14.19-Bear-Lake-Overlook-7600-Feet-to-N.jpg
1200
900
Steve Jones
http://stevejonesgbh.com/wp-content/uploads/2017/01/gbhweblogo.png
Steve Jones
2019-08-05 10:50:47
2019-08-06 04:30:57
Salt Lake City, UT to Jackson, WY