Beginning a 12-Day Natural Adventure
My July 26 Post previewed a 12-day five-state journey that included several Nature-based bucket list way-points: http://stevejonesgbh.com/2019/07/26/previewing-a-series-of-blog-posts-july-2019-national-parks-journey/. We left Huntsville, Alabama early Friday July 12, 2019 (flight 45-minutes late!), nearly sprinted to our Dallas connecting flight to Salt Lake City, arriving a little ahead of the scheduled destination landing. Because I direct my writing to Nature-Inspired Life and Living, forgive my general avoidance of the history, culture, religion, architecture, entertainment, and traffic patterns of Salt Lake City and other cities and communities we experienced during our 1,450-mile tour.
Thus, I will say to you that we began our adventure in the Basin and Range province of the western US. Here's what my earlier Post presaged: The Wasatch Range, the distant feature to the right in the photo below, rises dramatically as the eastern wall of the Salt Lake basin, a remnant feature of prehistoric Lake Bonneville. Water (primarily snowmelt) enters the basin from the lofty mountains, yet never exits, hence the evaporation-derived salinity referenced by the lake's moniker.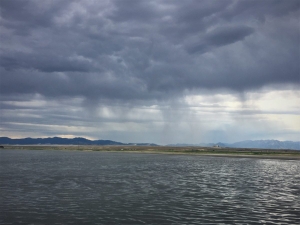 Explaining Basin and Range
Wikipedia offers: The Basin and Range Province is a vast physiographic region covering much of the inland western United States and northwestern Mexico. It is defined by unique basin and range topography, characterized by abrupt changes in elevation, alternating between narrow faulted mountain chains and flat arid valleys or basins. The physiography of the province is the result of tectonic extension that began around 17 million years ago in the early Miocene epoch. Salt Lake City and Reno are now 50 miles further apart than when extension began. Tremendous movement, right? Well, not exactly blinding speed — 15.5 thousandths of a foot per year.
Picture tectonic forces pulling the Earth's North American continental crust (21-24 miles thick) simultaneously in opposing relative directions. With separation, because the mass and weight of the drifting massive blocks are not uniform, one side of the break lifts (the west edge of the adjacent Wasatch block) as the other depresses (the east edge of the adjoining Salt Lake basin block). Vertical displacement has totaled many thousands of feet, far in excess of today's actual elevation differential between the highest point at the nearby Alto ski resort (11,068-feet) and the Great Salt Lake (4,200-feet). The reason includes two factors. The Wasatch actively weathers and erodes as it lifts. What is now the Alta summit carried thousands of feet of rock above it, long since eroded, when the extension and lifting began. What happened to 17 million years of Wasatch weathering debris? It washed westward into the basin, filling it to a common level across the vast expanse. Sediments where I stood to take the photo above extend many thousands of feet to the base rock that witnessed the initial separation.
Contemplate 17 million years. My life expectancy at birth — 79.5 years; 17-million years translate to 213,836.478 Steve Jones lifetimes. In Basin and Range, the book that spurred and elevated my interest in plate tectonics, John McPhee observed, If you free yourself from the conventional reaction to a quantity like a million years, you free yourself a bit from the boundaries of human time. And then in a way you do not live at all, but in another way you live forever. With respect to gradual forces acting inexorably over vast stretches of time, McPhee commented in that same book, If by some fiat I had to restrict all this writing to one sentence, this is the one I would choose: The summit of Mt. Everest is marine limestone.
Knowing a little about the underlying science magnifies my appreciation for Nature's beauty, magic, wonder, and awe. Standing at the Great Salt Lake State Park and Marina without understanding the natural mechanisms creating the sights, I would have enjoyed the scenery only rather superficially. How unexceptional without knowing that I'm atop thousands of feet of sediments swept from the Wasatch. That Reno is slowly drifting away from me. That we humans are humble newcomers to this exquisite planet to which we are absolutely dependent.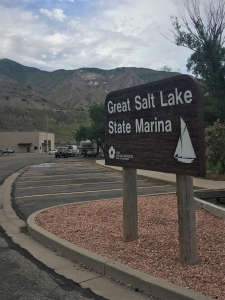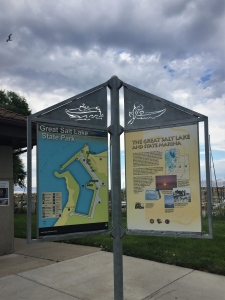 Again in Basin and Range, McPhee noted our human place and peril: On the geological time scale, a human lifetime is reduced to a brevity that is too inhibiting to think about deep time. … Geologists … see the unbelievable swiftness with which one evolving species on the Earth has learned to reach into the dirt of some tropical island and fling 747s across the sky … Seeing a race unaware of its own instantaneousness in time, they can reel off all the species that have come and gone, with emphasis on those that have specialized themselves to death.
Is our situation dire? Yes, unless we awaken. Unless we transform the power of creativity and goodness that produced edifices like the Mormon Temple and art as wonderful as the Choir and Symphony we enjoyed the morning we departed for Grand Teton National Park.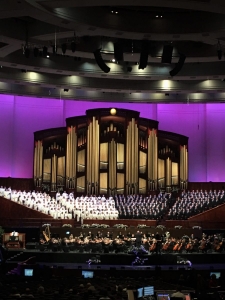 Watching that performance reminded me that all of Nature is performance art, designed masterfully. Just as the vocal and orchestral output proved exquisite, deeply satisfying, and inspirational, evoking a sense of speaking to and for some higher order and power, so too do the instruments and voices of Nature. The 30-minute program brought tears to my eyes. My eyes welled multiple times as our journey through Nature progressed. Later that same day, the Tetons once more stoked deep humility and inspiration. My heart pounded as we headed north from Salt Lake City along the Snake River.
But let's not get ahead of ourselves. We ventured up to Temple Square and the State Capital when we returned from the State Park and Marina. We inhaled the exhilarating essence of the Wasatch Range to our east and southeast. I recalled a mid-1990s university-related visit to Salt Lake City the week after Thanksgiving. Still a recreational runner then, I remember running in morning snow (just a few inches). The next morning with time to kill before flying home, several of us drove up to Snowbird and Alta, not to ski but to see the resorts and actually enter the Range. Already that season, the summit at Alta had recorded 17 feet of snow (yes, my mind retains such data). Road crews were firing the avalanche cannons to trigger the release under controlled-traffic terms. Like many facets of Nature, the Wasatch projects wonder from the views below, yet nothing matched the late November deep-winter majesty that day when we drove into the mountains. Nature is best viewed both from afar and up close… only then is its complexity and totality revealed.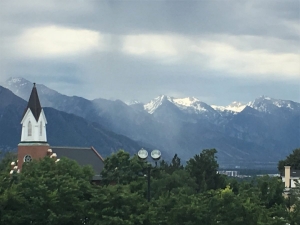 Even as tectonic forces build mountains and weathering destroys them, the resultant terrain influences weather and climate. The city sees just 46 inches of snow every winter, and totals on average 18.25 inches of rainfall (including snowmelt) The city receives that much precipitation because it is not fully in the Wasatch rain shadow. Further west, the Salt Lake basin falls squarely in the shadow. Wendover, UT on west side of the basin records on average only 4.7 inches of liquid equivalent… a true desert. All things in Nature are orchestrated by Nature's laws. As Leonardo da Vinci noted, In her (nature's) inventions nothing is lacking and nothing is superfluous. And he observed, Nature never breaks her own laws.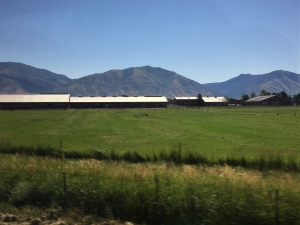 Because we are part of Nature, we are imminently subject to her laws, limits, and consequences. Once again, da Vinci's wisdom is timeless, Human subtlety will never devise an invention more beautiful, more simple or more direct than does nature because in her inventions nothing is lacking, and nothing is superfluous. We must remember our place lest we increase our peril and tempt the fate that has fallen to countless other Earth species that have preceded us.
In subsequent Posts, as I recount observations, reflections, and lessons from my 12-day sojourn, I will continue to urge ever more alert and diligent Earth stewardship. My personal mission statement, as I will repeat below, is to Employ writing and speaking to educate, inspire, and enable readers and listeners to understand, appreciate, and enjoy Nature… and accept and practice Earth Stewardship. The cause is paramount. The time is now. The consequences of inaction are serious.
Thoughts and Reflections
I wrote my books Nature Based Leadership (2016), Nature-Inspired Learning and Leading (2017), and Weaned Seals and Snowy Summits: Stories of Passion for Place and Everyday Nature (2019; co-authored with Dr. Jennifer Wilhoit; Submitted to publisher May 31, 2019), as well as another one by me (single author) scheduled for 2020, Natural Elixir: Lifting Your Life through Nature's Inspiration, to encourage all citizens to recognize and appreciate that every lesson for living, learning, serving, and leading is either written indelibly in or is powerfully inspired by Nature. Both published books are available on Amazon and other online sources.
Here are the three succinct lessons I draw from this Blog Post:
Understanding the Science underlying Nature's attractions amplifies enjoyment, appreciation, and inspiration.
Seeing Nature deeply sows and nurtures the seeds for informed and responsible Earth stewardship.
Nature's beauty, magic, wonder, and awe know no geographic limit. It's there whether in the Basin and Range or here in Alabama's Tennessee River Valley. It's wherever you seek to find it!
Inhale and absorb Nature's elixir. May Nature Inspire and Reward you!
Note: All blog post images created & photographed by Stephen B. Jones unless otherwise noted. Please circulate images with photo credit: "©2019 Steve Jones, Great Blue Heron LLC. All Rights Reserved."
Another Note: If you came to this post via a Facebook posting or by an another route, please sign up now (no cost… no obligation) to receive my Blog Post email alerts: http://stevejonesgbh.com/contact/
And a Third: I am available for Nature-Inspired Speaking, Writing, and Consulting — contact me at steve.jones.0524@gmail.com
Reminder of my Personal and Professional Purpose, Passion, and Cause
If only more of us viewed our precious environment through my own filters. If only my mission and vision could be multiplied untold orders of magnitude:
Mission: Employ writing and speaking to educate, inspire, and enable readers and listeners to understand, appreciate, and enjoy Nature… and accept and practice Earth Stewardship.
Vision:
People of all ages will pay greater attention to and engage more regularly with Nature… and will accept and practice informed and responsible Earth Stewardship.
They will see their relationship to our natural world with new eyes… and will understand more clearly their Earth home.
Tagline/Motto: Steve (Great Blue Heron) encourages and seeks a better tomorrow through Nature-Inspired Living!
http://stevejonesgbh.com/wp-content/uploads/2019/07/IMG_0901.jpg-07.13.19-SE-at-GSL.jpg
899
1200
Steve Jones
http://stevejonesgbh.com/wp-content/uploads/2017/01/gbhweblogo.png
Steve Jones
2019-07-31 14:03:36
2019-08-01 05:46:17
Basin and Range