I made my first visit to Oak Mountain State Park (20 miles south of Birmingham) in late April. See my June 6, 2019 Post on my general impressions from Oak Mountain: http://stevejonesgbh.com/2019/06/17/late-spring-at-oak-mountain-state-park/ I'm sure I will visit again in the fall. A single point in time does not do justice to the beauty, magic, wonder, and awe of our State Parks or any place in Nature. For this Post I will focus on the flowering spectacle that is spring in central Alabama.
Spring Ephemerals
Because I have squeezed so many destinations (and subsequent Blog Posts) into my spring 2019 wanderings, I will not burden the reader with lots of text, electing instead to run through the many spring ephemerals I encountered at Oak Mountain State Park April 25-26, 2019. An absolute wildflower enthusiast's delight!
Four-leaved Milkweed (Asclepias quadrifolia):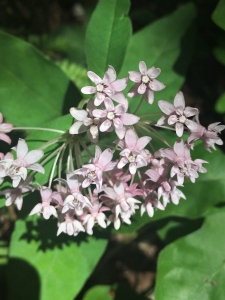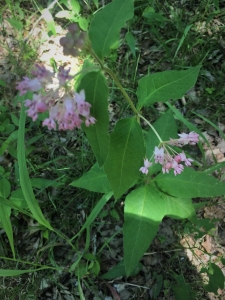 Southern Ragwort (Senecio anonymous):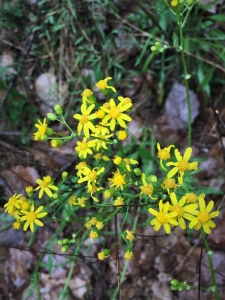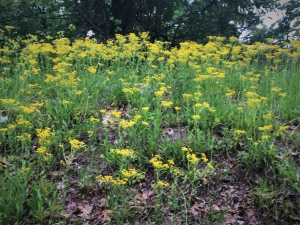 Lance-leaf coreopsis (Coreopsis lanceolata). I've noted in previous Posts that we are in Good Hands with our Alabama State Park Naturalists. That's OMSP Naturalist Lauren Muncher's hand assisting below!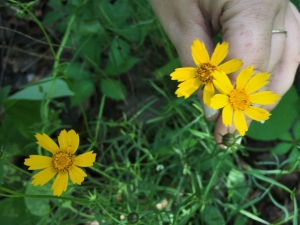 Butterweed (Senecio glabellus):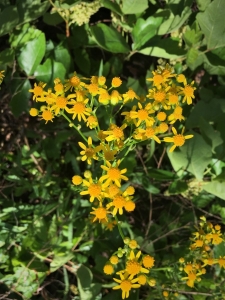 Two-flowered Cynthia (Krigia biflora):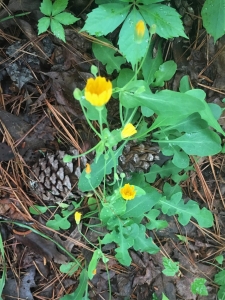 Partridgeberry (Mitchella repens). I've known this plant my entire professional life, yet there is so much I do not know or remember. Occasionally I'm well-served to learn more. Here's a paragraph from a USDA Forest Service online article:
Partridge Berry is a native perennial, a small, woody, trailing vine with 6 to 12 inch, slender, trailing stems that does not climb but lays prostrate on the forest floor. The trailing stems root at nodes which come in contact with the forest surface and may spread into colonies several yards across. The dark-green, evergreen leaves are simple, opposite, ovate, with a pale yellow midrib, are ½ inch across, with a short stalk. In late spring, a pair of white flowers (with a single calyx) appears. Each small, fragrant flower has four brilliant white petals that are pubescent and unite into a funnel-shaped tube that is also fringed with hairs. The pair of flowers occur in two forms (dimorphous). In the first form the pistil is short and the stamens are long; in the second form the pistil is long and the stamens are short. This structure prevents each flower from fertilizing itself. Both flowers must be pollinated to obtain a single scarlet berry. Each berry is the result of the fusion of each ovary of the pollinated pair of white flowers. As such, each berry has two bright red spots on its surface.
Wow, an amazing story rich with detail… and peculiarities. A single berry from two flowers — partridge berry! Leonardo da Vinci offered an apt observation:
Human subtlety will never devise an invention more beautiful, more simple or more direct than does nature because in her inventions nothing is lacking, and nothing is superfluous.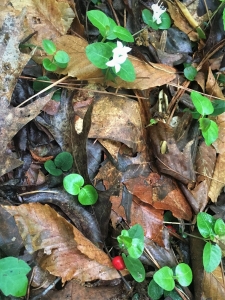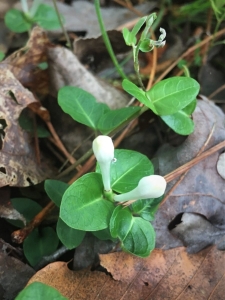 Carolina Climbing Milkweed (Matalea decipiens) is one I had not previously encountered (or remembered). I love the deep color, the velvety leaf, and the royal appearance. I am now a big fan!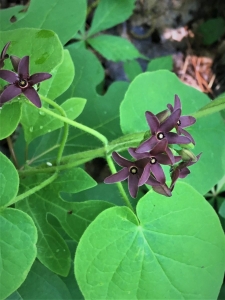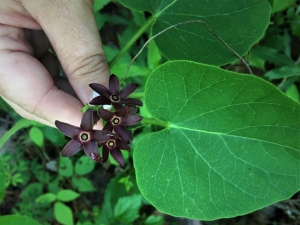 VA Spiderwort (Tradescantia virginiana):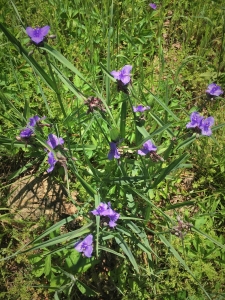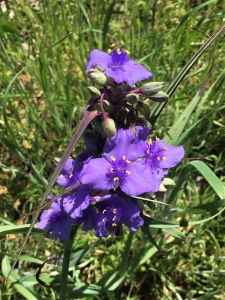 Spiny Thistle (Cirsium carolinianum) is a plant commonly referred to as a weed, often growing on disturbed sites. I find it delightful with its large spiky blossom. I refuse to diminish its beauty by calling it a weed — I consider this beauty a valid and distinguished spring wildflower!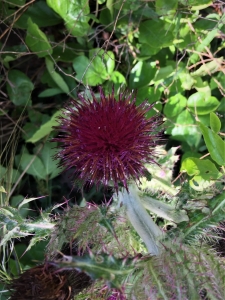 Eastern White Beardtongue (Penstemon pallidus):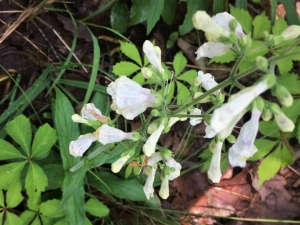 Mountain Laurel (Kalmia latifolia) has been among my favorites for decades. It flourished in the Central Appalachians where I first wandered the ridge and valley region. Whether a full plant in flower (below left) or an individual cluster (right) its magic is incomparable.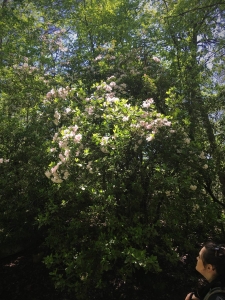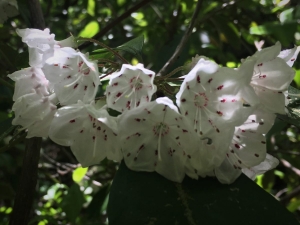 In some ways I'm sad to be issuing this Post mid-summer. I won't have another chance to experience the wonderful spring blooms again for some eight months, yet anticipation is thrill and reward in itself. To every thing there is a season… and a time to every purpose under heaven.
Yet I take solace from John Muir's wisdom: "This grand show is eternal. It is always sunrise somewhere; the dew is never all dried at once; a shower is forever falling; vapor is ever rising. Eternal sunrise, eternal sunset, eternal dawn and gloaming, on sea and continents and islands, each in its turn, as the round earth rolls."
Thoughts and Reflections
I wrote my books Nature Based Leadership (2016), Nature-Inspired Learning and Leading (2017), and Weaned Seals and Snowy Summits: Stories of Passion for Place and Everyday Nature (2019; co-authored with Dr. Jennifer Wilhoit; Submitted to publisher May 31, 2019), as well as another one by me (single author) scheduled for 2020, Natural Elixir: Lifting Your Life through Nature's Inspiration, to encourage all citizens to recognize and appreciate that every lesson for living, learning, serving, and leading is either written indelibly in or is powerfully inspired by Nature. Both published books are available on Amazon and other online sources.
Here are the three succinct lessons I draw from this Blog Post:
Our Alabama State Parks are jewels for the ages; whether Gulf State's coastal richness or Oak Mountain in the backyard of our state's largest city.

Enter our rich forests with eyes wide open for seasonal blessings and gifts.

Spring ephemeral wildflowers and our ubiquitous flowering shrubs reveal priceless beauty.
Inhale and absorb Nature's elixir. May Nature Inspire and Reward you!
Note: All blog post images created & photographed by Stephen B. Jones unless otherwise noted. Please circulate images with photo credit: "©2019 Steve Jones, Great Blue Heron LLC. All Rights Reserved."
Another Note: If you came to this post via a Facebook posting or by an another route, please sign up now (no cost… no obligation) to receive my Blog Post email alerts: http://stevejonesgbh.com/contact/
And a Third: I am available for Nature-Inspired Speaking, Writing, and Consulting — contact me at steve.jones.0524@gmail.com
Reminder of my Personal and Professional Purpose, Passion, and Cause
If only more of us viewed our precious environment through the filters I employ. If only my mission and vision could be multiplied untold orders of magnitude:
Mission: Employ writing and speaking to educate, inspire, and enable readers and listeners to understand, appreciate, and enjoy Nature… and accept and practice Earth Stewardship.
Vision:
People of all ages will pay greater attention to and engage more regularly with Nature… and will accept and practice informed and responsible Earth Stewardship.
They will see their relationship to our natural world with new eyes… and will understand more clearly their Earth home.
Tagline/Motto: Steve (Great Blue Heron) encourages and seeks a better tomorrow through Nature-Inspired Living!
Alabama State Parks Foundation
I'll remind you that I serve on the Foundation Board, in part because of my love of Nature and in recognition for my writing many prior Posts about visiting and experiencing the Parks. I urge you to take a look at the Foundation website and consider ways you might help steward these magical places: https://asparksfoundation.org/ Perhaps you might think about supporting the Parks System education and interpretation imperative: https://asparksfoundation.org/give-today#a444d6c6-371b-47a2-97da-dd15a5b9da76
http://stevejonesgbh.com/wp-content/uploads/2019/04/IMG_0214.jpg-04.26.19-Carolina-Climbing-Milkweed-Matalea-decipiens.jpg
900
1200
Steve Jones
http://stevejonesgbh.com/wp-content/uploads/2017/01/gbhweblogo.png
Steve Jones
2019-07-07 04:34:36
2022-04-14 15:50:14
Late April Wildflowers at Oak Mountain State Park