This is my fourth Great Blue Heron Blog Post from my mid-April visit to DeSoto State Park. See my earlier Posts describing the Magic of Water's Thunder at DeSoto State Park: http://stevejonesgbh.com/2019/05/15/the-magic-of-waters-thunder-at-desoto-state-park/ and DeSoto's Sandstone Glades: http://stevejonesgbh.com/2019/06/05/sandstone-glades-at-desoto-state-park/ and Special Features at DeSoto: http://stevejonesgbh.com/2019/06/24/special-features-at-desoto-state-park-in-northeastern-alabama/. I stayed at the Park April 18-20; rain fell in torrents the night of the 18th, and light rain and drizzle persisted until I departed mid-day on the 20th. Although I snapped this photo on a prior visit and used it in a previous DeSoto Post, it seemed fitting to repeat it!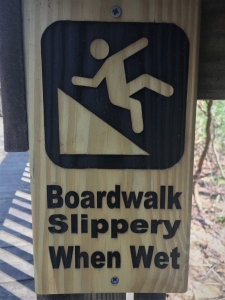 The world is alive with the sound of music — flowing and dripping water! And, the woods abound with the hues and shades of spring!
Spring Ephemerals
Because I have squeezed so many destinations (and subsequent Blog Posts) into my spring 2019 wanderings, I will not burden the reader with lots of text, electing instead to run through the many spring ephemerals I encountered at DeSoto State Park April 18-20, 2019. An absolute wildflower enthusiast's delight!
Appalachia Milkwort (Polygala nana) and Downy Phlox (Phlox pilosa), below left and right, respectively. Note the water droplets on many of these floral photos, bearing testament to the persistent drizzle and dripping.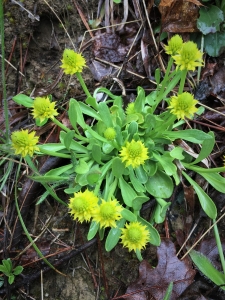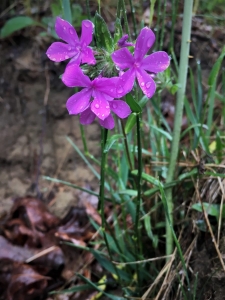 Lyreleaf Sage (Salvia lyrata) basal leaves and flower stalk. All three (above and below) species grew along a utility right-of-way (see lower right).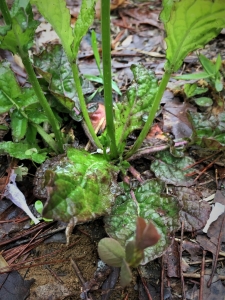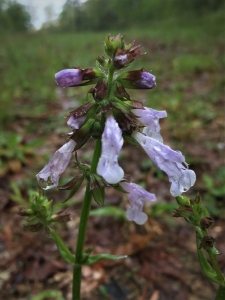 Four Leaf Milkweed (Asclepias quadrifolia) and most every other photo I captured depict interior forest species.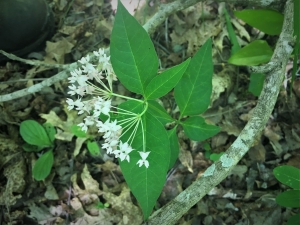 Shuttlesworth Ginger (Hexastylis shuttlesworthii) is a new find for me. I admit to being a sentimental sucker for any jug-like flower!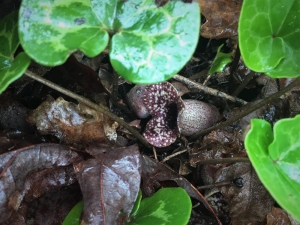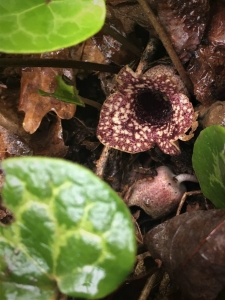 Dwarf Crested Iris (Iris cristata).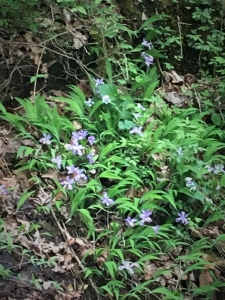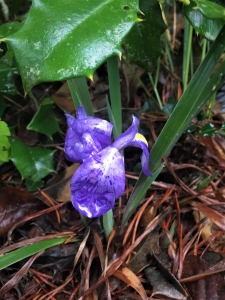 Eastern Bluestar (Amsonia tabernaemontana) and Shrub Yellowroot (Xanthorhiza simplicissima), below left and right, respectively. Both are dainty and delicate, especially appealing and beckoning in the low-light sodden understory. I've said in prior Posts that we are in Good Hands when guided by our Alabama State Parks Naturalists. That's DeSoto Naturalist Brittney Hughes' hand — she led me through a full day of plant discovery and identification. I am grateful.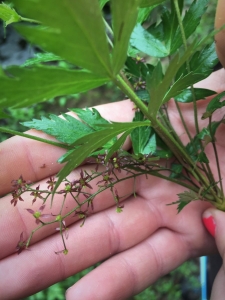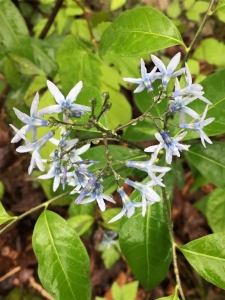 Deerberry (vaccinium stamineum) and Yellow Stargrass (Hypoxis hirsuta), below left and right, respectively.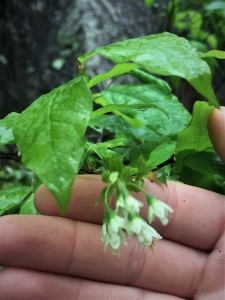 Sweet White Violet (Viola blanda) and Columbine (Aquilegia canadensis).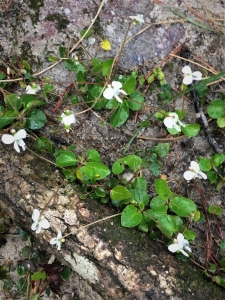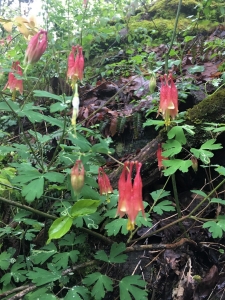 Wild Geranium (Geranium maculatum).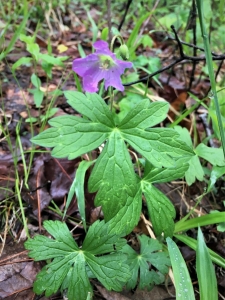 Catesby's Trillium (Trillium catesbaei).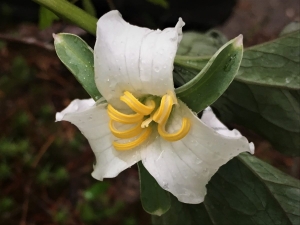 Flowering Trees, Shrubs, and Vines
We found far more than spring ephemerals. We selected a perfect time to be afoot at DeSoto to achieve peak (and peek!) discovery; well, actually Brittney recommended the mid-April time frame. Again, rather than weigh you down with prose, let's review a portfolio of what the Park presented to us and our wet feet.
Sweet Shrub (Calycanthus floridus).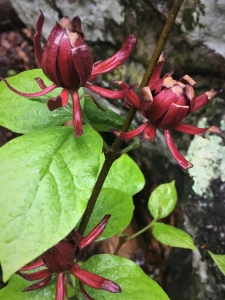 Catawba Rhododendron (Rhododendron catawbiense), which in my humble opinions is among the season's most precious gifts!
Mountain azalea (Rhododendron canescensis) is another that rises to the level of woodland exultation!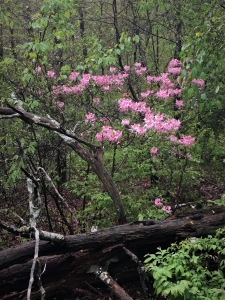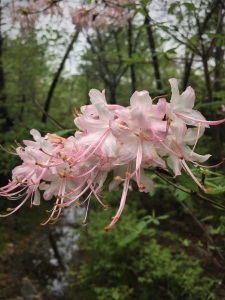 Yellow Jessamine (Gelsemium sempervirens), another flower of exquisite beauty in the wet and cloud-deepened forest light.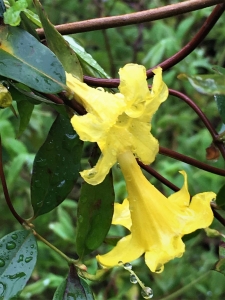 I could not have planned for better weather, highlighting the beauty and emphasizing the springtime palette.
Non-Flowering Plant Delights
Allow me now to switch to our non-flowering jewels, a realm about which I know far too little. Mosses and lichens offer a rich mosaic in the Park's sandstone glades.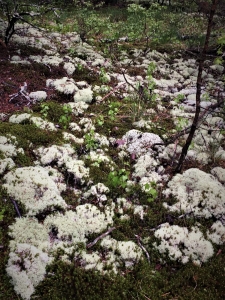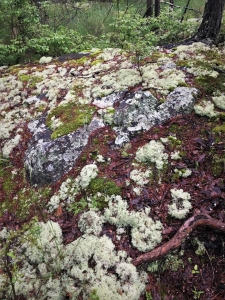 I love seeing jelly fungi when they are moisture-gorged. Wikipedia offers some reminder to me of how little I know: "Jelly fungi are a paraphyletic group of several heterobasidiomycete fungal orders from different classes of the subphylum Agaricomycotina. There is so VERY much I do not know. Reminds me of an old Pennsylvania Dutch saying, "The hurrieder I go, the behinder I get." And of lyrics from some old song I recall, "I wish I didn't know now what I didn't know then."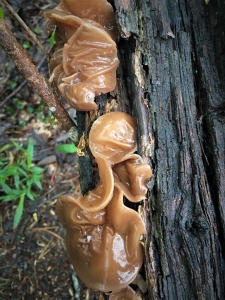 Even the whites seemed more intense, whether as complement to the freckled upper surface or the gilled underside.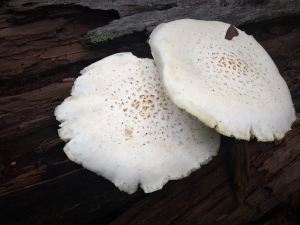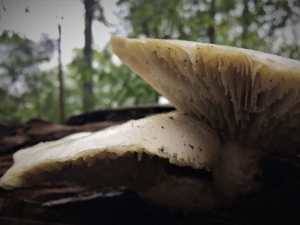 The resurrection fern stood in moistened resplendence… at peak vitality following the deluge.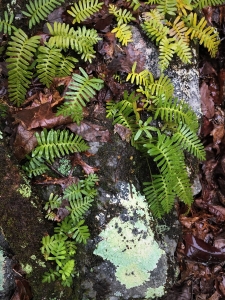 Twig-festooning bearded lichen added its own element of glory.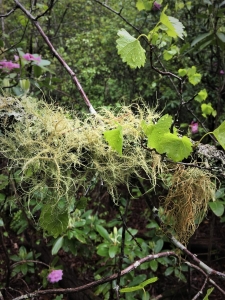 Google dictionary describes a spleenwort as "a small fern that grows in rosettes on rocks and walls, typically with rounded or triangular lobes on a slender stem and formerly used as a remedy for disorders of the spleen." Prior to touring DeSoto with Naturalist Brittney Hughes, I would have identified this rosette as an unknown (to me) fern. Now, I will accept it as a spleenwort.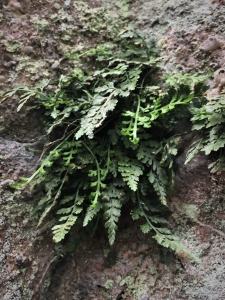 Dead and down woody debris supports rich life… life whose principal function is to return the dead cellulose and lignin to the soil. It's ashes to ashes, dust to dust. Forget about the life cycle. Instead, it's the life and death cycle. The lower left photo shows two kinds of lichens, algae, and at least two species of fungal fruiting bodies. Below right life is also robust.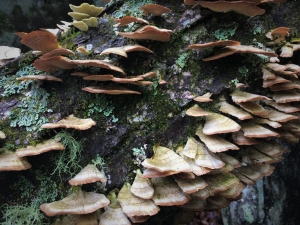 So, too, on the elevated downed woody debris below. Same roles… different species. Similar function; the same ultimate purpose and function.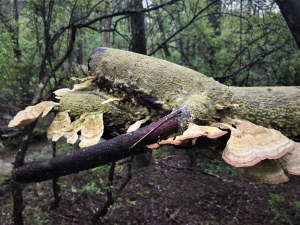 A Trail Marker and Tree Bark Route Guide
At first glance, I see below just a loblolly pine with trail marker. But look a little more closely. Loblolly bark grows as flat plates, breaking into fissures as the tree expands in circumference. Life, as this sodden dark bark evidences, flourishes in the furrows. Algae expresses vividly under these moisture-saturated conditions. I've looked since at dry-barked loblolly. The algae is hidden from immediate view. This one tells the tale once more that Nature tolerates no vacuums. And reminds me of the magic, beauty, wonder, awe that lie hidden in plain sight. I'm also reminded that if we limit our Nature excursions to "good" weather, the exceptional may escape our notice.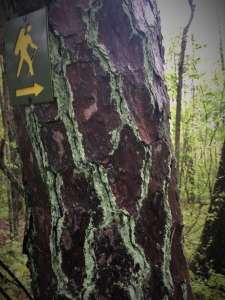 Thoughts and Reflections
I wrote my books Nature Based Leadership (2016), Nature-Inspired Learning and Leading (2017), and Weaned Seals and Snowy Summits: Stories of Passion for Place and Everyday Nature (2019; co-authored with Dr. Jennifer Wilhoit; Submitted to publisher May 31, 2019), as well as another one by me (single author) scheduled for 2020, Natural Elixir: Lifting Your Life through Nature's Inspiration, to encourage all citizens to recognize and appreciate that every lesson for living, learning, serving, and leading is either written indelibly in or is powerfully inspired by Nature. Both published books are available on Amazon and other online sources.
Here are the three succinct lessons I draw from this Blog Post:
Our Alabama State Parks are jewels for the ages; whether Gulf State's coastal richness or a water-logged day on Sand Mountain at DeSoto.

Don't deny yourself the gifts afforded by what we may call unpleasant weather.

Spring ephemeral wildflowers reveal priceless beauty, but don't ignore the magic of ubiquitous non-flowering plants.

Inhale and absorb Nature's elixir. May Nature Inspire and Reward you!
Note: All blog post images created & photographed by Stephen B. Jones unless otherwise noted. Please circulate images with photo credit: "©2019 Steve Jones, Great Blue Heron LLC. All Rights Reserved."
Another Note: If you came to this post via a Facebook posting or by an another route, please sign up now (no cost… no obligation) to receive my Blog Post email alerts: http://stevejonesgbh.com/contact/
And a Third: I am available for Nature-Inspired Speaking, Writing, and Consulting — contact me at steve.jones.0524@gmail.com
Reminder of my Personal and Professional Purpose, Passion, and Cause
If only more of us viewed our precious environment through my own filters. If only my mission and vision could be multiplied untold orders of magnitude:
Mission: Employ writing and speaking to educate, inspire, and enable readers and listeners to understand, appreciate, and enjoy Nature… and accept and practice Earth Stewardship.
Vision:
People of all ages will pay greater attention to and engage more regularly with Nature… and will accept and practice informed and responsible Earth Stewardship.
They will see their relationship to our natural world with new eyes… and will understand more clearly their Earth home.
Tagline/Motto: Steve (Great Blue Heron) encourages and seeks a better tomorrow through Nature-Inspired Living!
Alabama State Parks Foundation
I'll remind you that I serve on the Foundation Board, in part because of my love of Nature and in recognition for my writing many prior Posts about visiting and experiencing the Parks. I urge you to take a look at the Foundation website and consider ways you might help steward these magical places: https://asparksfoundation.org/ Perhaps you might think about supporting the Parks System education and interpretation imperative: https://asparksfoundation.org/give-today#a444d6c6-371b-47a2-97da-dd15a5b9da76
http://stevejonesgbh.com/wp-content/uploads/2019/05/IMG_9899.jpg-04.20.19-Mountain-Azalea-R-Canescens.jpg
1200
900
Steve Jones
http://stevejonesgbh.com/wp-content/uploads/2017/01/gbhweblogo.png
Steve Jones
2019-07-02 10:32:39
2019-07-02 10:32:39
Spring Day Color at DeSoto State Park in Northeastern Alabama